The prospect of an Indian breakfast is sometimes just the kick I need to pull myself from my cosy bed. This usually only ever takes place on weekends or during time-off from the day job, so it's always a welcome treat.
Along with a spicy breakfast, there's nothing more satisfying than using up leftovers. This recipe for Dudhi Na Muthyia hits both of those spots. They're made using grated bottlegourd (doodhi/lauki), cold leftover rice, chickpea flour and a medley of subtle spices. The dumplings are then formed into log-shapes and gently steamed to lock in plenty of flavour and moisture. Once cooled, the cooked muthiya are quickly sautéed with sesame seeds and curry leaves to add that final dimension of flavour and a gorgeously crisp, golden texture.
So many people prefer them straight from the steamer without sautéing them first – perhaps a consequence of impatience more than anything else. I have been known to finish them off before I actually finish off the recipe, not that I should actually be admitting to this.
I add coarse semolina to these steamed dumplings as it gives them a softer texture in the middle and once they're sautéed, a better crisp on the outside.
Don't have bottlegourd? Muthiya taste just as good when they're made with courgettes, cabbage, carrots or even fenugreek. Use your imagination and don't be afraid to play with your food.
My favourite way of enjoying muthiya is with a steaming cuppa sweet masala chai and absolutely nothing else.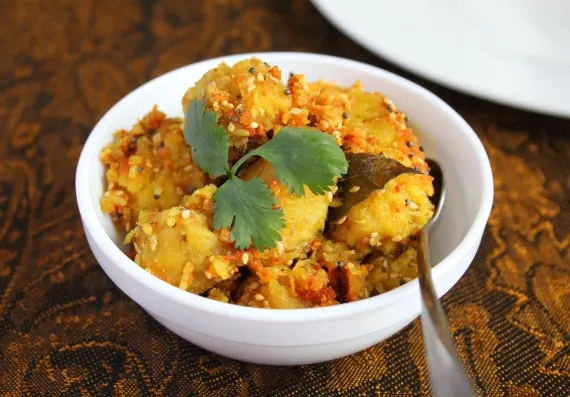 Dudhi Na Muthiya
Serves 4-6
For the dumplings:
1 bottlegourd, grated (about 400g)
260g chickpea flour
1 ½ tbsp coarse semolina
400g cold cooked rice or khichdi
140g plain flour
4 green chillies, minced (or to taste)
2 ½ tsp salt (or to taste)
1 tsp turmeric
90ml oil, plus more for greasing
2 cloves garlic, minced
2 ½ tsp sugar
Juice of ½ lemon
½ tsp baking powder
¼ tsp bicarbonate of soda
To temper:
2 tbsp oil
1 tsp mustard seeds
1 tbsp sesame seeds
6-8 curry leaves
¼ tsp asafoetida
1 tbsp chopped coriander to garnish
Method
1. In a large, deep pan (one that comes with a steaming basket), boil -2L water. Grease the basket with 1 tbsp oil and pop it into the pan so it suspends above the water but doesn't touch it.
2. Take a large mixing bowl and combine all of the ingredients for the dumplings. Do not add water as the bottlegourd will release plenty as you mix. Keep going, gently squeezing the mixture until you get a batter.
3. One by one, roll into seven logs and place them into the steaming basket. You may need to do them in two batches if your steamer is small. Place a lid on and simmer on a medium heat for 20-25 minutes or until a skewer poked into the middle of one comes out clean. Remove the basket from the steamer and allow to cool completely.
4. Remove the logs from the steaming basket and cut each log into 2cm pieces. Set aside.
5. To temper the spices and sauté the muthia: in a large non-stick pan, heat the oil and add the mustard seeds. Wait for them to pop, then add the sesame seeds, curry leaves and asafoetida. Add the dumplings and sauté on a high heat for 5 minutes or so, turning every so often – make sure you don't break them when turning. When golden, remove from the heat and garnish with chopped coriander. Serve hot. Note: Dudhi Na Muthiya can be kept in the fridge for up to three days, but I doubt these will last that long.