Hot and spicy Indian masala fries in restaurant-style Jalfrezi sauce. Big flavours!
These masala chips make for an amazing starter or side dish for fries lovers. I like to call them 'Jalfries-i'!
Make a tasty restaurant-style Jalfrezi sauce with onions, peppers and spices, then toss in freshly-cooked fries for a delicious meal.
Enjoy these flavour-packed masala chips for lunch, dinner, or as a side dish.
What is Jalfrezi?
Jalfrezi takes on many forms! It can be a dry dish or one with a thicker gravy (sauce).
This being said, it almost always contains onions, peppers and a spice blend. Bulk it out with your choice of protein or load up on veggies.
I love both Veg Jalfrezi and Paneer Jalfrezi, but these Jalfrezi Fries are such a fun way to enjoy the spicy flavours of this dish.
The name Jalfrezi comes from the Bengali words, jhāl and porhezī. Jhāl is a word used to describe a dish that's spicy and porhezī means 'suitable for a diet'.
Jalfrezi is an Ango-Indian name for a dish/curry that fits these two classifications.
In British Indian restaurants (BIR), Chicken Jalfrezi, Prawn Jalfrezi, Egg Jalfrezi and Vegetable Jalfrezi are usually popular menu items.
Where does Jalfrezi come from?
Transport yourself to East India, Bengal, to be more specific.
Bengal is the home of Jalfrezi and a diverse region of India where eastern cultures meet to create a melting pot of incredible flavours, created from a blend of techniques, including stir-frying and steaming.
Bengali cooking is so rich and diverse.
With a Chinese community of its own, stir fried dishes like these add even more colour to the already vibrant culinary canvas of Bengal.
While many regional cuisines of India have the influence of migration, trade and colonialism flowing through them, Bengal in particular has one of the richest.
With China to the East, Indo-Chinese cuisine is a treasured part of India's food culture.
While Jalfrezi isn't technically considered to be an Indo-Chinese dish, the use of stir frying with thick sauces could be a process adopted from Eastern cusines.
The Chinese immigrant community in India began centuries ago, and many settlers lay down new roots around the ports of Kolkata and Madras.
The vibrant and flavoursome cooking of India's Chinese communities has carved a place in all our appetites. Hakka Noodles, anyone?
The Anglo-Indian-ness of Jalfrezi
While some of the techniques we use to make Jalfrezi have strong Asian influence, the original Jalfrezi of Eastern India was very much created to cater to European tastes.
Under colonial rule, Bengal was a key hub for the British. A medley of vegetables and chicken were stir fried together to create 'a spicy curry for the British palate', or jhāl porhezī.
How spicy is a Jalfrezi?
This stir-fried medley of veggies and spices is usually a medium-spicy heat.
Use plenty of chillies to balance out the tart tomato and compliment the smokiness of the wok or kadai cooking.
Feel free to adjust the chillies in this recipe as per your taste, but remember that the fries have little to no flavour, so the sauce should be on the spicier side.
What to put in a Jalfrezi curry
How to make Veg Jalfrezi
Plenty of onions, peppers and spices are important here. Follow the Jalfrezi recipe below, but add a combination of your favourite mixed veggies in place of the fries.
I personally love my Veg Jalfrezi with baby corn, green beans, carrots and cauliflower but raid the fridge and use up whatever you have to hand.
Be sure to cook the veggies until they're tender. If you like your Jalfrezi with more sauce, add extra water and simmer.
Check the seasoning and add more salt to account for the additional liquid.
How to make Paneer Jalfrezi
Another favourite of mine is Paneer Jalfrezi; a combination of crunchy veggies and soft Indian cheese.
Pan-fry the paneer in oil for an irresistible golden crust before you stir fry it in the sauce.
A combination of mushrooms, baby corn and mange tout/snow peas is so hearty in this version of Paneer Jalfrezi.
All you need to do is swap the fries in the recipe below with the aforementioned ingredients.
Simply heat the paneer through once it's in the sauce, there's no need to cook it for too long.
Anglo-Indian Jalfrezi with Fries
Jalfrezi Fries are certainly an unorthodox way of making Jalfrezi at home but honestly, this dish is so incredible I've decided to share the recipe with you anyway! Who doesn't love French fries?!
What type of fries should I use?
Feel free to use any style of fries for this recipe. I air-fry frozen French fries according to the packet instructions and toss them in at the last minute.
Be sure to coat each chip with the mouth-watering masala.
You can also make Jalfrezi Fries with homemade fries or chips. For this, follow my method for cooking chips in this Masala Chips video and recipe.
Are Jalfrezi Fries vegan?
Yes, these Jalfrezi Fries are free from any animal products and therefore, are completely vegan.
Check the packaging on shop-bought fries to confirm, or simply make your own at home.
Are Jalfrezi Fries gluten free?
This recipe for Jalfrezi Fries is also gluten free. Again, check the packaging on shop-bought fries to confirm, or make homemade fries/chips.
Meal prep idea
Make the sauce for this Jalfrezi ahead of time and keep it in the fridge for up to 3 days. When you're ready, simply heat it through and add hot chips before tossing together.
So easy and a perfect vegan meal prep recipe for busy weeknights.
Subscribe to my YouTube channel!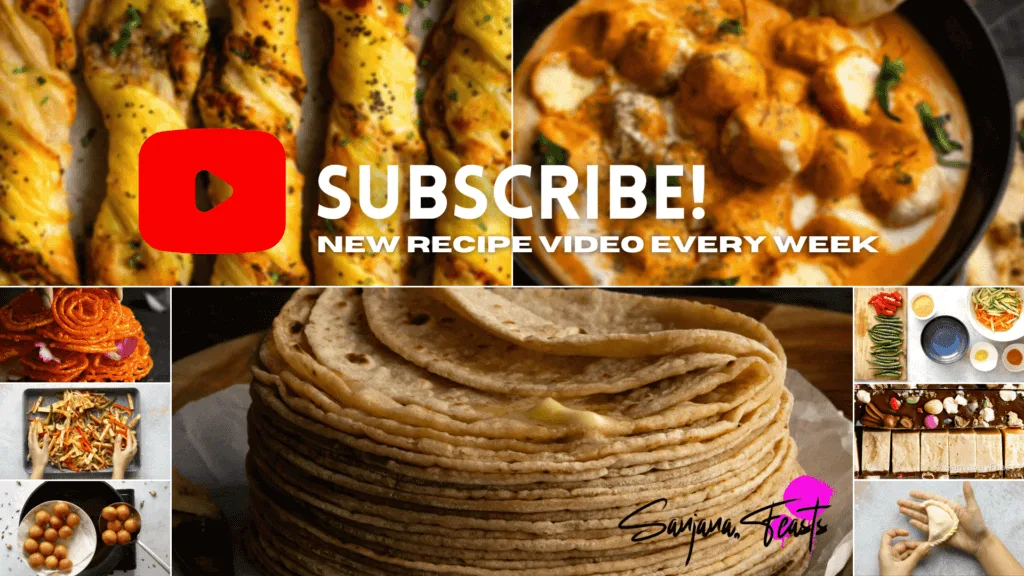 How to serve Jalfrezi Fries
There are so many ways to serve these! The first and foremost is as they are, with a fork and nothing more.
If this isn't exciting enough for you, make it a meal with one of the following suggestions.
Jalfrezi wrap
Spread your wrap of choice with raita or mayo and add your Jalfrezi fries.
Some lettuce leaves or mixed salad leaves are also a tasty addition to this option. Roll up and enjoy!
Jalfrezi pitta
My favourite and so convenient if you use shop-bought pitta. Split your pitta to create a pocket, stuff with salad, mint chutney and the Jalfrezi Fries.
This is such a hearty lunch or light dinner.
Cheesy Jalfrezi fries
Melt your favourite blend of cheese over the cooked Jalfrezi Fries and grill until melted and bubbling.
I often make this as an alternative to nachos and it's always a crowd pleaser!
Yield: 4 servings
Jalfrezi Fries
Hot and spicy Indian masala fries in restaurant-style Jalfrezi sauce. Big flavours! This makes for an amazing starter or side dish.
Ingredients
325 g cooked French fries
2 tbsp oil
1 tsp cumin seeds
1/2 tsp nigella seeds
4 large cloves garlic, crushed
2.5 cm piece ginger, julienned
1 tbsp tomato purée
3/4 tsp turmeric
2 tsp Kashmiri chilli powder
1 tsp garam masala
1/2 tsp fennel seeds, ground
1 large onion
1 red pepper
1 green pepper
225 ml water
1 tsp amchur, (dried mango powder)
1 tsp salt
1 tsp kasoori methi, rubbed between palms, (dried fenugreek leaves)
2 tbsp fresh coriander, chopped, to garnish
Instructions
Slice the peppers and onions into thin strips.
Heat the oil in a large kadai or wok. Add cumin seeds and nigella seeds. Allow to sizzle for 15-20 seconds. Next, add the garlic and ginger. Sauté for about 10 seconds.
Add the tomato purée and stir well. Cook for a minute to take the raw edge off the paste, then add the turmeric, chilli powder, garam masala and ground fennel seeds. Mix and then add the water. Cook the mixture over a medium heat for 2-3 minutes, stirring all the time.
Tip in the onions, peppers and add the salt. Stir fry over a high heat for 2 minutes, or until the veggies soften.
Cook the fries according to packet instructions or recipe instructions. I usually cook frozen fries in my air fryer for this dish.
Add the crispy fries to the hot Jalfrezi immediately before serving. Toss well. Sprinkle with amchur, kasoori methi and chopped coriander leaves. Serve at once.
Notes
Toss the sauce and hot fries together immediately before serving. Serve right away or the fries will become soggy.
This recipe is not suitable for freezing.
Nutrition Information:
Yield:

4
Serving Size:

1 grams
Amount Per Serving:
Calories:

367
Total Fat:

20g
Saturated Fat:

2g
Trans Fat:

0g
Unsaturated Fat:

16g
Cholesterol:

0mg
Sodium:

799mg
Carbohydrates:

45g
Fiber:

5g
Sugar:

5g
Protein:

5g
Pin this recipe for later!
If you like this, you'll love my recipe for Spicy Bean Tawa Burgers
Love Sanjana