Feed a crowd with this vibrant and flavoursome Curry Pasta Salad.
It's loaded with freshness, crunch and mild spices.
This is the perfect Indian-inspired salad dish to serve alongside burgers, sandwiches and your favourite bbq dishes.
This easy pasta salad recipe is so simple to make in batches for packed lunches, picnics and meal prep. Feel free to switch up the veggies to whatever you have in the fridge!
This Curry Pasta Salad recipe is:
Vegetarian
Easy to veganise
Budget friendly
Great for a crowd
Simple to make gluten free
Pasta salad perfection
Are you looking for a delicious and easy-to-make summer dish that will please everyone at a party or gathering?
Look no further than pasta salad!
Cue the groans and murmurs that there's nothing more mundane than pasta salad…
If you think pasta salad can often be a bit of a bland affair, give this tangy, mouth-wateringly spiced Curry Pasta Salad a whirl.
This vegetarian curry Pasta Salad is loosely based on Coronation Chicken.
A light, curry-flavoured dressing with yoghurt, mayonnaise, mango chutney and curry powder.
What is Coronation Chicken?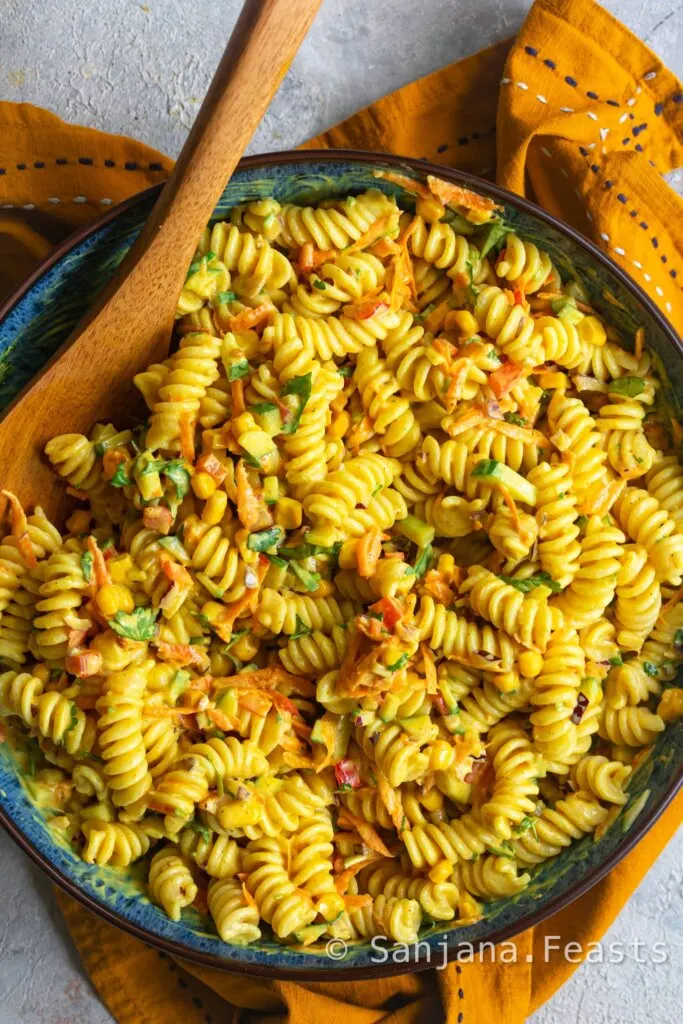 Coronation Chicken is very much a British invention.
It was created by Rosemary Hume, a chef at Le Cordon Bleu, London to celebrate the coronation of Queen Elizabeth II in 1953.
The dish features cooked chicken in a creamy sauce that has a fruity and lightly spiced flavour.
The original version even included apricot puree. Raisins and almonds are also a popular addition.
The dish most-commonly served cold, as a salad for picnics and parties, but it can also make for a retro sandwich filling and wrap filling.
What is British curry powder?
These days, Curry Powder is a widely-used spice blend that can be found in many kitchens, but do you know its origin and how it became so popular?
If you look for a standard pre-mixed curry powder in a shop in India, you may be looking for a long time.
The notion of an all-purpose curry powder isn't the norm in India.
This is because every meal in Indian cuisine has its' own distinctive spice blend.
Spice blends like garam masala, achaar masala and chaat masala do exist, and have many uses.
However, a single 'curry flavoured' seasoning to add to all dishes for a generic 'Indian' flavour, does not.
That's not to say that curry powder doesn't have a place in the modern kitchen.
An average Indian cook's daily ingredients entails selecting various spices depending on what's on the menu that day.
Their choice is informed by local flavours, seasonality (warm spices vs. cooling depending on weather), and personal preference.
It's no secret that the British developed a taste for spice during the times of the Empire in India.
Those who settled in India during the 18th Century introduced the flavours of the Indian meals they ate to those back in Britain.
A mixture of turmeric, coriander, cumin, mustard, ginger, and other spices created a seasoning blend reminiscent of the flavours of India, albeit in an extremely simplified manner.
If garam masala is the real deal, think of curry powder as a
British dishes that use curry powder
The introduction of curry powder has led to the creation of multiple Anglo-Indian dishes like Chicken Tikka Masala, Coronation Chicken, Kedgeree, and the infamous British ready meal, Vesta Curry.
Today, curry powder is a popular seasoning in countries all over the world, and still very much a British export, adapted to local cuisine.
You'll find versions of curry powder from the Caribbean, all the way to Africa, the Indian Ocean and South Pacific.
5 popular types of curry powder
Jamaican curry powder – warm and herbal with allspice, paprika, thyme and chilli, etc
Japanese curry powder – mild and sweet with coriander, cumin, fenugreek, orange, turmeric, etc
Mauritian curry powder – citrusy and bright with coriander seeds, fennel seeds, chilli, cloves, and turmeric, etc
Madras curry powder – heady and intense with chilli, coriander, fenugreek, mustard, cumin, cinnamon, cardamom, and cloves, etc
Sri Lankan curry powder – hot and spicy with chilli, curry leaves, fenugreek, mustard, coriander and pandan
Tips for making perfect pasta salad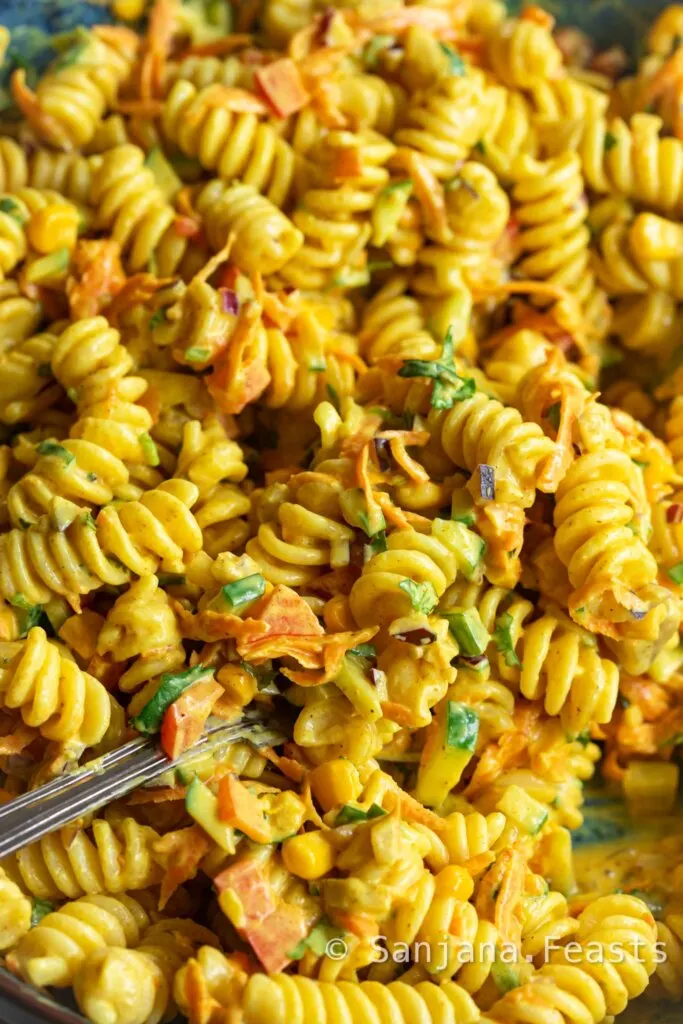 1. Use a suitable pasta shape
Let's be honest, any pasta shape will do. But to give your pasta salad a little more thought, try to choose a pasta shape that holds both the sauce and other chopped ingredients well.
If your pasta salad has lots of chunky ingredients, a shape with deep hollows will work well.
If your ingredients are finely chopped, they will cling better to a shape with smaller nooks and crannies.
2. Cook the pasta correctly
Cook your pasta just a little past the al dente stage so it's still firm, but not mushy.
Ideally, you want the pasta to be neither too al dente, nor too soft.
It will require no further cooking so it shouldn't be too chewy – and you don't want your salad to turn to mush either!
Rinse the pasta under cold running water to stop the cooking process and to cool it quickly.
Allow the pasta to drain in a colander very well before adding to the salad.
3. Dressing is key
A good dressing can make or break pasta salad.
The most important thing is that it strikes the perfect balance of tangy, sweet and herbal or spiced.
For this Curry Pasta Salad, we mix yoghurt, mayonnaise, mango chutney and curry powder for the ultimate dressing base.
4. Chop the salad ingredients finely
If you're using a light sauce and pasta with small crevices, chop all the salad ingredients up small.
This way, you'll get a bit of everything in each bite. This is ideal for fusilli.
For large pasta shapes like rigatoni, you can keep the veggies a little chunkier.
5. Add a protein for a more filling option
Adding protein to your pasta salad is a great way to make it a filling meal.
For this recipe, you might want to try adding 100g or so of cooked chickpeas, white beans or tofu.
6. Chill before serving
Pasta salad is best served chilled, so be sure to let it sit in the fridge for at least 30 minutes before serving.
This will also give the flavours time to meld together, resulting in an even more flavoursome pasta salad.
Can I veganise this Curry Pasta Salad recipe?
Yes! This recipe is really easy to transform into a vegan dish.
Simply replace the yoghurt with any unsweetened plant-based yoghurt. Choose a vegan mayonnaise.
I use vegan mayonnaise in the recipe you see here.
Could I make this gluten free?
Sure. Just use a gluten-free pasta of your choice.
Ensure your other packaged ingredients like mayonnaise and gluten free too.
What to serve with pasta salad
Veggie burgers, sandwiches, panini, kebabs, roasted vegetables and wraps are all excellent to serve alongside pasta salad.
Find a list of delicious suggestions at the end of this post.
Ingredients you'll need for Curry Pasta Salad
Pasta – try to choose a pasta shape with small nooks and crannies so the light dressing and fine veggies can be swept up in/with them. Fusilli is my first choice.
Curry powder – I use a mild Madras curry powder. Homemade or shop bought.
Yoghurt – thick, Greek-style yoghurt is particularly great for dressing. Use low fat if you prefer.
Mayonnaise – choose your favourite mayo here. I use Hellmann's vegan mayo
Cucumbers – use a teaspoon to scrape out the watery seeds. This will prevent your pasta salad from turning soggy.
Carrots – grate the carrots and squeeze out excess moisture. Again, so that the salad does not become soggy
Peppers (capsicum) – use any colour pepper you like. I like the sweetness of red peppers. If you like things spicy, use a fat red chilli instead
Sweetcorn – any cooked corn is fine. I use tinned (drained), but fresh is also delicious
Red onions – dice the onions very finely so the flavours infuse into the salad well
Vinegar – any vinegar will do. I like apple cider or white vinegar but white wine vinegar is also fine. I prefer using vinegar to lemon juice here.
Fresh coriander (cilantro) – for a zip of fresh flavour at the end. Use parsley or chives if you don't like coriander.
Yield: Serves 4-6
Curry Pasta Salad
Feed a crowd with this vibrant and flavoursome Curry Pasta Salad. It's loaded with freshness, crunch and mild spices. The perfect Indian-inspired salad dish to serve alongside burgers, sandwiches and your favourite bbq dishes. This easy pasta salad recipe is so simple to make in batches for packed lunches, picnics and meal prep. Feel free to switch up the veggies to whatever you have in the fridge!
Additional Time:
30 minutes
Ingredients
275g fusilli or other pasta shape of your choice
150g plain yoghurt
75g mayonnaise
1 tbsp Madras curry powder (medium or mild)
2 tbsp mango chutney
1 tbsp apple cider vinegar or white vinegar
60g cooked sweetcorn
1/2 red pepper, finely diced (60g)
1/2 small red onion, finely chopped (30g)
1/2 small cucumber, deseeded and chopped (60g)
1 medium carrot, peeled, grated and squeezed of excess juices
2 tbsp chopped coriander
1/2 tsp salt, or to taste
Instructions
Cook the pasta according to packet instructions. Don't leave it too al dente as it will require no further cooking. Drain and rinse under cold water. Allow to drain in a colander very well.
In a large bowl, whisk together the yoghurt, mayonnaise, curry powder, mango chutney, vinegar and salt.
Add the prepared sweetcorn, peppers, onions, cucumbers, carrots, coriander and pasta. Stir very well to coat.
Chill the pasta salad in the fridge for 30 minutes before serving.
Notes
Make the pasta salad up to 24 hours in advance and keep refrigerated.
Do not freeze.
If you can, try to choose a pasta shape that compliments the dressing style and other ingredients. I like something with lots of tight nooks and crannies so that the pasta carries the sauce, as well as the finely-shredded and chopped veggies.
Use any style of curry powder you like for this recipe. I opt for a mild or medium Madras-style curry powder which is readily available in supermarkets. The spices for Madras curry powder and typically roasted prior to grinding, so require no further cooking to bring out the flavours.
If you prefer, you can use a homemade curry powder. I have a wonderful roasted Madras curry powder recipe in my cookbook, Sanjana Feasts.
Nutrition Information:
Yield:

6
Serving Size:

1
Amount Per Serving:
Calories:

263
Total Fat:

11g
Saturated Fat:

2g
Trans Fat:

0g
Unsaturated Fat:

8g
Cholesterol:

7mg
Sodium:

325mg
Carbohydrates:

36g
Fiber:

3g
Sugar:

11g
Protein:

6g
If you like this, you'll love my recipe for Tawa Bean Burgers
More Indian recipes you might like
Paneer Tikka
Juicy chunks of Indian cottage cheese marinated in homemade tandoori paste and grilled until charred. Perfect with naan, roti or paratha.
Vegetarian Paneer Fajita Traybake
This easy Vegetarian Paneer Fajita Traybake is a vibrant midweek meal you can prepare in advance. Serve the sizzling paneer with tortillas, guacamole, salsa and sour cream for a Mexican-inspired feast.
Chilli-Garlic & Lime Mogo
What I love about mogo is its earthy flavour, which truly comes to life when it's gently steamed or boiled. It's so distinct, you'd know within a split second that someone is making 'bafelo mogo' (steamed cassava). It reminds me of the beautiful Mombasa sunshine. This chilli, garlic and lime version is a favourite in our British-Indian-East African home. Follow my tips for perfectly-crispy mogo chips without having to deep fry anything.
Check out this recipe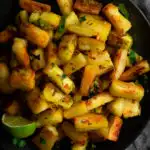 Golden Air Fryer Samosas
Here's a delicious recipe for the crispiest air fryer samosas. You won't believe these lightly-spiced, vegetable parcels aren't deep fried! They're vegan-friendly too.
With love and Curry Pasta Salad,
Sanjana