Learn how to make this amazing Barfi Recipe (2-Ingredient Ice Cream Barfi)!
This is a unique ice cream barfi recipe made without condensed milk.
It's ready in just 15 minutes and tastes absolutely delicious.
Just wait until you find out what the secret ingredient is…
You won't believe how easy it is to make fudgy milk barfi without condensed milk.
The secret ingredient is VANILLA ICE CREAM!
Using ice cream is is an incredible tip for making quick and easy Indian barfi.
What is Ice Cream Barfi?
My take on ice cream barfi is a base of vanilla ice cream, thickened with whole milk powder.
Once cooked and set in a tray, you can slice it like fudge, or any traditional Indian barfi.
It's an awesome last-minute sweet for Diwali, Eid, or any festival.
How can you make Barfi with ice cream?
Ice cream is the perfect ingredient to add to barfi since it already contains a great deal of common ingredients you'd mix in to a traditional barfi recipe.
For example, ice cream already contains the milk, cream, sugar and fats required to make a sweet, soft and melt-in-the-mouth milk barfi.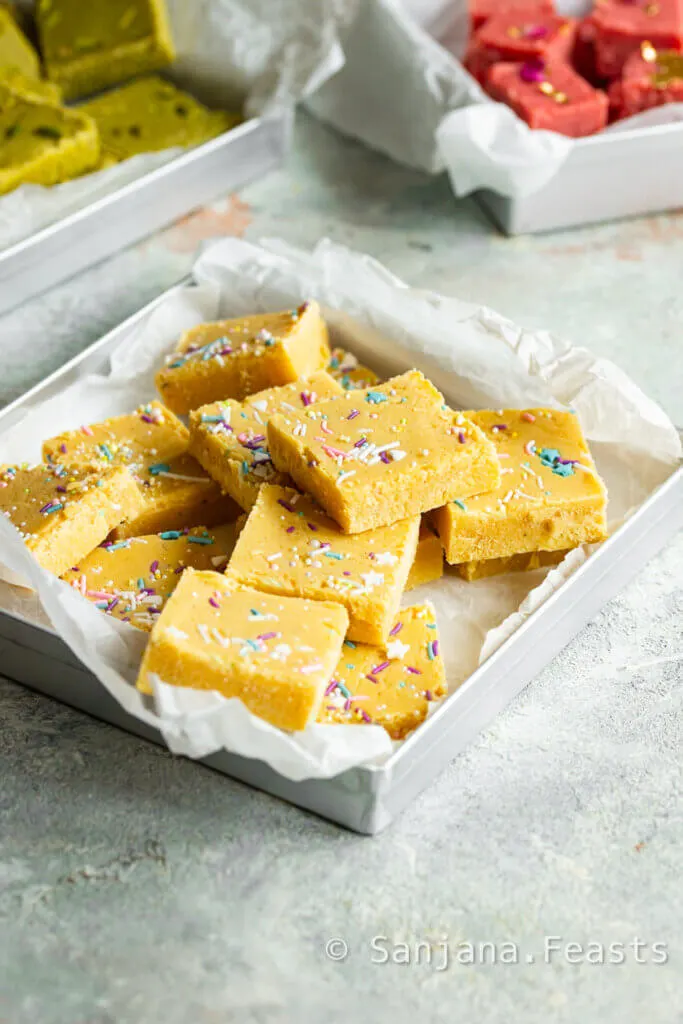 Since all of these ingredients are typically added to barfi, it makes sense to incorporate ice cream into the barfi recipe.
You'll be shopping for fewer ingredients and end up with squares of milk barfi that taste just as delicious (if not better) than the kind you find in Indian sweet (mithai) shops.
When using ice cream in barfi, you also have the added bonus of delicious vanilla flavours running though the finished dish.
What is Indian barfi made of?
Although barfi is easily available in most Indian sweet shops, the flavours from making your own are unparalleled.
There are so many different ways to make barfi at home.
Common recipes include: condensed milk, whole milk, double (heavy) cream, mawa (milk solids), paneer and even ricotta cheese!
What is the translation of Barfi?
The word barfi or burfi is a Hindi and Urdu word which stems from the Persian word barfī, which literally means 'icy' or 'snowy'.
Baraf is the Hindi and Urdu word for 'ice'.
It's believed the common name for this milk fudge came from Persia sometime around the 16th Century, via the Mughal Empire.
However, many burfi-like sweets had been prepared in the Indian subcontinent for centuries prior.
You might like these Barfi recipes
This traditional sweet carries the name Burfi because of it's cool, melt-in-the mouth texture, like melting ice.
Where is barfi eaten?
Barfi is popular across the Indian subcontinent and in parts of the Middle East.
Indeed, it has travelled far beyond Asia with the Indian diaspora.
Barfi is now a mainstay of migrant communities across Europe, the Americas, Africa and the Pacific.
In fact, the Indian communities of Trinidad, Guyana, Fiji, South Africa and Kenya all have their own styles of Barfi, amongst others.
What do we call barfi in English?
Barfi is a popular sweet enjoyed in Indian and throughout South Asia.
It's a style of fudge made from milk and flavoured with cardamom and sometimes saffron.
Therefore, 'milk fudge' would probably be the most accurate way to describe Barfi in English.
What does Barfi taste like?
When it comes to barfi, textures can range from creamy to crumbly, or a cross between the two.
My favourite style of barfi is sweet and creamy, with a delicate crumbly texture reminiscent of fudge.
Can I make other flavours of ice cream barfi?
Absolutely, you can make any flavour barfi you like using this quick and easy recipe.
This 2-ingredient ice cream barfi is very easy to customise.
Simply buy your favourite flavour ice cream, such as pistachio, strawberry or even chocolate, banana and coconut.
Get creative and try out your favourite flavours at home.
Ingredients for Barfi Recipe (2-Ingredient Ice Cream Barfi)
Vanilla ice cream – try to choose a brand with a short list of ingredients. I used Carte D'or Madagascan vanilla ice cream, which is an eggless ice cream.
Full-fat (whole) milk powder – must be full fat milk powder, not skimmed.
Optional add-in and decoration – ground cardamom and sprinkles.
Step-by-step instructions for Barfi Recipe (2-Ingredient Ice Cream Barfi)
1. Melt the ice cream
Gently melt the ice cream in a non-stick pan.
Ensure the pan is set over a medium-low heat.
No need to bring it to the boil, it just needs to be fully melted and warm.
2. Add the milk powder
Once the ice cream has melted, tip the milk powder in.
Stir well until fully incorporated.
Beat with a wooden spoon to help it come together in one mass. Some lumps are fine.
3. Cook the ice cream barfi mixture
Keep the mixture over a medium-low heat and stir vigorously for 15 minutes.
Do not stop stirring the barfi mixture or it may catch and burn at the base of the pan.
If you notice brown spots start to develop, turn the heat down and stir more thoroughly.
After 15 minutes, the ice cream barfi mixture should begin to resemble mashed potato and come together as a ball.
This means it's ready. Switch the heat off and stir in any cardamom (if using).
4. Set the milk barfi in a tin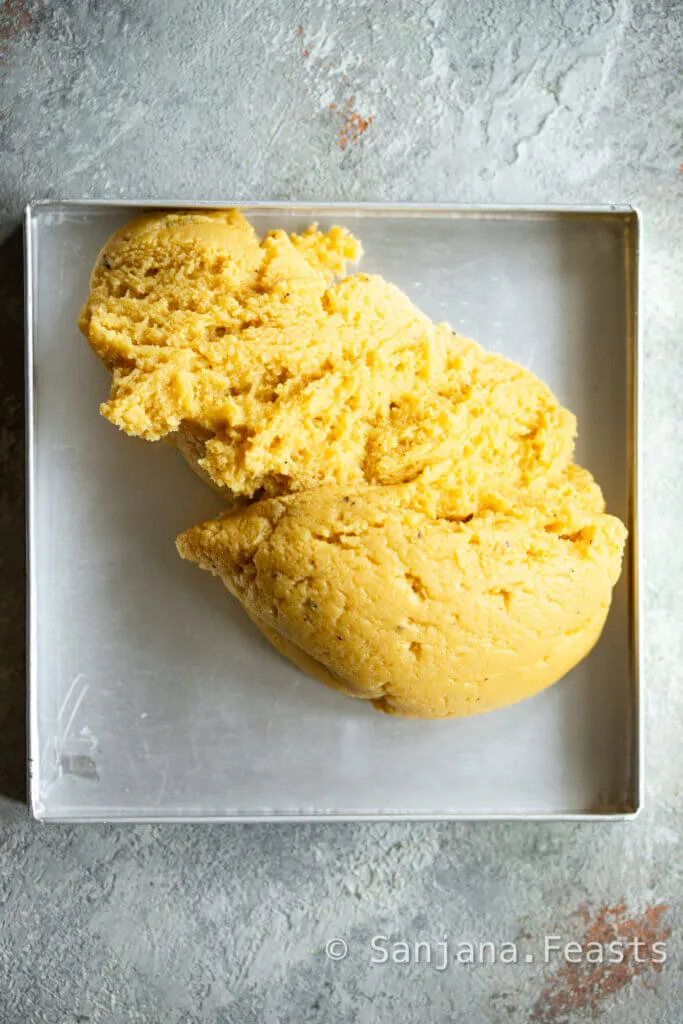 Immediately press the mixture into a greased L30 x W20 x D5cm (13″x9″) rectangular or 10″x10″ square tin (pan).
You can also line the tin if you like.
5. Decorate (optional step)
Sprinkle the barfi with any decorations you like.
Since this is ice cream barfi, I've opted for some colourful ice cream sundae sprinkles.
Allow the barfi to set at room temperature for 2 hours, or until completely cool.
6. Cut the barfi into pieces
Use a sharp knife to cut the milk barfi into pieces as big or as small as you like.
Barfi Recipe (2-Ingredient Ice Cream Barfi) | Milk Barfi recipe without condensed milk
Yield: 12 pieces
Barfi Recipe (2-Ingredient Ice Cream Barfi)
Learn how to make amazing Indian milk barfi with only two ingredients and without condensed milk. It's ready in just 15 minutes. You won't believe how easy it is to make fudgy milk barfi without condensed milk. The secret ingredient is vanilla ICE CREAM! This is an incredible tip for making quick and easy Indian barfi. Perfect for special occasions like Diwali and Eid.
Total Time:
2 hours
15 minutes
Ingredients
900ml (3 1/4 cups) vanilla ice cream
425g (4 1/3 cups) full-fat milk powder
Optional add ins
1/2 tsp ground cardamom
Sprinkles, to decorate
Instructions
Grease a L30 x W20 x D5cm (13"x9") rectangular traybake pan with oil.
Set a large, non-stick pan over a medium-low heat. Add the ice cream and stir until melted.
Once the ice cream has melted, add the milk powder and stir to incorporate. With the heat set low, beat the mixture with a wooden spoon until smooth.
Continue to cook and stir for 15 minutes. Do not stop stirring or the mixture may catch and burn at the base of the pan. Once the barfi mixture has thickened and resembles mashed potato, it is ready. Stir in optional cardamom if desired.
Tip the mixture into the prepared pan and press down with the back of a spoon to flatten. Top with sprinkles if desired.
Allow to stand at room temperature until completely cool. Cut into squares and serve.
Notes
Store barfi inside an airtight container at room temperature for up to 24 hours.
If you need to store the barfi for longer, pack it into an airtight container and refrigerate for up to a week. Note that the barfi can dry out the longer it is kept in the fridge.
Freeze barfi in a freezer-safe container for up to a month. Defrost at room temperature. Freezing may affect the texture of the barfi slightly.
Use any flavour ice cream you like for making ice cream barfi. The fewer ingredients listed on the packaging, the better. Try to go for something without a great deal of ingredients listed.
Cardamom is optional. Omit or substitute with saffron or nutmeg if desired.
Decorate with sprinkles, nuts, edible gold or silver leaf (foil), or leave plain.
I used Carte D'or Madagascan Vanilla Ice Cream for this recipe. It is an eggless ice cream.
Nutrition Information:
Yield:

12
Serving Size:

1
Amount Per Serving:
Calories:

35
Total Fat:

2g
Saturated Fat:

1g
Trans Fat:

0g
Unsaturated Fat:

1g
Cholesterol:

6mg
Sodium:

18mg
Carbohydrates:

4g
Fiber:

0g
Sugar:

4g
Protein:

1g
11 Burfi Recipes to Satisfy Your Sweet Tooth
Learn how to make the traditional South Asian milk fudge, burfi with these easy and creative recipes.
If you like this, you'll love my recipe for 15-Minute Mango Burfi
Pin this recipe for later!
With love and 2-Ingredient Ice Cream Barfi,
Sanjana