Creamy, dreamy Eggless Tiramisu with Homemade Ladyfingers (+ Video). Make your own spongy ladyfingers (savoiardi) with an easy step-by-step tutorial. No eggs required!
I almost lost my marbles trying to perfect this recipe for homemade ladyfingers and after many attempts, the result is beautifully-light, spongy and perfect for soaking up espresso.
What is Italian Tiramisu?
The traditional recipe for Italian Tiramisu is made with ladyfingers soaked in espresso/coffee and a liqueur (usually Marsala). These are covered with cream made with raw egg yolk, mascarpone and sugar. The dessert is finished off with a shower of cocoa powder.
My Eggless Ladyfinger journey
You know how people say, "Third time lucky"? Well for me, this Homemade Eggless Ladyfingers recipe was more of a ninth-time lucky project!
To achieve a perfectly light egg-free ladyfinger (savoiardi) requires both the sponge to be lower in fat than a traditional cake, yet still moist enough to rise adequately in the oven.
After what's felt like a mammoth task, I present you with my perfectly-delicious Eggless Ladyfinger recipe. They drink up espresso like no man's business and remain super light inside our favourite desserts.
While they may no be piped into oblong "fingers" like their traditional eggy counterparts, I guarantee you'll never know the difference when you eat your dessert. Neither will your friends and family.
Here's how I make them.
How to make Eggless Ladyfingers (Savoiardi)
1. Mix up the batter for the Eggless Ladyfingers
With the combination of self-raising flour, potato starch and DIY buttermilk, our egg-free savoiardi will have both the lightness and sponginess of shop-bought ladyfingers.
2. Pour and bake
Spread the batter quite thinly onto a lined baking tin. It will seem like there's no enough batter but it will rise to double the height in the oven. Be sure to use the correct size tin.
See notes in the recipe card below for tin dimensions.
3. Top with sugar
Like any good shop-bought ladyfingers, our sponge must have a crunchy sugar top. Only scatter the sponge with sugar once it's cooled a little or the sugar will start to melt. I speak from experience!
Allow the eggless sponge fingers to cool
Be patient, this could take about an hour.
4. Cut and dry
No, I'm not talking about what you ask for at the hairdressers. Carefully lift the sponge out of the tin and cut it into rectangles (approx. 2.5cm x 8.5cm).
Okay, so this isn't the typical shape of ladyfingers you buy from the shop but hey, this is homemade. Also, nobody will even see the shape once you blanket them in mascarpone cream and cocoa powder.
Gently peel the cut eggless ladyfingers from the baking parchment and lay them on a wire rack.
Now leave them there, uncovered for 24 hours. Yep, a whole day.
This last step is a crucial step in making good Eggless Ladyfingers that soak up lots of espresso! We want them to become stale and hard so they keep their shape and drink in all those delicious coffee flavours.
Video: Learn how to make amazing Eggless Tiramisu from scratch
How to make Eggless Tiramisu with Mascarpone
Make the eggless ladyfingers. Don't forget the wait 24 hours after they're cut. The drying time is essential!
Pour some strong espresso. I use instant Arabica coffee granules and boiling water. You can add some booze if you like. Allow to cool.
Whip up the mascarpone and sweetened condensed milk. Fold in whipped cream.
Dunk the dry eggless ladyfingers in the cold espresso and arrange them in a dish.
Top with mascarpone cream and a flurry of cocoa powder and cinnamon.
Repeat!
Pipe the final third of mascarpone cream on top. This is totally optional. Just spread it if you want something simpler.
8. Dust with more cocoa and cinnamon.
9. Cover and chill in the fridge for 24, 48, 72 hours… whatever. The longer the better. It keeps well in the fridge for up to a week. Tiramisu can be made and frozen for up to 3 months.
Can I add alcohol to this Eggless Tiramisu with Homemade Ladyfingers?
Be my guest! I normally would but not everyone in my family drinks so I thought I'd give it a miss this time.
If you like your eggless tiramisu boozy, add 3-4 tablespoons of marsala, Bailey's, dark rum or whiskey to the cold espresso.
Can I make this Tiramisu in advance?
Yes! Please do. It tastes so much better after 72 hours in the fridge. 24-48 hours ahead of time are also fine. It will last for a week in the fridge (covered) since there are no raw eggs in the recipe.
Does Tiramisu freeze well?
You can also freeze tiramisu for up to 3 months. Defrost at room temperature.
Can I skip the cinnamon?
You sure can. If cinnamon isn't your thing, just leave it out of the cocoa mixture. I do recommend using the best-quality cocoa powder you can afford. In this recipe, I'm using this Valrhona Cacao Powder.
Why do you use potato starch in the Eggless Ladyfingers recipe?
For a much lighter sponge. Too much and the sponge will turn gummy so be sure to weigh your ingredients with precision.
I have tried the recipe with cornstarch but find potato starch produces a better texture. Ultimately, both work.
Shop my Eggless Tiramisu essentials!
This post contains Amazon Affiliate links. These are all products I have purchased of my own accord and ones that I use myself. None of the products mentioned have been gifted to me. By using an affiliate link, I receive a small commission at no expense to you. This commission helps to support this blog. Thanks in advance if you choose to make a purchase through these links!
Eggless Tiramisu with Homemade Ladyfingers (+ Video) recipe card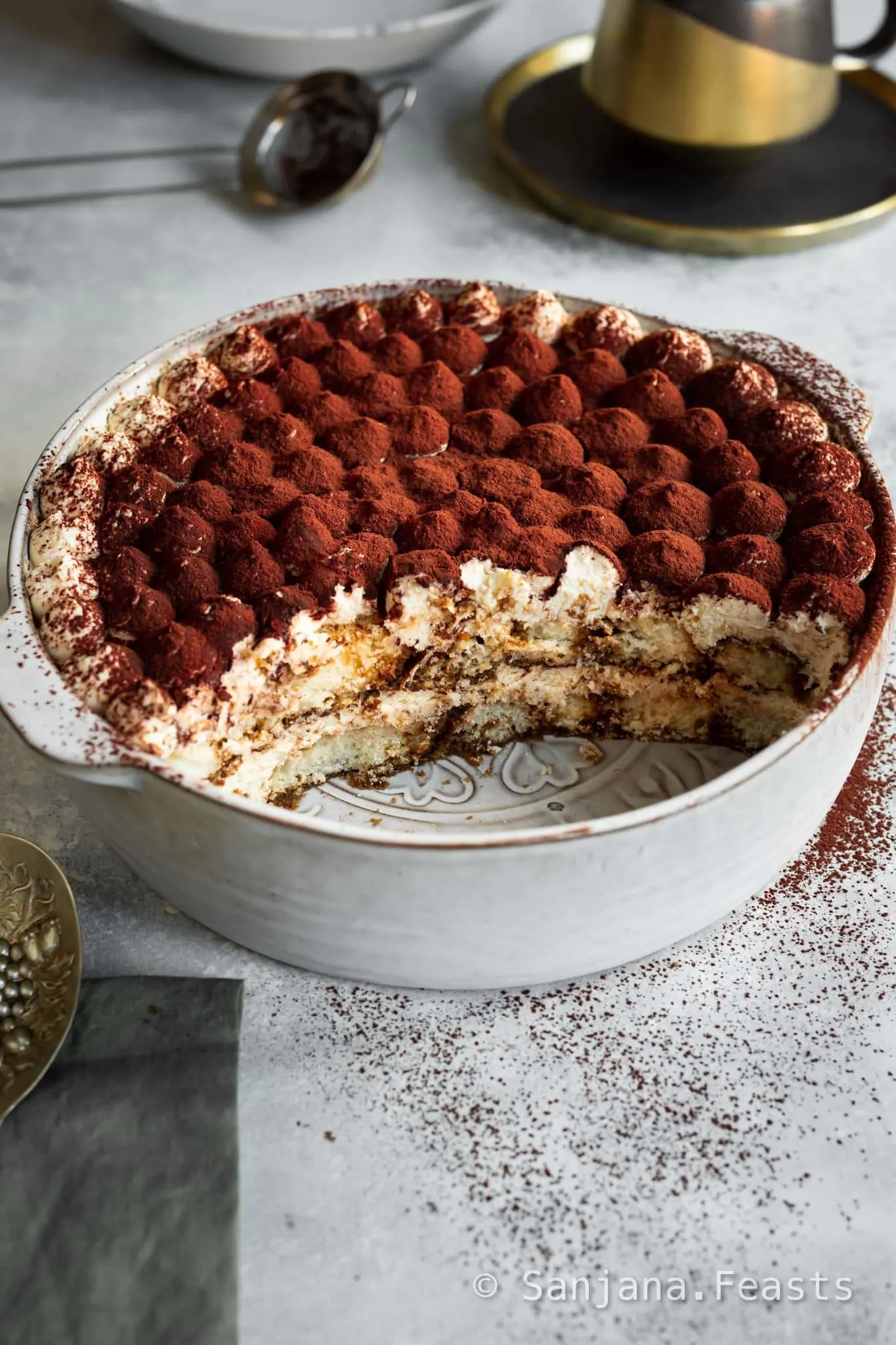 Equipment
20 x 3.5 x 31.5 cm cake tin or traybake tin

Deep ceramic or glass dish
Ingredients
For the sponge layer:
280

g

self-raising flour

180

g

caster sugar + 4 tbsp

330

ml

full-fat milk at room temperature

2

tsp

white vinegar or apple cider vinegar

2

tsp

pure vanilla extract not vanilla essence

30

g

potato starch

70

ml

any flavourless oil

1/4

tsp

salt
For the coffee:
20

g

instant Arabica coffee

650

ml

boiling hot water
You will also need:
500

g

mascarpone

600

g

double cream

divided

200

g

sweetened condensed milk

1

tbsp

cocoa powder

1

tsp

ground cinnamon
Instructions
To make the eggless ladyfingers:
Pre-heat the oven to 175°C/350°F. Line a baking tray with baking parchment, leaving a 3cm overhang at the longest sides for easy removal from the tin later.

Sift together the flour, 180g caster sugar, potato starch and salt.

In a jug, whisk together the milk and apple cider vinegar. Set aside for 10 minutes. Once it looks like its curdled a little, add the vanilla extract and oil. Whisk briefly.

Pour the wet ingredients into the sifted dry ingredients and whisk until smooth, about 90 seconds. It should be of a flowing, ribbon consistency.

Immediately pour HALF of the batter into the lined tin and spread it out using a spatula. Rasp the tin on the counter top a dozen times to encourage any air bubbles to rise to the surface. This will give you a more even bake.

Bake the sponge in the preheated oven for 15 minutes. It should be springy to the touch and slightly golden on top.

Remove the sponge from the oven and allow to cool for 10 minutes. After this time, scatter 4 tbsp caster sugar over the top and give the pan a gentle shake to distribute it evenly. The surface of the sponge should look beautifully frosty. Carefully lift the sponge from the tin.

Repeat the same baking steps above to bake the second half of the batter.

Once both sponges have cooled, slice them into rectangles, about 2.5cm x 8.5cm. Carefully peel the sponge fingers away from the baking parchment and set them on a wire rack. Leave them out at room temperature, uncovered for 24 hours. Do not skip this step. The air-drying ensures the sponge fingers become dry enough to dip into the coffee without breaking.
To make the espresso:
Mix together the instant coffee and boiling water. Allow to cool completely. Now is the time to add any alcohol if you like. I kept mine alcohol free.
To make the mascarpone cream:
In a bowl, mix together the mascarpone and sweetened condensed milk. Once combined, whisk until smooth.

In a separate bowl, whisk the double cream until it produces soft peaks. Don't overwhip.

A little at a time, fold the whipped cream into the mascarpone mixture. The finished mascarpone cream should be smooth and able to hold a peak.

In a small bowl, mix together the cocoa powder and cinnamon.
To assemble to tiramisu:
Take a large glass or ceramic dish. Dip the now stale ladyfingers in the cold coffee until soaked, about 5-6 seconds and then arrange in the base of the dish. Top with 1/3 of the mascarpone cream and spread out into an even layer.

Use a tea strainer to sift half of the cocoa powder and cinnamon mixture on top of the mascarpone cream.

Repeat the sponge finger and espresso layering process. You can plug any gaps with broken sponge fingers to fit. Top with another 1/3 of the mascarpone cream.

Place the remaining mascarpone cream in a piping bag fitted with a large, round nozzle. Pipe little blobs of cream on the top of the tiramisu for a pretty finish. Sift the remaining cocoa powder and cinnamon mixture over the top of the tiramisu.

Cover the dish, taking care not to smudge the top. Refrigerate the tiramisu for at least 24 hours (or up to 72 hours) before serving.
Sanjana's Notes
Since this tiramisu is eggless, it will keep well in the fridge for up to a week.
Freeze any leftover tiramisu in freezer-safe containers for up to 3 months. Defrost at room temperature and consume within 24 hours. Do not re-freeze.
If you don't want to pipe a design on top of the tiramisu, divide the mascarpone in half rather than thirds. Use half in the first layer and half on top.
Decaf coffee can be used in place of regular coffee.
Cinnamon is optional. Leave it out if you don't like it.
If you like your eggless tiramisu boozy, add 2-3 tablespoons of marsala, Bailey's, dark rum or whiskey to the cold espresso.
This recipe makes approx. 52 ladyfingers/sponge fingers.
You might also like these eggless desserts
Vegan Angel Cakes
Make a vegan version of the great British Bake, Angel Cakes. These light, layered sponge bars are flavoured with almond and taste just like the original. Nostalgia in three bites!
Black Forest Brownie Cake
This fudgy Black Forest Brownie Cake is a slice of heaven. Layers of torte-like chocolate cake, whipped cream, cherries and dark chocolate.
Pin this Eggless Tiramisu with Homemade Ladyfingers (+ Video) for later!
Pin this Homemade Eggless Ladyfingers recipe
If you like this, you'll love my recipe for Roasted Vegetable & Mascarpone Lasagne
Subscribe to my YouTube Channel!
Love Sanjana