'Tis the season to eat mangoes! I had my annual fix of Indian Alphonso mango this weekend and they were flawless, as always.
I was so desperate to get my mitts on them, I immediately went on a mango hunt after leaving work on Friday. Stepping into the Indian shop closest to my London train station, my eyes darted from shelf to shelf. There were rows upon rows of lentils, spices and green vegetables, but alas, there was not a mango in sight. My heart sank.
As I meandered through the tiny, yet unfathomably packed shop, my nostrils filled with the smell of ajwain, dried turmeric, fenugreek… and then finally, the sweetest scent of fresh mango. There they were, a pile of mango boxes lying in wait like treasure in Aladdin's cave, except better.
I pounced on them faster than Shere Khan on Mowgli, the man child in Rudyard Kipling's Jungle Book. As usual, the two mango varieties were Alphonso and Kesar. When given the choice, I get Alphonso. They have more fragrance and a super-lush orange colour.
They were only sold in boxes of twelve so I got the whole lot. The only glitch was that I had to carry the entire box back home. The entire train carriage was filled with the heavenly scent of fresh mango – a welcome change from the stench of somebody's hot Burger King dinner *shudder*. You're welcome, fellow commuters. You're welcome.
After eating three of twelve mangoes, I figured I better whip up one of my favourite desserts before they all disappear. This egg-free Alphonso Mango Pavlova Cheesecake is a true showstopper.
It's a malted milk biscuit base, sweet mango and vanilla mascarpone cheesecake filling topped with eggless pavlova, fresh cream and all your favourite fruit. This pavlova cheesecake is rich, decadent and unashamedly two of the most awesome desserts ever stacked to make one epic masterpiece.
If you're a lover of Indian Alphonso mango, this is a glorious way of celebrating it.
Here's how I did it.
Alphonso Mango Pavlova Cheesecake (Eggless Recipe)
Serves 12-14
Ingredients
For the pavlova layer:
1 x 400g tin chickpeas in water (left in the fridge overnight)
280g golden caster sugar
1 tsp apple cider vinegar
½ tsp arrowroot or cornflour
3 tsp vanilla extract
For the cheesecake base:
260g malted milk biscuits (you could use ginger biscuits or NICE biscuits too)
100g unsalted butter, melted
For the Alphonso mango cheesecake filling:
500g mascarpone cheese
300g full fat cream cheese (I used Philadelphia)
200ml double cream + 100ml extra
450g icing sugar
Juice of 2 lemons
2 tsp vanilla extract
300g Alphonso mango, blended (this was approx. 3 mangos for me)
2 tbsp agar agar powder
For the decoration:
Whipped cream
Mixed fruits of your choice (I used more mango, kiwi, strawberries, grapes, physalis, blackberries and figs)
You will also need a 24cm spring form tin.
Method
1. First, you'll need to make the pavlova. Preheat the oven to 120C.
2. Take a piece of non-stick baking parchment and draw a circle on it, using the removable base from your cake tin. Flip the paper over and place it on a large baking tray. You now have the perfect outline for your pavlova.
3. Drain the can of chickpeas and reserve the water. Put the chickpeas in a container and use it to make Channa Masala or Hummus later.
4. Pour the chickpea water and vinegar into the bowl of an electric stand mixer fitted with the balloon whisk attachment. Make sure your bowl is really clean and grease free. Any oil could cause your meringue to deflate.
5. Whisk on a high speed for 4 minutes. Mix together the sugar and cornflour. Gradually add the sugar mixture a tablespoon at a time and continue to beat until you have stiff glossy peaks. Congratulations, you've just made your own vegan marshmallow fluff! But right now, we're making pavlova.
6. Dollop the meringue mixture onto the piece of baking paper, staying inside the circle you traced. Even it out using the back of a spoon, creating a little crater in the middle for your cream and fruit later. I like to keep it looking craggy and rustic so don't fuss over it looking too perfect.
7. Place into the middle shelf of the oven and immediately turn the heat down to 100C. Bake for 2 hours 30 minutes. Once this time is up, crack the oven door open a little and leave it to cool completely. You'll then be able to peel it away from the non-stick paper.
8. Next, make the cheesecake base. Blitz the biscuits in a food processor until they resemble the texture of sand. Stir in the melted butter. Press into the base of the tin, making sure it's even and packed tightly. Refrigerate for 30 minutes.
9. To make the cheesecake filling, beat together the mascarpone, cream cheese, 200ml double cream, vanilla, icing sugar and lemon juice. Don't overwork it.
10. Place the agar agar in a small bowl. Add 2 tbsp cold water and stir to dissolve. In a small saucepan, combine the agar agar and 100ml double cream. Heat gently, stirring all the time until the mixture comes to a boil. You will notice it will begin to thicken. Boil for a minute or so and then switch off the heat. Add the mango pulp and stir to combine. This will lower the temperature of the cream mixture.
11. Add the mango mixture to the cream cheese mixture and whip until fully combined. It should thicken very slightly.
12. Pile the cheesecake filling onto the cooled biscuit base and smooth out the top.
13. Cover tightly and refrigerate overnight.
14. To serve, run a knife around the edge of the cheesecake and remove the sides of the tin. Place onto a cake plate or stand and place the pavlova on top. Fill the crater in the middle with whipped cream and fresh fruit. I recommend more mango, obviously.
Devour immediately.
Note: Wrap your cooled pavlova in foil overnight to ensure it stays crisp for serving the next day.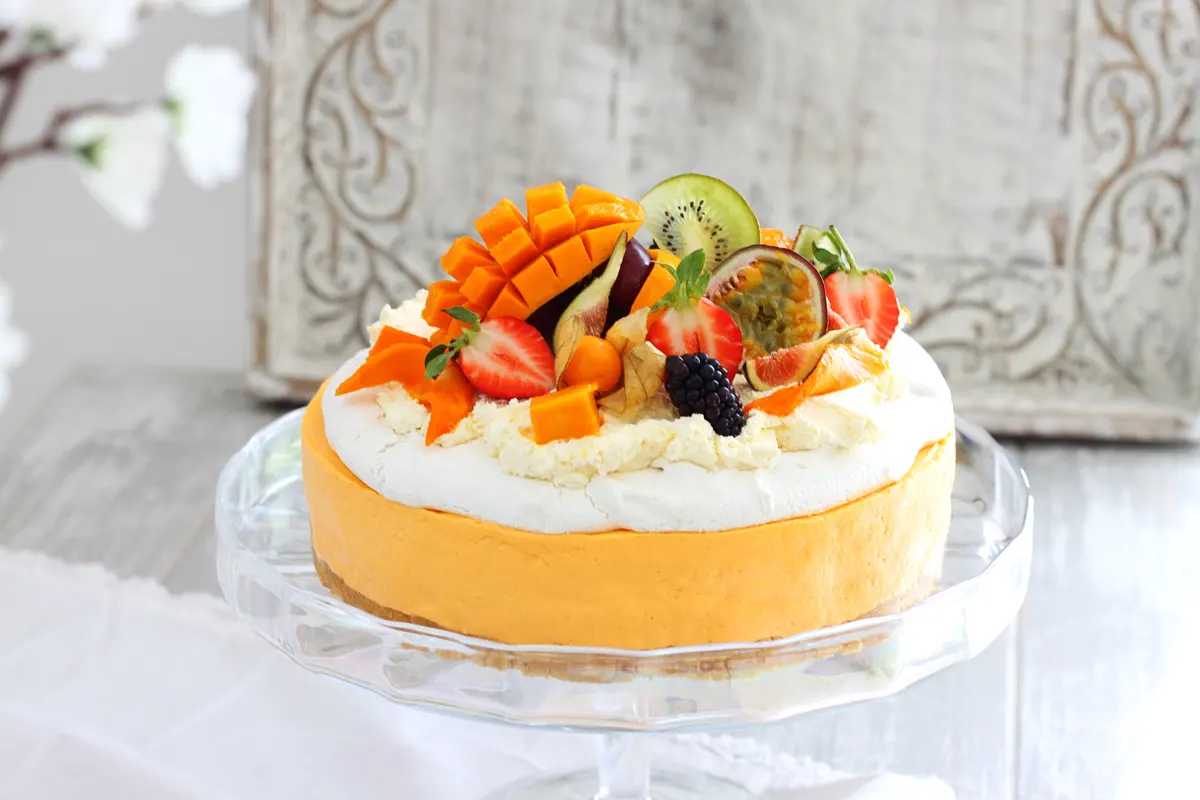 Love Sanjana