July 1, 2019
Vegan Custard Powder Fairy Cakes
These spongy, golden yellow Vegan Custard Powder Fairy Cakes are everything I want in a cake. They're absolutely the happiest cakes I know how to make! The version I remember growing up always had the most basic sprinkles on top.
5 reasons why you need to make these Vegan Custard Powder Fairy Cakes ASAP
They're crazy easy to bake.
The recipe is dairy free so these fairy cakes are 100% vegan.
Lots of vanilla makes them taste like birthday cake.
Custard powder gives these cakes a super light texture.
No icing/frosting make them perfect for snacking all week long. Keep them in an airtight container and pack into lunchboxes or enjoy with your afternoon tea or coffee. I promise you won't miss the icing.
A truly nostalgic snack cake
These little cakes take me back to my childhood. I remember raiding biscuit tins for these ALL the time. They look just like the Indian bakery-style cakes sold in the shops, too.
I have very fond memories of munching on them with a cup of masala chai. Peeling back the paper case still fills me with all the good vibes! Clearly I'm still a kidult at heart.
I could go on raving about the nostalgic factor of these Vegan Custard Powder Fairy Cakes but we're cutting into precious cake time here.
What makes these Custard Powder Fairy Cakes vegan?
The clue is in the title… Custard Powder! The cornflour, thickeners, colour and flavour gives these fairy cakes their melt-in-the-mouth texture. Cornflour helps with binding as well as producing a cake that locks in all the little air bubbles and moisture.
The classic creamy vanilla flavour and colour gives the flavour and colour of traditional sponge cake without the butter or eggs!
If you want a deeper yellow fairy cake, add a tiny amount of yellow food colour to the batter. For example, Wilton Golden Yellow the the perfect custardy shade. This is of course, an entirely optional step.
Is custard powder vegan?
Most of the custard powders I've come across are indeed vegan. However, do check the label beforehand as the variety of options available can be confusing. For example, I've noticed products labelled "Instant Custard" contain dairy, whereas most "Custard Powder" is vegan friendly. For this recipe you will need "Custard Powder".
I use the OG, Bird's Custard Powder because it's delicious and such a classic brand.
What's a fairy cake?!
Okay, so I'm aware that lots of people will call these cupcakes. That's totally fine. Although, where I come from, these smaller, daintier versions are referred to as fairy cakes. The snack cake (I love this term) of choice at any kid's party and what you make in primary school cooking lessons. Seriously, what's not to love?
Kids will love baking these vegan Custard Powder Fairy Cakes
I honestly cannot wait for the day my son is old enough to make his first batch of fairy cakes. As well as teaching him how to make scones and shortbread biscuits, I'll be passing on my recipe for these Custard Powder Fairy Cakes.
The batter can be whipped up in less than 15 minutes and they take just 12 minutes to bake. As a result, the hardest part is the long wait for them to cool before you're allowed to dig in!
The sprinkles in this recipe are optional. Nevertheless, I do think that they're what give the cakes an old world touch.
Ingredients and equipment you'll need for this recipe
Plain flour
Custard powder
Caster sugar
Baking powder
Bicarbonate of soda (baking soda)
Almond milk (or any other plant-based milk)
Apple cider vinegar
Vanilla extract
Almond extract (optional)
Sunflower oil (or any flavourless oil)
Your favourite vegan sprinkles

12-hole cupcake or bun tin
Approx 20 paper fairy cake cases (or small cupcake cases)
Time needed: 35 minutes.
How to make Vegan Custard Powder Fairy Cakes
Pre-heat the oven & line a cupcake tin

Preheat the oven to 175°C/350°F. Line a 12-hole cupcake or bun tin with small paper cases.

Combine the wet ingredients

In a jug, stir together the milk and apple cider vinegar. Allow to stand for 10 minutes, and then stir in the vanilla extract, almond extract and oil.

Combine the dry ingredients

Sift the dry ingredients together in a large bowl, excluding the sugar. Whisk the sugar in to the sifted ingredients.

Whisk the two together

Add the wet ingredients to the dry ingredients and whisk gently until no lumps remain. Don't overbeat the mixture. About a minute of gentle whisking should do.

Divide the batter between the paper cases

Pour or scoop the batter into the paper cases, filling them about 3/4 way up. They will rise in the oven.

Add sprinkles!

Scatter a few sprinkles onto the tops of the cakes. This step is optional but I think they add a fun touch.

Bake the fairy cakes

Place the filled tray into the oven and back for 12-14 minutes, until golden and springy to the touch. Allow to cool in the tin for 5 minutes and then transfer to a wire rack to cool completely before serving.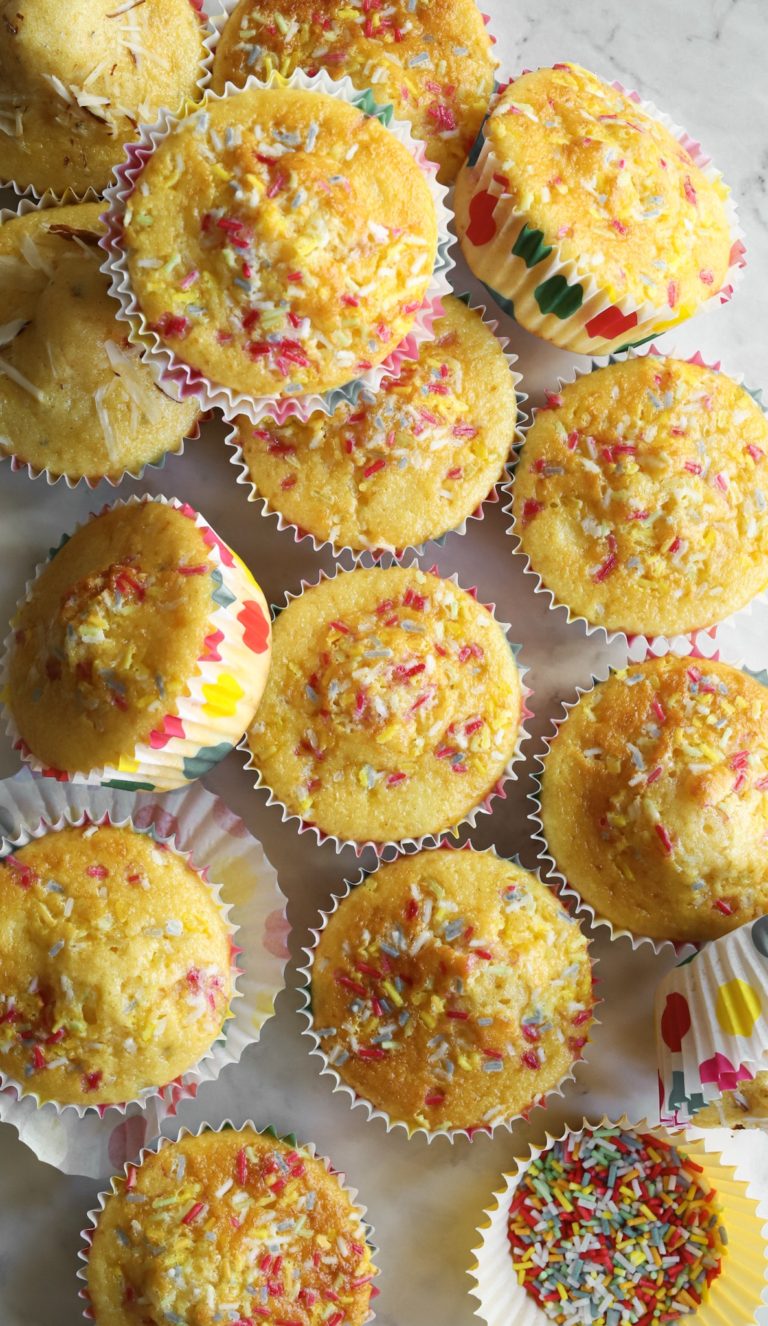 Okay, are you ready for this absolute treasure of a recipe? Grab your favourite sprinkles, because they make these fairy cakes look hopelessly cute.
130

g

plain flour

30

g

custard powder

140

g

caster sugar

1 1/4

tsp

baking powder

1/4

tsp

baking soda

1/8

tsp

fine salt

240

ml

almond milk

(or any plant-based milk)

1

tsp

apple cider vinegar

2

tsp

vanilla extract

1/8

tsp

almond extract

(optional – for enhanced flavour)

90

ml

sunflower oil

(or any flavourless oil)

2

tbsp

your favourite sprinkles

(check the label to ensure they've vegan as many contain shellac or beeswax)
Keep the fairy cakes in an airtight container and eat within 48 hours.
Pin this recipe for later
Vegan cake FAQ
Is there a single egg replacer that works for all vegan baking recipes?
There's not a one-size-fits-all answer as the techniques and make-up of different bakes all require different approaches and ingredients. E.g. Mashed banana, flax eggs, chia eggs, psyllium husk and applesauce are fine for vegan bakes like banana cake, dense muffins and crumb cake but they don't work so well in light vanilla cakes. The vegan cake would end up tasting of those ingredients rather than having the light, white, fluffy texture we all want in a good vanilla cake. I also tend to stay away from using these in vanilla cake baking because the results can be a bit too unpredictable.
Can I swap the sugar in the recipe for honey/coconut sugar/agave/sweetener? Can I reduce the amount of sugar in the recipe?
No. Sugar helps proteins bind and form a good structure in cakes. In the absence of eggs, sugar plays a vital role in binding proteins, forming a good crumb and holding the cake together. Using liquid-based ingredients like honey will change the texture of final cake. Coconut sugar and sweetener have a different make-up to regular sugar too and swapping them in place of sugar will also change the final result of the vegan cake.
My eggless cake is tough. Where did I go wrong?
Overworked batter can produce a dense, tough cake. This is the case with all cakes, not just the vegan kind. If you overbeat cake batter, the in the flour gluten develops to unwanted levels and this will result in tough, stodgy vegan cakes.
Can I swap the white cake flour for wholemeal flour?
Technically yes, you could. Having said this, your vegan cake will be darker in colour and heavier than if you were to use a refined white flour. I've found that extra-fine self-raising sponge flour produces the best results by a country mile if you're looking for a fluffy, white vegan cake.
My cakes are dry. Where did I go wrong?
They are overbaked. Ensure you're baking it for the stated time at the correct temperature. Most domestic ovens tend to be a few degrees out but an internal oven thermometer can help ensure your oven is set at the right temperature. If you don't have an internal oven thermometer you could also increase or reduce the cooking time depending on whether your cake is over baking or under baking
Can I add cocoa powder to make this a chocolate cake?
In vegan cakes, an oil-based batter will result in a moist, fluffy cake. I've found that using butter results in a much firmer cake with a larger crumb.
Why does the plant milk need to be at room temperature?
Room temperature milk will ensure the milk and vinegar mixture curdles quickly and adequately. If you're short of time, microwave cold milk from the fridge on high power in 15 second intervals for a total of 30 seconds, stirring in between.
Why add the additional baking powder if you're using self-raising flour?
After a lot of testing, I've found the extra leavening from the baking powder gives the vegan cupcakes an extra lift for a super fluffy result.
Did you make this recipe?
Follow me on social media to tell me how you liked this recipe + get extra recipes!
Instagram – https://www.instagram.com/sanjana.feasts
Facebook- https://www.facebook.com/sanjanafeasts

Join my exclusive private Facebook group to get lots of recipe tips and to talk about all things Asian vegetarian food https://www.facebook.com/groups/2625129724379123/
Psst… If you like these fairy cakes, you'll LOVE these Fluffy Eggless Vanilla Birthday Cupcakes.
Love Sanjana
Did you make this?
Follow me on social media to tell me how you liked this recipe + get extra recipes!
#SanjanaFeasts