Learn how to make Perfect Patra (Timpa/Alu Vadi) with me!
Here's a foolproof step-by-step Patra recipe with pictures and video so you too, can make this Gujarati and Maharashtrian favourite with ease.
This is the ultimate guide to homemade Patra.
What are Patra?
Patra are colocasia leaves we spread, stack, roll, steam and fry.
Roll the leaves up tightly with sweet and sour tamarind paste and then simply steam, slice and pan fry with spices.
Here, you'll find the most detailed guide to making homemade Patra.
Follow my step-by-step recipe and learn the best tips and tricks for traditional Patra. Wait, how did we get this far without me asking what you call them?
What are some other names for Patra?
If Patra isn't a name you're familiar with, you might know these steamed and fried colocasia rolls as one of the many other names it goes by:
Timpa, Alu Vadi, Pathrode or Arvi ka Pathrode, to mention just a handful.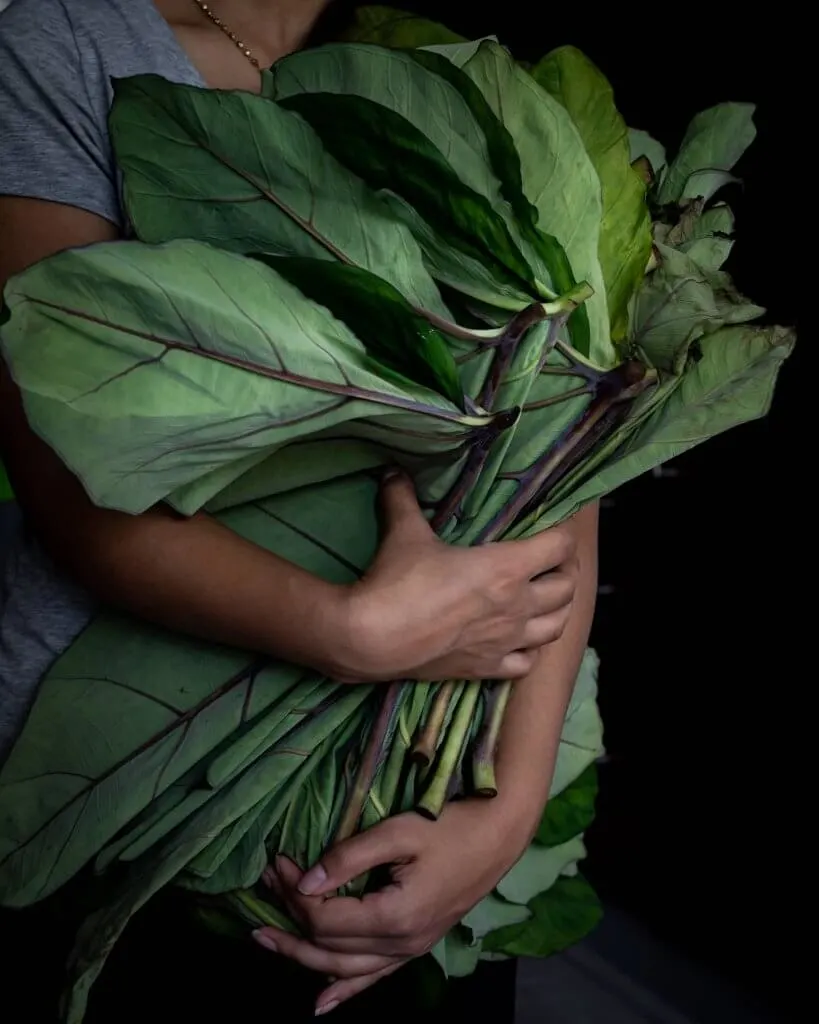 What leaves are used for making Patra
Colocasia leaves. These stately, dark green leaves are famous for their beautiful heart-shape and marble-like surface.
It's because of this appearance that they're known as "elephant ears". I think they look like love hearts!
In Hindi, colocasia leaves are called arbi ke patte. In Gujarati, they're patra na paan.
If you're from Maharashtra and Goa, you'll know them as patrodo, patrode in Karnataka and patrodu in Himachal Pradesh.
What is Colocasia?
Colocasia is the plant from which we obtain the edible tuber, taro.
Taro roots are starchy and similar in texture to cassava.
Ultimately, the large leaves that grow from the taro plant are the leaves we need to make our delicious Patra (Timpa/Alu Vadi).
Patra recipe with spinach
You can make Patra with large spinach leaves if colocasia prove to be an elusive find.
However, the final result will be different to the Patra here in this recipe. Be sure to find the biggest spinach leaves possible.
What do Patra taste like?
Patra are spicy, sweet and tangy. The predominant flavours come from tamarind, cinnamon, cloves and fennel seeds.
The flavour of these rolls will snuggle your taste buds like a snuggly blanket. Chilli and jaggery work together to balance the warm spices.
The texture of the finished Patra is crispy and slightly chewy.
The burnished brown surface adds the most wonderful caramelised aroma, while sesame and mustard seeds lend a welcome nuttiness.
The whole shebang is quite the flavour blast.
Visual guide: How to make Patra
1. Clean and trim the colocasia leaves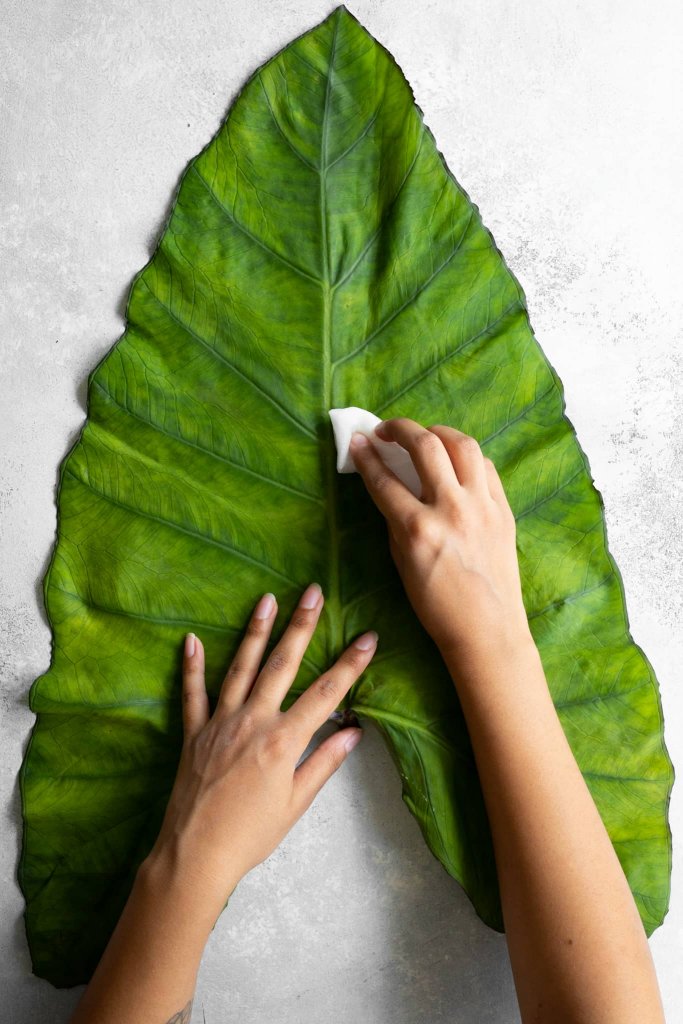 2. Spread and stack Patra with tamarind batter
3. Fold and roll the colocasia leaves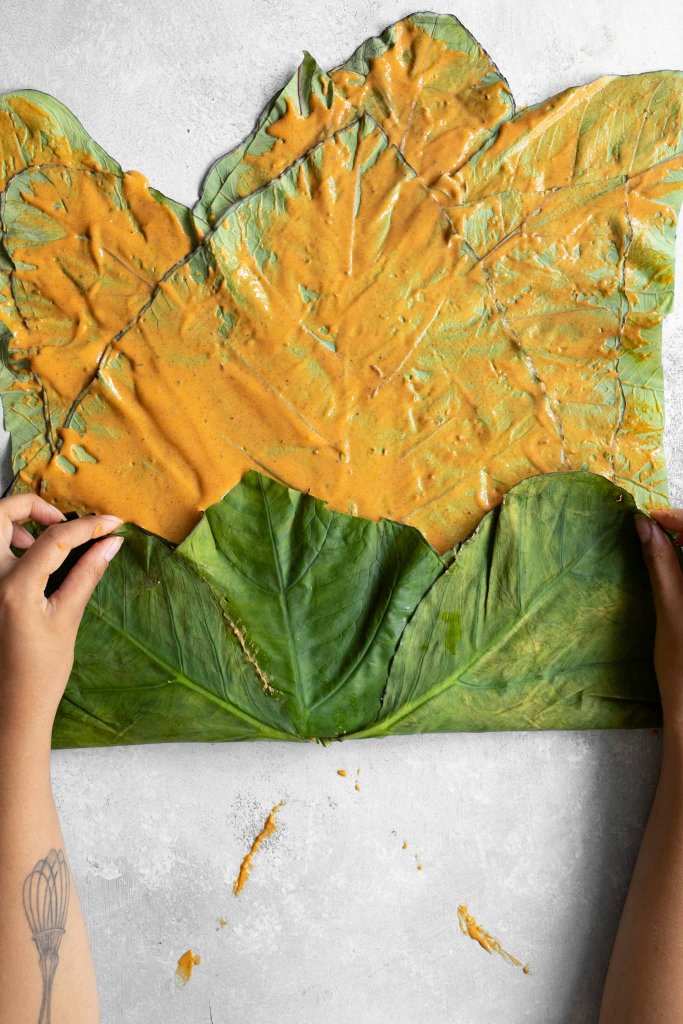 4. Steam and slice the Patra once cool
How to serve Patra
You can pan-fry Patra with a tempering of seeds and spices for a crispy vegan and gluten-free Indian snack. They're perfect with chai.
Enjoy these Patra warm or at room temperature.
Indeed, a cup of masala chai is obligatory, not optional. Get your snack on!
Are Patra vegan?
My recipe for Patra is suitable for vegans.
Are Patra gluten free?
This recipe can be suitable for those who follow a gluten-free diet.
Be sure to use pure asafoetida, not a blend.
Many commercial brands include wheat flour which is not gluten free. However, if you don't have pure asafoetida, simply leave it out of the recipe.
Perfect Patra (Timpa/Alu Vadi) Recipe
Equipment
Steamer or pan fitted with steaming basket

Sharp knife

Non-stick frying pan
Ingredients
5

large

fresh colocasia leaves

(arvi/arbi/taro leaves) available from Indian grocers

250

g

chickpea flour

(besan)

40

g

rice flour

2

tsp

ground cinnamon

1/4

tsp

ground cloves

1

tsp

ground fennel seeds

1

tsp

chilli powder

1/2

tsp

ground cumin seeds

1 1/2

tsp

salt

1

small pinch

bicarbonate of soda

(baking soda)

2.5

cm

piece ginger

peeled and grated

2

green chillies

ground to a paste

5

tbsp

fresh tamarind pulp

(or 2 1/2 tbsp from concentrate)

100

g

jaggery, melted in 60ml hot water

or soft brown sugar

400

ml

water
For the tadka:
3

tbsp

sunflower oil

or any cooking oil

1

tbsp

mustard seeds

1

tsp

asafoetida

use pure for a gluten-free recipe

2

tbsp

sesame seeds

10-12

curry leaves

optional

2

tbsp

fresh coriander leaves

to garnish
Instructions
To prepare the colocasia leaves:
Begin by wiping the colocasia leaves clean with a damp kitchen towel. Clean both sides thoroughly.

Use a sharp paring knife to laterally remove the thick spine that runs down the leaf. Do not cut it out completely. Simply run the knife across the stalk to flatten it so it feels flat to the touch. Continue this process for all of the veins that branch out from the centre. This is an important step so take your time and ensure you trim off much of the thick parts. Once complete, the colocasia leaf should feel floppy when you pick it up.

Repeat the trimming for all the leaves.
To make the batter:
In a large bowl, combine the chickpea flour, rice flour, ground cinnamon, ground cloves, ground fennel seeds, ground cumin seeds, chilli powder, salt and bicarbonate of soda. Whisk to combine.

Add the grated ginger, green chilli paste, tamarind and melted jaggery water. Slowly add the water, whisking all the time to ensure you remove as many lumps as possible. Continue whisking for 3-4 minutes until the paste is smooth, like a thick American pancake batter. Set aside for 10 minutes.
To assemble the Patra:
Organise the colocasia leaves by size. The assembly process will begin with the largest leaves.

Take the largest colocasia leaf and lay it (dull side up) out on a clean, flat surface. Top with a large spoonful of batter. Use a rubber spatula, or your hands to spread the batter over the leaf, covering every inch.

Take the second largest leaf and place it dull side-up in the opposite direction to the first leaf. It should look a bit like a butterfly, the four corners resembling wings. Repeat the spreading process so that the second leaf is covered and place the next leaf in the opposite direction once again. Think of it like we're fattening up the butterfly.

Once you've stacked all five leaves, cover the final with more batter.

Fold one side of the leaves down to the centre. Repeat for the other side so the leaves meet in the middle. It should form a rough rectangle.

Starting from the short side, begin to form a tight roll. Ensure the roll is as tight as it can be without the batter squeezing out or the leaves breaking. You should now have a fat log.

Rub any remaining batter on the outside of the log to stick down any loose ends.
To steam the Patra:
Place a metal ring inside a large pan. Fill the pan with around 3-4cm hot water. Place a greased metal tray on top of the ring and Put the Patra log on top. Make sure the water doesn't touch the tray. Cover the pan with a tight-fitting lid and steam the Patra over a medium-high heat for 25 minutes. Alternatively, you can use a conventional steamer.

To test if the Patra are ready, carefully remove the lid from the pan and prick through the centre with a cocktail stick, like you would if you were testing the doneness of a cake. If the cocktail stick comes out clean, it's ready. Carefully remove the log from the steamer and allow to cool completely at room temperature.
To finish the Patra:
Slice the cooled Patra into 1/2cm pieces using a sharp knife. If you prefer a lighter snack, you can eat them as they are without pan frying.
For the tadka:
To pan-fry Patra the traditional way, heat the oil in a large frying pan. Add the mustard seeds and wait for them to finish popping. Add asafoetida, sesame seeds and optional curry leaves.

Arrange the Patra slices in the pan and cook on both sides until golden brown and crispy all over. Remove from the pan and garnish with fresh coriander leaves. Serve warm or at room temperature with masala chai.
Pin it for later! Perfect Patra (Timpa/Alu Vadi)
If you like this, you'll love my recipe for Gujarati Khaman
More Indian snacks you might enjoy
Gujarati Dudhi Muthiya – How to make Gujarati Steamed Dumplings
Super tender vegetable and rice dumplings, first steamed and then sautéed with crackled mustard seeds, sesame seeds and curry leaves. These Gujarati muthiyas are my family's favourite way of using up leftover cooked rice and veggies.
Check out this recipe
Gujarati Khandvi (Patuli/Paturi)
Tightly rolled, bite-sized snacks made using chickpea flour and yoghurt. They're hot, sweet, sour, salty and so delicious. Khandvi, also known as Patuli is a popular snack from Gujarat, western India. Serve with chai for a tasty breakfast or snack.

Check out this recipe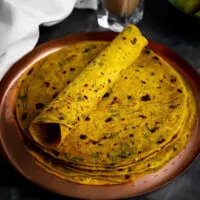 Love Sanjana