The idea of making cheese at home is one of those beautiful things which you never really appreciate until you actually do it.
Paneer is a type of cottage cheese (non-matured) that is popular in India and practically every other place where Indians live, especially among vegetarians. We just can't get enough. It has quickly become a staple ingredient in dishes on menus in underdog vegetarian restaurants all over the UK.
The devotion we feel for this decadent cheese could be likened to the omnivore's appetite for meat. Paneer is packed with protein and is fairly healthy as far as cheeses go, so don't feel bad for once in a while binges. I won't tell if you don't.
Paneer is also famous for making delicious a whole load of otherwise boring dishes. Palak Paneer, Paneer Makhani, Chilli Paneer, Mutter Paneer, Paneer Butter Masala, Shahi Paneer, Paneer Jalfrezi and Saag Paneer to name a few. I will stop there before I drool all over my keyboard and lose all functionality.
You can use this recipe to make all of the above dishes, plus a huge range of others. Your imagination is only restricted by itself. If you are making a curry, remember to press the cheese under weights firmly so that you can cube it without it falling apart. Having said this, I quite like it when the paneer is a little misshapen, utterly homemade and almost melting in the sauce. Note: Paneer is a non-melting cheese but I had to mention that when it is immersed in a great sauce it becomes so soft that it almost tastes half-melted. Slurp. This is the advantage homemade paneer has over shop bought. Indeed, shop bought is great if you want a firmer texture for your dish.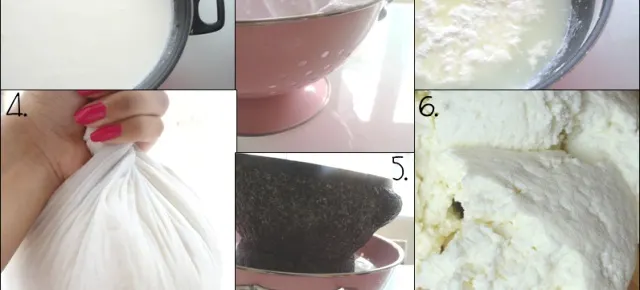 You can also crumble the fresh paneer and use it in samosas, spring rolls, shammi kebabs, kofta and lots of other tasty things, including desserts. Watch this space.
I'm hoping to post a few more dishes that you can make with your homemade paneer in the near future.
If you don't want to use your paneer straight away, you can refrigerate it for up to a week (wrapped up well) or in the freezer for a couple of months. Also, I like to keep a couple of shop-bought blocks of paneer in the freezer for those pesky cravings.
Homemade Paneer: How to make Paneer at Home
(makes 3 cups)
Ingredients
116 fl. oz. (6 pints) full fat milk
¾ cup (220ml) lemon juice
Method
1. In a large, non stick saucepan heat the milk on a very low heat until boiling (see Step 1). Note: Heating the milk on a high flame will almost certainly burn the entire bottom of your pan. I find that rubbing the pan with a little oil before adding the milk (and using a non-stick pan) reduces the risk of burning the hell out of your beloved cookware. Stir the milk often to stop it settling at the bottom of your pan. If, by chance it does settle and burn, do not scrape the burnt gunk off. It will ruin your cheese. And your mood.
2. Place a clean cheesecloth in a colander (Step 2) and put the whole thing in an empty sink.
3. When your milk is boiling hard, add the lemon juice and briefly stir. Leave it for a couple of minutes until all of the curds separate from the whey (Step 3). I love this part, it's like seeing a beautiful yet ugly otherworldly miracle. Let this settle for five minutes or so.
4. Tip the contents of the pan into the cheesecloth over the colander. You could save the whey to curdle your milk next time you make paneer. It will keep in the fridge for months. I like to save it for baking too. If you're a busy person then let it drain away.
5. Give the curds a good rinse under the cold tap to rise away any excess acidity.
6. Pick up the cheesecloth and squeeze out most of the water (Step 4). Be careful, it can be very hot.
7. Place a plate or bowl under your colander (to catch the whey) and lots of weight on top of the cheesecloth for at least an hour for a crumbly paneer, or longer for a firm paneer (Step 5). My object of choice was a really heavy mortar. You can use whatever you like. Not the dog or your spouse, mind you.
8. Unwrap and enjoy your fresh, homemade cheese. Crumble it, cube it and create with it.