Attention all paneer lovers! There's nothing more satisfying than taking a big bite out of a crispy, spicy samosa with a fabulous filling. Whether it's soft potato and pea, hearty mung daal or juicy tandoori paneer, these little triangles of heaven are an iconic element of Indian cuisine.
Let's be honest, making samosas from scratch is a labour of love and well worth the effort once you're finally able to take a spicy bite. My advice? Enlist the help of a slave to help with the rolling and folding.
I love nothing more than fresh samosa pastry made with chapatti dough. The hearty texture of homemade dough surpasses unsatisfying filo pastry samosas by a mile. Reminiscent of the samosas made by street vendors in the heart of Mumbai, and the kind Indian mothers make for their families, the roti dough pastry gives you that warm, fuzzy feeling inside.
A good tandoori paste is deeply aromatic, hot and sour. The combination of Kashmiri chillies, cloves, cinnamon, cardamom and peppercorns makes this paste intensely flavourful and perfect for adding rich flavour to paneer. I make my own at home using my recipe below, however, you can buy it if you're short of time. I won't lie, shop-bought won't be as good.
I use concentrated tomato puree to give my tandoori paste a rich red colour and also to add some of that traditional sourness which characterises good tandoori masala. Not a drop of food colour in sight.
You can also make these using fresh, homemade paneer but to be honest, I didn't have the patience to press it long enough for it to be sliceable. Another thing worth mentioning is that traditionally, tandoori paste has yogurt in it to tenderise the paneer. Instead of doing that for this recipe, I add some cottage cheese to give it that yoghurt flavour and help bind the filling together (because of the little nuggets of cheese).
A handful of chopped spring onions and coriander gives the filling a hint of green colour and a burst of fresh flavour.
I serve these with sweet and sour tamarind chutney to cut through the richness of the paneer filling. My recipe for the chutney takes just 10 minutes and is delicious will lots of Indian starters. I'll post a recipe for the chutney later this week. For now, here's my recipe for the samosas.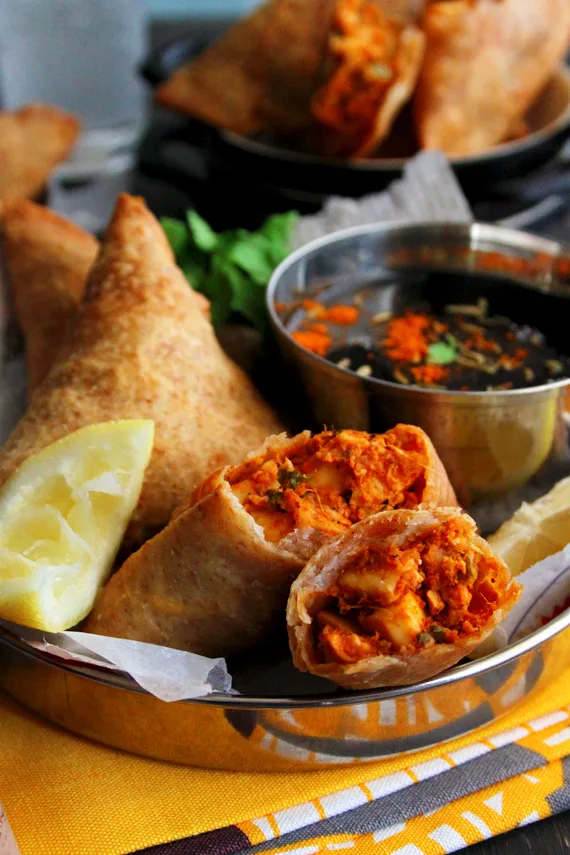 Tandoori Paneer Samosas
(Makes 16)
Ingredients
For the tandoori paste:
1 tsp whole coriander seeds
8 black peppercorns
2 dried Kashmiri chillies
2 inches cinnamon
1 ½ tsp cumin seeds
1 star anise
4 cloves
Seeds of 4 green cardamom pods
1 black cardamom
1 tsp fennel seeds
3 tbsp concentrated tomato puree
Juice of 1 lemon
1 tbsp dark brown sugar
1 ½ tsp salt
2 tbsp ginger, minced
3 cloves garlic, minced
To cook the filling:
1 tbsp oil
2 small onions, minced very finely
475g firm paneer, cut into 1/2cm pieces (I did it in rough pieces of various shapes for a more interesting texture than just cubed)
3 tbsp low-fat cottage cheese
150ml water
5 spring onions, chopped finely
Handful fresh coriander, chopped finely
For the pastry:
320g flour
160ml cold water
5 tbsp oil
½ tsp salt
Method
1. Toast the dry spices in a dry pan until lightly aromatic. Tip into a pestle and mortar and grind to a very fine powder. Mix in the tomato puree, lemon juice, sugar, salt, ginger and garlic.
2. To make the filling: heat 1 tbsp oil in a pan and add the onions. Cook on a medium heat for five minutes. Add the tandoori paste and 150ml hot water. Cook through for 15 minutes, stirring all the time. If the mixture becomes dry, add a splash more water and continue to cook.
3. Add the cubed paneer and cottage cheese. Continue to cook for 5 minutes. Allow to cool and then stir through chopped spring onions and coriander. Set aside.
4. To make the pastry: in a large bowl, mix together the ingredients for the dough. Knead until firm and non-sticky.
5. Get to work rolling out and lightly cooking your fresh pastry sheets (I rolled mine to around 4 inches- step 2). Use my step by step below as a guide. I cook my pastry sheets on a dry frying pan (step 7) making sure they do not brown. You just want them sealed enough so that you can work with them.
6. Sandwiching two circles of dough together with oil and flour and lightly rolling over the top of them (steps 3, 4, 5 and 6) makes the pastry thinner and the whole process a little quicker. When they are cooked, carefully peel them away from each other (step 8), then half the circles into semi-circles (step 9). Wrap these in a tea towel until you need to use them to prevent them drying out.
7. Next, in a small bowl, make a sticky paste from flour and cold water. You will need this to seal the edges of the samosas when you fold them.
8. See my tutorial for folding samosas from homemade pastry below. Ensure the filling is cool before filling the samosas.
9. Heat enough oil in a deep pan to deep fry the samosas on a medium heat until they are golden brown all over. Place on kitchen paper to drain away any excess oil.
Serve with Tamarind Chutney and lemon wedges.
Love Sanjana