I've always strived to be a great cook like my grandfathers. My parents tell me their Gujarati and East African classics like Mombasa-Style Daal Kachori, Jalebi Paratha, gathia were inspiring. Their tips and tricks are recalled in the conversations of our extended family with a joy that I cannot even describe. I wish they'd have been here long enough for me to watch them at work.
Someone who had the pleasure of spending many hours in the kitchen with my Bapuji (paternal grandfather) was my wonderful aunt in Mombasa, Kenya. She's an incredibly-talented cook with an edible garden I could only dream of. Packed with mangoes, coconuts, bananas, tree tomatoes and herbs, she's an expert at cooking everything from Gujarati classics, to East African staples. When I visited their family home last year, I was treated to it all and my word was it dreamy.
One of the dishes she cooked up was this Mombasa Kachri Bateta – a light potato stew with sour green mangoes, topped with coconut fresh from the garden and fried cassava crisps. The coconut is a kind of dry chutney rammed with flavour from grated green mango, chilli, turmeric, salt and sugar. That's it. I've said this before and I'll say it again – the simplicity with which East African food is cooked blows my mind and my taste buds. It's unbelievable how a few simple ingredients put together in a clever way makes everything Taste. So. Damn. Good.
Grated raw green mango is EVERYTHING to this dish. It adds a gentle, fruity sourness lemons just can't deliver. If you can't get raw green mango, try adding lime but I seriously would encourage you to hunt the mangoes down. Ensure they're super hard and very green and keep the skin on when you grate it, because life's too short.
The toppers for Kachri Bateta are endless – from fried cassava or potato crisps, to thick gathia, jinni sev, fresh coriander, sliced chillies and of course, the dry mango chutney. Gathia and jinni sev are fried chickpea flour nibbles – think Bombay Mix but better. You can buy them in most big supermarkets.
This dish is so easy and a delicious taste of Mombasa. The only difficult part is waiting for the potatoes to cook in the sour, spicy mango and tomato broth.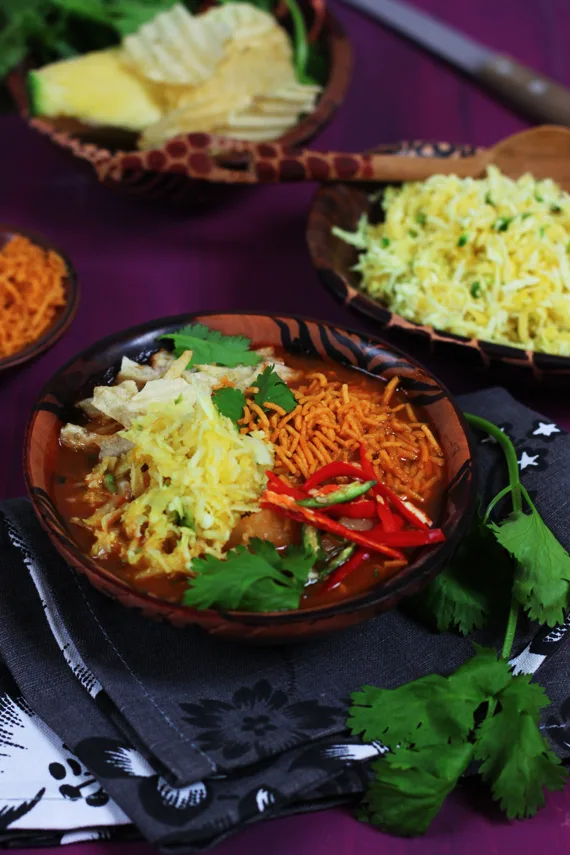 Mombasa Kachri Bateta
Serves 4
Ingredients
For the potato stew:
750g potatoes, peeled and cubed
2 tbsp crushed garlic
75g raw mango, grated
2 tbsp oil
3 tbsp concentrated tomato paste
2 tsp salt
½ tsp red chilli powder
1.5L water
For the coconut chutney:
100g fresh coconut, grated
100g raw green mango, grated
½ tsp salt
1 tsp sugar
¼ tsp turmeric
1 small chilli, chopped
To serve:
Cassava crisps or potato crisps
Gathia or jinni sev
Chopped coriander
Sliced chillies
Method
1. Heat the oil in a large pan. Add the garlic and tomato paste and cook for a minute or two, stirring all the time.
2. Next, add the mango, potatoes, salt, chilli powder and water. Allow to cook on a medium heat for around 30 minutes or until the potatoes are cooked and the water has reduced by half. The starch in the potatoes will thicken it perfectly.
3. To make the chutney, mix all the ingredients together. Cover and keep in the fridge. This is best served cold on top of the stew.
4. Serve the stew in bowls, topped with the coconut chutney, crisps, gathia, sev, coriander and chillies.
Love Sanjana