I've been rushing around like a mad woman on too many jalebis this month. Developing recipes (which I'll show you later), catching up with friends I haven't seen since our wedding and generally thinking about what to blog about next.
Sifting through my mum's handwritten recipes, clippings and annotations on pudding recipes, I once again became a tubby eight year old. Making Indian sweets like white chocolate penda, butterfly burfi (milk fudge with almond 'butterfly wings' like the buns we used to make at school) with mum was what made me so passionate about playing with food. She fuelled my curiosity for learning about how flavours really work and our shared enthusiasm for putting an Indian spin on everything. It is something I try to practice every single day.
We'd always make enough to feed the five thousand so quite often, the puddings would be taken to our temple for prashad – food which has been offered to the gods. Once it has been 'blessed' the food can be shared.
Unashamedly, this was my favourite bit.
Sampling the prashad brought to the temple by all the different families was something new and adventurous for me. One family would always bring kheer – an Indian rice pudding. It was packed with saffron, cardamom and nuts. Plus, in my eight year-old mind it had to be good… It'd been blessed by GOD! I. Was. Hooked.
The next time there was an event at the temple, I was there faster than a buttered bullet.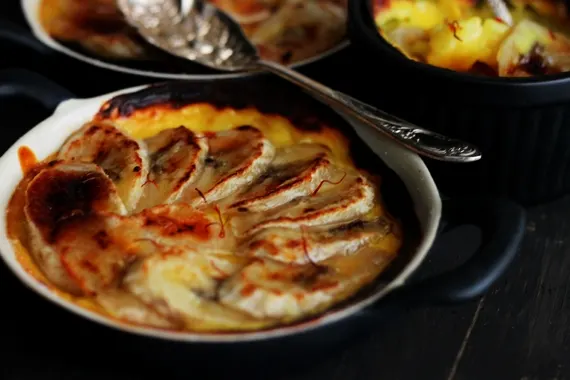 Anyone who knows me will be aware of my infatuation with Raymond Blanc. Every time I see him create a French classic on my TV screen, I melt. A simple recipe prepared with hunger and respect for ingredients is something that inspires me to my very bones. So when I saw him make his mother's recipe for Riz au Lait, I had to try it. He suggested serving it warm, or cold with a brûlée top. Bloody brilliant.
Of course, I had to put my own spin on it so taking my inspiration from childhood experiments and that 'holy rice pudding at the temple', I created this Saffron Rice Pudding with Banana Brûlée.
Saffron Rice Pudding with Banana Brûlée
Adapted from Raymond Blanc's Riz au Lait
Serves 6-8
Ingredients
1.2L semi-skimmed milk
500ml double cream
½ tsp saffron
150g rice
100g caster sugar
4 bananas
Extra caster sugar for caramelising the pudding tops
Method
1. Pour the milk and cream in a large pan, then add the sugar, rice and saffron. Bring to the boil and turn the heat down to low. Simmer for 40 minutes. The rice should be pretty much cooked all the way through. Don't worry that there's lots of extra liquid – it will all come together.
2. Pre-heat the oven to 190C
3. Next, take individual ramekins placed on a tray or one large ovenproof dish and ladle in the rice pudding. Bake in the hot oven for 20 minutes or until nicely browned on top. If it gets too brown, cover with some foil. Remove from the oven.
4. Slice the bananas and top the rice pudding. Sprinkle over a liberal amount of sugar and place under a hot grill until dark and the colour of burnt caramel. If you have a blowtorch you can use that. I do have one but it's new and if I'm honest, I'm a bit scared of it.
Allow to cool for at least 15 minutes before serving because burnt tongues are nobody's favourite.
Love Sanjana