I'm so obsessed with vegan meringue right now. I never thought that it would be possible to create light, fluffy whipped meringue that becomes so beautiful and melt-in-the-mouth after a couple of very patient hours in the oven.
You might have already seen my previous recipe for Vegan Saffron, Strawberry and Lime Meringue Nests which I did a YouTube video for and still, I'm raving about the endless possibilities aqua faba or 'bean water' holds for the future of vegan baking. No longer do I waste and drain away the water from cans of chickpeas, butter beans and pinto beans. Rather, I save them and whip them in to the fluffiest meringue peaks you've ever seen.
Just like egg whites, this bean water is packed with protein and when it's whipped with sugar, becomes glossier than that expensive French manicure you just got.
It's this that makes glorious desserts like pavlova, eton mess and meringue cakes possible and it's this that's lit me up from inside. I'm so hungry to experiment with magic aqua faba more and I can't wait to share more of these vegan-friendly creations with you.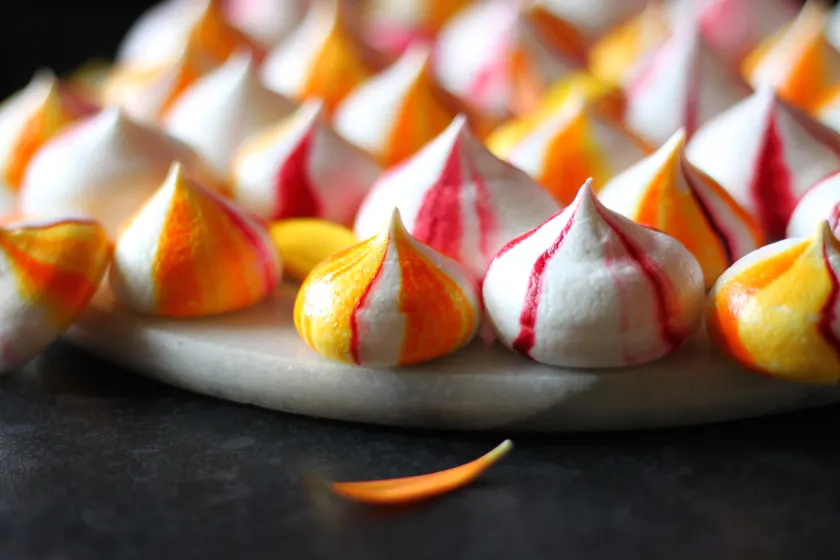 This recipe is unbelievably basic but the results are slap-you-in-the-face pretty. I promise, everyone will be asking how you did it. I did toy with the idea of using fresh fruit to create the stripes but aqua faba meringue can be quite temperamental. Any trace of grease, oil, excess water or fat will very quickly deflate the mixture and all those beautiful air bubbles will be gone.
Also, I've had lots of comments on Facebook, Twitter and Instagram about whether you can taste the chickpeas in the end product. The short answer is no. After adding vanilla, natural fruit extracts and baking for over 2 hours, there's no trace of chickpea flavour.
If you're looking to try it with fresh fruit, I'd suggest really blending it to a very smooth puree, boiling with a little sugar and reducing right down so the water content is minimal. Cool it completely before using.
I opted to use natural concentrated mango and raspberry extracts, which you can buy online from Amazon. The flavour they give these otherwise very simple vanilla meringues is so incredibly intense.
Stick with me for more vegan meringue experiments.
Vegan Mango, Raspberry and Vanilla Meringues
Ingredients
1 x 400g tin chickpeas in unsalted water, drained and the liquids reserved
140g icing sugar
1 tsp cream of tartar
1 vanilla pod, split lengthways and seeds scraped
For the raspberry stripe:
Wilton gel food colouring in rose
2 drops vegan raspberry extract
For the mango stripe:
Wilton gel food colouring in lemon yellow
2 drops vegan mango extract
Method
1. Preheat the oven to 100C. Line three large baking trays with greaseproof paper.
2. Drain the chickpeas and reserve the water. Put the chickpeas in a container and use it to make Channa Masala or Hummus later.
3. Pour the chickpea water into the bowl of an electric stand mixer fitted with the balloon whisk attachment. Make sure your bowl is really clean and grease free. Any oil will cause your meringue to deflate.
4. Whisk on a high speed for 4 minutes. Gradually add the sugar and continue to beat. During this time, add the cream of tartar and vanilla.
5. In a small bowl, add a teaspoon of the lemon yellow gel food colouring and two drops of vegan mango extract. Stir to combine. Repeat in a separate bowl for the rose colouring and raspberry extract.
6. Fit a large piping bag with a large round tipped piping nozzle. Use the back of a teaspoon to stripe the two colours lengthways all the way up inside the piping bag but not right to the top – leave at least 2 inches at the top free of any colour. Use two different spoons to keep the colours separate. I did three stripes of each colour.
7. Place the bag inside a large mug and fold down the top slightly. Fill your piping bag with half the meringue mixture and holding the nozzle straight, pipe 1 ½-inch chubby meringues, pulling away quickly when you get to the top to achieve those cute little peaks. Leave a bit of space around each meringue to ensure they don't touch in the oven. I have a quick video for this on Instagram. I'm @korasoi.
8. Wash out your bag and repeat this process for the remaining meringue mixture.
9. Bake in the pre-heated oven for 2 ½ hours or until the meringues are totally dry to the touch and come away from the baking paper easily. Remove from the oven and allow to cool completely.
10. Serve with your favourite vegan ice cream, on top of cakes, or dip the bottoms in melted vegan chocolate and crushed freeze-dried raspberries or chopped nuts. You can also serve them with fresh raspberries, mango slices and whipped coconut cream, but assemble this right before you want to eat or the meringues are likely to dissolve.
Go on, experiment with your favourite flavours and colours. I'd love to see where your imagination takes you.
Love Sanjana