Sometimes you get so wrapped up in your daily routine that you forget to reward yourself by doing the things that unfog your mind and bring joy to your soul.
At least that's what I've felt these past few weeks.
Last time I blogged, I told you about my Trigeminal Neuralgia and how it shook up my world for a long time before I actually sought out a solution. Well, I've been on carbamazepine for some three months now and I'm finally starting to feel like a real human again. Hurray!
I had a beautiful week of rest and relaxation in Cancun with my husband recently and it was real bliss. If you've been following my Instagram stories, you'll have seen I was being one of those annoying people who overshare holiday pictures. I loved it! Not only did we eat the freshest guacamole every day with breakfast, lunch and dinner, I also discovered how soul-warming and not to mention, perfectly perfumed fresh corn tortillas are. I don't know if I'll ever be able to go back to plastic-encased, shelf-stable supermarket corn tortillas again. I can only imagine what it must have been like growing up in Mexico, waiting for mum to finish making fresh corn tortillas, the air in the house thick with the sweet smell of toasted corn. It reminded me of the smell memories have, growing up as a first gen Brit, with an Indian heritage and ties to East Africa; it was the most delicious melting pot. Here are my top 5…
1. Fresh Gujarati Rotli. The softest, thinnest chappatis, doubled layered because they'd puff up on the steel plate heated with a roaring flame. "Hot air balloons", my mum would call them, my eyes wide in awe as I'd think back to the hot air balloons we'd seen in Kenya. Spread with so much salted butter, it would glisten on the surface like mirror glaze on the finest French entremets.
2. Aubergines roasting over an open gas fire. In my opinion, the finest way to cook an aubergine is to char it all over until soft and velvet-like inside. This is how we always made Burnt Aubergine and Spinach Curry and it's still one of my favourite dishes in the world, especially with the aforementioned rotli.
3. Steamed mohogo (cassava). I can't describe it. The smell is like if you caramelised the most potato-like potatoes that ever existed and then condensed the smell into an essential oil for a sauna. Once cooked, we'd cover the steamed mohogo in chilli, lemon juice and salt. Nothing fancy but perfect to me.
4. Seeroh. Hot, sweet semolina that's first crackled and toasted in ghee or butter, cooked with milk, sugar, saffron, almonds and cardamom. My mum always adds fresh orange juice and zest, along with vanilla bean extract. The smell of this dessert as it cooks makes me swoon! I posted my version of Hot Saffron and Lemon Seeroh with Pistachio Ice Cream a while back if you'd like to have a go yourself.
5. Vegetable biryani. Golden rice first boiled with cinnamon, cloves and cardamom and then layered with veggies, fried onions and rosewater. Packed up tightly with a dough seal and baked in the oven, biryani is one of my favourite ways to enjoy rice. The moment when you take the hot handi to the table, crack open the baked-shut lid and watch that first puff of steam escape is enough to make you weak at the knees. Aromas wafting about the kitchen as everyone digs in like crocs at feeding time (well, at least in my house). I imagine your establishment is much more civilised, although no matter if not.
I've made a few variations of biryani before and this has to be one of my favourites. A tonne of mixed mushrooms from baby button and chestnut, to shiitake and oyster. If you're feeling fancy and the season is right, add morels or chanterelles for a sublime treat.
I cooked my mushrooms with lots of aromatics until rich, deep and dark and finished with buttermilk and fresh tarragon to lift the flavour with aniseed notes and just the right amount of creaminess.
The rice is long grain and soaked overnight. Sounds OTT but really, it takes less than 5 minutes to cook if you do this. I add cinnamon, cloves and cardamom to the cooking water at this stage and always boil the rice as if I was boiling pasta (in lots of water and then drain and cool). You only need to boil it until it's 70% cooked.
The gorgeous colour is created with good quality saffron infused with hot milk. The milk will turn the sunniest of yellows, verging on orange. It's so pretty to watch, and this adds that iconic biryani flavour. For me, it's not a biryani without saffron.
The rim of the pot is sealed with a simple dough made with flour and water. This ensures steam builds up inside the pot, plumps up the rice grains and infused them with the flavours of spiced buttermilk mushrooms, crispy onions (in the biryani layers) and saffron. Once cracked open, the 'Dum', translated as "warm breath" will escape from the pot and you'll be ready to pile mounds of biryani on your plate.
Serve with cooling carrot and cucumber raita with lemon juice and fresh cumin, toasted and ground. Toasting cumin seeds and grinding them burning hot in a pestle and mortar creates the most magical smoke and fragrance. Smells like home.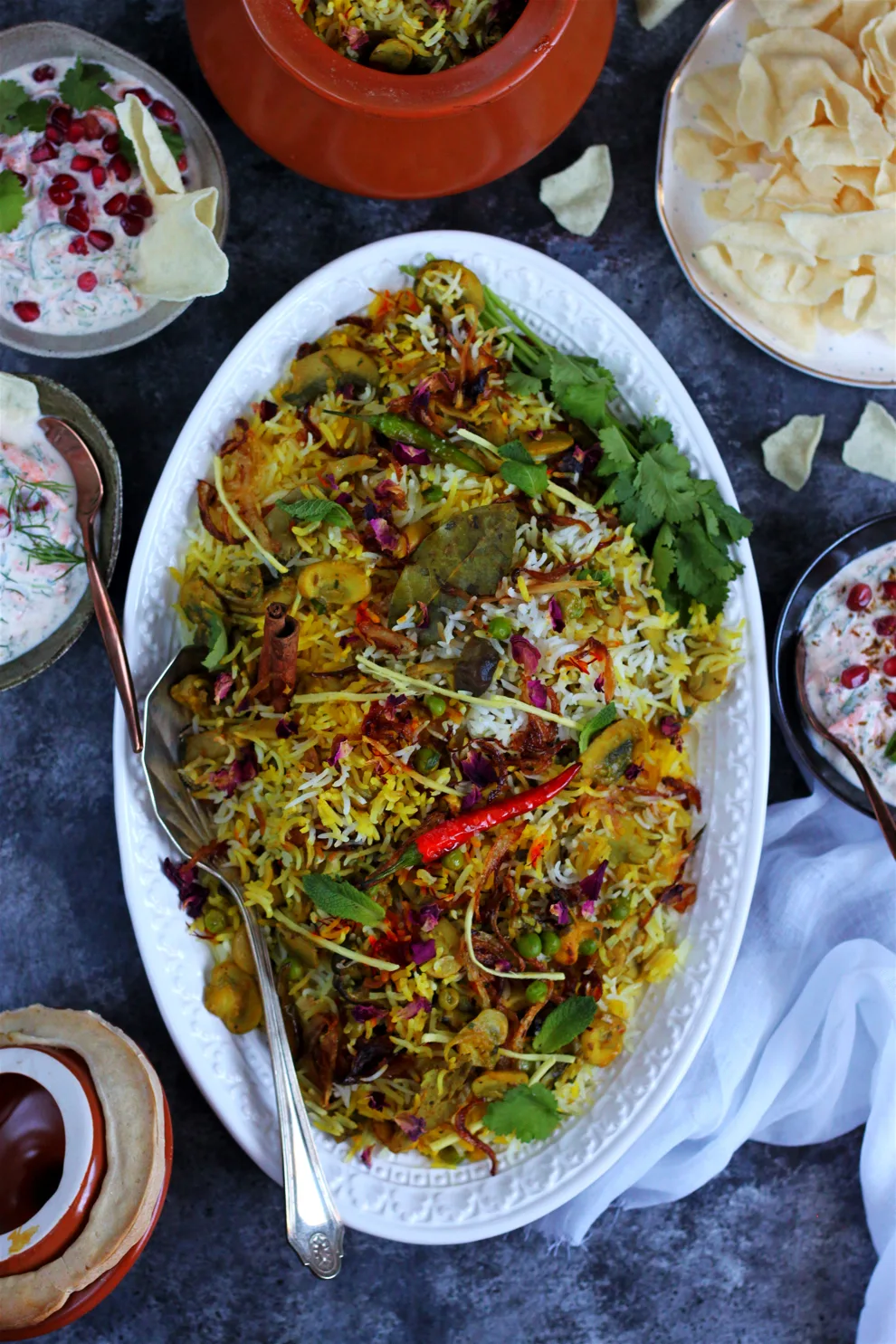 Buttermilk Mushroom Biryani
Serves 4
For the Biryani:
450g mixed mushrooms
2 tbsp ghee
1 tsp cumin
5cm piece ginger, grated
2 hot green or red chillies
10-12 cashews
1 bay leaf
1/4 tsp asafoetida
1 red onion, sliced
10g tarragon (about a tablespoon chopped)
1 large tomato, chopped
1/2 tsp turmeric
150ml buttermilk
Salt to taste
250g extra-long grain golden basmati rice, washed and soaked overnight
5cm cinnamon stick
4 cardamom pods, cracked
4 cloves
Rosewater
1 onion, thinly sliced and fried in ghee until crispy
Large pinch saffron, soaked in 3 tbsp hot milk
Dried rose petals (optional)
Mint leaves and fresh coriander to garnish
For the dum (dough around rim of Dutch oven or handi):
150g flour
120ml cold water
For the Raita:
450g Greek yoghurt
1 tbsp mint, chopped
1 tbsp coriander, chopped
1 tbsp dill, chopped
1 large cucumber
1 large carrot, grated
1 lemon, juice and zest
80g cherry tomatoes, halved
1 tsp cumin toasted and ground
2 spring onions, finely chopped
1/2 tsp salt
1 tsp sugar
1 pomegranate
Method
1. Wash the rice and soak in cold water overnight.
2. Drain the rice and place in a large saucepan. Add the cinnamon stick, cloves, cracked cardamom pods and a large pinch of salt. Cover the rice in plenty of water (as if you were boiling pasta) and bring to a boil. Because you soaked the rice it will take less than 5 minutes. Once the rice is 70% cooked, drain and set aside.
3. To make the buttermilk mushroom masala: wipe and slice your mixed mushrooms and set aside. Place the ghee in a large pan and allow to melt on a low heat. Add the cumin seeds, cashews, bay leaf and asafoetida. Once aromatic, add the ginger, chilli and onion. Sauté on a medium heat until the onion has caramelised. Add the tomatoes and cook until most of the water has evaporated.
4. Next, add the mushrooms and cook until the mushrooms have softened and reduced by half. Add the turmeric, season with salt. Cook for a further few minutes and then. Switch off the heat. Add the buttermilk and stir quickly to incorporate. Add the chopped tarragon and give the mushrooms a final stir.
5. Pre-heat the oven to 190°C.
6. Take a large, handi (you can also use a Dutch oven if you don't have this). The most important thing is that it's deep, ovenproof and has a lid. Grease with butter and place a layer of rice on top. (Note: I usually keep the cinnamon etc i boiled the rice with in and remove it before serving.) Cover the rice with a layer of mushroom mixture. Add another layer of rice and add some of the saffron milk, a drop of rose water and fried onions. Add a little more rice and repeat layering with mushrooms and rice until you run out. Finish with rice on top and repeat the saffron milk, rose water and fried onion layer.
7. Combine the flour and water and knead to make a firm dough. Roll the dough out into a long sausage shape and use it to line the rim of the biryani pot. Place the lid on top and bake for 35-40 minutes.
8. To make the raita: Slice the cucumber in half lengthwise and scrape out the seeds. Grate and squeeze out any excess water. Place into a large bowl. Grate the carrot and squeeze out excess water. Add the chopped herbs, chopped spring onion, lemon juice, salt, sugar and yogurt. Stir to combine.
9. Toast the cumin seeds in a dry frying pan and coarsely grind in a pestle and mortar. Add to the raita and stir. Top the raita with pomegranate seeds. Chill until ready to serve.
10. Take everything to the table and open up the biryani there, breaking the dough seal. The fragrant steam will escape and you can serve just like that or pile on to a platter and garnish with fresh mint leaves, coriander, crispy onions and dried rose petals.
Serve the mushroom biryani in the middle of the table with bowls of cooling raita, your favourite Indian pickles/chutneys and crunchy poppadoms for everyone to share.
Love Sanjana