When I think of Indian snack food, I instantly picture the three-pointed beauty of hot and crispy samosas, a.k.a. The Best Vegetable Samosas. Nothing says fast-casual Indian cooking more than a deep fried, carb-on-carb, potato-stuffed pastry.
No two samosas are ever identical in shape and colour — you could say they're as unique as we are.
Love triangle: the significance of samosas in Indian culture
The palm-sized dumplings are iconic of street stalls and restaurant menus alike. Indian festival banquets wouldn't be complete without them, either.
In fact, I've overheard murmurs of outrage at the lack of samosas at a dozen Indian weddings.
They're expected to show up and perform like it's their first day working a demanding job. An occasion simply isn't an occasion without samosas. Casual events also require a samosa platter or five, too.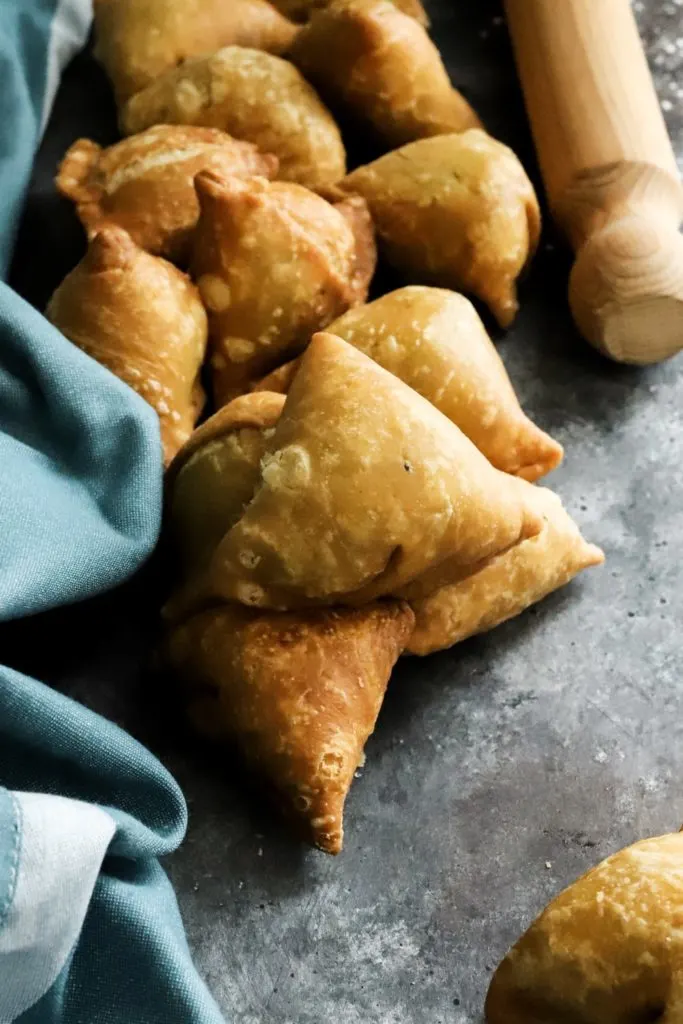 We snaffle them over chai with friends, and stash a few away to devour once all our guests have left after a gathering at home. Keeping a stash in the freezer is common for when last-minute guests show up.
Homemade Samosas: The filling
Although there are countless fillings to choose from, potatoes, onions and peas will always be the poster child for samosas.
The potatoes are usually boiled whole, with the skin on so the inside remains tender and fluffy. Once cooled, the skin-on spuds are peeled and roughly mashed before being united with a mixture of softened onions, spices and green peas.
Other common vegetarian fillings include: soy mince (kheema), cauliflower and peas, Tandoori Paneer, sprouted lentils, Maggi Noodles or Hakka Noodles (seriously). Some of the more modern takes on samosas are wild, but nevertheless, delicious.
Homemade Samosas: The spices
Amchur, or dried mango powder gives potato samosas a welcome tang alongside fragrant, lemony coriander seeds. These two ingredients cut through the richness of the craggy, crunchy fried exterior.
Cumin, onion, chilli and salt add the earthy flavours you crave when only a deeply savoury snack will do.
Homemade Samosas: The pastry
First impressions matter! The pastry is one of the primary indicators of a good samosa. In my opinion you can instantly tell a good samosa from a bad one by the appearance of the pastry.
My preferred method of making homemade samosas (for texture, flavour and ease) is to use the homemade "shortcrust" pastry.
Why is this pastry a great option?
It requires no pre-cooking prior to folding and filling the samosas.

This method ensures a perfectly-crispy and robust samosa every time.

The pastry is stiff enough to make light work of the stuffing and folding process. This means you don't need to spend ages fixing tears and snags in the pastry.

This is a very forgiving way of making samosas. If the pastry does in fact tear at any point, just pinch the dough together to seal again.

Unlike filo pastry samosas, it's okay if this type to look rough and ready. In my opinion, the craggier the samosa the better! The rough, pitted surface of samosas made with homemade pastry is the perfect carrier for chutney.

The only question that remains is whether you're a dipper or a full-blown dunker?
What is "moarn?"
This pastry recipe begins with rubbing together flour and oil to create a rough, breadcrumb-like texture.
It's similar to making shortcrust pastry, but uses oil in place of butter. Ghee can also be used, if that's a flavour you like.
The technique is called "moarn" in Hindi and it facilitates the creation of a crispy pastry for deep-fried snacks like samosas and kachoris.
How does it work?
This method works by creating a protective barrier between the flour and water which hinders the development of gluten in the pastry as it is kneaded.
The dough must be kneaded until smooth and overworking the dough could lead to a soggy texture in the absence of rubbing the flour in oil.
Note that the pastry in this recipe requires no pre-cooking prior to folding and filling.
Other ways of making samosas
Another method for making samosas using homemade "samosa patti" (or samosa pastry) requires homemade dough to be rolled thinly and partially cooked on a tawa before folding. You can see this technique in my recipe for Mung Daal Samosas.
Samosas can also be made using shop-bought filo pastry, spring roll pastry or puff pastry, depending on the style you prefer.
Some newer methods involve using shop-bought wholewheat wraps to wrap the samosa filling.
How to fold The Best Vegetable Samosas
Stuck on how to fold The Best Vegetable Samosas like a well-seasoned Indian aunty? I've got your back.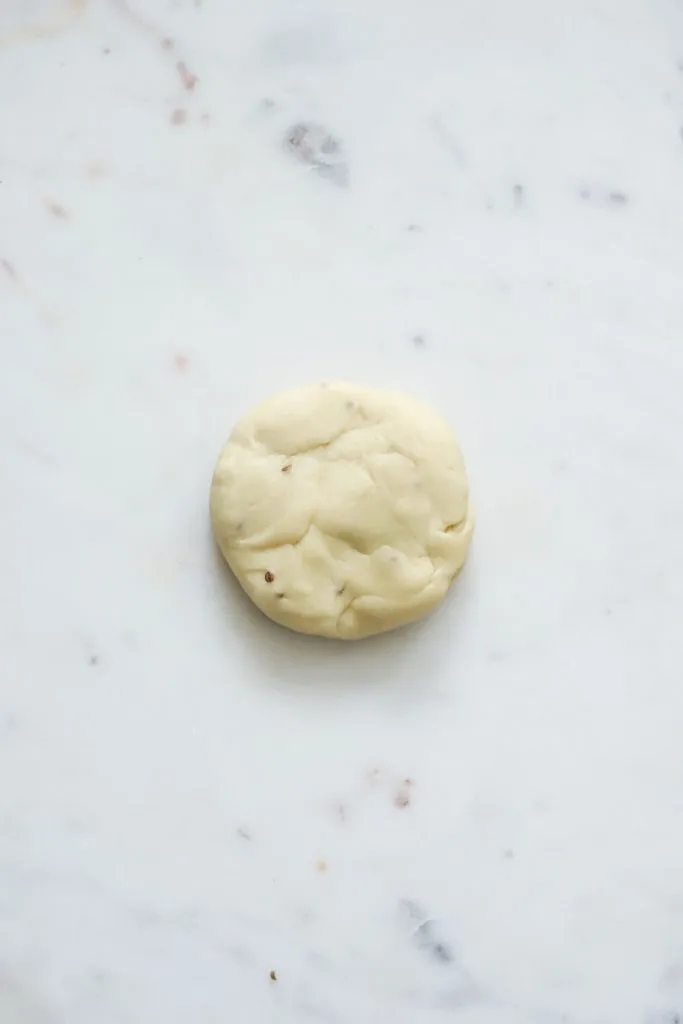 How to fry homemade samosas
Controversially, these samosas are not fried in hot oil; they are cooked in warm oil… for 35 minutes per batch.
You should be able to comfortably touch the oil with your finger prior to adding samosas to the pan. Be careful not to heat it too much as this will result in uneven cooking.
Simply allow it to cool down before adding the samosas. Very few small bubbles that slowly reach the top of the oil will indicate that the oil is the perfect temperature.
Starting the cooking process in warm oil probably goes against all the laws of deep frying but when it comes to this type of samosa, this is the way to do it. This technique will not result in greasy samosas, I assure you.
Ingredients you'll need for The Best Vegetable Samosas
Potatoes
Peas
Onions
Cumin seeds
Fresh ginger
Chillies
Turmeric
Amchur (dried mango powder)
Ground coriander seeds
Salt
Water
Flour
Ajwain
Oil
Recipe for Homemade Vegetable Samosas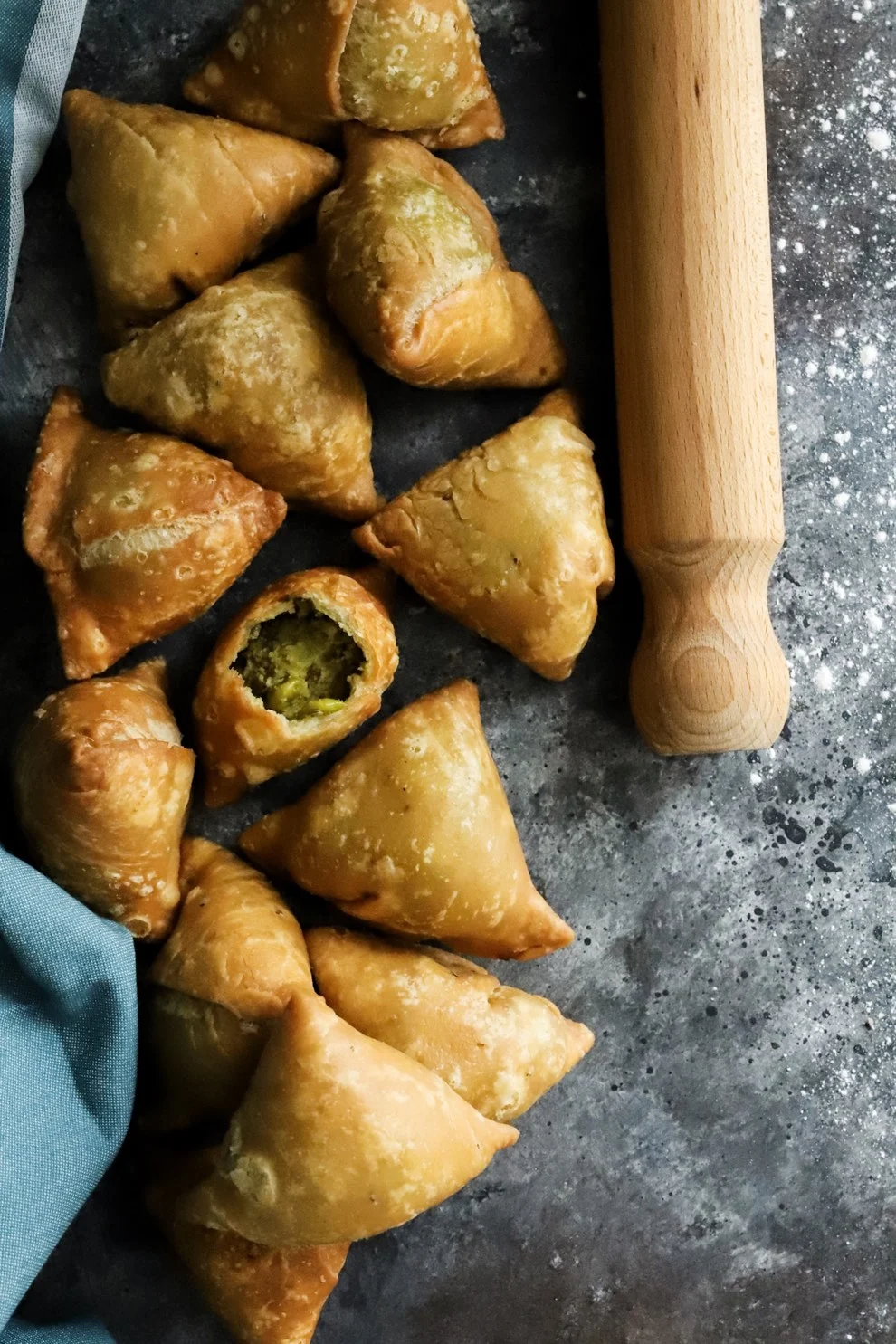 Equipment
Rolling pin

Large pan with high sides or a wok for deep frying
Ingredients
For the filling:
750

g

potatoes

100

g

peas

I use frozen

1

tbsp

any flavourless oil

2

tsp

whole cumin seeds

1

large onion

finely diced

3

hot green chillies

finely chopped

2 1/2

cm

piece fresh ginger

peeled and grated

1

tsp

ground turmeric

2

tsp

amchur

dried mango powder

1

tsp

ground coriander seeds

1 1/2

tsp

salt

1

tbsp

fresh coriander

finely chopped
For the pastry:
500

g

plain flour

2

tsp

ajwain

1 1/2

tsp

salt

100

ml

any flavourless oil

185

ml

warm water
For deep frying:
1.5

L

flavourless oil

such as vegetable, sunflower or rapeseed oil
Instructions
For the filling:
Boil the potatoes in plenty of water until tender. Drain and allow to cool completely. Once cool, peel the potatoes and roughly mash using a potato masher or the back of a fork. Set aside.

Heat the oil in a large, non-stick pan. Add the cumin seeds and allow to sizzle briefly. Add the ginger, chillies and onions. Sauté for 3-4 minutes, until translucent but not browned.

Add the mashed potatoes, peas, turmeric, amchur, ground coriander seeds and salt. Give the mixture a good stir to combine all the ingredients thoroughly. Cook for 2-3 minutes, stirring all the time and then remove from the heat. Spread the mixture onto a plate and add mix in the coriander leaves. Allow to cool completely.
For the pastry:
Place the flour in a large bowl and mix in the ajwain and salt. Make a well in the centre of the flour. Add the oil. Using your fingertips, begin to rub the flour and the oil together to create a fine, breadcrumb-like texture, as if you were making shortcrust pastry. Add the water and combine using your hands to create a rough, shaggy-looking dough.

Knead for 10 minutes, until smooth. Cover with a damp tea towel and allow to rest for 30 minutes.

Once rested, divide the dough into 9 tennis ball-sized rounds. Smooth into rounds between your palms and cover again with a damp tea towel to stop the pastry from drying out. Each round will make 2 samosas, for a total of 18 samosas. You can choose to make them larger or smaller by making fewer or more dough balls.
How to fold the samosas:
Take one dough ball and dip each side in a small amount of flour. On a clean surface, roll it into an oblong, about 12cm wide (approx. 5-inches) and 18cm in length (approx. 7-inches). It doesn't have to be perfect.

Cut each oblong in half, width ways. You should be left with two semicircles.

Take one of the semicircles and place it flat on the surface in front of you, straight side facing north. Roll it with your rolling pin a few times to make it a little thinner and taller. Take the upper left corner and bring it to the centre of the semicircle. Place some cool water down the middle and bring the upper right-hand corner of the semicircle to the centre to meet the waterline. Press both sides together very gently.

Lift the samosa pastry up and open the pocket you just created. At the same time, press the seam together a little more to ensure it is well sealed. You should have a little pouch ready for filling.

Stuff the samosa with the cooled potato and pea filling. I used about 2 tbsp of filling per samosa.

To create the little crease in the back of the samosa so it can stand up by itself: Along the open seam of the filled samosa, place your finger in the centre of the round edge of the pastry. Create a tiny fold, about 1cm wide and pinch to seal (this will create a small dimple for the back base of the samosa. Now dab some cold water on the inner seams of the open edge of the pastry and press together and seal to close, pushing out any air as you go.

Repeat these steps for the remaining samosas. Ensure the dough portions are always covered to ensure it doesn't dry out.

Once all the samosas have been folded, allow them to air dry for 45 minutes, until the surface of the pastry feels rough and sandy to the touch. This is an important step to eliminate air bubbles in the pastry and to stop your samosas from getting a "gremlin" skin.
To fry the samosas:
Heat the oil in a large pan with deep sides or a wok until warm, not hot. You should be able to comfortably touch it with your finger. If you have a cooking thermometer, it will be around 40°C/100°F. Be careful not to heat it too hot as this will result in uneven cooking. You should be able to comfortably touch the oil with your finger prior to adding samosas to the pan. Be careful not to heat it too much as this will result in uneven cooking. Simply allow it to cool down before adding the samosas.

Cook the samosas in batches. I managed to get 7 in my large wok without it feeling overcrowded. Gradually increase the temperature, not letting it go above 150°C. Allow the samosas to cook over a medium-low heat for 35 minutes until golden and crispy. If you feel they are browning too quickly, turn the heat down. Allow the oil to cool down in between frying the samosas in batches.

Drain the samosas on a plate lined with absorbent kitchen paper.
Sanjana's Notes
Just-fried samosas are HOT! Allow to cool slightly before serving. To store: Keep the samosas in an airtight container lined with absorbent kitchen paper. Refrigerate for up to 3 days. To freeze: Keep the samosas in an airtight container lined with baking parchment. Freeze for up to 3 months. Re-fry from frozen on a medium heat to ensure samosas are piping hot.
Pin this recipe for later!
If you like these, you'll love my recipe for Easy Paneer & Vegetable Tikkis
Love Sanjana