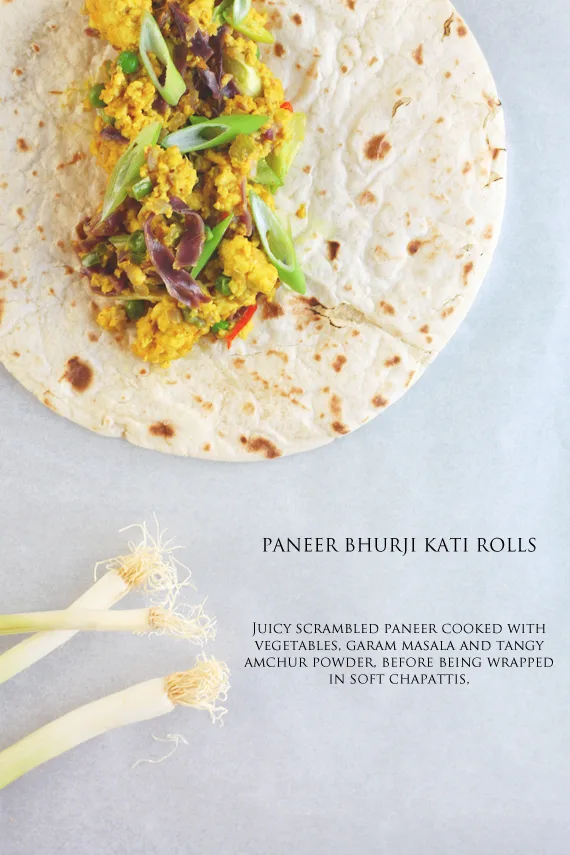 This is not just any old wrap. This is a flavoursome, satisfying chapatti wrap filled with rich paneer, tangy lemon and mouth-watering spices. Seriously, M&S would be proud. These kati rolls are simple, filling and perfect for lunch or dinner. You can stuff them with anything you like, from scrambled paneer to Bombay potatoes.
Traditional kati rolls come from Kolkata where they are essentially a kebab wrapped in paratha. Just like sandwiches and wraps you'll find all over the world, from gyros to banh mi, kati rolls are a street food favourite because they lend themselves to eating on-the-go – a must in any bustling city.
My take on kati rolls combines my passion for paneer bhurji (North Indian-style spiced, scrambled paneer) and hot chapattis. I figured if I was going to fill something with pure paneer and vegetables, I'd better use a chapatti rather than ghee-filled paratha. If you're not bothered about the extra calories, I'd recommend you go the whole hog and wrap your bhurji in hot, buttery paratha. There's nothing quite like it.
One of my favourite places to eat in London is at Payal Saha's The Kati Roll Company which opened after the first store in New York City's eclectic Greenwich Village was such a success. If you've never been to the London shop, here's the lowdown; it's a tiny little café-style restaurant with no more than eight tables. The walls are plastered with vintage Bollywood posters and they play filmi hits you're more likely to bop away to at a family wedding rather than the UK's busiest shopping hotspot. My point is that I love the Achaari Paneer Kati Rolls here – it is where the inspiration for my Paneer Bhurji Kati Rolls came from.
If you're up for it, try making your own Homemade Paneer. It will make a huge difference to the final texture of the paneer. However, if you're short of time, just use shop bought – all you need to do is mash it up with a fork.
I love to cook my Paneer Bhurji in butter – it adds a delicious richness to the juicy paneer and vegetables. A squeeze of lemon juice at the end plumps up the paneer and provides the perfectly-balanced tang you're looking for in any good paneer dish.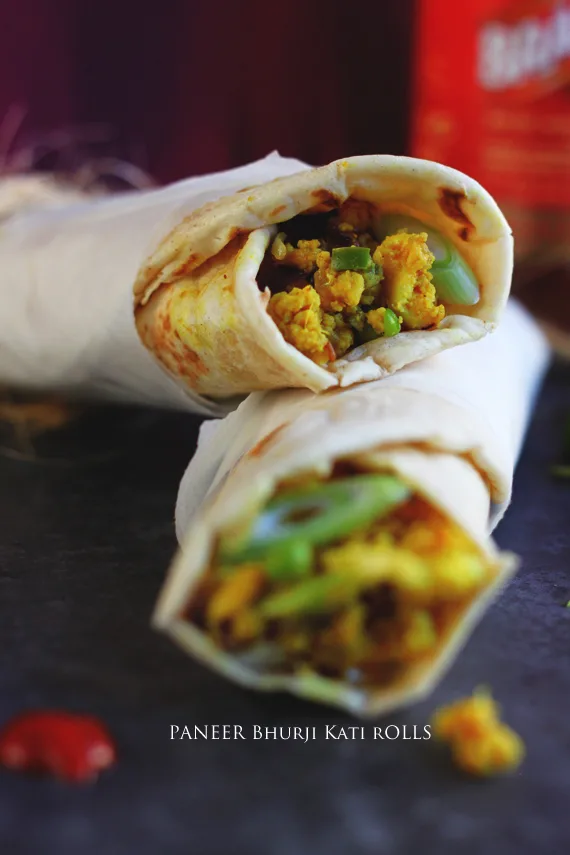 Paneer Bhurji Kati Rolls
(Makes 8 rolls)
450g paneer, crumbled
50g butter
1 large red onion, diced finely
1 tsp cumin seeds
2 tbsp freshly-grated ginger
2 hot red chillies, chopped finely
½ green pepper, diced finely
Handful shredded red cabbage
Handful petits pois or peas
3 spring onions, sliced at an angle
½ tsp amchur powder
1 tsp garam masala
½ tsp turmeric powder
1 tsp salt
Juice of half a lemon
Fresh coriander, to garnish
8 chapattis or paratha
Salad leaves, to serve
Method
1. Melt the butter in a large pan and add the cumin seeds. Allow to sizzle a little bit, and then add the chopped red onions and red cabbage. Cook on a medium heat, stirring frequently until soft.
2. Next, add the ginger, chillies, pepper, petits pois, amchur powder, garam masala, turmeric powder and salt. Allow to cook for 5 minutes on a low heat.
3. Finish by adding the paneer and lemon juice. Cook this on a medium heat for around 5 minutes, stirring often. Don't let this become too dry – you want the paneer to stay juicy for your kati rolls.
4. Garnish with fresh coriander and spring onions.
5. You can either serve the bhurji like a curry with hot chapattis or naan or you can make perfectly-portable kati rolls.
6. To make kati rolls, take a hot chapatti or paratha and put some filling inside. You can also add some fresh salad and chutney at this stage (I love Sriracha and green coriander chutney in these). Roll them up tightly and wrap with greaseproof paper.
Serve hot with cold lassi, beer or a steaming cuppa chai.
Love Sanjana