Meet The Ultimate Mumbai Sandwich. Stuff this ultra-crispy vegetarian toastie with masala potatoes, melting cheese, beetroot, onions and, wait for it… an extra slice of toast soaked in green chutney — a.k.a. the 'Moist Maker'. Top with crunchy sev (fried chickpea flour noodles) for a true taste of Mumbai street food.
What is a Mumbai Sandwich (Bombay Sandwich)?
Oh boy, let me tell you about the Mumbai Sandwich, it's like a party in your mouth!
First, imagine a fluffy slice of white bread, toasted to perfection. Then, picture a layer of tangy green chutney, made with fresh coriander and mint, spread generously over the bread.
But wait, there's more! The sandwich is then filled with spiced potatoes (Aloo masala), slices of onion, juicy tomatoes, beetroots, cheese and yes, even more chutney! This Bombay Sandwich recipe is a burst of flavour and texture.
All in all, the Mumbai Sandwich is a sandwich fit for any occasion; a perfect blend of flavours, textures, and spices. So next time you're feeling adventurous, give it a try and let your taste buds dance with joy!
Why is the Mumbai sandwich so popular in India?
The Mumbai Sandwich is an essential part of the Indian street food scene. It's fast, inexpensive, perfectly portable… and it packs a hefty punch of flavour. Everything about this Indian sandwich screams flavour bomb. It's no wonder India loves this street food sandwich.
What's special about this Mumbai Sandwich recipe?
You may have guessed, we're throwing back to some nostalgic 90s TV with this ode to F•R•I•E•N•D•S. The hidden layer of chutney-soaked bread is inspired by The One with Ross' Sandwich (s.5, ep.9). If you have no idea what I'm talking about, forget everything you just read and make this sandwich anyway.
It is not good for my rage 😉
Why add the "Moist Maker"?
While this cheeky addition to this Mumbai Sandwich may not be traditional, it ensures we cram optimal chutney into our sandwich. After all, the green chutney is the best part of any Mumbai Sandwich. A chutney has the power to make or break the whole sandwich experience.
A slice of toasted bread is the perfect sponge for the chutney and provides ample moisture (hence the name), without making the sandwich soggy. Perfect.
How to serve The Ultimate Mumbai Sandwich
It's pretty much a meal in itself. Bread and masala potatoes are the custom carbs, veggies and cheese act as secondary belly fillers. Ultimately, you don't need to serve it with anything. If you really want a side, try some crisps — because who's gonna tell you how many forms of potatoes are acceptable?
Can I make Mumbai sandwich without a sandwich maker?
Yes. My recipe for The Ultimate Mumbai Sandwich is doable in a frying pan, no fancy sandwich press or toastie maker necessary. The results are perfect every single time. However, if you do happen to have a sandwich maker, you can cook this Mumbai Sandwich in the toastie maker or panini press too.
What are the ingredients in a Mumbai sandwich?
To make a Mumbai Sandwich (Bombay Sandwich) recipe, you'll need:
Bread: Any loaf of sliced bread is fine. I use white because it's most common. In fact, the cheaper the better.
Potato masala: Aloo masala, or potato masala is a filling of spiced, fluffy potatoes. I cook mine with mustard seeds, coriander seeds and turmeric.
Green chutney: A thick schmear of green coriander and mint chutney is essential to any Mumbai Sandwich. It's herby, tart, spicy and zingy. Find my version in the recipe card below.
Cheese: I use a medium or mature Cheddar because I love the sharp flavour contrast against the potato filling and chutney. In India, Amul cheese and butter are most commonly used in Mumbai Sandwiches.
Onions, tomatoes, beetroots et al: Feel free to experiment with the salads that bulk out the sandwich. Cucumbers, peppers and chillies are all popular additions.
Sev: I finish my Mumbai Sandwich with a smattering of Sev (fried chickpea flour noodles) for a boost of crunch.
Troubleshooting: The Ultimate Mumbai Sandwich
Do I have to add the "Moist Maker"?
No. But you should because it's a game changer.
Can I make another chutney for this sandwich?
Yes. I've tried to simplify this recipe as much as possible, without compromising on flavour. Traditional Mumbai Sandwiches can use up to four different chutneys. If you have time, you can make more. Tomato, tamarind and chilli sauce are all popular choices.
Can I cut down the amount of cheese in this recipe?
Of course. To a degree, the cheese helps the layers stick together so cutting it out completely may leave you with a sandwich that falls apart a little.
How do I veganise this recipe?
Swap the butter and cheese for plant-based alternatives.
How do I make a gluten-free version of this sandwich?
Use your favourite gluten-free sliced bread. Ensure the sev you use is gluten free.
Can I use any other bread?
If you like. There are no hard rules here. I've used sliced white bread because that's how street-style Mumbai Sandwiches are done. Having said this, there's no reason why you can't experiment with other types of bread.
What other fillings can I add?
Whatever you like! My sandwich is filled with the usual suspect, minus the cucumbers because warm cucumbers aren't my jam. Peppers are also a good addition. You can also cut back on some of the fillings if there's too many in there for you. The choice is yours.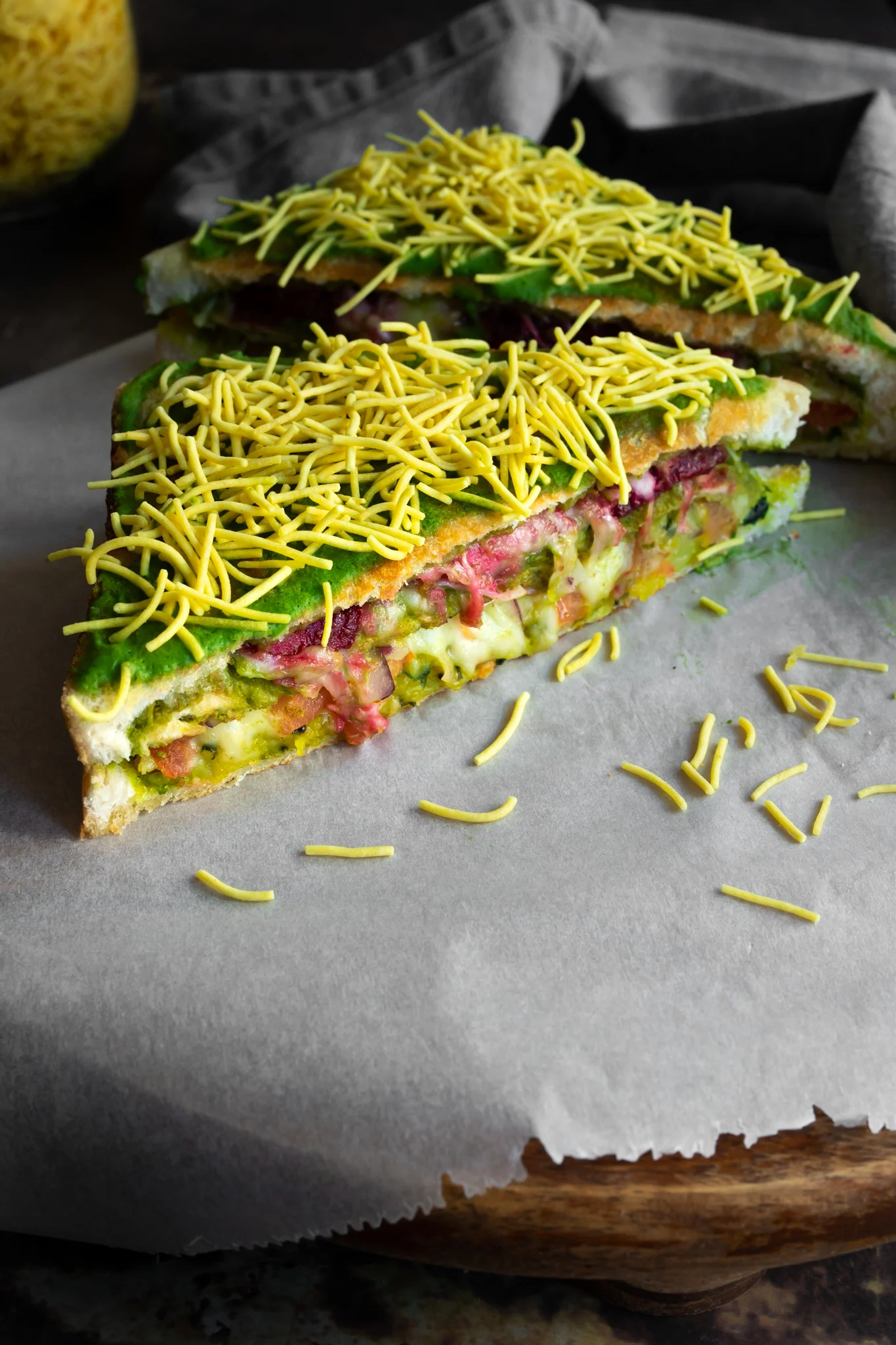 Ingredients
6

slices

white sandwich bread

2

tbsp

butter

softened

1/2

small red onion

sliced into narrow rings and separated

1

small beetroot

thinly sliced

1

tomato

finely sliced into rounds

30

g

Cheddar

30

g

low-moisture mozzarella
For the green chutney:
50

g

fresh coriander

including stalks

10-15

fresh mint leaves

25

cashews

soaked in hot water for 30 minutes

2

green chillies

or to taste

1

clove

garlic

2

tbsp

lemon juice

1/2

tsp

salt

2

tsp

sugar

2

tbsp

water
For the potato filling:
2

medium-sized potatoes

1

tbsp

oil

I used rapeseed

1

tsp

mustard seeds

2

tbsp

chopped coriander leaves

1/4

tsp

turmeric

1/4

tsp

salt
To garnish:
25

g

sev

Extra cheese

optional

Fried green chillies

optional
Instructions
To make the potato filling:
Steam, microwave or bake the potatoes until tender. Allow to cool slightly and then peel off the skin. Roughly mash the potatoes.

Heat the oil in a pan and add the mustard seeds. Allow to crackle and then add the coriander leaves, turmeric, salt and potatoes. Mix well to combine and then switch off the heat. Allow to cool.
To make the chutney:
Add all the ingredients to a small blender and blend to a smooth purée. Set aside.
To build the sandwich:
Toast two slices of bread and cut off the crusts.

In a bowl mix the two cheeses together.

Butter one side of a slice of non-toasted bread and place onto a plate, buttered-side down. Spread 2 tsp green chutney on the plain side and spread half the cooled potato filling on top. Sprinkle with a small amount of cheese.

Top with tomatoes, onions and a little more cheese.

Next, soak one of the crustless toast slices in green chutney. Place directly on top of the cheese.

Add another sprinkle of cheese and then arrange the beetroots on top. Top with more cheese and another slice of bread spread with green chutney. Place the bread onto the sandwich chutney-side down and then butter the outside.

Carefully lift the sandwich and place it in a pre-heated frying pan. Cook over a medium-low heat for 5 minutes until golden brown. Press the sandwich using a flat spatula or similar while it cooks to ensure good adhesion of layers, proper contact of bread to pan and thorough cooking. Flip and repeat the same for the other side.

Build and cook the second sandwich in the same way.

Remove from the pan and cut diagonally into triangles. Optional: Spread more green chutney on top and sprinkle with sev. Serve immediately.
Recipe Video
Sanjana's Notes
These sandwiches are best served hot.
These sandwiches are not suitable for freezing.
Assemble immediately before cooking.
Pin it for later!
If you like this, you'll love my Butter Pau Bhaji recipe