This simple Vegetable & Coconut Milk Kurma is rich with aromatic spices, nuts and a rainbow of colourful vegetables. Make it in an Instant Pot if you have one, or simply simmer away on the stove.
Serve with dosa for a delicious vegan meal that's gluten free too. It also pairs perfectly with rice, roti or paratha. I love to eat this with Neer Dosa.
What's the difference between Kurma and Korma?
Both Kurma and Korma have roots in Mughalai cuisine. They are one in the same, adapted to local tastes over centuries. Their shared heritage means the two curries are a culinary venn diagram. At the intersection lies nuts (often cashews and almonds), seeds (often white poppy seeds) and a handful of spices. The spices include, but are not limited to: Coriander seeds, cloves, cinnamon, cardamom, mace (or nutmeg) and black peppercorns.
In the South of India, Kurma puts locally abundant coconuts to use for a rich and creamy foundation. In the North of India, yoghurt and dairy cream add the opulence and richness Mughal dishes are famous for with Korma. Both Kurma and Korma are made using meat or vegetables, and both the dishes are stew-like, mild and aromatic. They can be either white, yellow or orange in colour.
Making a creamy, flavoursome masala
Kurma by its very nature is a rich and creamy curry. I like to create a thick and luscious base for this dish using a combination of onions, cashews and something that's not as common in Kurma — raw rice! An old trick in some households but something that's recently amped up my South Indian-style curries.
First, I toast the rice up in the tadka (tempering) until golden. I like to blend my Kurma gravy for a smooth finish. Not only does this eliminate any chance of biting into whole spices, it also gives the cashews, rice and other aromatics a chance to get nice and familiar with one another. The result? TONNES of flavour!
Kurma: Troubleshooting
I don't have all the veg you use – can I use other types?
Sure. Feel free to add any vegetables you have in the fridge, as long as the total weight is around 600g. Ensure all of the veggies are tender before serving. Cut firmer vegetables like potatoes or squash into small pieces so everything cooks in the same time.
What can I serve this Vegetable Kurma with?
Serve with dosa for a delicious vegan meal that's gluten free too. It also pairs perfectly with rice, roti or paratha.
What kind of coconut milk can I use?
I used tinned but fresh is even better (if you have it).
Can I cook this in an Instant Pot?
Yes. I've included instructions for how to do so in the recipe below.
What can I use in place of coconut milk?
Oat cream will work just fine. If you're not vegan, you can add dairy cream. If coconut milk is unavailable, try tempering the spices in coconut oil for some South Indian flavour.
What other vegetables can I add?
Potatoes, pumpkin or butternut squash, courgette, drumsticks, mushrooms and fried okra would all be delicious additions to this curry. Tofu, chickpeas or other cooked beans are also nice for added protein. If you're not vegan, you can add paneer.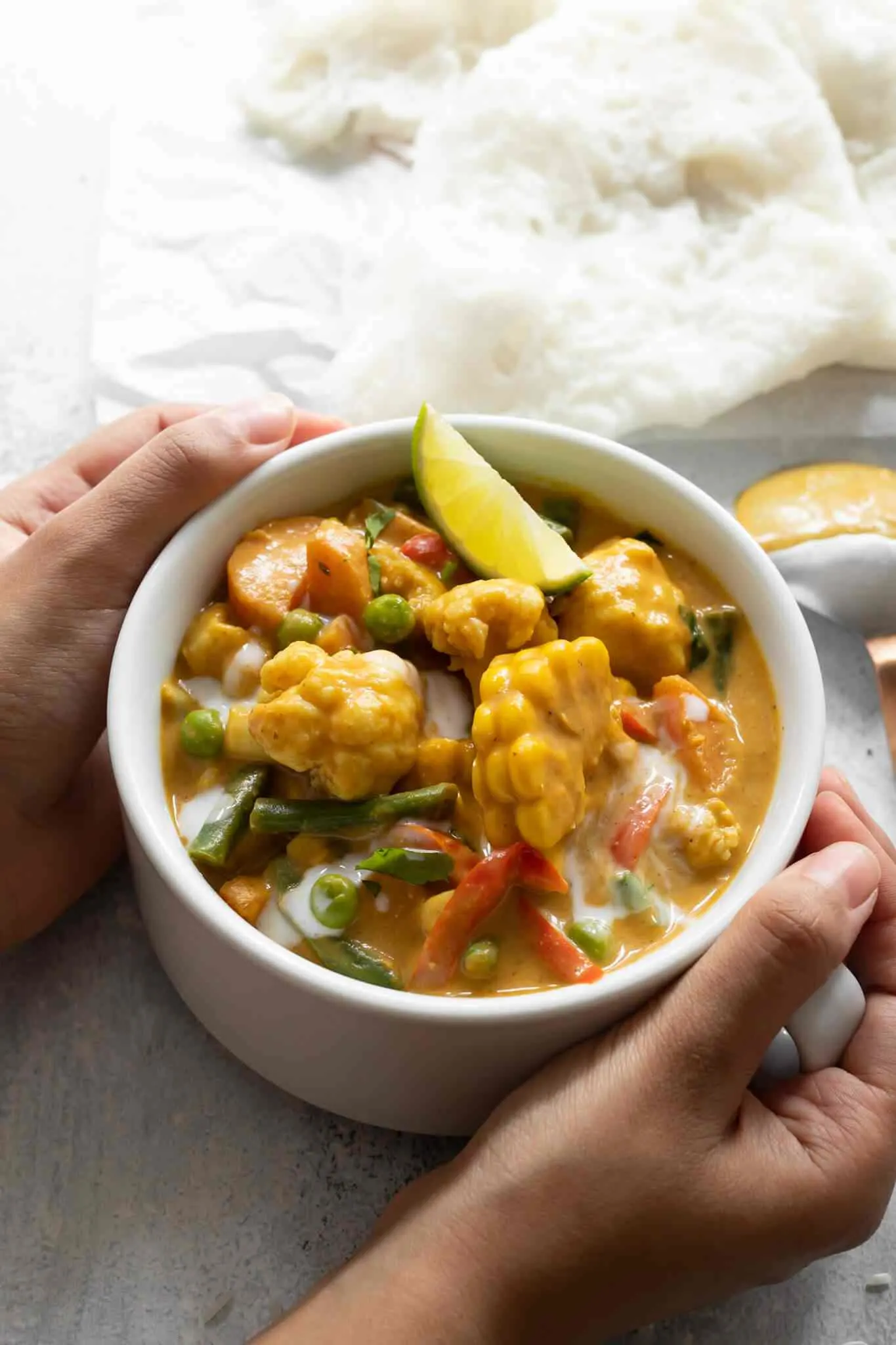 Ingredients
150

g

cauliflower

cut into bite-sized florets

150g

red pepper

diced

100

g

French beans

cut into pieces

100

g

carrots

cut into half moons

100g

g

sweetcorn

I used a combination of corn on the cob and kernels

50

g

peas

I used frozen
For the sauce:
1

tbsp

cooking oil

I used rice bran

15

cashews

250

ml

coconut milk

1

large onion

finely chopped

6-7

curry leaves

2

green chillies

slit lengthways

5

cm

piece fresh ginger

grated

5

cm

cinnamon stick

2

cloves

4

green cardamom pods

1

tsp

whole coriander seeds

1

tsp

fennel seeds

1/2

tsp

whole cumin seeds

1/2

tsp

black peppercorns

1/8

tsp

fenugreek seeds

1

tbsp

Basmati rice

1

large tomato (approx. 150g)

cut into pieces

1/2

tsp

turmeric

1 1/4

tsp

salt

250

ml

water
To serve:
1

tbsp

chopped coriander leaves

4

lime wedges

1-2

tbsp

coconut milk

to drizzle on top
Instructions
Heat the oil in a pan. Add the cinnamon, cloves, cardamom, coriander seeds, fennel seeds, cumin seeds, peppercorns, fenugreek seeds, chillies, curry leaves, cashews, rice and onions. Saute for 4 minutes until the onion turns a light golden brown.

Next, add the ginger, tomatoes and turmeric. Cook for a further 2 minutes. Pour in the water and stir well. Cover with a lid and cook for 10 minutes if cooking on the stove in a conventional pan.

If using an Instant Pot, pressure cook on high with the vent closed for 5 minutes. Carefully remove the lid and check the cashews are tender. Allow to cool down.

Remove the cinnamon stick and pile the mixture into a blender. Blend for 90 seconds until very smooth and creamy.

Pour the mixture through a fine-holed mesh sieve back into the pan. Use the back of a spoon to press the mixture through and catch any whole spice pieces, tomato skins and seeds. Add 250ml water to the blender jar and rinse to ensure you're getting every last bit of sauce out. Pour this through the sieve too. Discard any skins or seeds left in the sieve.

Return the pan to the heat. Add the coconut milk and season with salt. Add the vegetables (I used frozen peas so left these to the side until the end). Cover with a lid and cook for a further 15 minutes, until all the vegetables are tender.

If using an Instant Pot, pressure cook on high with the vent closed for 10 minutes. Depressurise the pot and carefully remove the lid. Do this straight away or the vegetables may overcook.

Add the peas and chopped coriander. Stir well and check the seasoning. Drizzle with coconut milk, if desired. Serve the Kurma hot with lime wedges and your favourite dosa, roti, paratha or rice.
Recipe Video
Sanjana's Notes
Store leftovers in an airtight container in the fridge for up to 3 days. Reheat thoroughly in the microwave or in a saucepan to ensure food is piping hot before serving.
This South Indian-Style Vegetable Kurma is suitable for freezing. Store in a freezer-safe container for up to 3 months. Defrost at room temperature and ensure food is piping hot before serving.
Pin it for later!
If you like this, you'll love my recipe for Neer Dosa