I figured that as everyone seems to have totally lost their minds this year, I'd follow suit in my own crazy way. You might have noticed a Facebook and Instagram post I wrote, earlier this month. It was a big deal for me, having dedicated a huge amount of myself to this blog. In case you missed it, it served as a reminder to myself that if we pursue our passions with our whole selves, we must not forget to extract every last bit of love it gives back to us. Anyway, enough of that soppy stuff… it's rum time!
I have a love/hate relationship with gulab jamun (or gulab jambu as we call them at home). I mean this in the sense that I love to eat them but hate that I can never just have one.
These sweet, saffron, rose and cardamom-soaked milk doughnuts are one of the most well-known Indian desserts, and the chances are, they're on your local Indian restaurant's menu.
Kala jamuns are the lesser-known big sister of gulab jamun. At first, the most obvious difference is in the colour difference between brown gulab jamun and black kala jamun (hence, the name – 'kala' meaning black). The texture of kala jamuns is also very different to regular gulab jamuns. They have a chewier exterior, that's almost squeaky and the inside is a little grainier. You could say they're the heartier of the two. Another key difference is in the serving style. Gulab jamuns are usually served in their syrup, whereas kala jamun are served without their soaking syrup, often rolled in desiccated coconut. When I was little I'd love coconut coated kala jamun split down the middle and filled with Shrikhand, but that's another story for another day.
This grown-up version of traditional kala jamun is easy to make, since I use milk powder and just a touch of khoya (also known as mawa) for added texture. Khoya is made by simmering full-fat milk in a pan for several hours, until almost all the water has evaporated, leaving just the milk solids behind. Khoya is widely used in South Asian cuisine, across India, Nepal, Bangladesh and Pakistan, to name a few places. You can find khoya sold in vacuum-packed blocks in the chiller section of your local South Asian supermarket. Hint: Look near the paneer section, it's usually there.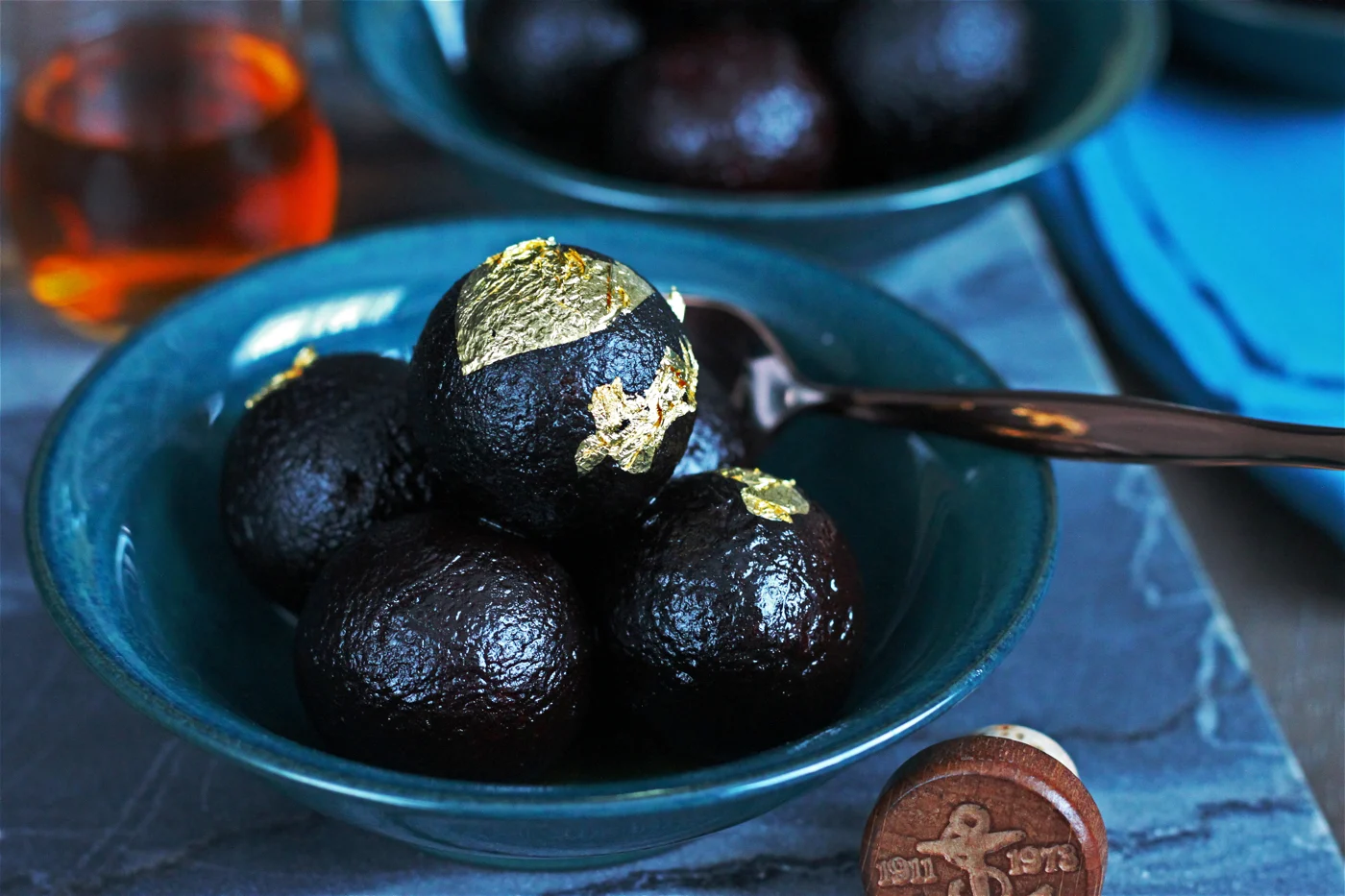 I'm a huge fan of anything soaked in rum, so when the opportunity to make kala jamun presented itself, I know that making a spiced rum syrup was the way to go. The combination of dark rum, cardamom, saffron, rosewater and vanilla is my idea of bliss and it works so perfectly in the recipe. It's sweet and beautifully aromatic with just a hint of bittersweet flavour from the caramelised jamuns.
They'll make a show stopping alternative Christmas dessert, served in a tower and covered in gold leaf. Sprinkle over some pistachios or toasted coconut if you like.
Rum-Soaked Kala Jamun (Cardamom and Rum Syrup-Soaked Doughnuts)
Makes 24 kala jamuns
For the kala jamun:
600g milk powder
430ml warm milk
50g khoya, grated
3 tbsp icing sugar
150g self-raising flour
2 tsp coarse semolina
½ tsp crushed green cardamom
Pinch of saffron
Pinch of salt
Sunflower oil, for deep frying
For the cardamom and rum syrup:
800g sugar
950ml water
400ml dark rum
1 vanilla pod, split and scraped
Juice of 2 limes
2 tbsp rosewater
Gold leaf, to decorate
Method
1. To make the kala jamun: In a large bowl, mix together the milk powder, self raising flour, khoya, semolina, salt, sugar, saffron and cardamom.
2. Gradually add the milk, stirring gently. The ingredients will come together to form a dough. Knead the dough for a few minutes until smooth. Cover with a damp tea towel and allow to rest for 30 minutes.
3. To make the sugar syrup: Place all the ingredients, including the vanilla pod in a pan. Give it a quick stir and bring to the boil. Allow to simmer until it reaches the thread stage on a sugar thermometer (110-115C) and then switch the heat off. It's important you don't stir it during the cooking period. If you notice the sugar starting to crystallise around the sides of the pan, run a wet pastry brush around the sides of the pan so that water runs into the crystals and dissolves them.
4. In a large, deep pan (I use a wok), heat enough sunflower oil to deep fry the jamuns. Use a cooking thermometer to bring the oil to 150C.
5. Make small balls with the dough, about 2cm in diameter. This might seem a little small but they will expand in the oil. It's really important to roll them firmly between your hands to ensure there are no cracks. Do this for all the jamuns – you should have around 24.
6. Deep fry 6-8 jamuns at a time, taking care not to overcrowd the pan. Allow the jamuns to cook for 3-4 minutes. They are ready when they turn really dark brown/almost, but not quite black all over. The jamuns will swell slightly in the oil, making them a little larger than the balls you rolled.
7. Drain the jamuns on a plate lined with kitchen paper. Allow to cool and test one to ensure the middle is cooked through. Repeat the frying process for the remaining jamuns.
8. Allow all the jamuns to cool for 20 minutes and then place them in the sugar syrup, making sure they're fully submerged. Leave covered for 24 hours and serve the following day. Decorate with gold leaf if you're feeling fancy.
I love to eat my kala jamuns hot with vanilla ice cream.
Note: If you're serving them hot by reheating them in the microwave, make sure you add the gold leaf after they've been warmed.
Storing: Keep the jamuns in their syrup and store in an airtight container in the fridge. They will last two weeks… unless you eat them all before then!