The pregnancy cravings are real, people. Indian savoury snacks are my weakness. They include, but aren't limited to: Dhokra, samosas, khichi, muthiya, idli, chakri, upma and bhajia. Simple things I've never made too often at home, but in the last 5 months I've taken the time to satisfy my cravings with the proper home-cooked versions. And I've loved every minute of it.
Most of you will know that it's been my long-term dream to have a surprise birthday tandoor at home. Well I still don't have one. However, my parents bought me a ginormous and Indian-style stacking steamer for my 28th birthday and it's the best! It's not beautiful and fancy, it's a commercial appliance that doesn't quite fit in my kitchen cupboard unless it's disassembled. But it's quickly become my favourite thing. It has multiple layers, baskets and a tight-fitting lid that fluffs up dhokra, muthiya and khichi perfectly.
Khichi, khichu, khichiya and papdi no lot are all names for one iconic Gujarati savoury snack made with rice flour and a few very basic spices. It can be prepared and served in a number of different ways depending on the particular family style and recipe. My favourite way is to shape and steam the rice flour dough for perfect little pucks with a chewy dumpling texture. Other popular methods include cooking it in a pan from start to finish, pressure cooking or even microwaving it.
Traditionally, khichi or papdi no lot (which literally translates to "cooked dough" is served with a bowl of oil. No BS, a bowl of regular plant-based oil like groundnut, sunflower or vegetable oil. Not olive oil, not ghee, not butter. Just oil. I liken it to dipping bread in olive oil in the West, except the point is not to add flavour, but to transform the texture of the dish. The reason why it makes so much sense is because it completely changes the texture of the dish. A slick of oil on the khichi after steaming stops them sticking together and dipping them in oil whilst eating gives the chewy rice flour dumplings a soft, slippery texture that's not entirely unlike the feeling of eating buttered noodles. Growing up with something as comforting as that gives the most intense cravings!
The combination of ingredients in khichi are always a simple mix so you can really taste the rice flour base. Usually it's cumin, ginger, salt and chillies. Turmeric and garlic are optional extras. Fresh turmeric is option and adds a gorgeous raw mango flavour and intense colour. I add a little bicarbonate of soda to my khichi to lighten them up a little and ensure they're not overly dense. They puff up a touch when they steam. Note that adding turmeric and bicarbonate of soda will give your khichi a slight orange hue. You could choose to skip the bicarbonate of soda and add turmeric for yellow khichi or leave both out and make white khichi. I've tried them all and prefer to add both. The recipe will work either way. The choice is yours.
Here I've shared my recipe for both classic rice flour khichi or papdi no lot, as well as a more playful recipe for a dish I've called Sticky, Crispy Chilli Khichi which is perfect for using up leftover khichi. It's a play on popular Indian restaurant dishes like Chilli Paneer, Chilli Mogo and Chilli Idli which use Chinese ingredients like soy sauce and 5-spice. Similar to the recipe for Sizzling Chilli Idli I posted a couple of years back.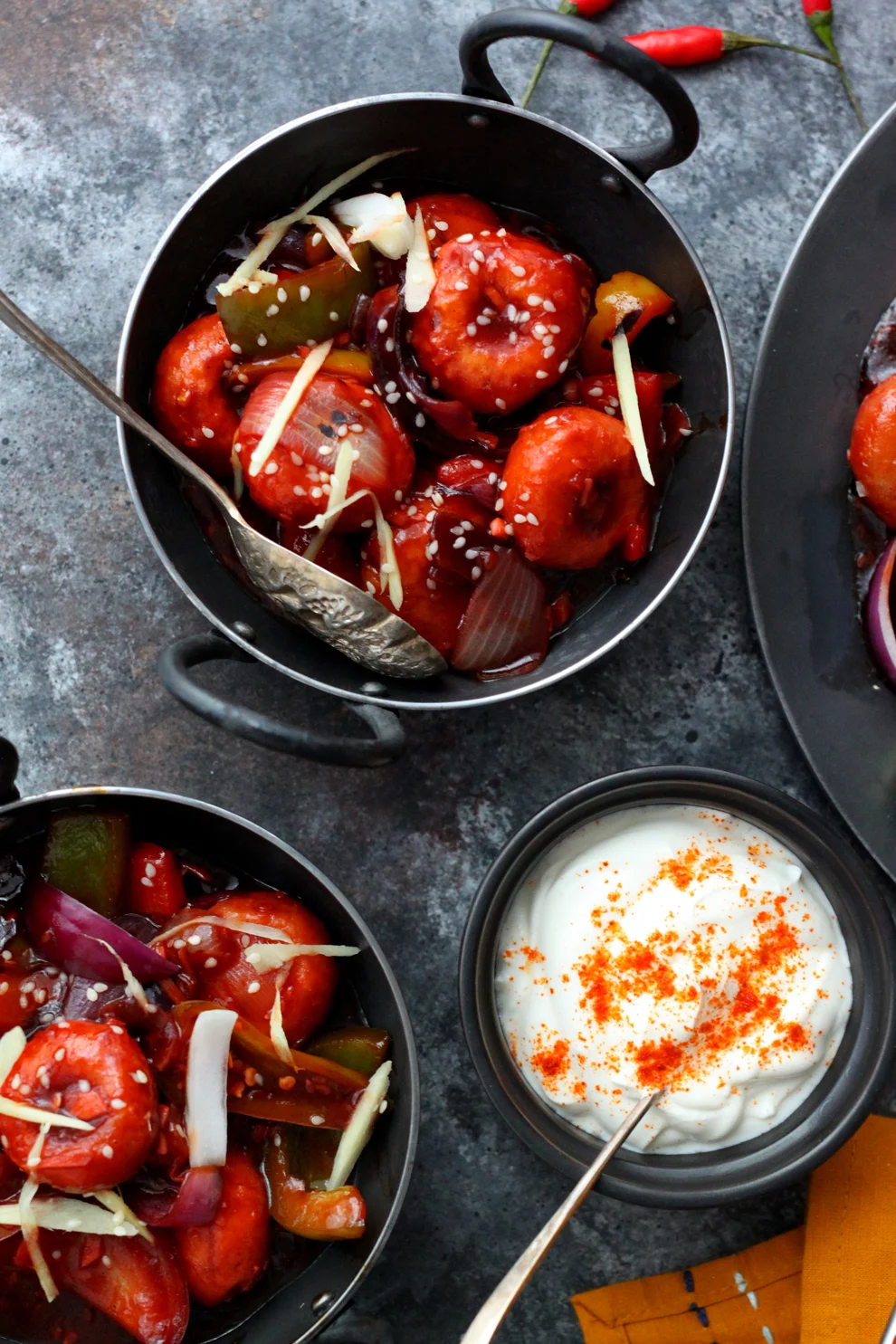 The khichi are dusted in cornflour and fried until crispy on the outside. Right before serving they are tossed in an intense sticky chilli sauce with lots of veg. Don't be put off by the amount of ginger, chillies and garlic – it's a lot but necessary to stand up to the somewhat plain rice flour khichi. It's a delicious starter and a new, creative take on a Gujarati classic. My recipe for Sticky, Crispy Chilli Khichi serves six hungry people.
Khichi or Papdi no Lot (Gujarati Steamed Rice Flour Dumplings)
Makes 20 regular-sized khichi or 40 mini khichi
Ingredients
225g rice flour
1 1/2 tsp salt
2 green chillies, chopped
1-inch piece ginger, peeled and grated
600ml water
1 tbsp oil
1/4 tsp ajwain
1 tsp cumin seeds
Method
1. Mix together the rice flour and salt. Set aside.
2. In a large saucepan, heat the oil. Add the cumin seeds and ajwain. Allow them to sizzle momentarily. Next, add the chopped chillies and ginger. Sauté until aromatic, about 30 seconds.
3. Add the water and tip in all of the rice flour mixture into the pan and beat with a wooden spoon. The mixture may seem lumpy at first but keep beating and it will come together as a soft dough. Cool for about a minute, beating vigorously all the time. Remove from the heat and allow the mixture to cool slightly.
4. Set up a large metal steamer that fits multiple baskets inside. You'll need about 2L of hot water in the base and to grease the holed baskets with oil to stop the khichi sticking.
5. When the mixture is still very warm but cool enough to handle, grease your hands with a little oil and make golf ball-sized rounds with the dough. Flatten slightly and use your thumb to make a deep indentation in the middle of each disc. Repeat until you have used up all the dough. Arrange the khichi inside the baskets, leaving space around each one as they will inflate slightly.
6. Place the baskets inside the steamer and close with a tight-fitting lid. Cook on a high heat for 18 minutes exactly. Switch the steamer off and leave covered for 5 minutes.
7. Remove the lid and take the khichi out, placing them on a plate. Brush with oil to stop them sticking together.
8. Serve with oil for dipping.
Leftover khichi can be cut into bite-sized pieces used to make Crispy Chilli Khichi, a delicious starter dish we created and love at home.
Note: if making khichi to use for Chilli Khichi straight away, I like to make little ping pong ball-sized khichi (about half the size of the regular classic kind). If you do this, the recipe above will make approximately 40 small khichis which are perfectly bite-sized.
Sticky, Crispy Chilli Khichi
Serves 6
Ingredients
40 mini khichi
2 tbsp + 3 tsp cornflour
2-inch piece ginger, peeled and julienned
4 cloves garlic, peeled and crushed
4 hot thin bird's eye chillies
3 tbsp sweet chilli sauce (I use Mae Ploy Sweet Chilli Sauce)
4 tbsp light soy sauce
1 tbsp Sriracha
1/2 tsp paprika
2 tbsp vegetarian oyster sauce (I use Mama Sita's Vegetarian Oyster Sauce)
250ml hot water
1 tbsp light brown sugar
1/2 tsp salt
1 tbsp sesame seeds
2 tbsp oil
1/2 tsp Chinese 5-spice
3 mixed peppers, chopped into bite-sized pieces
3 red onions, chopped into bite-sized pieces
1 large tomato, choppef into bite-sized pieces
Oil to deep fry
Method
1. Heat enough oil in a heavy-bottomed pan to deep fry the khichi. The oil temperature should be 180C. Dust the mini khichi in 2 tbsp cornflour and fry in small batches until golden and crispy on the outside, about 5 minutes. Drain on a plate lined with a paper towel and set aside.
2. Heat a large wok until smoking hot. Don't add any oil. In one go, add in the onions, peppers and tomatoes. Allow the veggies to char lightly and develop a smoky flavour, about 8 minutes. Stir only once or twice. Remove the veggies from the wok and set aside for later.
3. To make the sauce, add 2 tbsp oil to the wok and scatter in the sesame seeds, chillies, garlic and ginger. Sauté briefly. Add the soy sauce, sweet chilli sauce, vegetarian oyster sauce, sriracha, 5-spice, brown sugar, paprika, water and salt. Bring to the boil and allow to simmer for 5 minutes.
4. Mix 3 tsp cornflour with 1 tsp cold water and stir to create a smooth paste. Add to the simmering sauce and stir continually until thickened slightly, about 2 minutes.
5. Heat the sauce through and toss everything together immediately before serving. Garnish with chillies, ginger and sesame seeds.
100% approved by baby K.O!
Love Sanjana