My Nanabapu was a mithaiwala. He wore a flat cap and cooked Indian sweets in giant steel pots on a sugar plantation in Uganda. Stirring vats of bubbling syrup and milk consumed his days, along with thoughts of perfecting his next great recipes for jalebi, mohanthal, boondi and halwa. He had come from humble roots. His forefathers were farmers and he grew up on a farm in Gujarat. During his teenage years he trained as an apprentice chef in hotel kitchens across India.
By the age of 18, Nanabapu married, fathered a child, and then tragically became a widow.
Several years went by, and the young chef found himself across the Indian Ocean, on the coast of East Africa. In that time, migrant Indian workers travelled by boat, to labour and earn enough money to support their families. He went on to remarry and had six more children. The family moved around a lot, going wherever work was available. Nanabapu doted on his kids with every fibre of his being. My mother was the youngest of the girls, born in Nairobi, Kenya.
Nanabapu lost his second wife (my Nanima) in the UK. His youngest child was just five. He was a single Indian father of seven children, who went on to live in racially-intolerant 1970s Britain. On a modest salary, Nanabapu provided his kids with a safe home in which to sleep, a loving parent they could talk to and of course, perpetually-full bellies. He grew his own fruit and vegetables and always kept a well-stocked pantry.
Much of his life was spent mastering his craft in other people's kitchens. Connecting with communities through food was what truly cultivated joy in his heart. In his later years, he cooked for local Gurdwaras in London, putting on giant spreads of Indian sweets, samosas and other savouries for hundreds of worshippers. He also worked as a cleaner in a factory to make ends meet. Like any good parent, he strived to provide a bright future for his children.
Nanabapu passed his passion for cooking on to my mother. She is the guardian of his recipes and cooks Indian sweets like, well, the daughter of a mithaiwala.
Nanabapu

My mother
Growing up, I watched her create mountains of sweet thalis to take to the temple at festival time. She'd pour molten burfi into steel plates, beat halwa shimmering and slick with ghee in pans the size of my torso. I'd soak up every moment like hot jalebi in bathing in sugar syrup. I always knew what to expect, yet each year, her thalis managed to take my breath away.
This is one of the recipes Nanabapu taught her to cook.
What is Boondi?
Boondi (pronounced Boon-dhi) is a dish consisting of deep fried chickpea flour batter, formed into hundreds of tiny pearl-sized balls. It can be sweet or savoury.
Sweet Boondi
The sweet version calls for you to dunk the freshly-fried boondi to be in a light sugar syrup for a few moments before draining it. Ground green cardamom and saffron are great additions for adding flavour. Sweet Boondi can be eaten loose (as it is), or you can mix it with ghee and form it into larger balls called laddoos. These are popular temple sweets used as offerings during religious festivals. Nuts and raisins are commonly added to Boondi too.
Savoury Boondi
Another popular (and delicious) way of serving Boondi is to add it to raita. Salt is added to the Boondi batter, along with chaat masala, roasted cumin seeds and a touch of sugar. Cool the Boondi and then mix it into the seasoned yoghurt. Leave to chill for a few hours and serve with curry, naan and rice. It pairs particularly well with North-Indian dishes like Chole Bhature.
How should I serve Boondi?
Serve it warm or at room temperature. For a hot and cold dessert sensation, serve warm Boondi with vanilla ice cream. To heat it, place in a bowl and microwave for a few seconds. It doesn't take long at all.
Do I have to deep fry Boondi?
Yes. This is one of those recipes that can only be deep fried. Passing the droplets through a perforated skimmer into hot oil is what created perfectly-round Boondis. The oil should be hot and the Boondis will cook in just 90 seconds. Do not brown them.
What kind of oil should I use?
Any flavourless oil with a high smoke point. Sunflower or rapeseed (canola) oil are ideal. You could also use vegetable oil or ghee. The latter would render the dish not suitable for vegans. Refined (odourless) coconut oil is also fine to use. Don't use olive oil or sesame oil.
Do I need any special equipment to make Boondi?
You will need three "Jaaros" (also called zhaara or zaara). They are perforated metal skimmers used for deep frying. Some are bowl shaped with high sides, used exclusively for making Boondi. The flatter type can also be used, but the batter should be added a little at a time so it does not overflow.
Three Jaaros are required; the first to drop batter into the oil. The second to remove the cooked Boondi from the oil and the third to bathe the cooked Boondi in syrup (and to transfer it to a colander). The Jaaro used for dropping batter into the oil should be washed and thoroughly dried between frying each batch. At no time should the first Jaaro touch the hot oil. This will cause the batter on the skimmer to cook onto the metal. It will get messy very quickly!
What consistency should the Boondi batter be?
The Boondi batter should be smooth and of a pourable consistency, similar to that of crêpe batter.
Does the batter need to rest?
Yes. It should be mixed and left on the kitchen countertop (covered) for a minimum of 12 hours, and up to 24 hours.
What consistency should the sugar syrup be?
The sugar syrup should be cooked to 110C/230F. Use a sugar thermometer for accurate results and do not take it beyond this temperature. Once it reaches this stage, switch the heat off. A drop of lemon juice can be added if you're worried about crystallisation. As the sugar syrup is not cooked more, this shouldn't be an issue.
How long does it take to make Boondi?
Excluding batter resting time, the Boondi will take approx. 65 minutes to make.
I recommend two people make it together to avoid spaghetti arms. Trying to do everything at once by yourself is never fun.
How long can Boondi be stored for?
The Boondi will keep well in an airtight container for a week. Boondi is not suitable for freezing.
Is Boondi vegan?
This loose Boondi recipe is 100% vegan. If you choose to make Laddoos with it, ghee should be added. This will mean it is no longer vegan. Having said this, refined coconut oil can also be used for vegan Boondi laddoos.
Is Boondi gluten free?
Yes. The batter is made with chickpea flour (besan) which is free from gluten.
Can this Boondi be made into laddoos?
Yes. To make Laddoos with this Boondi, add approximately 150g melted ghee to the finished Boondi. Chill for 60 minutes and then form into balls. Allow to set in the fridge.
Do I have to use food colour?
No. I only make Boondi once a year and because it's a rare treat, I like to add a bit of food colour to make it look festive. However, you can skip the food colour completely if you'd prefer not to add it.
I use Wilton Gel Food colours in orange, red and green.
How much Boondi does this recipe make?
This recipe makes approximately 1kg of Boondi.
Checklist of equipment needed to make this recipe
Whisk
Ladle
Large saucepan
Sugar thermometer
Deep frying kadai
3x Jaaro for dropping, removing fried Boondi from oil and adding/removing Boondi from sugar syrup (you can buy them online)
Large colander
Ingredients you'll need to make Boondi
Chickpea flour (fine gram flour/besan)
Water
Oil
Sugar
Vanilla extract
Green cardamom
Saffron
Gel food colour (optional)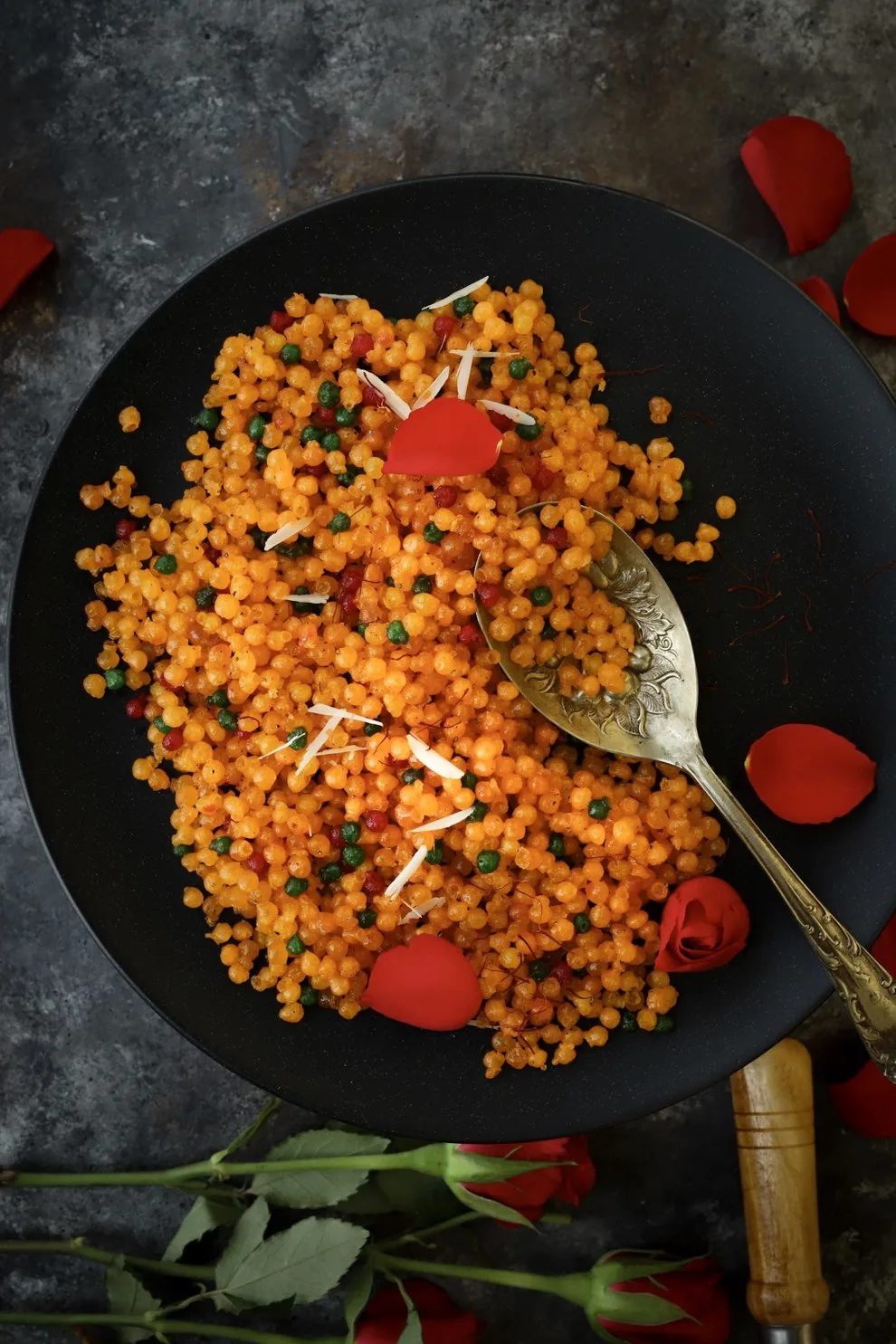 Equipment
Whisk

Ladle

Large saucepan

Sugar thermometer

Cooking thermometer

Kadai or deep pan for frying

Jaaro for dropping

Jaaro for removing fried Boondi from oil

Jaaro for adding/removing Boondi from sugar syrup

Large colander
Ingredients
For the batter:
180

g

chickpea flour

(superfine besan/gram flour)

360

ml

warm water

2

tsp

oil

(any unflavoured cooking oil)
For the sugar syrup:
500

g

refined white sugar

600

ml

water

2

tsp

vanilla extract
You will also need:
Large pinch saffron

Orange gel food colour

(+ optional red, yellow and green)

6-7

green cardamom pods, seeds crushed

1

tbsp

flaked almonds

(optional)

1.5

L

oil for deep frying

(any unflavoured cooking oil, such as sunflower or rapeseed/canola oil)
Instructions
In a bowl, whisk together the chickpea flour, warm water and 2 tsp oil until smooth. Cover and allow to rest at room temperature overnight, at least 12 hours or up to 24 hours.

Once rested, whisk in the orange food colouring if making all orange Boondi. If you'd like to make some different colours, divide a few tablespoons of the batter out into separate bowls and whisk in red, green and yellow food colour into each portion. I kept the majority of the batter orange.
For the sugar syrup:
To make the sugar syrup, stir the sugar and water together in a large pan. Place a sugar thermometer in the pan, in the sugar-water mixture but not directly touching the base of the pan. Heat until it reaches 110°C/230°F on the thermometer and then switch the heat off. Do not take it beyond this temperature or the syrup will crystallise around the Boondi and it will become hard.
To fry the Boondi:
Heat the oil in a large kadai to 200°C/400°F.

Set up a colander so that it's sitting on top of a plate. Place a Jaaro or large slotted metal spoon into the pan of sugar syrup ready for the first batch of Boondi. Keep another Jaaro or large metal slotted spoon handy to remove the first batch of Boondi from the oil. IMPORTANT: Do not use the same Jaaro used for dropping the Boondi into the oil to remove the cooked Boondi from the oil. This will cause batter to cake into the Jaaro and it'll be hard to remove it.

Hold a large, deep metal Jaaro, directly over the surface of the hot oil, about 6cm away from the surface. Use a ladle to gently pour the batter into the Jaaro. It will quickly begin to drop through the holes into the oil, like raindrops. Only add one ladle of batter per batch and do not force it through by tapping or agitating it too much. This will cause the Boondis to form "tails" or become misshapen. It's best to let the batter fall through the holes on its own. Do not overcrowd the oil with too many Boondis.

Once the majority of the batter has fallen through, set the Jaaro used for dropping the batter aside and pick up the clean Jaaro for removing the Boondi from the oil. Gently move it around and after 90 seconds, collect all of the Boondi into the Jaaro and let as much oil as possible drain away. The Boondi should not be brown in colour.

Add the Boondi to the sugar syrup and use the third Jaaro to swish it around gently until all the Boondi are coated. They should turn slightly translucent. After 30-40 seconds the Boondi is ready to be removed from the syrup. Collect them all up in the Jaaro and allow any excess syrup to drain away. Place the Boondi in a colander and spread it around the sides, so that there's a hole in the middle. This will help any excess syrup drain away.

Wash and thoroughly dry the Jaaro used for dropping the Boondi batter into the oil before starting the next batch. Repeat the steps above until all the batter is used up.

Leave any bright colours to the end so that the food colour doesn't alter the colour of the frying oil and syrup. I do the green batter last.

When all the Boondi is done and still warm, tip it into a large thali or plate and add the ground cardamom seeds, saffron and almonds. Use a large spoon to gently mix it in, being careful not to break any Boondi. Allow to sit at room temperature until cool.
Sanjana's Notes
If you're not serving straight away, pack the Boondi into an airtight container and refrigerate. It can be kept for up to a week.
To reheat, place in a microwave-safe bowl and heat on high power for 10-20 seconds. Stir well and serve.
This Boondi is not suitable for freezing.
Pin it for later!