Say hello to The Best Homemade Paneer. It has been perfected over the years to produce a soft and squidgy cheese that cubes and slices beautifully for curries and crumbles like a dream for paratha, samosa and bhurji.
You can of course, use it fresh, just as it is for a melt-in-the-mouth texture, or pan-fry it to create a crispy, golden crust.
It's also a delicious addition to Indo-Chinese favourites like Chilli Paneer, Hakka Noodles and Paneer Manchurian.
Watch how to make Homemade Paneer
What is paneer?
Paneer is a versatile, non-melting white cheese from the Indian subcontinent. It slices, browns and can be used in multiple dishes from savoury to sweet.
Historically, paneer was an important source of protein for vegetarians in the Indian subcontinent, especially in regions where meat consumption was less common (North).
Paneer was an ideal protein source as it could be easily made at home with very basic equipment and did not require any refrigeration.
Paneer consumed in ancient India was made using different types of milk, including cow's milk, buffalo milk, and goat milk.
Over time, paneer became an essential ingredient in many traditional Indian dishes, and its popularity has continued to grow both in India and around the world.
Paneer is now enjoyed in many cuisines, and it is commonly used as a vegetarian protein substitute in dishes that would typically contain meat.
In summary, paneer has a rich and varied history in Indian cuisine, and it continues to be a popular and beloved ingredient in traditional and modern cooking alike.
The most famous paneer dishes
Palak Paneer – A creamy spinach and paneer dish
Paneer Butter Masala – A rich and creamy tomato and paneer dish with plenty of butter
Shahi Paneer – A royal, nutty and aromatic dish inspired by the Mughal dynasty
Paneer Tikka Masala – Grilled paneer cubes in a spicy tomato and cream sauce with onions and peppers
Paneer Bhurji – Scrambled paneer with onions, tomatoes and spices. An excellent breakfast
Matar Paneer – Paneer and green peas in a tomato-based gravy
Kadai Paneer – A spicy and flavorful curry made with paneer, peppers and onions. Kadai paneer can be served dry or with gravy
Paneer Makhani – A rich paneer dish with tomatoes, cream and kasoori methi
Saag Paneer – A medley of greens pulverised with spices and served with chunks of fresh paneer. Typically served with cornmeal roti
How to cook with paneer
Paneer won't melt or become gooey the way Cheddar or mozzarella will. It is a non-melting, non-aged cheese that we typically make using cow's milk set with acid.
Since paneer doesn't melt, it's incredibly versatile. For example, you can cut it, crumble it, mash it, or even knead it into dough. Use it in everything from curries and kebabs, to samosas, breads and more.
Jump to the end of this post to see my 12 delicious ways to cook with Paneer.
How to curdle milk for Homemade Paneer
My preference is to use lemon juice to curdle the milk. This can be either fresh or bottled lemon juice.
You can also use vinegar, citric acid, yoghurt or even leftover whey from a previous batch of paneer to curdle the milk. For 2.5L milk you'll need the following quantities of each:
100ml lemon juice mixed with 250ml water
2 tbsp white vinegar mixed with 250ml water or
1 tsp citric acid mixed with 250ml water or
100g sour natural yoghurt whisked with 2 tbsp water or
250ml very sour whey or buttermilk
How to make soft paneer
This is a super common question and one I'm asked often. The answer is simple: Use milk with ample fat content and curdle the milk slowly you don't shock the curds into separating quickly.
Dilute the acid with water to encourage a slow separation.
The last thing to remember is to ensure you don't press it too hard.
A small amount of moisture in the cheese will keep it squidgy. Ultimately, try to introduce temperature changes gradually.
Simple changes you can make for softer paneer:
Dilute the acid when using lemon, vinegar or citric acid to facilitate a gentle separation of curds and whey.
Use high-fat milk – at least 2% fat (this will also improve yield)
Rinse the cheese in warm water instead of cold
Paneer for sweet and savoury dishes
Follow my recipe to make perfect paneer, whatever your intended use for it may be.
Whether you want to make cubes for Chilli Paneer and Paneer Tikka, crumble it for Paneer Kulcha or use the drained and kneaded chhena for making Rasmalai.
Is paneer the same as cottage cheese?
The process for making the Indian cheese, paneer is actually very similar to making ricotta.
The final result is more akin to a firm ricotta than it is the western style of cottage cheese, which contains lumpy cheese curds in a yoghurt-like whey.
This said, you will find that like cottage cheese, paneer is high in protein and lower in fat than other hard cheeses like Cheddar, for example.
How to make Paneer in 30 minutes
The process for making paneer at home is incredibly simple.
The part that takes the longest is boiling the milk! Here's how to make paneer at home in 5 simple steps, all done in under 30 minutes.
Prepare your equipment. Grease the base of your pan with oil to stop the milk burning. Set a muslin or cheesecloth in a colander set over a bowl.

Mix together your acid. Choose from on of the five options listed above or follow my recipe card below.

Pour full-fat milk into the pan and cook, stirring all the time until it comes to a rolling boil. This can take up to 25 minutes depending on the quantity of milk. Do not leave this unattended.

Once the milk comes to a boil, switch the heat off and gradually add the acid, stirring very gently to incorporate. The curds will separate from the whey. Stand for 5 minutes and then drain, collecting the whey for use later.

Wash the paneer with cold, running water and squeeze out the excess moisture. Finally, cover the paneer in the cloth and weigh it down with something heavy like a few tins of beans or a big bag of lentils. You can use the paneer after a few hours. It cut into pieces better if you leave it under a heavy weight overnight (preferably in the fridge).
Infuse your paneer with extra flavour! How to make Masala Paneer
This recipe is highly customisable and can be transformed with just a few changes to the herbs and spices used. Here are some of my favourite Paneer flavour infusions, for example:
My original Masala Paneer: Ground black pepper, ginger paste, chilli flakes, fresh coriander.
Indo-Chinese Masala Paneer: Chinese 5-spice, ginger paste, green chillies, chopped spring onion.
Jamaican Jerk Masala Paneer: Ground allspice, dried thyme, dried garlic powder, chopped scotch bonnet chilli.
Tex-Mex Masala Paneer: Smoked paprika, ground cumin, dried onion powder, chopped coriander.
Mediterranean Masala Paneer: Sliced olives, chopped sundried tomatoes, garlic paste, dried oregano, fresh basil.
The Best Homemade Paneer: Troubleshooting
What kind of milk do I need for making paneer?
Full-fat milk (at least 3% fat) produces good quality paneer. Try to find the least homogenised, least processed milk possible for better yield. If the milk is overly processed, it will not curdle or may only produce a small amount of curds. This is because the heating process integral to long shelf life damages the proteins in the milk.
Do I have to use lemon juice in the curdling process?
No, you can also use vinegar, citric acid, yoghurt or even leftover whey from a previous batch of paneer to curdle the milk. See my note above for quantities.
How do I stop the milk burning the base of the pan?
Some people advocate a small amount of water in the bottom of the pan. I'm not one of those people and that would only dilute our lovely full-fat milk. Instead, I prefer to rub the base of the pan with oil. Anything milk that burns will lift off easily once you're done making the paneer. Don't scrape the base of the pan when making paneer as the burnt bits can lift off and leave your cheese speckled with burnt milk solids.
Can I use low-fat milk to make paneer?
You can, however, the yield will be much less depending on fat content and it may also be quite firm to eat.
Can I use cream to make paneer for softer paneer?
I would advice mixing both full-fat milk and cream (a 3:1 ratio). Using pure cream may be too fatty and may prevent the paneer from setting.
How much paneer does this recipe make?
350g.
Can I make paneer from spoiled milk?
Yes. Simply bring it to the boil in a large, heavy-based pan and the sourness of the milk will cause a natural separation to occur. Strain the milk as directed in my recipe below.
Help! My milk won't curdle
Add more of your chosen acid, e.g. lemon juice, little by little whilst stirring gently in a figure of eight motion. If the milk still doesn't separate, your milk may be too processed/filtered to make paneer. Don't worry, you can still use it as buttermilk for baking.
What can I do with leftover whey?
The possibilities are endless! Use it in sweet and savoury baking, in particular, cake and bread baking. You can also use leftover whey for making Indian bread like roti, thepla, naan, paratha and bhatura. Or add it to your morning smoothies for a low-fat protein boost. Kadhi made with leftover whey is deliciously sour. Leftover whey can even be used to separate more milk for making paneer again. It's super nutritious and versatile. Keep it bottled in a clean container for up to 2 weeks.
Can I freeze paneer?
Sure! Wrap it well and freeze for up to 3 months, Defrost at room temperature and eat within 48 hours.
How long can I keep fresh paneer in the fridge?
This perfect homemade paneer will keep well in the fridge for up to 3 days. Wrap it well to ensure it doesn't dry out.
Equipment
Large, heavy-based pan

Muslin or cheesecloth

Colander or sieve

Large bowl
Ingredients
2.5

L

full-fat milk (at least 3% fat)

Note that ultra-filtered milk isn't suitable for making cheese

100

ml

lemon juice

250

ml

water

1/4

tsp

any flavourless oil

to grease the base of the pan

1

tsp

salt

optional
Instructions
In a bowl or jug, mix together the lemon juice and water.

Use a kitchen towel dipped in oil to grease the base of the pan. This will stop the milk from burning on the bottom.

Pour the milk into the pan and heat over a medium flame. Don't stir the milk too much as we don't want to create too much froth. Don't leave the milk unattended, it can boil over quite quickly. Once the milk comes to a boil, switch the heat off.

Slowly add the lemon and water mixture and stir the milk very gently to disperse. Imagine gently drawing a figure of eight in the pan. If the milk isn't curdling, add more of the lemon and water mixture until it does.

You'll know the paneer is ready when the curds look like little white clouds floating the a yellow/green-ish water (this is the whey).

Line a colander or sieve with a clean muslin or cheesecloth. You can wet the cloth if isn't sitting in the colander well. Place the colander over a large bowl to catch the drained whey.

Pour the mixture into the colander and allow the whey to drain out.

Next, transfer the bundle of drained curds (along with the muslin) into a bowl while you pour the whey into another bowl or simply swap it with another bowl.

The curds now need to be washed to remove any excess acidic flavour. Pour plenty of warm water over the cheese and agitate with a spoon to wash away the sourness. I use around 1L water for this process.

Once washed, dissolve the salt in another 500ml warm water and pour this over the curds to season it. This step is optional. Mix it well.

Wrap the muslin over the top of the curds, as flat as you can get it. Press gently with your hands to drain off excess water.

Place a flat plate over the top and weigh the curds down with something heavy (like a few tins of beans, a mortar or books) to drain off remaining water and lightly set the paneer. The heavier the weight you apply, the firmer set your paneer will be. I like to apply a light weight at this point so that I can mould it properly later.

After an hour, the paneer is ready to use. It may be slightly crumbly. If you prefer a firmer set for cubing and slicing, either set in the fridge overnight or do as I do and mould it in a dish, tin or bowl with more pressing.
Optional step for moulding the paneer:
Transfer the lightly-set paneer to a small tin or ceramic/glass dish, about 12cm wide. Keep it in the muslin/cheesecloth for easier unmoulding later. Press the paneer in with the back of a spoon. It doesn't matter of it breaks and crumbles as you'll be pressing it again shortly. Wrap the paneer up with the muslin and apply more pressure with a plate and weight.

Pop the whole thing, plate and weight included in the fridge overnight to set. The next day your block of fresh paneer will be ready to cube and slice for all your favourite paneer recipes.
Sanjana's Notes
My preference is to use lemon juice to curdle the milk. This can be either fresh or bottled lemon juice.
You can also use vinegar, citric acid, yoghurt or even leftover whey from a previous batch of paneer to curdle the milk. For 2.5L milk you'll need the following quantities of each:

2 tbsp white vinegar mixed with 250ml water
1 tsp citric acid mixed with 250ml water
100g sour natural yoghurt whisked with 2 tbsp water
250ml sour whey
Pin this recipe for later!
12 delicious ways to cook with Paneer
Paneer Tikka
Juicy chunks of Indian cottage cheese marinated in homemade tandoori paste and grilled until charred. Perfect with naan, roti or paratha.
Brown Butter Paneer Makhani
I thought I knew love, but then I met Brown Butter Paneer Makhani. Combine aromatic spices with brown butter and a creamy cashew-tomato curry.
Check out this recipe
Vegetarian Paneer Fajita Traybake
This easy Vegetarian Paneer Fajita Traybake is a vibrant midweek meal you can prepare in advance. Serve the sizzling paneer with tortillas, guacamole, salsa and sour cream for a Mexican-inspired feast.
Restaurant-Style Shahi Paneer
Delicious, rich & creamy Shahi Paneer is a vegetarian food hero in North Indian cuisine. Scoop this curry up with flaky parathas or serve with basmati rice.
Check out this recipe
The Ultimate Saag Paneer
The Ultimate Saag Paneer recipe is pure MAGIC! Soft paneer chunks in a creamy mustard greens & spinach sauce. Every bite will melt in your mouth. A true Indian comfort food meal.
Check out this recipe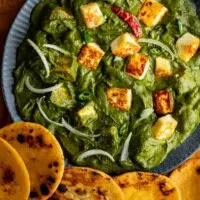 Creamy, Restaurant-Style Matar Paneer
Matar Paneer is a warmly spiced Indian curry made with paneer and green peas. The soft and creamy cubes of Indian cottage cheese pairs so well with simple fresh garden peas.
Check out this recipe
Melt-Away Malai Kofta
I call this creamy paneer kofta curry Melt-Away Malai Kofta simply because they melt away as soon as you put them in your mouth. Malai Kofta are the ultimate North Indian vegetarian curry recipe to dazzle friends and family. A celebration of rich flavours and warming spices.
Check out this recipe
Crispy Paneer & Grilled Nectarine Salad
Crispy Paneer & Grilled Nectarine Salad is a fresh vegetarian meal or side. The baked Masala Paneer is amazing with juicy grilled nectarines, leafy greens and pearls of fried boondi.
Check out this recipe
Gujarati-Style Matar Bhaat
My special version of Gujarati Matar Bhaat with super fluffy rice, fresh peas, potatoes and paneer. Serve it with Kadhi or as part of a larger thali-style meal. It's simple, comforting and utterly delicious. If you're looking for something a little more traditional, skip the paneer.
Check out this recipe
Easy, Creamy Palak Paneer
Palak Paneer is a stick-to-your-ribs North Indian treasure that was made to be a filling vegetarian option. Serve with laccha paratha, roti, naan or rice!
Check out this recipe
Restaurant-Style Chilli Paneer
Crispy paneer wok-fried in a light chilli and garlic sauce with lots of crunchy veg. A real Indo-Chinese crowd pleaser.
Vegetable and Paneer Tandoori Momos
These vegetable and paneer-filled dumplings are so delicious. Slather each one in Tandoori marinade and cook under intense heat for the heavenly charcoal smokiness we all know and love.
Check out this recipe

If you like this, you'll love my recipe for Paneer Kulcha