I thought I knew true love, but then I met Brown Butter Paneer Makhani. The toasty, nutty aroma of brown butter (or beurre noisette) transforms the traditional Paneer Makhani we all know and love into something even more sensational.
Combine aromatic spices with a creamy cashew and tomato base, gently brown some butter in a pan and create the Makhani-style sauce of your dreams. This is the only way I'll make Paneer Makhani from now on.
What is Brown Butter?
A wise friend once told me I must strive to be the best version of myself. I think butter has the same friend because along comes brown butter to blow our minds. It's like regular butter but with a breathtaking glow-up.
Brown butter is richer and even more buttery tasting than its former self. A simple melt, stir and gentle simmer in a pan is all that lies between you and the best Paneer Makhani of your life.
The Maillard reaction
The process of cooking the butter to the point of golden toastiness causes a series of chemical reactions between amino acids and sugars from the lactose in butter. This is an example of a Maillard reaction.
Other examples of foods that under go this same miraculous transformation include toast, viennoiserie like croissants and pain au chocolat, toasted marshmallows, golden cookies, scones, roasted white chocolate and fried dumplings.
It's a building block of flavour responsible for some of the most delicious foods we know.
How to make brown butter
1. Melt
Melt cubes of butter in a pan. Initially, the butter will be a pale, creamy colour.
2. Bubble & evaporate
Next, the water will begin to cook off, causing the liquid to spit and splutter as the fats and remaining water continue to interact. Large bubbles are visible on the surface. Now the butter will look yellow and erm… buttery.
3. Foam & caramelise
Prepare for a lot of foam. With the water now evaporated, the fats can now begin to caramelise. The pillowy sheet of foam is like a heavy raincloud on a sunny day. Underneath, the butter changing from yellow to amber.
Keep the butter moving the whole time to ensure it doesn't brown too quickly and deeply. Remember, this is brown butter, not burnt butter.
4. Browning
Once the foaming begins to subside, you'll notice a grainy sediment at the base of the pan. These are made up of caramelised milk solids, similar to what we see in ghee making. They are pure umami flavour: Salty, caramelised and slightly bitter.
Now keep an eye on your butter as it will reach brown butter nirvana in a matter of seconds. Let it go too far and you'll have burnt butter. A deep, golden-syrup colour is ideal for this dish.
How to use brown butter to make Paneer Makhani
Instead of cooking our aromatics (ginger, garlic, etc) in regular butter or oil, we will use the umami-rich brown butter. Add a handful of aromatic spices, sweet, boiled cashews and tangy tomatoes.
The process of high-speed blending will cause the brown butter to emulsify into the sauce for a luxurious, silky finish.
I reserve a small amount of brown butter for drizzling on top. The salty hit of butter is out of this world.
Can't I just use ghee?
You can use ghee but it won't taste the same. Allow me to clarify (heh). The key difference between ghee and brown butter is that the latter incorporates the milk solids. I call them flavour sand! Brown butter is also cooked for longer, so offers greater nutty aromas.
What spices do we need for Brown Butter Paneer Makhani?
Kashmiri red chilli, green cardamom, coriander seeds, cumin seeds, turmeric and garam masala. That's it.
Grab my Homemade Garam Masala recipe
Homemade Garam Masala
Learn how to make a cracker of a Garam Masala blend using whole roasted spices. Here's a list of spices you need to jazz up any North Indian dish, from curry and pulao, to samosas and parathas.
Check out this recipe
What kind of paneer should I use for Brown Butter Paneer Makhani?
The smooth and nutty flavours of this brown butter sauce are a delicious carrier for homemade paneer. The soft cubes simply melt in your mouth.
How to make Homemade Paneer
The Best Homemade Paneer (Softest-Ever Cubes!)
Soft and squidgy homemade paneer for curries, paratha fillings, chilli paneer, samosas and more. This simple recipe includes tips for making fresh paneer that tastes like it just came from the dairywala.
Check out this recipe
Having said this, if time isn't something you have, you can certainly use shop-bought paneer. I recommend you cut the paneer and soak it in boiling water for 10 minutes before draining, patting dry and pan frying.
You can also add the paneer straight into the sauce without pan frying.
I like to create a golden crust on my homemade paneer cubes for texture and colour.
Brown Butter Paneer Makhani recipe
Ingredients
450

g

paneer

cubed

15

whole cashews

2-4

whole dried Kashmiri red chillies

(I used 4 very mild ones)

4

green cardamom pods

cracked

1/2

tbsp

whole coriander seeds

1/2

tsp

cumin seeds

1

small

red onion

cut into rough chunks

500

g

tomato passata

(sieved tomatoes)

500

ml

water

150

g

unsalted butter

1/2

tbsp

grated fresh ginger

1

tbsp

crushed garlic

about 3 cloves

1

tbsp

tomato purée

(concentrated tomato paste)

1/4

tsp

turmeric

1/2

tsp

Kashmiri chilli powder

1 1/2

tbsp

garam masala

(recipe linked above)

100

ml

whipping cream

1/2

tsp

ground kasoori methi

2

tbsp

agave or brown sugar

1/4

tsp

ground green cardamom seeds

1 1/2

tsp

salt
To garnish:
1

tbsp

whipping cream

2

tbsp

reserved brown butter

1/4

tsp

kasoori methi

1

tbsp

fresh coriander leaves
Instructions
To prepare the paneer:
Heat 1-2 tbsp oil in a non-stick frying pan and pan-fry the paneer until lightly golden brown on all sides. Place on a plate lined with kitchen towel and set aside while you get on with the sauce.
For the brown butter makhani sauce:
Place a heavy-based pan over a medium-low heat. Do not add oil. Dry-roast cashew nuts, dried Kashmiri chillies, the four whole cardamom pods, whole coriander seeds, cumin seeds and roughly-chopped onion. About 2-3 minutes.

Add the tomato passata and 200ml water. Stir well and cover with a lid. Simmer over a medium-low heat for 10 minutes. Switch the heat off and remove the lid. Allow the mixture to cool.

To make the brown butter, melt butter in a heavy-based pan. Keep the heat low to ensure the butter browns slowly and evenly, without burning. Cook, stirring constantly.

The butter will go from being yellow, to having large bubbles, then foamy, and finally, a deeply golden colour, rather like golden syrup. Some foam will subside and there will be toasted milk solids at the bottom of the pan. No need to skim off any foam or sediment, this is brown butter, not ghee. The brown butter will smell incredibly buttery and nutty. This is a core building block of flavour in this curry. The process should take around 7 minutes from start to finish.

Remove two tablespoons full of the brown butter from the pan and set aside. We will drizzle this on top of the finished curry.

With the remaining brown butter still over a very low heat, add the crushed garlic, grated ginger, tomato purée, turmeric and Kashmiri chilli powder. Sauté for one minute and then switch the heat off.

Stir in the garam masala and prepared tomato, nut and whole spice mixture and 200ml cold water to cool it down quickly for blending.

Pile the mixture into a high-powered blender and grind until very smooth. Feel free to pass the mixture through a sieve afterwards for an extra-smooth sauce. Since we're using passata, I don't find this is necessary.

Return the sauce to a pan and rinse the blender jar out with 100ml water to catch every last bit of sauce. Add this to the pan too. Keep the sauce over a low heat.

Season with salt, agave or brown sugar to sweeten and mellow out the chilli heat, and ground cardamom seeds. Stir well. Finish with a swirl of cream and kasoori methi rubbed between your palms. Add the paneer, reserved brown butter and fresh coriander leaves if you like. Heat through and serve immediately with roti, naan or rice. I love this dish with tandoori roti.
Sanjana's Notes
Pan frying the paneer is optional. I like using homemade paneer for this dish which benefits from a slight crust to keep the pieces whole.
If using shop-bought paneer, first cube it and soak the pieces in boiling water for 10 minutes. Drain, pat dry and use as they are or pan fry for the softest paneer curry.
Pin this recipe for later!
If you like this, you'll love my recipe for Buttermilk Naan
More delicious recipes
Restaurant-Style Shahi Paneer
Delicious, rich & creamy Shahi Paneer is a vegetarian food hero in North Indian cuisine. Scoop this curry up with flaky parathas or serve with basmati rice.
Check out this recipe
Homemade Masala Paneer
The Homemade Masala Paneer. Soft and squidgy homemade masala paneer for curries, paratha fillings, chilli paneer, samosas and more. This simple recipe includes tips for making fresh masala paneer that tastes like it just came from the dairywala.
Garam Masala Potato Gratin
This simple double potato concoction with cream and freshly-ground spices is a dish I crave often.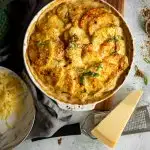 Love Sanjana