Let's make Restaurant-Style Matar Paneer. Matar Paneer is a warmly spiced Indian curry made with paneer and green peas. The soft and creamy cubes of Indian cottage cheese pairs so well with simple fresh garden peas, making this vegetarian curry a pillar of Desi restaurant and home-style cooking.
What is Matar Paneer?
Matar Paneer is a richly-spiced Indian curry with paneer (Indian cottage cheese) and green peas. The recipe for Matar Paneer in the creamy restaurant fashion is much easier to make than you might think.
The base gravy for this Matar Paneer recipe contains ground almonds and tomatoes for a delectable creaminess and sharp tang. The spicing is warm but complex, making you wonder if you really just made that at home in the comfort of your own kitchen, without having to go to a restaurant or pick up a takeaway menu (I'm looking at you, Dishoom Matar Paneer). Mad skills.
The secret to making shop-bought paneer butter-soft and like the homemade kind is soaking it in boiling hot water for 20 minutes before popping it naked, under the grill until golden. No need for oil or frying. If you would like to fry the paneer, you can try the reverse soak paneer method outlined below.
Ingredients of Matar Paneer
Matar paneer is made with a few essential ingredients that give it its distinct flavour and texture. The ingredients include fresh or frozen green peas, paneer, onion, tomato, ginger, garlic, whole spices, nuts, red chilli powder, turmeric powder, garam masala, and coriander powder.
Taste of Matar Paneer
Matar Paneer is a dish with multiple layers of flavour. The taste of it is a beautiful combination of the sweetness of the peas, the richness and creaminess of the paneer, and the tanginess of the tomato-based gravy. The spices added to the dish provide a beautiful warmth and aroma that is signature to Indian cuisine.
How to make Matar Paneer
The paneer is first soaked and grilled, or fried in oil or ghee until it develops a golden brown crust. Then, the onion, ginger, and garlic are cooked until soft and fragrant, followed by the tomato with the spices mentioned above. After the tomato gravy has thickened, the green peas are added, and the whole thing is simmered until the peas are fully cooked. Finally, the paneer is added to the gravy and stirred gently to coat the paneer pieces with the gravy.
A blender is key to getting a super-smooth sauce and be sure to have a lid handy because it needs to simmer for 20 minutes – and it's volcanic! Turn your back for a minute and you'll be spending the rest of your evening scrubbing the ceiling free of orange splodges. You have been warned.
What to use instead of paneer
If paneer and peas aren't your thing, my sauce recipe is actually a great base for any sort of curry. Cauliflower, chickpeas or mushrooms are great options too. But let's be real, who doesn't love cheese and peas? Halloumi also makes a great substitute for paneer.
How to make vegan Matar Paneer
For a vegan Matar Paneer recipe, swap out the paneer for fried tofu to make Matar Tofu (omit the cream or use a plant-based cream).
What to serve with Matar Paneer
Serve with whatever you like. I chose my beloved Garlic and Coriander Naan because there is no restaurant bread greater. If you're pushing the boat out, bust out a bowl of Jeera Rice and your family and friends will love you forever.
How to make paneer soft: The reverse soak method
Many curry recipes will call for paneer to either be fried or soaked prior to adding it to the gravy. While neither of these steps are necessary, they can improve the overall texture of the paneer for a more enjoyable eating experience.
The reverse soak method is something I've done for years and it produces amazingly soft paneer, with an appetising golden colour on the outside.
How to reverse soak paneer
First, pan-fry the paneer in oil until golden on all sides. This will give the paneer a lovely seared colour on the outside, as well as help it hold its' shape.
Place the fried paneer in a bowl and pour boiling hot water on top, until all the cheese is submerged. Drain after 5 minutes. This second step will not only make the paneer beautifully soft on the inside, but it will also remove any excess fat from frying.
Can you freeze Matar Paneer?
Yes! Matar Paneer freezes very well. It also reheats beautifully. I pack leftovers into a freezer-safe container and freeze for up to 3 months. Defrost at room temperature and reheat either in a pan on the stove or microwave. You may need to adjust the consistency with additional water. Ensure Matar Paneer is piping hot before serving.
Variations of Matar Paneer
There are many variations of Matar Paneer that can add diversity to this classic Indian dish. Some of the popular variations include:
1. Shahi Matar Paneer – This version of the dish is made with a rich and creamy cashew-based gravy. It's usually reserved for special occasions and celebrations.
2. Palak Matar Paneer – This variation of Matar paneer includes spinach, which is a rich source of vitamins and minerals. The dish has a beautiful green color and is a great way to incorporate some greens into your diet.
3. Aloo Matar Paneer – Here's a version of Matar paneer that includes potatoes, which add some texture and bulk to the dish. It's a great way to turn Matar Paneer into a more hearty and filling meal.
4. Paneer Tikka Matar Masala – Have you tried making Matar Paneer with Paneer Tikka? This is paneer that has been marinated in spices and grilled. The use of paneer tikka elevates the dish to another level, providing a smoky and charred flavor to the gravy.
Restaurant-Style Matar Paneer recipe | How to make Matar Paneer
Ingredients
450

g

paneer

cubed and soaked in boiling water for 20 minutes and then drained

300

g

frozen peas

2

tbsp

oil

or ghee

1

red onion

peeled and cut into large chunks

3

cloves

garlic

peeled

2

tsp

minced ginger

80

g

almonds

soaked in hot water 30 minutes

250

ml

hot water

1

star anise

1

black cardamom pod

whole

1

tsp

cumin seeds

1

bay leaf

1 1/2

tsp

ground cinnamon

1

tsp

turmeric

1

tsp

chilli powder

1

tsp

ground coriander seeds

680

g

tomato passata

or chopped tomatoes

2

tsp

salt

60

ml

double cream

1 1/2

tsp

garam masala

1

tsp

dried fenugreek leaves

kasoori methi, plus more to garnish

Fresh coriander leaves

to garnish
Instructions
Heat the oil or ghee in a large, heavy-based non-stick saucepan (one with a lid). Add the cumin seeds, black cardamom pod, star anise and bay leaf. Allow to sizzle for 30 seconds and then add the onion, garlic and ginger. Sauté over a medium-low heat for a minute.

2 tbsp oil,

1 red onion,

3 cloves garlic,

1 star anise,

1 black cardamom pod,

1 tsp cumin seeds,

1 bay leaf,

2 tsp minced ginger

Add the soaked almonds (discard the soaking water), turmeric, cinnamon, chilli powder, ground coriander and water. Stir to combine and cook on a medium-low heat for 15 minutes, stirring all the time to avoid it catching on the bottom of the pan.

80 g almonds,

1 1/2 tsp ground cinnamon,

1 tsp turmeric,

1 tsp chilli powder,

1 tsp ground coriander seeds,

250 ml hot water

Next, add the tomato passata and salt. Stir. Switch the heat off and allow to cool. Discard the star anise, black cardamom and bay leaf. Transfer the mixture to a blender. Blend until you have a super smooth gravy. Return the gravy to the pan. Cook over a medium heat for another 10 minutes with the lid on.

680 g tomato passata,

2 tsp salt

Meanwhile, grill the paneer until lightly golden. Carefully add it to the gravy, along with the peas, cream, garam masala and fenugreek (rub it between your palms to release the flavour). Cook for 5 minutes with the lid on and garnish with fresh coriander before serving.

450 g paneer,

300 g frozen peas,

60 ml double cream,

1 1/2 tsp garam masala,

1 tsp dried fenugreek leaves,

Fresh coriander leaves
Pin this Restaurant-Style Matar Paneer recipe for later!
More Paneer Curry recipes you might like
Brown Butter Paneer Makhani
I thought I knew love, but then I met Brown Butter Paneer Makhani. Combine aromatic spices with brown butter and a creamy cashew-tomato curry.
Check out this recipe
Restaurant-Style Shahi Paneer
Delicious, rich & creamy Shahi Paneer is a vegetarian food hero in North Indian cuisine. Scoop this curry up with flaky parathas or serve with basmati rice.
Check out this recipe
Easy, Creamy Palak Paneer
Palak Paneer is a stick-to-your-ribs North Indian treasure that was made to be a filling vegetarian option. Serve with laccha paratha, roti, naan or rice!
Check out this recipe
Melt-Away Malai Kofta
I call this creamy paneer kofta curry Melt-Away Malai Kofta simply because they melt away as soon as you put them in your mouth. Malai Kofta are the ultimate North Indian vegetarian curry recipe to dazzle friends and family. A celebration of rich flavours and warming spices.
Check out this recipe
The Ultimate Saag Paneer
The Ultimate Saag Paneer recipe is pure MAGIC! Soft paneer chunks in a creamy mustard greens & spinach sauce. Every bite will melt in your mouth. A true Indian comfort food meal.
Check out this recipe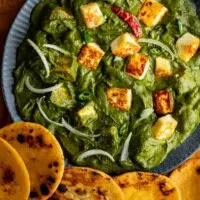 Love Sanjana x