Gobi Bhurji Gobi Bhurji (Cauliflower Curry) is one of my favourite ways to enjoy a humble head of cauliflower. This north Indian-style Gobi Bhurji is perfect with buttered toast and soothing chai.
This recipe for Gobi Bhurji is naturally free from gluten (provided you serve it with gluten-free bread). It can easily be made vegan if you switch the ghee for a vegan alternative like dairy-free spread or oil.
How do I make Gobi Bhurji (Cauliflower Curry)?
Simply grate the a whole cauliflower using a box grater. If you're short of time, you can also grate the cauliflower using a food processor with grater attachment. I like to grate the whole head, including the stalks.
Next, sauté with onions, tomatoes and aromatic spices until tender. The light cauliflower "grains" paired with chilli heat and masalas is as delicious as it sounds. Feel free to increase or reduce the amount of chilli in the recipe according to your personal taste.
How to serve Gobi Bhurji (Cauliflower Curry)
Serve this quick and easy scramble with buttered toast or buns for breakfast, lunch or dinner. Have it on the table in 30 minutes flat.
What does "Bhurji" mean?
Bhurji is the Hindi word for "scramble". Indeed, as you can scramble just about anything, the varieties of Indian Bhurji dishes are endless. Some of the most popular Bhurji dishes in India include eggs, paneer (cheese) and vegetables like this fabulous cauliflower number. Another more recent variety is Tofu Bhurji, which simply includes mashed soya bean curd.
What is the importance of Kala Namak (black salt) in this recipe?
In this egg-free recipe, Kala Namak (or black salt) creates an extra layer of flavour in the absence of eggs. It carries a sulphurous aroma that smells pungent at first sniff but this mellows once it melds with the other masalas.
In my opinion, no Bhurji is complete without a sprinkle of Kala Namak. But that's just my taste. You add whatever you like the flavour of.
I liken the use of Kala Namak in South Asian cooking to fish sauce in South East Asian cuisine. Kala Namak is a kiln-fired rock salt, also called Himalayan Black Salt.
What can I add instead of Kala Namak?
If you don't have black salt, a pinch of Chaat Masala will suffice, since this blend for street food already contains a small amount of black salt.
What other spices do I need to make Gobi Bhurji (Cauliflower Curry)
There are no hard and fast rules. Bhurji is a popular dish across India and is typically eaten as a casual meal in roadside dhabas or cafés. Some people like to add Pav Bhaji masala to their bhurji, while the Parsi egg equivalent, Akuri uses notably fewer spices. I've gone down the middle and created a blend of spices I think pair perfectly with buttery toast.
My essentials for this recipe
Should I add Pav Bhaji Masala to my Bhurji?
I find that an addition like Pav Bhaji masala can be hit and miss as all brands are different. Spices used in various quantities will significantly alter the flavour of the final dish.
Gobi Bhurji (Cauliflower Curry) recipe | How to make Cauliflower Curry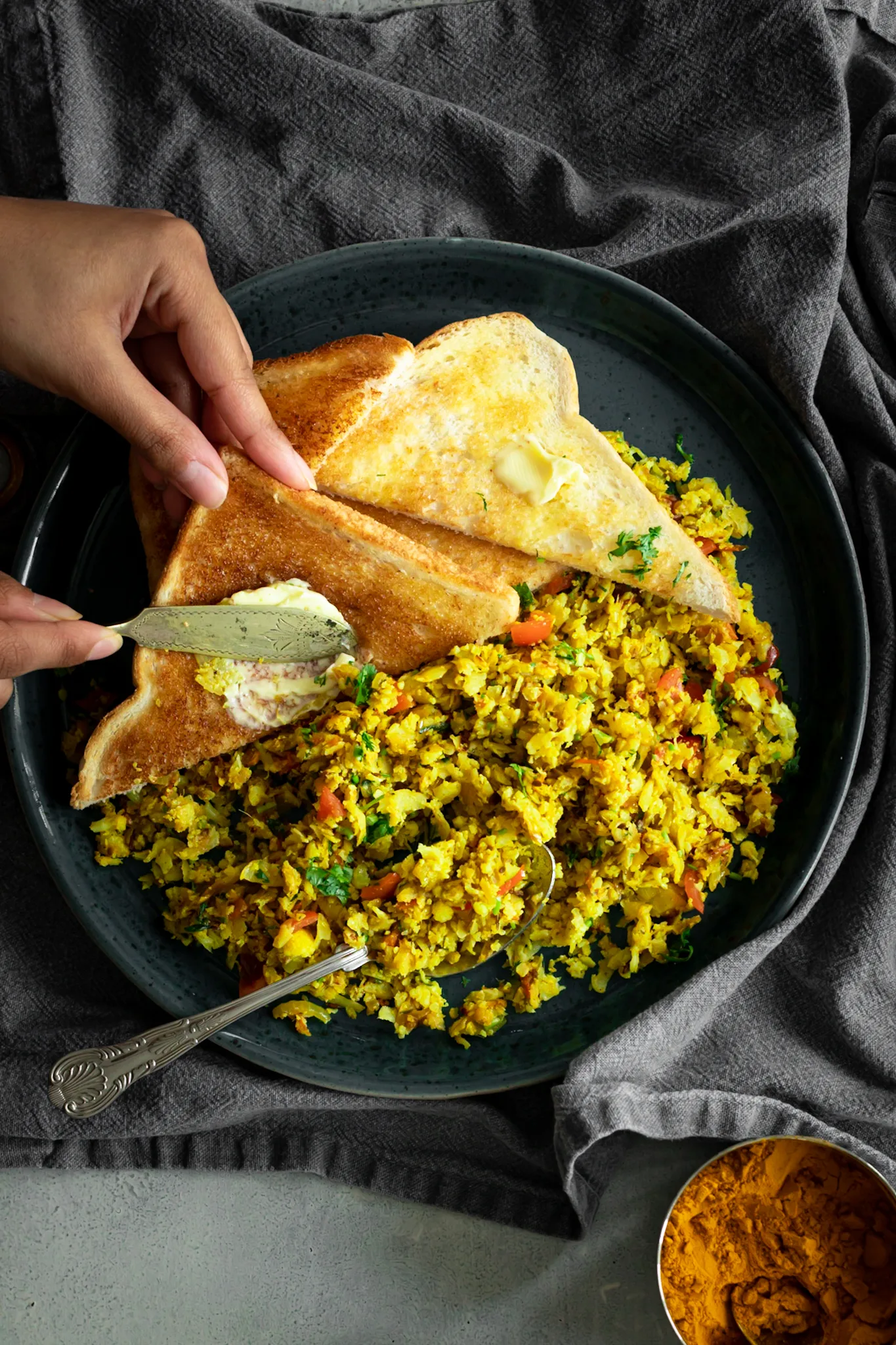 Ingredients
450

g

cauliflower

grated

2

large onions

finely diced

1

large tomato

finely diced

2

thin green or red chillies

finely chopped

5

cm

piece ginger

grated

2

large cloves garlic

crushed

2

tbsp

ghee or oil

(vegan butter also works fine)

2

cloves

1

tsp

cumin seeds

1/2

tsp

ground turmeric

1/2

tsp

ground coriander seeds

1/2

tsp

ground fennel seeds

1/4

tsp

ground cinnamon

1/2

tsp

black salt

(kala namak)

1/4

tsp

ground kasoori methi
2

tbsp

fresh coriander leaves

finely chopped

2

tbsp

tomato

finely diced
Instructions
Melt the butter in a large, non-stick pan. Once melted, add the cumin seeds, cloves, garlic, ginger and chillies. Sauté briefly, about 20 seconds over a moderate heat.

Next, add the onions and tomatoes. Cook for 4-5 minutes until the onions are translucent but not brown. Stir it all the time to ensure it doesn't burn.

Once the onions and tomatoes have cooked down, add the ground spices: turmeric, cinnamon, fennel seeds, kasoori methi, coriander seeds and black salt. Stir well to combine.

Almost immediately, add the grated cauliflower, Mix well, until all of the cauliflower is coated in masala. Turn the heat down low and cover with a lid. Allow the bhurji to cook for 10 minutes. Stir often to ensure nothing catches on the bottom of the pan.

The bhurji is ready once the cauliflower is tender. Garnish with diced tomatoes and freshly-chopped coriander. Serve with buttered toast or soft, buttered buns and chai.
Pin this Gobi Bhurji (Indian Scrambled Cauliflower) recipe for later!
If you like this, you'll love my recipe for Indian Breakfast Noodles
Love Sanjana