Palak Patta Chaat (Crispy Spinach Chaat) is an Indian street food & easy vegan & gluten-free appetizer.
Spinach leaves with a monsoon of Mumbai chaat faves.
Masala yoghurt, red, green and tamarind chutneys, onions, tomatoes and crunchy sev are all crowd-pleasing toppings.
These snack-tastic fried spinach leaves get more addictive with every bite! If you're a lover of crispy nachos, try this Indian-style chaat.
What is Palak Patta Chaat (Crispy Spinach Chaat)?
This recipe begins with spinach, lots of spinach.
Each leaf is dipped in a batter of chickpea flour (besan), rice flour and spices before getting deep fried.
Once crispy all over, the spinach bhajiya (fritters) are spread out on a tray or plate.
Now for the fun part: A tumble of red onions and tomatoes.
Then a smatter of various hot and sour chutneys made with fresh herbs, fruits and spices.
Cold sweet and savoury yoghurt drizzle goes on top.
Finally, sev (chickpea flour noodles), fresh coriander leaves and optional chaat masala.
This dish really is a celebration of spinach.
What else can I add to my Palak Patta Chaat (Crispy Spinach Chaat)
If the aforementioned toppings aren't enough to set your taste buds alight, you can also throw on some fresh pomegranate, mint leaves and fresh chillies.
It really is a flavour free for all. Indeed, I've been known to scatter over some crushed potato chips.
How do you eat Palak Patta Chaat (Crispy Spinach Chaat)
Depending on the style of chaat, you can either use your hands, a spoon or fork.
Generally speaking, eating with your hands is commonplace but if the chaat is drenched in chutneys and yoghurt, grab yourself a spoon.
I'm actually a firm believer of going in face first. Just kidding.
I like to use my hands, nachos style.
I pick them up, scooping up as many toppings as you can, sort of like a spinach-leaf surf board riding some deliciously-gnarly waves.
How many different types of Chaat are there?
Hundreds. Chaat is one of those dishes that is has consistency as well as uniqueness.
You can prepare Chaat from almost any base ingredient: Think crispy bhajia (fritters), vada, fried dough, dumplings, noodles, fruit and many more things.
Each of Chaat is both unique, yet familiar all at once.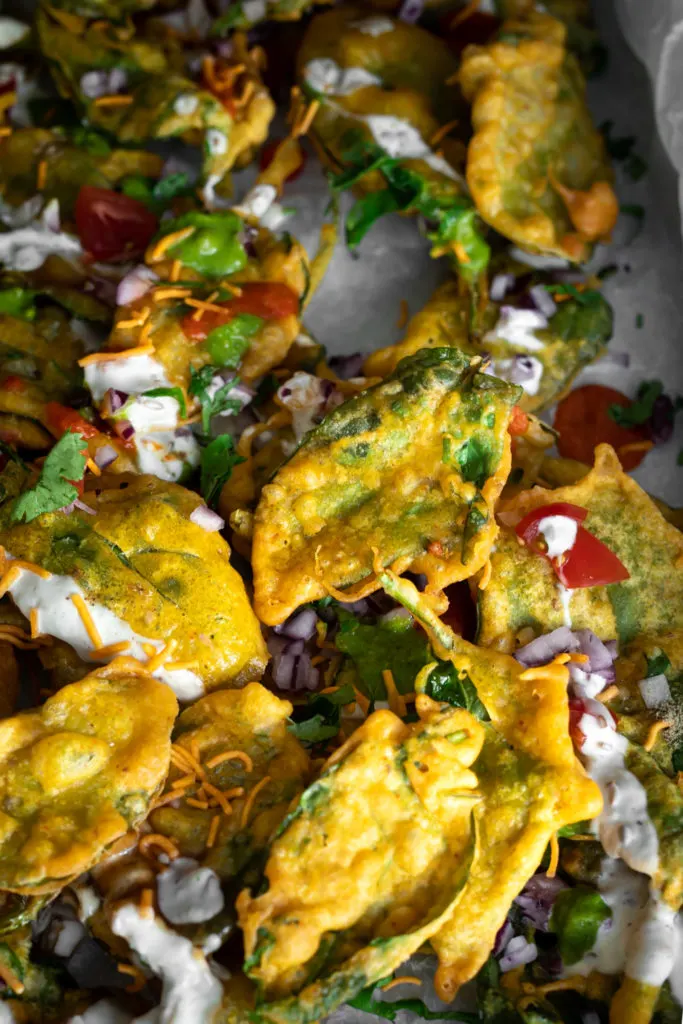 The familiarity of chaat comes from the toppings.
Almost all will have some sort of yoghurt, chutney, onion and tomato combination (not the fruit ones).
Sometimes a sprinkle of chaat masala if it's available.
If not chaat masala, a pinch of black salt (kala namak) and roasted cumin seed powder.
What are the different types of Chaat?
While practically anything can be a chaat, some of the most popular chaats of India are:
Aloo Chaat (with fried potato cubes)
Samosa Chaat (with erm… samosas)
Papdi Chaat (with fried strips of shortcrust dough)
Sev Puri Chaat (same as above but with fried chickpea flour noodles)
Dahi Puri Chaat (mini pastry shells filled with boiled potatoes and lentils and lots of seasoned yohurt)
Channa Chaat (with chickpeas)
Kachori Chaat (similar to samosa chaat but with a stuffed shortcrust round. Fillings usually include, but aren't limited to peas, daal and onions).
Fruit Chaat (mixed fruit sprinkled with chaat masala and fresh herbs).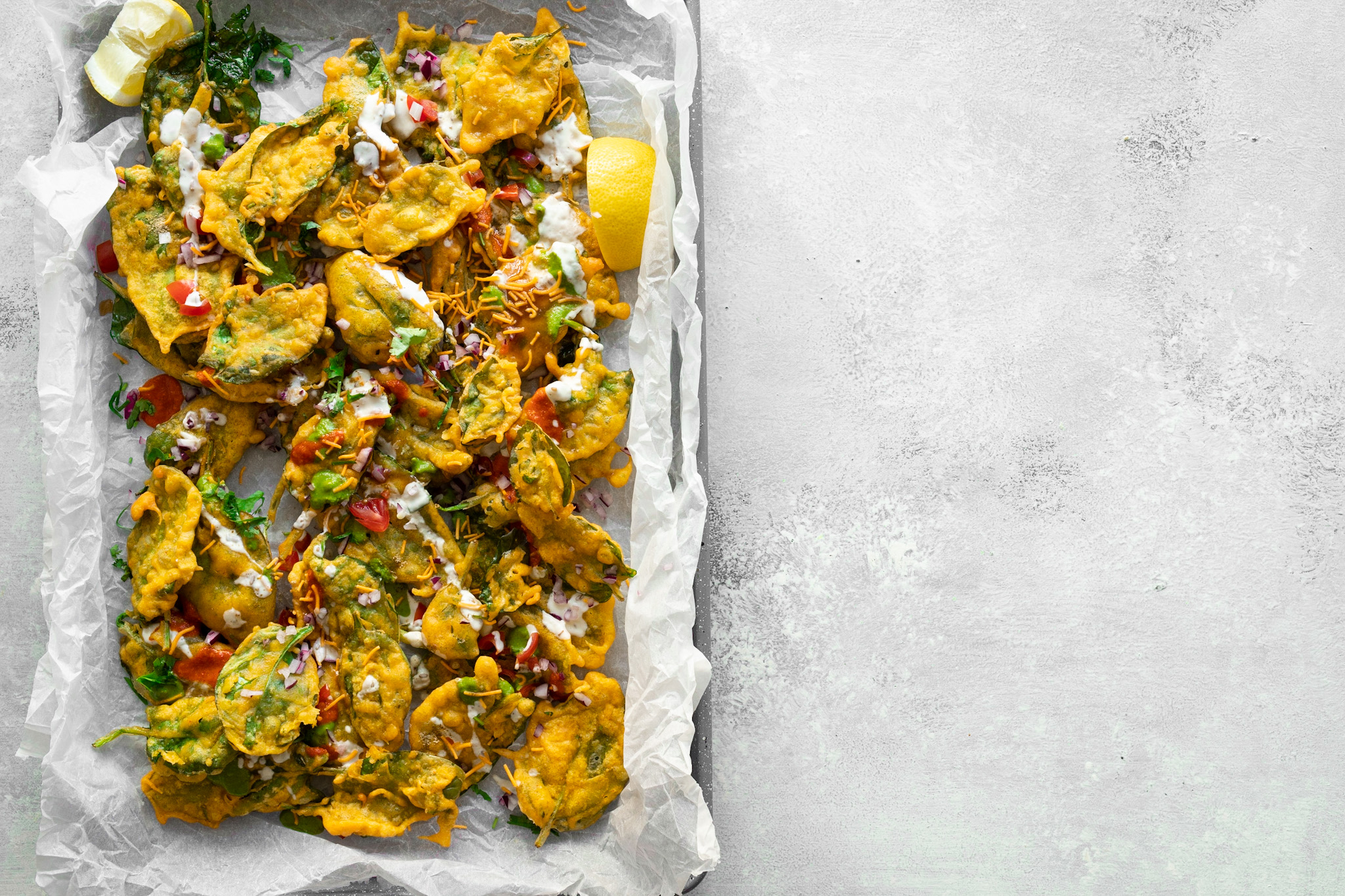 Essentials I used for this recipe
This post contains Amazon Affiliate links. These are all products I have purchased of my own accord and ones that I use myself. None of the products mentioned have been gifted to me. By using an affiliate link, I receive a small commission at no expense to you. This commission helps to support this blog. Thanks in advance if you choose to make a purchase through these links!
How to make Palak Patta Chaat (Crispy Spinach Chaat)
Yield: 4 servings
Palak Patta Chaat (Spinach Leaf Chaat)
Crispy fried spinach leaves topped with a monsoon of Mumbai chaat favourites including masala yoghurt, red, green and tamarind chutneys, onions, tomatoes and crunchy sev. They get more addictive with every bite! If you're a lover of nachos, try this Indian-style chaat.
Ingredients
For the crispy fried spinach:
180 g baby spinach leaves, washed and dried
175 g chickpea flour, (besan)
50 g rice flour
1 1/4 tsp dried garlic powder
1/4 tsp carom seeds, (ajwain)
3/4 tsp salt
1/4 tsp turmeric
1/8 tsp asafoetida, (hing - ensure it's a gluten free one if you have any allergies or intolerances)
2 tbsp chopped coriander leaves
2 tsp oil, (I used sunflower)
2 tbsp lemon juice
300 ml ice cold water
For the masala yoghurt:
150 g unsweetened vegan yoghurt, (I used soy)
1 tsp roasted cumin seeds, coarsely ground
2 tsp sugar
1/2 tsp black salt, (kala namak)
For the chaat toppers:
1 tomato, finely diced
1 small red onion, finely diced
2 tbsp sev
1/4 tsp chaat masala, (optional)
1/4 tsp chilli powder, or fresh green chillies (adjust according to your taste)
Lemon wedges
2 tbsp green coriander and mint chutney, recipe linked below
2 tbsp tamarind and date chutney, recipe linked below
2 tbsp red chilli chutney, recipe linked below
2 tbsp fresh coriander leaves
1L oil for deep frying, (I used sunflower)
Instructions
For the masala yoghurt:
Mix together all the ingredients and chill in the fridge until needed.
For the batter:
Place the chickpea flour in a large bowl. Add the Kashmiri chilli powder, turmeric, asafoetida, dried garlic powder, salt, ajwain and rice flour. Stir to combine.
Next, add the oil and lemon juice. Now gradually add the water, whisking all the time to ensure you work all the lumps out. It's good to add the water in stages for this reason. The final batter should be like a smooth dosa or crepe batter.
To fry the spinach:
Heat the oil in a large pan suitable for deep frying, about 5cm deep. Bring the temperature to 200C/400F. It should be hot but not smoking.
Dip a spinach leaf in the batter, gently shaking off any excess. Carefully place the spinach leaf in the hot oil. It may crackle and spit so be extra vigilant.
Repeat more spinach leaves, taking care not to overcrowd the pan. I fried mine in batches of 6-7 at a time. Turn the spinach in the oil often using a perforated spoon or frying spider/skimmer. After around 2 minutes the spinach should be golden and crispy. Lift the spinach out of the oil using the perforated spoon.
Place the spinach on a plate or tray lined with paper towels to absorb excess oil. If you want to keep them warm, you can transfer the fried spinach leaves to an un-lined tray and place them in a low oven while you fry the remaining spinach. This will help keep them crispy.
To build the chaat:
Arrange the spinach leaves on a tray. I lined mine with baking parchment for easy clean up. Top with onions, tomatoes, chilled masala yoghurt, chutneys of your choice, sev, fresh coriander leaves, optional chaat masala and any other toppings you would like to add. Serve with fresh lemon wedges.
Notes
Serve immediately. This chaat doesn't wait around for long so get stuck in.
Not suitable for reheating or freezing.
Nutrition Information:
Yield:

4
Serving Size:

1 grams
Amount Per Serving:
Unsaturated Fat:

0g
Get my 3 epic chutney recipes
Easy Mint & Coriander Chutney
Smooth and creamy Indian street-style chutney for drizzling over chaats, spreading in sandwiches and dipping bhajiyas. My recipe is super aromatic and medium hot in flavour. You can add as many chillies as you like. If you prefer a milder chutney, feel free to stir in some natural yoghurt or dairy-free yoghurt.
Check out this recipe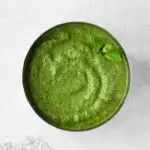 Atomic Red Chilli Chutney
Calling all chilli lovers! This red chilli chutney is quick and easy to make and intense enough to satisfy your spice cravings. Use two or more types of chilli for both flavour and intensity. Mixing your chillies in this way will add multiple layers of flavour.
Tamarind & Date Chutney
Learn how to make sweet and sour tamarind and date chutney from scratch! No Indian chaat is complete without a drizzle of this mouth-puckering fruity chutney.
Check out this recipe
Pin this Spinach Leaf Chaat recipe for later!
If you like this, you'll love my recipe for Maggi Noodles Chaat
And these Aloo Chaat Potato Skins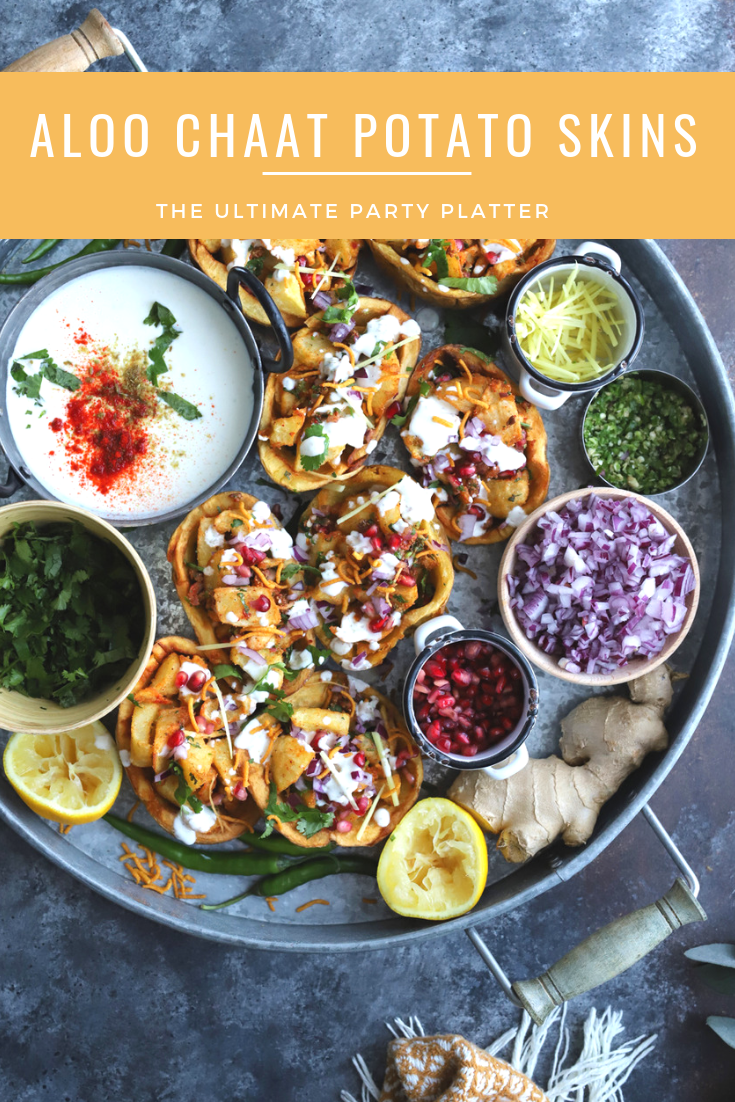 Love Sanjana