Make light work of preparing Indian samosas with this simple but show-stopping Giant Sharing Samosa. Stuff this super-size samosa with a classic combination of potatoes, peas and mixed spices.
No need to fry because this crispy beauty goes right into the oven. The result is crispy, golden and so crust-shatteringly flaky.
Why make a Giant Sharing Samosa?!
Samosas are truly one of India's most globally-loved snacks. Almost every celebration in my life has called for a platter of victory samosas; my graduation, birthdays, weddings. Samosas are always there.
I often fantasise about the illogical and fantastical when it comes to food. I'll ask myself, "what food feels impossible but isn't?".
Well, this 1lb Giant Sharing Samosa is a result of one of those food fantasy brainstorms on the topic of Valentine's Day. You can make them any time of year, btw. Super huge samosas are evergreen!
What's my ideal Valentine's Day feast? Forget chocolate desserts, there's no better way to show a samosa lover your undying affection than with this Giant Sharing Samosa.
Next on my list is a Christmas tree made entirely out of mozzarella sticks. Kidding… or am I?
But do I really have to share it?
I call it a sharing samosa but you do you, friend. This samosa is the equivalent of around 5-6 Punjabi-style samosas (which are usually pretty large btw).
I'd never dream of telling someone how many samosas to eat.
Is this Giant Sharing Samosa vegan?
Yes, this Giant Sharing Samosa recipe is suitable for both vegetarians and vegans. I use oil in place of ghee in the pastry. There's no dairy and it's still delicious!
Is this Giant Samosa gluten free?
No. If you have Coeliac disease or follow a gluten-free diet, feel free to replace the plain flour in this recipe with your favourite gluten-free flour blend. I like this one.
Is this samosa baked or fried?
This samosa weighs approximately 1lb. To fry it wouldn't be impossible but probably isn't the wisest choice for home cooks like you and I.
Try my pastry recipe below for an oven-baked Punjabi-style samosa that still has a delicious crunchy finish without getting litres of oil and deep frying equipment out.
Can I air fry this samosa?
If your air fryer is large enough, then I don't see why you can't air fry this samosa.
What other samosa fillings can I make?
Although there are countless fillings to choose from, potatoes, onions and peas will always be the poster child for samosas.
The potatoes are usually boiled whole, with the skin on so the inside remains tender and fluffy. Once cooled, the skin-on spuds are peeled and roughly mashed before being united with a mixture of onions, spices and green peas.
Other common vegetarian fillings include: soy mince (kheema), cauliflower and peas, Tandoori Paneer, sprouted lentils, Maggi Noodles or Hakka Noodles (seriously). Some of the more modern takes on samosas are wild, but nevertheless, delicious.
Can I make regular-sized samosa using this recipe?
You can indeed but you might find this recipe for The Best Vegetarian Samosas more useful.
How to make Samosa Pastry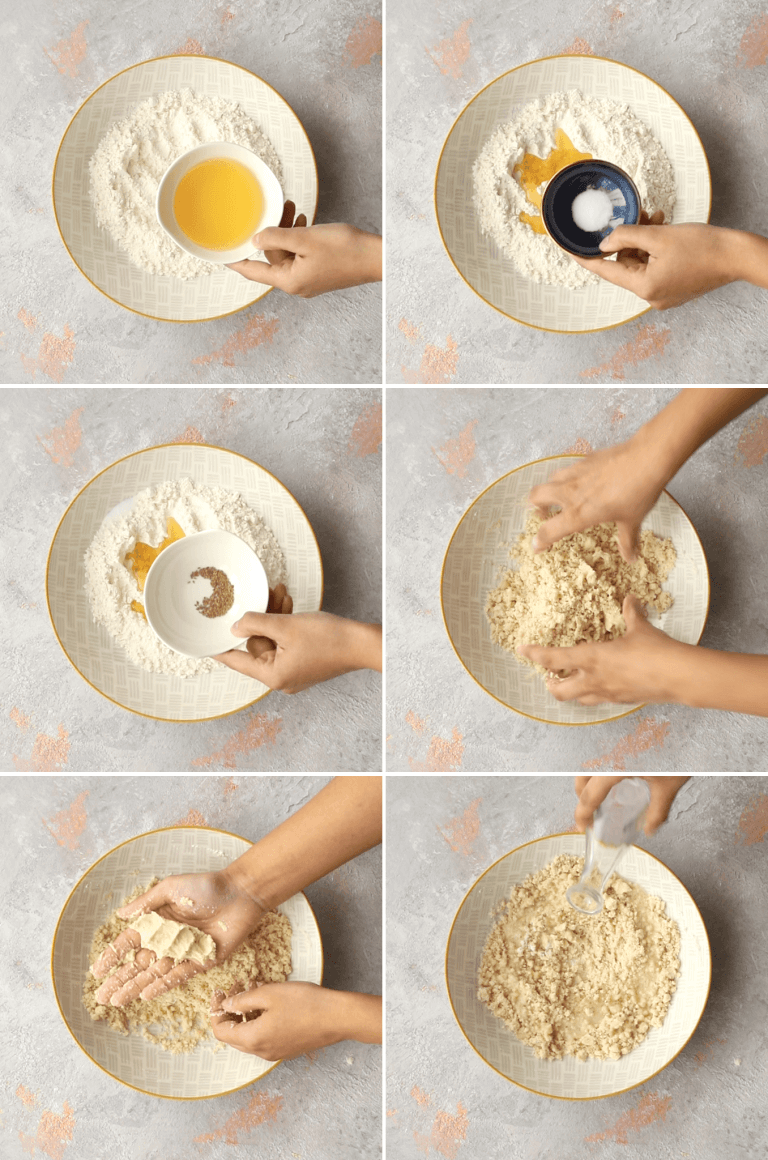 This pastry recipe begins with rubbing together flour and oil to create a rough, breadcrumb-like texture.
It's similar to making shortcrust pastry, but uses oil in place of butter. Ghee can also be used, if that's a flavour you like.
The technique is called "moarn" in Hindi and it facilitates the creation of a crispy pastry for deep-fried snacks like Samosa and Kachori.
Why is this pastry a great option?
It requires no pre-cooking prior to folding and filling the samosas.
This method ensures a perfectly-crispy and robust samosa every time.
The pastry is stiff enough to make light work of the stuffing and folding process. This means you don't need to spend ages fixing tears and snags in the pastry.
This is a very forgiving way of making samosas. If the pastry does in fact tear at any point, just pinch the dough together to seal again.
Unlike filo pastry samosas, it's okay if this type to look rough and ready. In my opinion, the craggier the samosa the better! The rough, pitted surface of samosas made with homemade pastry is the perfect carrier for chutney.
How to make samosa filling with potatoes and peas
Gather your ingredients. It might look like lots but this samosa needs flavour! Find a list of everything you need in the recipe card at the bottom of this page.
To make the filling
Be sure you pre-cook your potato and allow it to cool slightly beforehand. You can bake, steam or microwave it. I prefer to microwave because it's so quick and convenient.
Wash it, prick the skin all over with a fork and microwave on high power for around 6-7 minutes depending on how powerful your microwave is. Don't remove the skin before cooking or it will become really hard and dry on the outside.
You can also boil the potato but I don't love that method as it invites a lot of water into the mixture. This isn't ideal for samosas.
Subscribe to my YouTube Channel!
How to fold this Giant Sharing Samosa
Roll the dough on a floured surface. It should be wider than it is long. This is to avoid a giant wizard-hat shaped samosa!
Be sure to wet the dough with water to ensure it sticks enough to hold its' shape.
Be generous with your filling and take care when you stuff to avoid tearing and splitting the dough.
Create a pleat along the base of the samosa so it seals well and can stand up once finished. This is the sign of a great Punjabi-style samosa.
Pinch to seal shut all along the bottom. Try to squeeze any excess air out as you do this.
Carefully lift this giant samosa onto a baking tray and brush liberally with oil before you bake it, and during to guarantee a crispy, golden finish.
Other recipes you might like:
Giant Sharing Samosa recipe
Ingredients
For the filling:
1

large baking potato, baked, steamed or microwaved until soft

about 200g

40

g

peas

I use frozen

1/2

tsp

whole cumin seeds

1/2

small onion

finely diced (about 50g)

1/2-1

hot green chilli

finely chopped

1

tsp

grated ginger

1/4

tsp

ground turmeric

1/2

tsp

amchur

dried mango powder

1/4

tsp

ground coriander seeds

1/4

tsp

garam masala

1/4

tsp

salt

1

tbsp

fresh coriander

finely chopped
For the pastry:
125

g

plain flour

1/4

tsp

ajwain

1/4

tsp

salt

1 1/2

tbsp

any flavourless oil

40-50

ml

warm water to bind a medium-firm dough

1

tbsp

oil for brushing on top
Instructions
For the samosa pastry:
Take plain flour in a bowl. Make a well in the centre and add oil, salt and ajwain. Rub everything together between your fingertips to create a breadcrumb-like texture. This process will ensure the samosa pastry is crispy.

Add water and bind the mixture to a soft dough. Knead for 4-5 minutes. It should be soft but still spring back when you press it with your finger. Cover with cling film or a damp tea towel and allow to rest for 30 minutes.
For the samosa filling:
Once your cooked potato has cooled, peel off the skin. Place it in a bowl and roughly break it up using a spoon. Add the peas, onions, chillies, ginger, fresh coriander, cumin seeds, coriander seeds, amchur, turmeric, garam masala and salt. Mix well and mash it a bit as you go along to ensure everything binds well.
To form the samosa (watch the video for a visual guide on folding):
On a lightly-floured surface, roll your rested dough out to around 35cm wide and 15cm long. It should be about 2-3mm thick. Slice 1cm off the bottom (long edge) for a neater finish.

Take the upper right corner and diagonally, bring it to the centre of the rolled dough. Place some water on the surface of the part you just folded and bring the upper left-hand corner of the dough to the centre to overlap onto the wet part. This will form a triangle pocket. Press both sides together very gently.

Lift the samosa pastry up and open the pocket you just created. You should have a little pouch ready for filling. Stuff the samosa with the potato and pea filling. Start with a small amount and use your fingers to tease it down into the pointed base so you have a good shape. Try not to stretch the pastry or it can break.

To create the little crease in the back of the samosa so it can stand up by itself: Along the open seam of the filled samosa, place your finger in the centre of the round edge of the pastry. Create a tiny fold, about 2cm wide and pinch to seal (this will create a small dimple for the back base of the samosa. Press the open edge of the pastry together and seal to close. You should now have a giant samosa that can stand up loud and proud. If it feels a little out of shape, you can always use your hands to adjust it a bit.
To bake the giant samosa:
Place the samosa on a large, flat baking tray. Brush with oil and bake in a preheated oven at 175°C/350°F for 55-60 minutes or until golden brown and crispy all over. I recommend brushing with more oil at the 25 minute and 45 minute mark for a very golden and crispy pastry.
Sanjana's Notes
Serve this giant samosa as it is with chai, or with your favourite chutneys.
It's normal for the pastry to crack a little during the cooking process. This is a sign of a good, flaky and crispy samosa.
To store: Keep the samosas in an airtight container lined with absorbent kitchen paper. Refrigerate for up to 3 days.
To freeze: I recommend par-baking the samosa for a while before cooling and freezing. This will ensure the samosa isn't soggy or soft. Keep the samosas in an airtight container lined with baking parchment. Freeze for up to 3 months. Bake from frozen

at 175°C/350°F for 45-50 minutes

to ensure samosa is piping hot all the way through. If you find that it browns too quickly, turn the oven down to 160

°C/320°F.
Pin this recipe for later!
If you like this, you'll love my recipe for Baked Vegan Curry Puffs
Love Sanjana