Indian bakery-style Chewy Almond Cookies are eggless and so easy to make.
Sweet almond, cardamom and nutmeg give these cookies their signature flavour.
These feather-light cookies get their crispiness from a combination of semolina, butter and leavening agents.
They're a cross between the traditional Indian tea biscuit, Nankhatai and chewy, American-style cookies.
The coming together of these flavours and textures is perfect for nibbling alongside your favourite hot drink. I love mine with Masala Chai.
Eggless cookies with semolina
Since my recipe for Chewy Almond Cookies is loosely based on Nankhatai, I like to add a small amount of coarse semolina for extra crispiness.
Semolina, almonds and butter create the most beautiful aroma when they mingle and bake in the oven. Your whole home will smell like a bakery!
How to make eggless cookies
In any eggless cookie recipe, it is crucial to adjust the quantities of sugar, butter and flour to create a balance that produces favourable results.
I have tested this eggless cookie recipe several times, adjusting the proportions as necessary.
It's worth noting that in the absence of eggs, the structure of the cookie is compromised, due to the lack of additional protein and emulsifiers.
Ensuring the measurements are followed accurately is therefore, incredibly important.
Always use a kitchen scale to weigh your ingredients out.
Eggless cookies dos and don'ts
Do stick to the measurements of core ingredients like flour, semolina, ground almonds, sugar, butter and raising agents. The flavourings can be tweaked according to the personal preference.
Do ensure you chill the cookie dough for at least one hour before baking
Don't reduce the amount of sugar in this recipe
Don't reduce the amount of butter in this recipe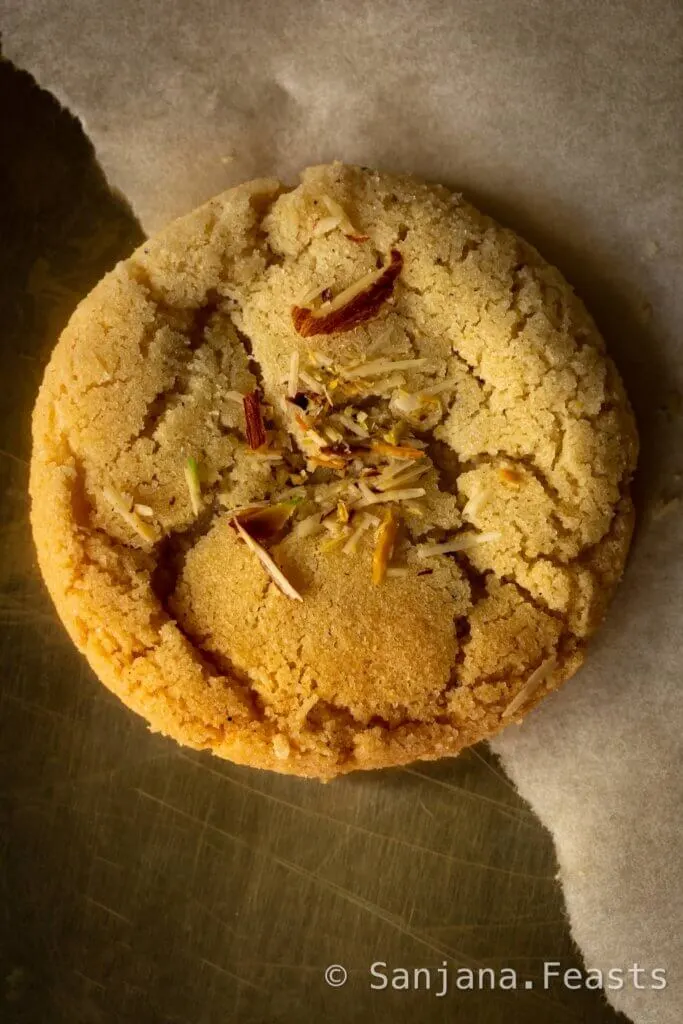 Can I make these Chewy Almond Cookies vegan?
I have not yet tested a vegan version of these cookies.
Please note that if you make substitutions to this recipe in order to veganise it, the final texture and flavour of the cookies may be different to the original recipe.
Are these Chewy Almond Cookies gluten free?
These cookies are not gluten free, since they contain wheat flour and semolina.
Feel free to experiment with gluten-free baking blends.
I'd love to hear how they turn out for you.
Can I use other nuts in place of almonds?
Yes! You can replace the ground almonds in this recipe with ground pistachios, ground hazelnuts, ground walnuts or pecans.
Peanuts would be just as delicious, too.
Subscribe to my YouTube channel!
Butter vs. ghee in eggless cookies
My preference is to use unsalted butter in my eggless cookie recipe.
If you'd like to use ghee in your eggless cookies, there are a few things to bear in mind.
Unlike butter, ghee has little to no water content, since the majority of the water and milk solids are removed (hence the name clarified butter).
Therefore, ghee and butter are not directly interchangeable in baking.
I much prefer the flavour of butter.
Find a recipe card for these Chewy Almond Cookies at the end of this post
How to make Chewy Almond Cookies: Step-by-Step
1. Cream together the butter, sugar and spices
2. Add the dry ingredients
3. Roll and chill
4. Press in nuts and bake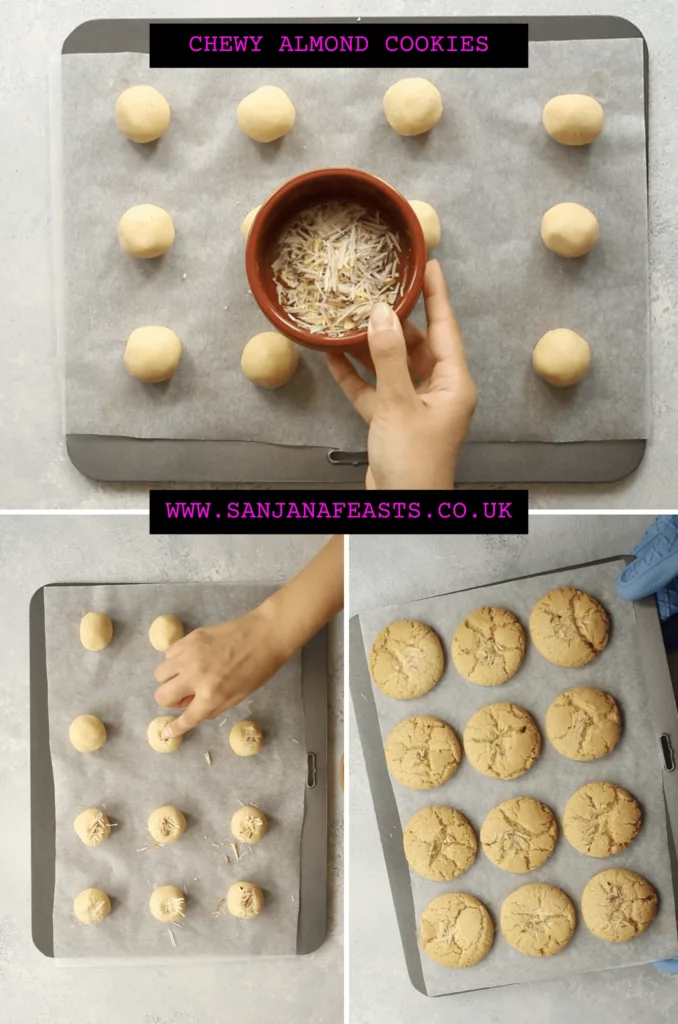 More recipes you might like
Chewy Almond Cookies recipe
Yield: 28 cookies
Chewy Almond Cookies
Inactive prep time:
1 hour
Total Time:
1 hour
50 minutes
Ingredients
225 g plain flour
25 g semolina
25 g ground almonds or almond flour
200 g unsalted butter, very soft, but not melted
200 g caster sugar
6 cardamom pods, seeds ground
1/4 tsp almond extract
1/4 tsp ground nutmeg
1/2 tsp baking powder
1/4 tsp baking soda
1/8 tsp salt, a pinch
2 tbsp slivered almonds and/or pistachios, to decorate
Instructions
Line the baking trays with parchment paper and set aside.
Pre-heat the oven to 170°C/340°F (fan).
In a large bowl, beat together the butter, sugar, ground cardamom, nutmeg, almond extract and salt until pale and fluffy, about 5 minutes.
Add the ground almonds, semolina, flour, baking powder and baking soda. Use a rubber spatula fold everything together and form a thick and creamy mixture.
Scoop the cookies out into 20g portions and roll into rounds. Arrange the cookies on the baking sheets, leaving a 2cm gap between each one. Cover loosely with cling film and refrigerate for one hour, or up to 48 hours.
Top each cookie with a pinch of slivered almonds and/or pistachios, pressing them in gently.
Bake the cookies for 15 minutes and then remove from the oven. Cool on the oven trays for 15 minutes and then carefully transfer them to a wire rack to cool completely.
Notes
Store the cookies in an airtight container for up to 1 week. Keep them in a cool, dry place. Do not refrigerate.
You can also freeze the cookie dough for up to 6 months.
You may need to bake the cookies in batches depending on the size of your baking trays.
Nutrition Information:
Yield:

28
Serving Size:

1 grams
Amount Per Serving:
Calories:

143
Total Fat:

9g
Saturated Fat:

4g
Trans Fat:

0g
Unsaturated Fat:

4g
Cholesterol:

15mg
Sodium:

36mg
Carbohydrates:

15g
Fiber:

1g
Sugar:

7g
Protein:

2g
Pin this recipe for later!
If you like these, you'll love my recipe for Eggless Gulab Jamun Cake
Love Sanjana