This puffy, blistered Bullet Cheese Naan has a chilli-cheese stuffing and is the softest, most delicious bread for mopping up curry, daal or even eating with your favourite tandoori dishes.
This spicy take on cheesy garlic naan is a must for chilli lovers.
I call them Bullet Cheese Naan because they're packed with flaming hot cheesiness. Each naan has a molten layer of chillies (both red and green) inside, as well as two types of cheese: Mozzarella and Cheddar.
This combo equals amazing flavour and stretchy cheese pulls.
It's a yeast-free naan recipe which uses self-raising flour and additional baking powder for the softest cheese naan you will ever eat.
Both the cheese naan stuffing and naan dough are quick simple to prepare. To bring them together is super easy, too.
The process is similar to making any Indian stuffed bread, such as Aloo Paratha, Paneer Kulcha or Aloo Thepla.
What is naan?
Naan is a leavened flatbread that's traditionally baked in a tandoor (clay oven). It's a popular style of bread in Western Asia, the Indian subcontinent parts of East Asia and the Caribbean.
It's a wheat flour preparation with leavening like baking powder or yeast.
Other common ingredients in naan can include yoghurt and/or milk, water, sugar and salt.
Where does Naan come from?
An early version of leavened bread in India/Hindustan dates back to 1300 AD, after the Egyptians introduced yeast to the subcontinent.
It's said the Naan we have now come to know through Indian cuisine was later influenced by Persia and the Mughal Empire (1526–1761).
The word 'Nan' in Persian means bread. It was food for nobility, typically served with kebabs and other grilled meats, and mostly in the northern regions.
The concept of tandoor (clay oven) cooking was also adopted. Over time, naan has been shaped into what we know it as today; A leavened flatbread that's both soft and chewy.
The upside-down method for cooking naan
This recipe for Bullet Cheese Naan uses the upside down cooking method.
It requires you to dampen the underside of the naan with water before placing it on a pre-heated tawa (flat iron, steel or aluminium pan used mostly for cooking Indian bread).
You can also use a frying pan, but this method will not work on non-stick surfaces.
If you do not have a suitable pan, feel free to try one of these three alternative methods for cooking naan.
3 alternative methods for cooking naan
HOW TO COOK NAAN IN A FRYING PAN: The above cooking method may not be your preference. In this case, simply skip the water step and cook the naan on both sides in a very hot frying pan. Non-stick is fine to use in this case. Serve as they are or finish under the grill or over an open flame.
HOW TO COOK NAAN UNDER A GRILL: For extra char, you can cook the naan under the grill. Cook on both sides for a minute or two. Keep an eye on them at all times to make sure they don't burn.
HOW TO COOK NAAN IN AN OVEN: Arrange the naan on a lined baking tray and bake in a 220°C/430°F oven for 4-5 minutes. You might need to use a few trays depending on size and space.
What to eat with naan
Naan is an incredibly versatile style of bread that pairs well with curry, daal, tandoori dishes and mixed grills.
You can even use naan as a pizza base! It makes for a great wrap for kebabs and salads, or cut into bite-size pieces for dunking in your favourite dips.
For me, naan completes North Indian meals beautifully.
List of dishes to serve with naan
Why is my naan not fluffy?
There are a number of possible reasons why your homemade naan isn't fluffy or soft.
Not enough leavening in the dough (baking powder/soda or yeast). All of these have a shelf life so be sure to check the expiration dates on your ingredients.
The dough is too dry or hard. Add more water.
Dough not rested. Be sure to give it at least 30 minutes (covered) resting time after kneading.
Unsuitable flour used. Self-raising flour or plain flour are best. High-gluten bread flours don't work so well for soft naan.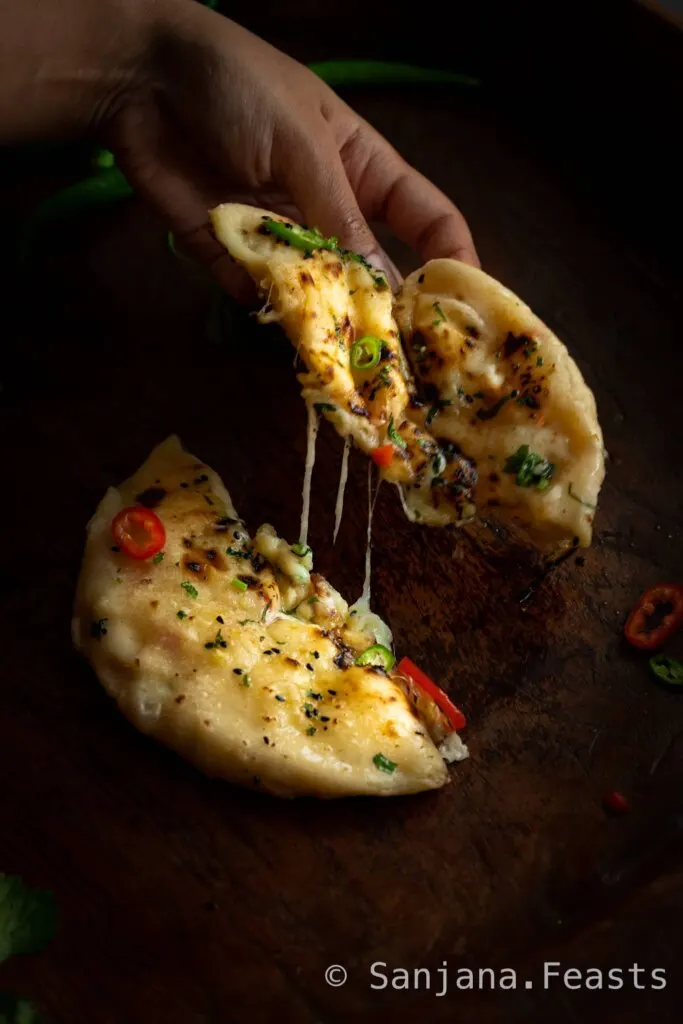 How do you make naan soft?
Use a combination of yoghurt, oil and warm water to bind the dough.
Knead the dough until it's smooth and soft, then rest it (covered) for at least 30 minutes.
Ensure you add enough water. I cannot stress this point enough. If you don't add enough water, the naan will be unpleasantly chewy and hard. It's okay if the dough is on the stickier side. Follow my recipe for naan that is soft and fluffy. If you prefer your naan to be a little chewy, roll it thinner.
Which flour should I use for naan?
Flour with a fairly high gluten content is best, since we want the naan to have good rising structure and a slight chew.
I use self-raising flour for its' added leavening properties, but you can also use plain flour (maida).
Simply add an additional 1 1/2 teaspoon of baking powder (2 1/2 tsp total for the recipe) and 1/2 tsp baking soda.
Some people also have success in making wholewheat naan using chapati flour (atta).
Can I use milk instead of yogurt for naan?
Yes. You can replace the yoghurt and water in this recipe for around 175ml warm milk.
Add the milk gradually until you create a soft and slightly sticky dough.
Be sure to knead it for at least 8 minutes.
It should spring back very slowly if you press it with your finger. The dough for naan should never feel hard or dry.
Why do you add sugar to naan?
Not only does sugar improve the structure of the dough, it also helps give the naan a beautiful flavour and colour.
I use icing sugar (powdered sugar) since it's easier to incorporate into the dough. Granulated sugar and caster sugar are fine to use, however.
How long will naan dough keep?
This yeast-free naan dough will keep in the refrigerator for two days. Make sure you wrap the dough directly in cling film or place it in an airtight container.
Since this recipe doesn't use yeast, it's best to use it within 48 hours since the baking powder will lose its' leavening properties as time goes on.
This will result in naan that's less puffy.
Can I use this recipe to make plain butter naan?
Absolutely. Skip the stuffing in this recipe and cook the naan in the same way.
Brush with your choice of butter and serve hot.
Indeed, you may also just brush the finished naan with garlic butter for a delicious garlic naan recipe.
How to cook naan without a tandoor
Did you know there's a quick and inexpensive way to give naans a beautifully-blistered surface without a tandoor.
Simply heat up a tawa until smoking hot, wet the surface of the naan with water and place it water-side down on the tawa. It will begin to puff slightly.
After 20 seconds, grab the pan handle (wearing a heatproof glove if the pan doesn't have a wooden handle) and flip it upside down to cook the surface directly over the open flame.
How to make Bullet Cheese Naan: Step-by-step images
Walk through the entire process for making cheese naan with me.
We'll make the cheese filling, bind a soft but sturdy dough, and then roll them out so the filling doesn't burst out of the sides.
Finally, we'll cook them upside down on the tawa until puffy and golden on the outside.
1. Make the naan dough
Combine the dry ingredients. Make a well in the centre and add the wet ingredients. Bind to create a soft and slightly sticky dough. Cover and rest the naan dough for at least 30 minutes at room temperature. The dough will become less sticky after resting, since this inactive time gives the flour time to hydrate.
If the dough is not adequately hydrated, it will not rise. It will also be quite hard and tough.
2. Prepare the cheese stuffing
Combine the cheeses, chillies and cream. Cream will add some moisture to the filling for a gorgeously gooey cheese naan experience! Mash the mixture with the back of a spoon so it comes together easily. This will make stuffing the dough easier.
3. Stuff the dough and roll the naan
Be sure the dough covers the cheese filling completely. Any cracks will ooze cheese during the cooking process. A little oozing cheese is fine but you don't want it all to leak out. Watch my video to see a detailed version of the technique I use.
4. Cook the naan upside down!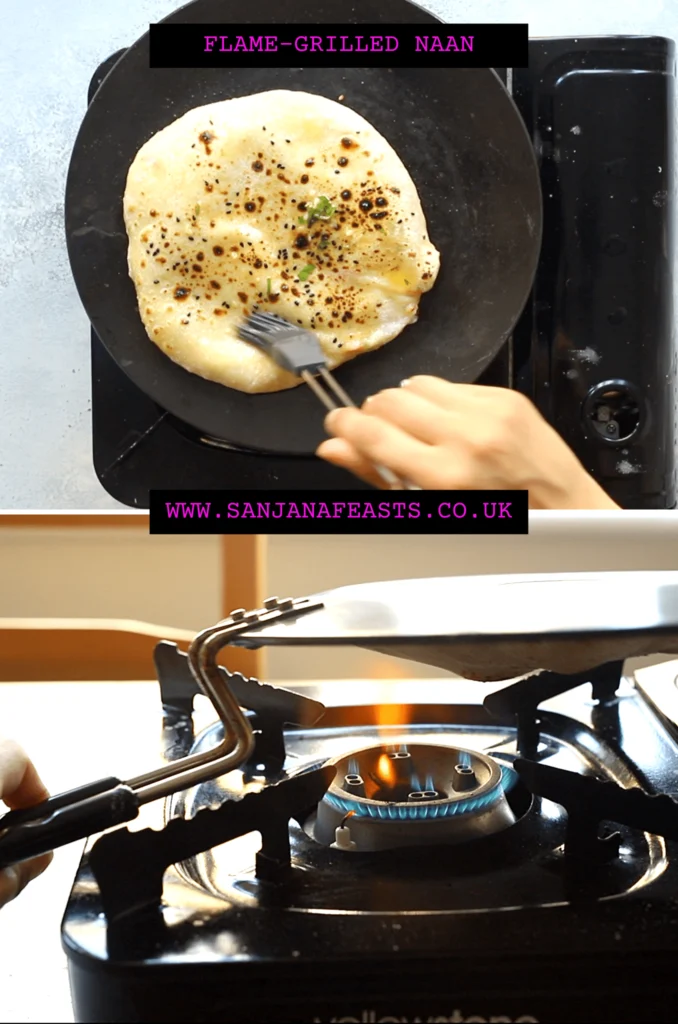 I love using this upside down method for cooking naan. Most of us don't have tandoors at home so it's a great option to get that restaurant-style tandoori finish without a tandoor.
Subscribe to my YouTube channel!
Bullet Cheese Naan recipe
Yield: 6 naans
Bullet Cheese Naan
This puffy Bullet Cheese Naan has a molten chilli & cheese stuffing and is the SOFTEST Indian bread for mopping up curry or daal. So cheesy!
Total Time:
1 hour
20 minutes
Ingredients
For the bullet naan dough:
325 g self raising flour
2 tbsp full-fat yoghurt
1 tbsp icing sugar, (powdered/confectioners' sugar)
1 tsp baking powder
3/4 tsp salt
1 tbsp oil, (any flavourless)
150 ml warm water
For the chilli-cheese stuffing:
200 g low-moisture mozzarella, grated
100 g Cheddar, grated
1 tbsp double cream
4 hot green and red chillies, very finely chopped (add more or less according to taste)
For the coriander-garlic butter:
125 g salted butter
3 large cloves garlic, crushed
2 tbsp fresh coriander, chopped
You will also need:
2 tbsp nigella seeds, (kalonji), to top the naans
1-2 tbsp extra flour, for dusting and rolling
Instructions
To make the bullet naan dough:
In a large plate with high sides or bowl, mix together the flour, sugar, salt and baking powder. Mix to combine. Make a well in the centre and add the oil and yoghurt.
Add the warm water and use your fingers to begin mixing it with the yoghurt and oil. Bring the flour to the centre a little at a time and mix to create a sticky dough. Knead for 8-10 minutes until smooth and soft. The mixture may feel a little sticky but this is okay. Do not add any extra flour.
Cover the dough with a very thin film of oil, place it in a bowl and cover with a tea towel. Allow to rest for 30 minutes while you make the stuffing.
To make the chilli-cheese stuffing:
In a bowl, combine the cheeses, chillies and cream. Stir to combine, pressing with the back of the spoon to make it slightly pasty. This will help the stuffing bind together for easier stuffing later.
To make the coriander-garlic butter:
In a small saucepan, melt the butter. Add the garlic and cook for 90 seconds or so. Switch the heat off and add the coriander.
To make the Bullet Cheese Naan (WATCH VIDEO FOR A VISUAL OF THE TECHNIQUE):
Divide the rested dough into 6 equal portions. Each portion should weigh around 85g. Cover the dough to prevent it from drying out.
Divide the filling into 6 equal portions. Each portion should weigh around 50g.
Lightly flour a rolling board or clean worktop. Take a piece of naan dough and roll or press it out into a circle around 4cm (1.5 inches) wide. Place a portion of cheese stuffing on top and pinch the dough together to fully enclose it inside. It will look like a dumpling. There should be no gaps or holes the stuffing could escape from during rolling.
Lightly flour the surface again and gently use your middle three fingers (palm-side down) to pat the dough into a thick round disc, starting from the centre and working your way outwards. This will help distribute the filling evenly.
Use a rolling pin to gently roll the Bullet Cheese Naan in a circular motion, between the centre and edges. Don't apply too much pressure. You can use your hands to turn it as you roll. Once it reaches the desired size (15-18cm/6-7 inches wide depending on how thick or thin you like your naan). Sprinkle with a pinch of nigella seeds and lightly press them in. Carefully roll up and down a few times to even out the surface. The Bullet Cheese Naan is now ready to cook.
To cook the Bullet Cheese Naan:
Heat a tawa or large frying pan over a med-high heat (about 4-5 minutes). Do not use a non-stick pan for this cooking method. I use steel or aluminium.
Carefully turn the naan over and apply water on the back of the naan. Very carefully place the naan on the pre-heated tawa, water-side down. Cook for 40-50 seconds or until small bubbles appear on the surface of the naan.
Pick the pan up by the handle (use an oven glove if it's very hot) and flip the pan upside down to cook the naan directly over the flame. The water will ensure the naan sticks to the pan. Cook until charred spots appear all over the surface of the naan.
Use a metal spatula or turner to gently release the naan from the tawa or pan.
Brush with the garlic and coriander butter. Serve immediately or keep the naan in an insulated container while you cook the rest of them.
Repeat these steps for the remaining naan.
Notes
Alternative cooking methods:
The above cooking method may not be your preference. In this case, simply skip the water step and cook the naan on both sides in a very hot frying pan. Non-stick is fine to use in this case.
For extra char, you can place the naans under the grill for a few seconds.
Arrange the naans on a lined baking tray and bake in a 220°C/430°F oven for 4-5 minutes.
Feel free to skip the coriander and garlic butter and brush with plain melted butter if desired.
Nutrition Information:
Yield:

6
Serving Size:

1 grams
Amount Per Serving:
Calories:

575
Total Fat:

34g
Saturated Fat:

19g
Trans Fat:

1g
Unsaturated Fat:

12g
Cholesterol:

91mg
Sodium:

1498mg
Carbohydrates:

49g
Fiber:

2g
Sugar:

3g
Protein:

18g
Pin this recipe for later!
If you like this Bullet Cheese Naan, you'll love my recipe for Paneer Kulcha
More Indian bread recipes you might enjoy
Aloo Paratha (Potato-Stuffed Flatbread)
Crispy, flaky Aloo Paratha are an emblem of soulful Indian home cooking. Of all the stuffed breads India is famous for, Aloo Paratha is the one loved in every family kitchen.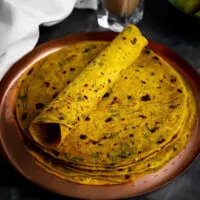 Puffy Masala Poori
Learn how to make puffy, crispy Masala Poori at home. This easy recipe is foolproof. Just follow the step-by-step video and enjoy your fresh Indian Poori with any curry. I love mine with Gujarati-style Bateta nu Shaak.
Check out this recipe
Roti Recipe – Homemade Indian Chapati
How to make soft and round roti. Indian chapati or roti recipe with step-by-step photos. These rotis are delicious with curry and daal.
Check out this recipe
Soft Spinach Roti
Can you believe the dough for these Soft Spinach Chapatis is enriched with a whole bag of spinach? Popeye would be proud! Pack a healthy portion of leafy greens into your meal with this easy recipe the whole family will love.
Check out this recipe
Quick Buttermilk Naan
Make lip-licking naans that are thin, tender and chewy, with perfectly-puffy blisters, just like in Indian restaurants. The flavour of these buttermilk naans is slightly tangy and so delicious with a slick of salty butter. Use them to scoop up your favourite curries, or dunk them in daal for a a comforting meal — you won't believe they aren't from a restaurant!
Check out this recipe
Love Sanjana