Try this Mushroom & Black Chickpea Rogan Josh; a hearty vegetarian take on Kashmiri Rogan Josh, which is usually made with mutton or lamb.
My recipe uses juicy mushrooms and protein-rich black chickpeas for an aromatic curry that pairs beautifully with rice.
Kashmir's snow-capped mountains, deep valleys and rolling hills are the ultimate setting for comfort food feasts.
It's no wonder that warming curries, soups and braises make up the most complex and flavoursome cuisine of the land.
Accompanied by copious amounts of rice, dishes like Rogan Josh, Yakhni (meat or lotus broth) and Dum Aloo (simmered potatoes) are among the most famous.
What is Rogan Josh?
Rogan Josh (or roghan ghosht) is a dish that celebrates the beauty of mild Kashmiri chillies. Traditionally, it is not a vegetarian dish, but one of stewed mutton or lamb.
The protein is usually braised in ghee, stock, chillies, spices and yoghurt, producing a warming curry with a quintessential scarlet red layer of fat (rogan or roghan) that floats on the surface.
Over time Rogan Josh has become very much embedded in the cuisine of Kashmir, most notably as a staple dish in the tradition of Wazwan.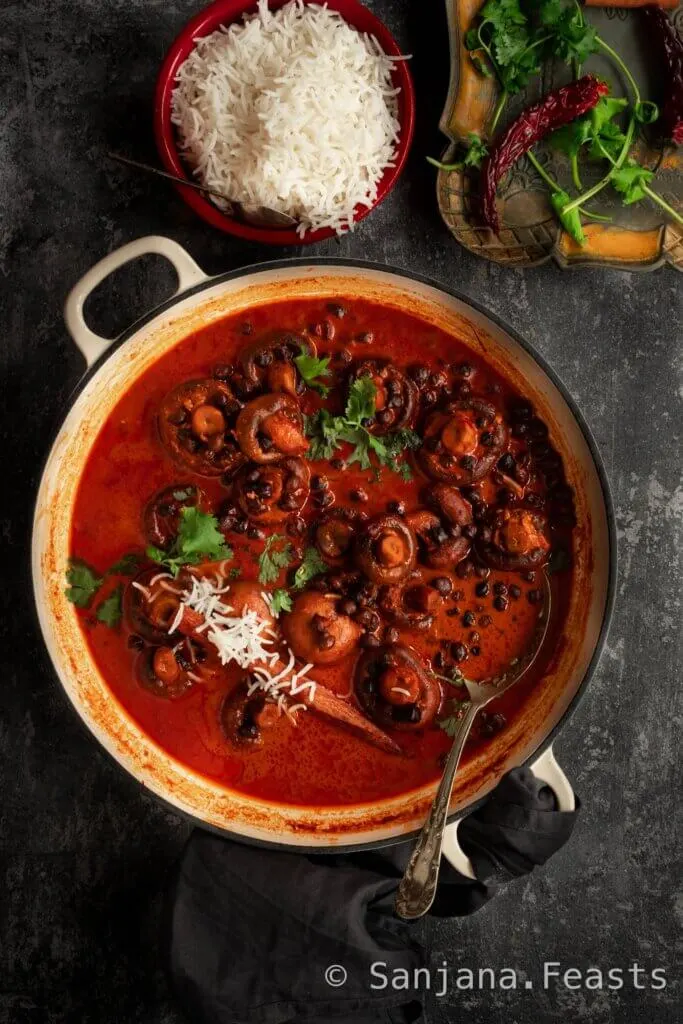 Kashmir's famous tradition of Wazwan
There's no denying the fact that Kashmiri cuisine is famous for its' meat dishes.
The royal Wazwan feasts of Kashmir are an iconic banquet of 36 dishes, most of which are extravagant meat preparations. The feast can take days to prepare and calls for the greatest level of skill.
Rista (meatballs), Rogan Josh and Phirni (thickened milk pudding) make up some of the many items.
A small number of dishes can be vegetable based, but the core focus is on richly-spiced and slow-stewed meats like mutton, lamb and chicken.
Kebabs, curries, braises and rice are integral to Wazwan.
This elaborate tradition is considered an art form and goes hand-in-hand with celebrations and festivals in the Kashmiri community, not just within Kashmir, but globally.
My vegetarian take: Mushroom & Black Chickpea Rogan Josh
In a bid to capture the deeply aromatic flavours and hearty textures of Kashmiri Rogan Josh, my recipe swaps the usual mutton or lamb for whole chestnut mushrooms and black chickpeas.
The chunky mushrooms and black chickpeas do a fine job in giving the dish fabulous bite and protein.
I adore the ruggedness of black chickpeas but if you don't have them, substitute for white chickpeas, or any beans for that matter.
What kind of chillies should I use for Rogan Josh?
Traditional Rogan Josh calls specifically for Kashmiri red chillies. Buy them in their whole form or seek out Kashmiri chilli powder.
They are mildly spicy which means we can use them in large amounts for deep red colour, without excess chilli heat. I use Kashmiri chilli powder for all of my Indian cooking.
Its' colour and flavour is the ultimate!
In Kashmir, the extract of dried cockscomb flowers, locally known as Mawal plays a part in giving Rogan Josh an even more intense colour.
Since these flowers aren't widely available outside the region, I rely on Kashmiri chilli powder alone.
Some handy links for products I use to make this recipe
What type of oil or ghee is best for Rogan Josh?
The iconic layer of red oil on the surface of Rogan Josh is vital to the dish. A suitable fat is therefore an important factor when making the dish.
Ghee vs. oil
I use ghee for rich flavour (since we are not adding meat to the dish), however there are other options should you prefer not to use ghee.
Neutral-tasting oils like vegetable, rapeseed or sunflower oil are good options, as is vegetable ghee (vanaspati or dalda).
What about mustard oil?
Kashmiri cuisine often calls for mustard oil.
You can buy food-grade mustard oil in most shops in the UK now but I advise mixing it with another neutral-tasting oil like one of the aforementioned ones, since the flavour can be quite strong.
Try one part mustard oil to three parts neutral cooking oil or ghee.
Can I reduce the amount of ghee or oil in this recipe?
As with any recipe, add ingredients at your own discretion and according to your own specific needs. If you prefer less oil, then feel free to use less.
However, the rogan layer on the curry will be less obvious if you reduce the amount of fat in the recipe.
I don't find the Rogan Josh to be at all greasy with 100ml fat, since the mushrooms and chickpeas do not tend to release any natural oil as they cook.
How to make Vegan Rogan Josh
My recipe for Rogan Josh is incredibly easy to veganise.
Simply replace the ghee with any neutral-tasting oil of your choice and swap the yoghurt for a dairy-free yoghurt like coconut yoghurt or a soy-based yoghurt alternative.
Other variations of vegetarian Rogan Josh
If mushrooms and chickpeas aren't to your taste, feel free to replace them with other vegetables, pulses or proteins of your choice. Some of my favourites include:
Paneer Rogan Josh
Tofu Rogan Josh
Potato Rogan Josh
Cauliflower Rogan Josh
Pumpkin Rogan Josh
Aubergine Rogan Josh
Lotus Root Rogan Josh
Kidney Bean Rogan Josh
Or a mix of any of the above
Subscribe to my YouTube channel!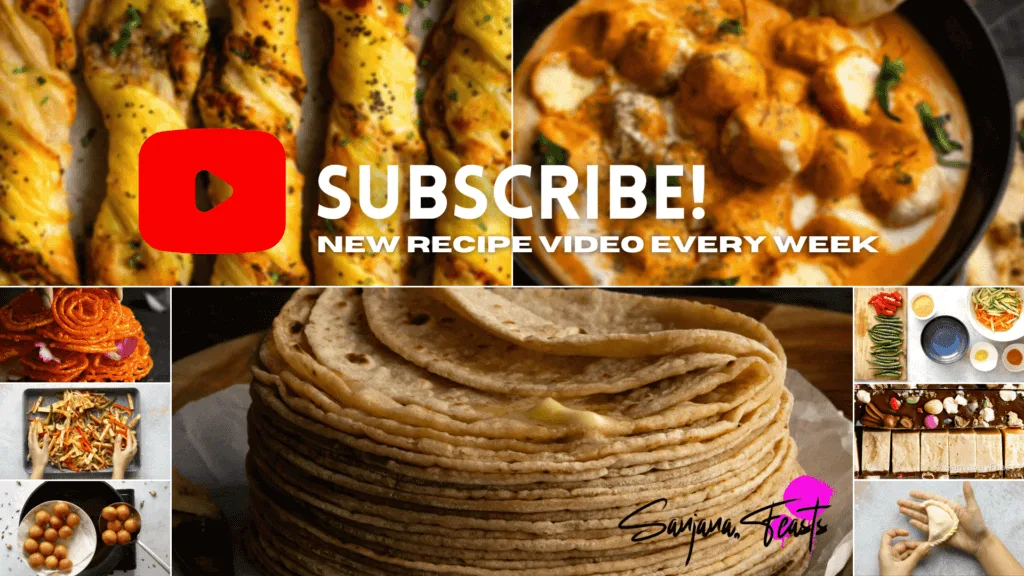 Is this dish gluten free?
Ensure your asafoetida is a gluten-free variety and this recipe for Mushroom & Black Chickpea Rogan Josh will be suitable for a gluten-free diet.
Why I add cornflour to my Mushroom & Black Chickpea Rogan Josh recipe
A small amount of cornflour (cornstarch) will prevent the curry from splitting. Since yoghurt can curdle upon contact with heat, the cornflour will stablise the yoghurt and reduce the chance of the curry separating.
The amount I use in the recipe will not thicken the gravy a great deal. If you prefer a thicker curry, feel free to increase the amount of cornflour to two teaspoons.
How to make Rogan Josh Masala
There's no need to dry-roast the whole spices before you grind them, since Rogan Josh masala is typically added prior to low and long cooking. They will cook out during the cooking process.
Use a spice grinder or coffee grinder to break the whole spices down. The heat from the blades will actually cause the spices to release some of their natural oils.
Sieve the Rogan Josh masala to remove any large, unground spices and give them another blitz before you add them into the mixture.
Make more Rogan Josh masala and store it in an airtight jar or container for up to six months. It's okay to leave it beyond this date but the spices may lose some of their potency.
I recommend making masalas in small batches so you can use them at their best.
Mushroom & Black Chickpea Rogan Josh recipe
Yield: 4 servings
Mushroom & Black Chickpea Rogan Josh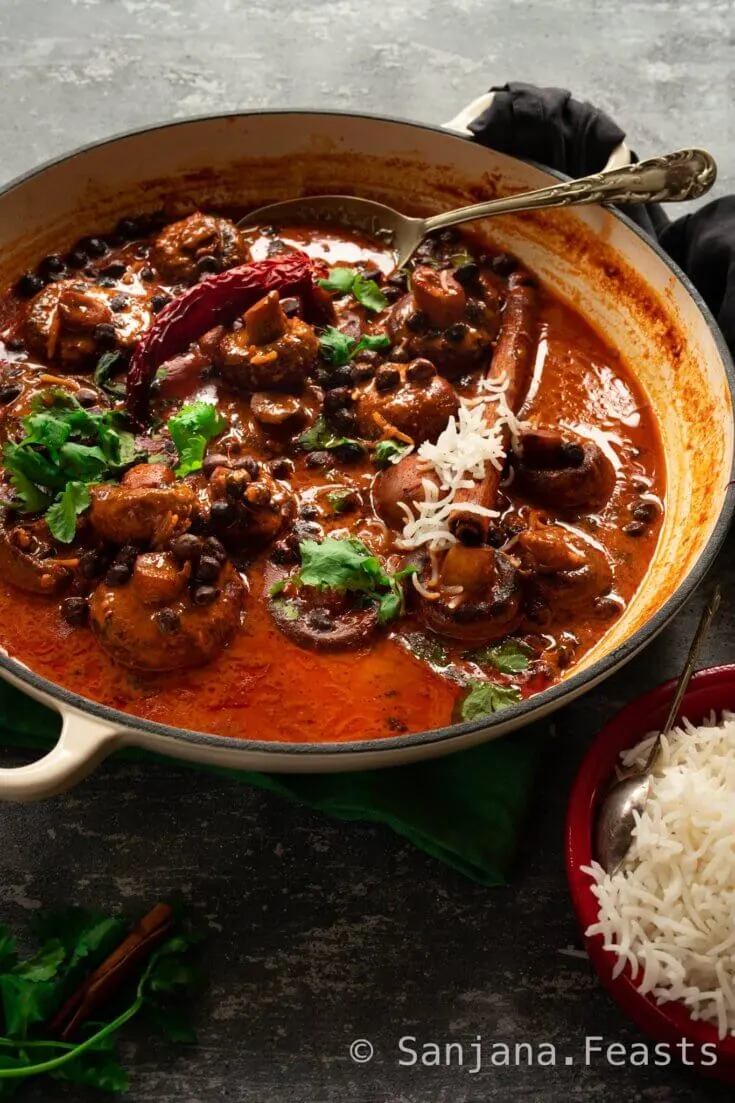 Try this hearty vegetarian take on Kashmiri Rogan Josh. My recipe uses juicy mushrooms and protein-rich black chickpeas for an aromatic curry that pairs beautifully with rice.
Total Time:
1 hour
5 minutes
Ingredients
For the Rogan Josh masala:
1 black cardamom
3 green cardamom pods
2 cloves
2.5 cm stick cinnamon
1 blade mace
2 tsp fennel seeds
1 tsp cumin seeds
1 tsp dried ginger powder
2 tbsp Kashmiri chilli powder
For the rest of the curry:
100 g ghee
1/2 tsp asafoetida
4 large cloves garlic
2.5 cm piece ginger, peeled and grated
500 g chestnut or button mushrooms
400 g tin black chickpeas, drained and rinsed
125 g thick yoghurt, whisked
1 tsp cornflour, cornstarch
Small pinch saffron, 8-10 strands
1 tsp salt
300 ml water
Instructions
For the Rogan Josh masala:
In a small spice grinder or coffee grinder, blend together all the ingredients for the Rogan Josh masala: Black cardamom, green cardamom, cloves, cinnamon, mace, fennel seeds, cumin seeds, ground ginger and the all-important Kashmiri chilli powder. Blend, stopping half way through to ensure all the spices get some blade time. Once finely ground, pass the masala through a sieve to remove any unground spices. You can grind these again, and then add them back into the mix.
To make the rest of the curry:
In a small bowl, mix together the Rogan Josh masala, yoghurt and cornflour (cornstarch). Stir to create a smooth paste.
Heat the ghee in a large, heavy-based pan. Add the asafoetida, garlic and ginger. Sauté for 10-15 seconds but don't let the ingredients brown. Add the mushrooms and 1/4 tsp salt. Cook over a medium heat, moving them around the pan to brown them evenly. If you find the garlic is browning too much, add a small splash of water (about 50ml). Once the mushrooms have softened and browned slightly, remove them from the pan onto a plate.
Add the yoghurt mixture, along with 300ml water. Cook and stir over a medium heat until the mixture comes to the boil, about 6-7 minutes. During this time you can add in the saffron and the remaining 3/4 tsp salt.
Return the mushrooms to pan and add in the black chickpeas. Stir well and bring back to the boil. Cover and simmer over a medium-low heat for 25 minutes. Mix often.
Remove the lid from the pan and simmer for a further 10 minutes uncovered to thicken the curry to your desired consistency. I like to keep mine on the soupier side so I can enjoy it with rice. During this time, you'll notice the oil begins to separate from the curry and float on top. This is the 'rogan' element of Rogan Josh.
Garnish with fresh coriander leaves and serve.
Notes
If you don't have a spice grinder, use a pestle and mortar or buy pre-ground spices and simply mix together.
This curry tastes even better the next day! Make in advance and refrigerate for up to 3 days. Ensure food is piping hot before serving.
Nutrition Information:
Yield:

4
Serving Size:

1 grams
Amount Per Serving:
Calories:

745
Total Fat:

32g
Saturated Fat:

17g
Trans Fat:

0g
Unsaturated Fat:

13g
Cholesterol:

66mg
Sodium:

1151mg
Carbohydrates:

103g
Fiber:

17g
Sugar:

21g
Protein:

16g
Pin this recipe for later! Mushroom & Black Chickpea Rogan Josh
If you like this, you'll love my recipe for Rajma (Kidney Bean Curry)
Love Sanjana