Shahi Daal is a creamy blend of lentils simmered with golden onions, ginger and black pepper.
Finish with a crackly tempering of ghee-sizzled garlic and chillies for a crescendo of flavour.
The blend of lentils in this dish create a luxurious texture that's both creamy and peppered with plenty of tender grains of daal.
It's a fantastic balance which makes it perfect for dunking roti, naan or paratha, or simply scooping up with rice.
4 types of lentils you'll need for making Shahi Daal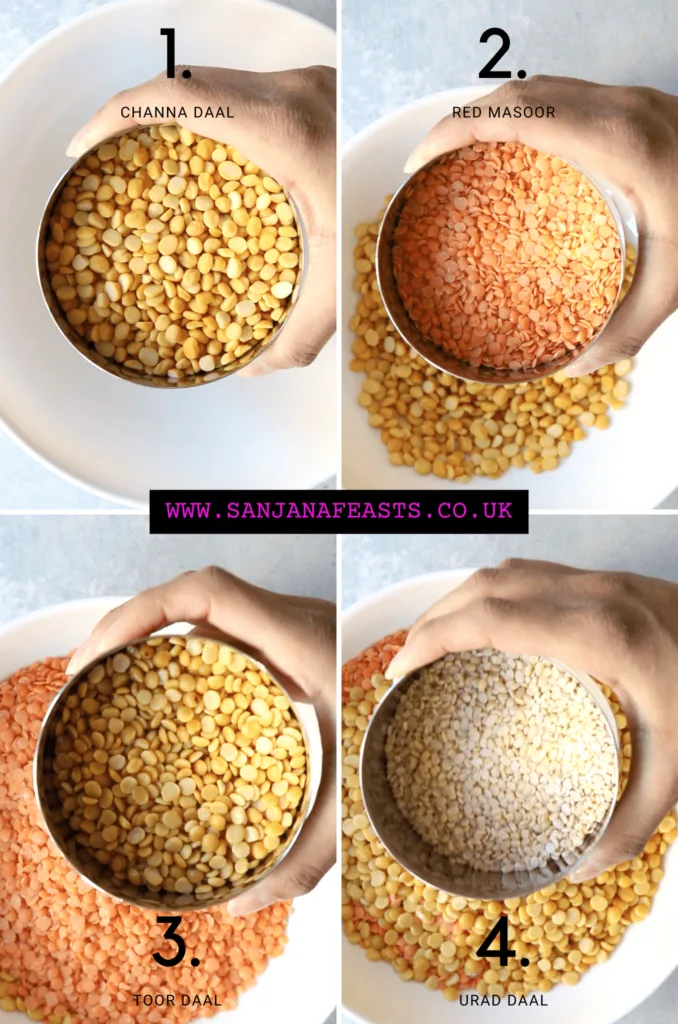 Channa daal (skinless split chickpeas)
Red masoor (sometimes called red lentils)
Toor daal (skinless, split pigeon peas. Sometimes called arhar or tuver)
Urad daal (skinless, split black gram. Urad daal is white in colour)
What is Tadka?
If we were talking about wrestling and not daal, Tadka would be the ultimate finishing move.
A tempering of hot ghee, cumin, garlic and chillies go into this simple version.
However, the world of tadka is vast and diverse depending on the dish you are cooking and from what region it comes.
Watch the full video tutorial: Shahi Daal
How to make Tadka for Daal
Tadka can be as simple as a few spices and aromatics, or it can call for 15 different ingredients ranging from seeds and nuts, to aromatics and fresh herbs.
For example, Karnataka's famous daal and rice pot, Bisi bele bhath typically calls for an elaborate tadka or even two separate tadkas done at different stages of the cooking process.
Shahi Daal is a north Indian-inspired preparation so my tadka calls for ghee, cumin, garlic, dried red chillies and fresh green chillies.
I finish the dish with crispy fried onions and fresh coriander.
These are just a few basics I like to add, but you can choose to add more things to your tadka if you like.
How to make Shahi Daal in an Instant Pot
For speed and ease, I like to use either an Instant Pot or pressure cooker to make daal.
This all-in-one method is quite simple and the high pressure cooks the lentils quickly and evenly.
The secret to making creamy Daal
I don't know if I should be telling you this… but I will.
My top tip for making any sort of tadka daal with a creamy, liquid gold consistency is to beat the cooked daal with a balloon whisk for a minute or so.
The lentils must be tender and yielding in order to break down inside the whisk-induced tornado you create.
I call it the Daal-nado technique!
Take care, piping hot daal can be bubbly and volcanic.
After whisking, your daal will thicken slightly and take on a velvety texture. Indeed, the addition of urad daal also gives this daal an addictive butteriness.
Is this recipe vegan?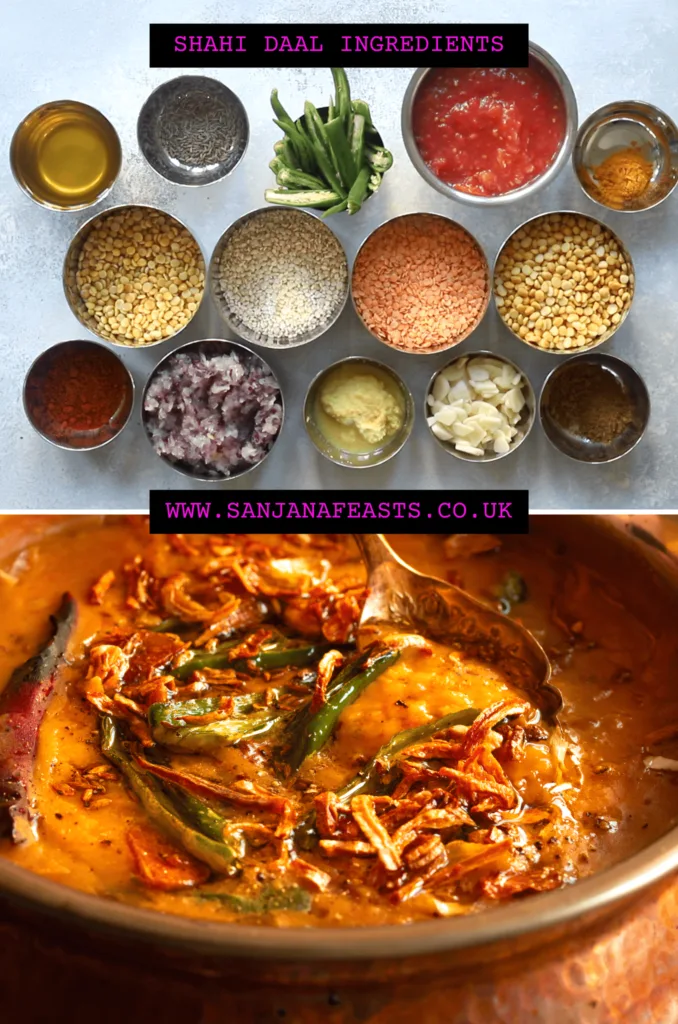 My recipe for Shahi Daal puts copious amounts of ghee to good use so therefore it is not a vegan recipe.
However, you can replace the ghee with any plant-based oil or vegan butter.
Cold-pressed rapeseed oil works particularly well because of its' mustardy edge.
What to serve with Shahi Daal
Serve this daal piping hot with rice and roti, naan or paratha.
It's the perfect consistency for both dunking and spooning.
Ingredients for Shahi Daal
Channa daal
Red masoor daal
Toor daal
Urad daal
Ghee
Ginger
Onion
Tomato
Hot water
Baking soda
Chilli powder
Turmeric
Black pepper
Garam masala
Salt
Cumin seeds
Dried red chillies
Green chillies
Garlic
Crispy fried onions
Coriander leaves
Other North Indian recipes you might like
Shahi Daal recipe | How to make Shahi Daal
Yield: 4 servings
Shahi Daal
My Shahi Daal is a creamy blend of simmered lentils, golden onions, ginger and black pepper. Finish with a crackly tempering of ghee-sizzled garlic and chillies for a crescendo of flavour.
Ingredients
75 g channa daal
50 g red masoor daal
50 g toor daal
25 g urad daal
2 tbsp ghee
1 tbsp grated ginger
1 medium onion, grated
1 large tomato, finely chopped
850 ml hot water
1/8 tsp baking soda
1/2 tsp chilli powder
1/2 tsp ground turmeric
1/2 tsp ground black pepper
1/2 tsp garam masala
1 1/2 tsp salt
For the tadka:
3 tbsp ghee
1 tsp cumin seeds
2 dried red chillies
4 fresh green chillies, slit lengthways
4 cloves garlic, finely sliced
To garnish:
2 tbsp crispy fried onions
1 tbsp chopped coriander leaves
Instructions
Mix all the daals in a bowl. Wash 4-5 times in cold water or until the water runs clear. Drain well.
Place the Instant Pot on sauté mode. Add the ghee, onions and salt. Cook, stirring all the time until the onions have browned, about 10 minutes. Add the ginger, tomatoes, turmeric and black pepper. Mix well and cook for a further minute.
Tip the drained daal into the pot, along with the baking soda (this well help it cook quickly and evenly) and stir well. Pour in the water and bring to the boil.
Place the lid on the Instant Pot or pressure cooker. Cook on high pressure for 20 minutes. This will be approximately 6-7 whistles on a traditional pressure cooker. If you're using the latter, keep the heat at a medium level to prevent the daal settling and burning at the base of the pan.
After 20 minutes, carefully release the pressure from the pan and remove the lid. Add the garam masala and chilli powder. Season with salt to taste, if required. Whisk the daal with a hand-held whisk for 90 seconds, until it's creamy, but still coarse in texture. Beating the daal gives it a wonderful texture. Keep the daal over a low heat while you prepare the tadka.
In a separate small pan, heat the ghee for the tadka. Add the cumin seeds, garlic, green chillies and dried red chillies. Cook, stirring all the time until the garlic has browned very slightly and the chillies have become blistered on the outside.
Immediately pour the sizzling tadka over the hot daal. Take care not to splash yourself while you do this! Sprinkle with crispy fried onions and fresh coriander. Serve piping hot with rice and roti, naan or paratha.
Nutrition Information:
Yield:

4
Serving Size:

1 grams
Amount Per Serving:
Calories:

243
Total Fat:

18g
Saturated Fat:

10g
Trans Fat:

0g
Unsaturated Fat:

7g
Cholesterol:

41mg
Sodium:

1058mg
Carbohydrates:

18g
Fiber:

5g
Sugar:

5g
Protein:

5g
Pin this recipe for later!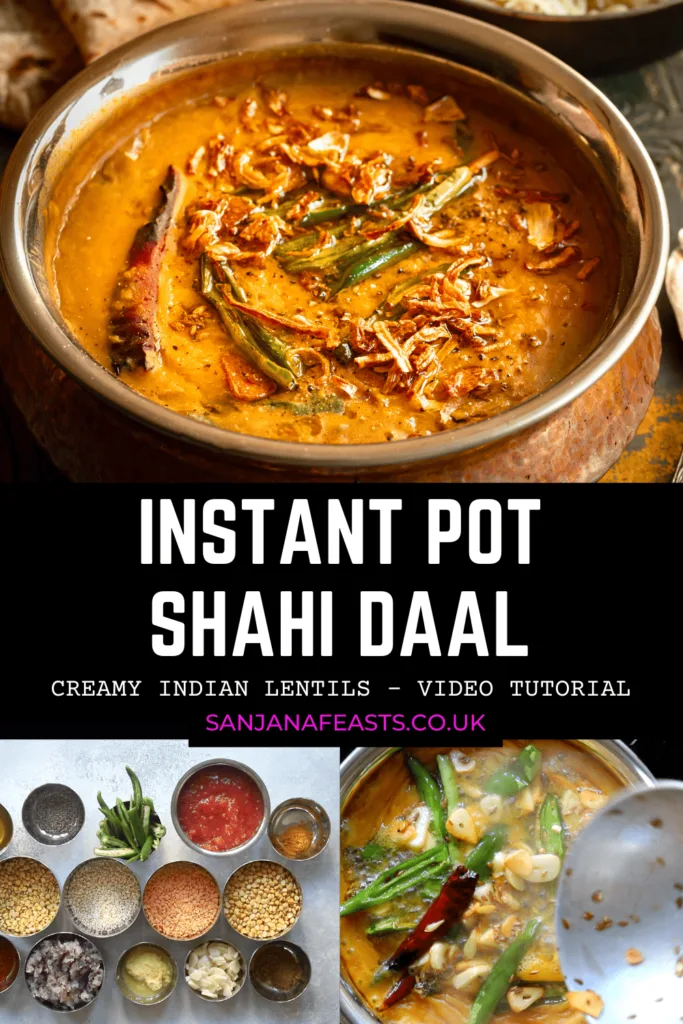 If you like this, you'll love my recipe for Shahi Paneer
Love Sanjana