Perfect Gulab Jamun are like the chocolate cake of Desi celebrations. These soft, cakey balls of fried milk and rosewater syrup appear on wedding banquet tables, restaurant menus and in home kitchens for a reason.
It's because almost everybody loves Gulab Jamun.
Indeed, when it comes to the world of South Asian desserts, Gulab Jamun are not a nice-to-have, they're imperative. A core part of the dining experience.
What does Gulab mean?
Rose. The traditional flavouring for Gulab Jamun is rosewater. Cardamom and saffron are also popular additions. I like to add all three.
The sugar syrup
When making Gulab Jamuns, the sugar syrup should be thin. If it's too thick, the jamuns will not absorb the syrup and if it's too thin, they will break apart. What we need is what's called a simple syrup.
How to make simple syrup for Gulab Jamun
Bring the sugar syrup to the boil and cook for 4-5 minutes until the temperature of the syrup registers 61°C/142°F on a sugar thermometer.
Add any flavourings, stir and set aside to cool slightly before using.
The syrup should be warm when we add the jamuns.
How to serve Gulab Jamun
Serve Gulab Jamun either warm or at room temperature. For special occasions, some people like to serve their Gulab Jamun warm with a scoop of vanilla ice cream.
To heat the Gulab Jamun, place in a microwave-safe bowl and microwave on high power in 10 second bursts until warm. Microwaves cook from the inside out so let them cool a bit before eating.
Nobody likes a burnt tongue!
Different ways to make Gulab Jamun
There are dozens of different ways to make Gulab Jamun. This happens to be my favourite recipe.
My version uses skimmed milk powder, plain flour and semolina (sooji). This blend produces soft and spongy Gulab Jamun with a fabulous airy texture inside.
Gulab Jamun with mawa
Milk solids, or "mawa" is a traditional ingredient in Gulab Jamun recipes.
You can either buy mawa from the shop or make it at home. Shop-bought mawa is usually in the chiller section, near the paneer.
Make your own Mawa by boiling full-fat milk until all you are left with is a solid mass. This is time consuming but many people swear by it!
Gulab Jamun with cake mix
Lots of people like to make Gulab Jamun with shop-bought cake mix. The mix is made with far less liquid so it forms more of a dough than a batter. I've never given this one a go but if you feel brave, go for it!
Gulab Jamun with bread
Desi aunty fave! Got a loaf of leftover white bread? Blitz it up in your food processor and make Gulab Jamun. I've seen lots of people have success with this option, but I've never tried it for myself.
The final Gulab Jamuns appear to have a nice, soft texture but not the solid finish milk powder or mawa Gulab Jamuns have.
Gulab Jamun with sooji
Lots of recipes for Gulab Jamun call exclusively sooji (semolina). The result is a denser Gulab Jamun with a grainy texture.
I love the texture coarse semolina gives Gulab Jamun so choose to add a small amount of it to my milk powder and plain flour mixture.
Gulab Jamun mix
O ye old faithful. Running short on time? There are dozens of different Gulab Jamun packet mixes on Asian supermarket shelves. Mix them up according to packet instructions and have Gulab Js on the table in a flash.
Gulab Jamun with condensed milk
Some recipes call for a mixture of condensed milk and milk powder. Gulab Jamun you prepare in this way are much sweeter and caramel-like in flavour.
Perfect Gulab Jamun recipe with milk powder
My recipe calls for skimmed milk powder. It is more readily available in comparison to full-fat milk powder.
I find that using skimmed milk powder allows the cook to control the amount of fat in the mixture. This way, we can be sure our Gulab Jamun have the perfect, spongy texture inside.
Texture is everything!
I cannot reiterate this enough. When it comes to Gulab Jamun, texture is incredibly important. Even if one ingredient is out, it will throw the entire recipe.
Be sure to weigh all your ingredients using a kitchen scale for accuracy. Cup measures are subject to interpretation and don't yield consistent results, in my opinion.
5 common Gulab Jamun mistakes
Incorrect ingredient weights and measures
Incorrect frying temperature
Dough not rested
Syrup undercooked/overcooked
Gulab Jamun too hard or too soft
Are they vegan?
Gulab Jamun typically contain milk-based ingredients. Milk powder and reduced milk solids are the most common additions.
However, this is not to say you can't make vegan ones. I'm yet to test vegan Gulab Jamuns in my own kitchen.
Are they gluten free?
My recipe for Gulab Jamun contains both wheat flour and semolina, therefore this version is not gluten free.
Troubleshooting
Why are my Gulab Jamun breaking in the oil?
It's likely the dough contains too much moisture or fat. Gulab Jamun that break whilst frying may also occur due to a very low oil temperature.
Why are my Gulab Jamun hard?
Your Gulab Jamun might be too hard due to a lack of moisture in the mixture or overcooking whilst frying.
My Gulab Jamun aren't soaking up syrup
If you overcook jamun, they will develop a hard outer coating which prevents syrup absorption. This can also occur if the sugar syrup is too viscous.
Why do Gulab Jamun shrink in the syrup?
Undercook Gulab Jamun or fry them at too high a temperature and they will develop hollow or doughy centres. This will cause the jamuns to collapse inwards and deflate when you add them to the sugar syrup.
Sometimes they may deflate at first and then become plump and juicy after a bathe in the sugar syrup.
Why do my Gulab Jamun have cracks?
Dough not rested long enough or not enough liquid in mixture.
My Gulab Jamun fall apart in the syrup
The Gulab Jamun are too soft. Too much moisture in the dough, not fried long enough or the sugar syrup is too watery.
How to store
Immerse the Gulab Jamun in the sugar syrup and store refrigerated in an airtight container for up to a month.
Can I freeze them?
Yes. Keep Gulab Jamun (in their syrup) in a freezer-safe container and defrost at room temperature. Note that the structural integrity of frozen Gulab Jamun will not be as sturdy as their fresh counterparts.
I recommend warming them before you serve.
What are the ingredients for Gulab Jamun?
Here's a list of all the ingredients you'll need for making my Gulab Jamun at home.
Skimmed milk powder
Ghee
Coarse semolina (sooji)
Plain flour (all-purpose flour/maida)
Green cardamom
Baking powder
Full-fat milk
Lemon juice
Salt
Oil for frying
Sugar
Water
Saffron
Rosewater
Perfect Gulab Jamun recipe
Ingredients
For the jamun:
200

g

skimmed milk powder

20

g

coarse semolina

35

g

plain flour

2 1/2

tsp

baking powder

5

green cardamom pods, seeds ground

1 1/2

tbsp

ghee

melted and cooled slightly

200

ml

full-fat milk

room temperature

2

tsp

lemon juice

1/8

tsp

salt

1

L

oil

for deep frying
For the syrup:
600

g

granulated sugar

600

ml

water

15-20

saffron strands

(large pinch)

2

tsp

lemon juice

2

tsp

rosewater
Instructions
For the Gulab Jamun dough:
Take skimmed milk powder in a large bowl or thali with high sides. Add plain flour, semolina, baking powder, ground cardamom seeds and salt. Mix well.

Add melted ghee and rub the mixture together to form a coarse, breadcrumb-like texture. Allow to stand for 10 minutes.

Meanwhile, stir together milk and lemon juice. Allow to stand for 10 minutes. Once the mixture has curdled slightly, add it to the dry ingredients. Start by making a well in the centre and then add the milk mixture a little at a time, forming a paste with your fingers from the centre and working your way outwards to incorporate more dry ingredients.

Once all the milk mixture has been added, beat the mixture with your fingertips to form a lumpy but uniform texture. It will feel very sticky, more like a batter than a dough. This is good.

Allow the mixture to stand, uncovered for 30 minutes. Do not mix it during this time. This resting time will give the milk powder, flour and semolina in the Gulab Jamun dough time to hydrate fully, turning from a wet batter, to a dough.
To make the sugar syrup:
Place sugar in a large pan. Add water, lemon juice and saffron. Rub the saffron between your palms to release some of their aromas. Stir until the sugar has dissolved. The lemon juice will prevent crystallisation of the syrup. You can also use a tablespoon of liquid glucose in place of lemon juice if you like.

Once the sugar has dissolved, stop stirring and bring the syrup to a rolling boil. Cook for 4-5 minutes, until a light syrup forms and the temperature of the syrup registers 61°C/142°F. As soon as the syrup reaches this stage, remove the pan from the heat. Cover with a lid and allow to cool for 15 minutes before adding rosewater. Stir well and keep covered until needed.
To form the Gulab Jamuns:
Once the dough has fully hydrated, it will be a tacky, dough-like consistency. Portion the dough into 15g pieces. Roll each piece into a ball, using a very small amount of ghee to grease your hands if necessary. Ensure every ball is completely smooth and free from cracks. Set aside onto a plate.

Repeat this process for all of the dough. You should have around 38 Gulab Jamuns.
To fry the Gulab Jamuns:
Heat the oil in a large pan suitable for deep frying. The oil temperature should register 100°C/212°F.

Add several Gulab Jamuns, taking care not to overcrowd the oil. Don't add too many at once as they require constant agitation. If you're not accustomed to it, they will brown unevenly. You can fry bigger batches once you get used to the frying process. Agitate the oil around the Gulab Jamun, taking care not to touch them too much with the perforated skimmer or it they will become misshapen.

As soon as the Gulab Jamuns double in size and float to the top of the oil (after around 3 minutes), increase the oil temperature to 150°C/302°F and fry until golden brown all over. At this stage, you must keep the Gulab Jamuns moving at all times to ensure even browning. Once the Gulab Jamuns have been in the oil for around 7-8 minutes in total, they should be perfectly golden all over.

Lift the Gulab Jamuns out of the oil and place onto a plate lined with kitchen paper to absorb excess oil. Set aside and repeat the frying process for the remaining Gulab Jamuns. Be sure the oil temperature cools before adding subsequent batches.
To soak the Gulab Jamuns:
Once all of the Gulab Jamuns have been fried, add them to the prepared, still warm sugar syrup. If the syrup is cold, warm it very slightly before adding the Gulab Jamuns to ensure better absorption. Immerse the Gulab Jamuns completely and allow to stand, covered for 6-8 hours. Stir from time to time to coat each one well with syrup.

Serve either at room temperature or warm.
Pin this recipe for later!
If you like this, you'll love my recipe for Perfect Jalebi
More delicious South Asian sweets
Perfect Plain White Burfi
Soft and creamy plain white Burfi is a mainstay when it comes to Indian sweets. My version uses milk powder, cardamom and saffron for rich flavours and a crumbly, melt-in-the-mouth texture.
Check out this recipe
Vanilla Rasmalai
Soft, spongy cheese dumplings soaked in sweet vanilla, cardamom and saffron milk. Inspired by the classic Bengali dessert, this version is served chilled and the flavours are reminiscent of the Indian ice cream, kulfi.
Check out this recipe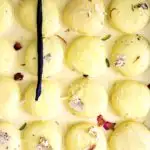 Mohanthal and Dhilo Mohanthal
Buttery, melt-in-the-mouth fudge made with chickpea flour, cardamom, saffron and mace. Mohanthal is such a delicious Indian sweet (mithai). Enjoy it as a square or as a hot-fudge like pudding with vanilla ice cream.
Check out this recipe
How to Make Boondi
This traditional Indian sweet is always popular around festival time. The juicy bubbles of chickpea flour are flavoured with delicate saffron and ground green cardamom. Serve it warm as it is or form into Laddoos.
Check out this recipe
Pistachio Burfi
An easy recipe for melt-in-the-mouth Indian milk fudge (burfi) made with REAL PISTACHIO. Perfect for gifting. Your family and friends will love it!
Check out this recipe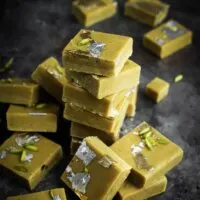 Indian-Inspired Rocky Road
Truffle-like chocolate studded with pistachios, almonds, dried mango, crystallised ginger, Turkish delight, mini marshmallows and spiced shortbread biscuits. Dried rose petals top the Rocky Road off beautifully.
Check out this recipe
Birthday Cake Burfi
Sweet condensed milk fudge with a hidden layer of birthday cake and sprinkles!
Check out this recipe