Tofu Korma is a rich and creamy vegan Indian curry with tofu, aromatic spices and nuts. With a royal history, Korma is an emblem of imperial Mughal cooking traditions.
Here's a plant-based Korma recipe everybody will love alongside rice and naan. It's mild and perfect for those who enjoy warm spices over chilli heat.
This Tofu Korma recipe is
Vegan
Tastes like a restaurant Korma
Easy to make
Rich and creamy
Tofu korma is a delicious and rich Indian curry that is perfect for a weeknight meal.
What is Korma?
Korma is so much more than 'the mildest option' on Indian restaurant menus. It's a curry that's steeped in a history as rich as the dish itself.
Korma has a lavish past, dating back to the Mughal Empire in the 16th century. The Mughals were a Muslim dynasty that ruled over much of India, and they brought with them their own unique cuisine, much of which was inspired by Persian cuisine.
Korma was one of the many dishes that they introduced to India, and it quickly became a popular favourite.
Where does the word Korma come from?
The word 'korma' comes from the Turkish word 'qawirma', which means 'to fry'. This is because korma is traditionally made by frying meat or vegetables in a yoghurt-based sauce. The yoghurt helps to tenderise the meat and also adds a rich flavour to the dish.
Can Korma be vegetarian?
Korma is a popular dish in both India and Pakistan, but is usually a preparation of chicken, lamb or mutton. Not so friendly for vegetarians or vegans.
Fear not! In this case, we're making a vegan version with chunks of tofu which are excellent at soaking up all the delicious spices! If you're not vegan, you can also make this with the Indian cheese, paneer.
I make my version of Korma with tofu, which is a great source of protein for vegetarians and vegans, and a variety of spices, including cardamom, black pepper, turmeric and coriander.
In comparison to the meat-heavy version of Korma, this Tofu Korma curry is also lower in fat and calories, making it a lighter option for those who are trying to eat a balanced diet.
How long does this recipe take?
If you're looking for a delicious Indian curry, tofu korma is a great option. It is easy to make and can be on the table in under an hour.
What if I don't like tofu?
Tofu korma is a versatile dish that can be easily adapted to your own taste. Notes for making it spicier are in the recipe card below! Feel free to add other vegetables, such as cauliflower, potatoes, or mushrooms.
You can also adjust the amount of spices to suit your own preference. It's quite a forgiving recipe so if you're missing a few spices, you can simply leave them out. Since Korma is a mild curry, the spices are used quite sparingly anyway.
How to make Tofu Korma | Vegan Korma recipe with Tofu
Simply sauté some onions and spices in a pan, then add the aromatics, nuts, dried fruits and spices. Blitz until smooth and creamy, then simmer with the tofu. Serve Tofu Korma alongside rice or naan. I love it with Peshawari Naan or Saffron Paratha.
Yield: 4 servings
Tofu Korma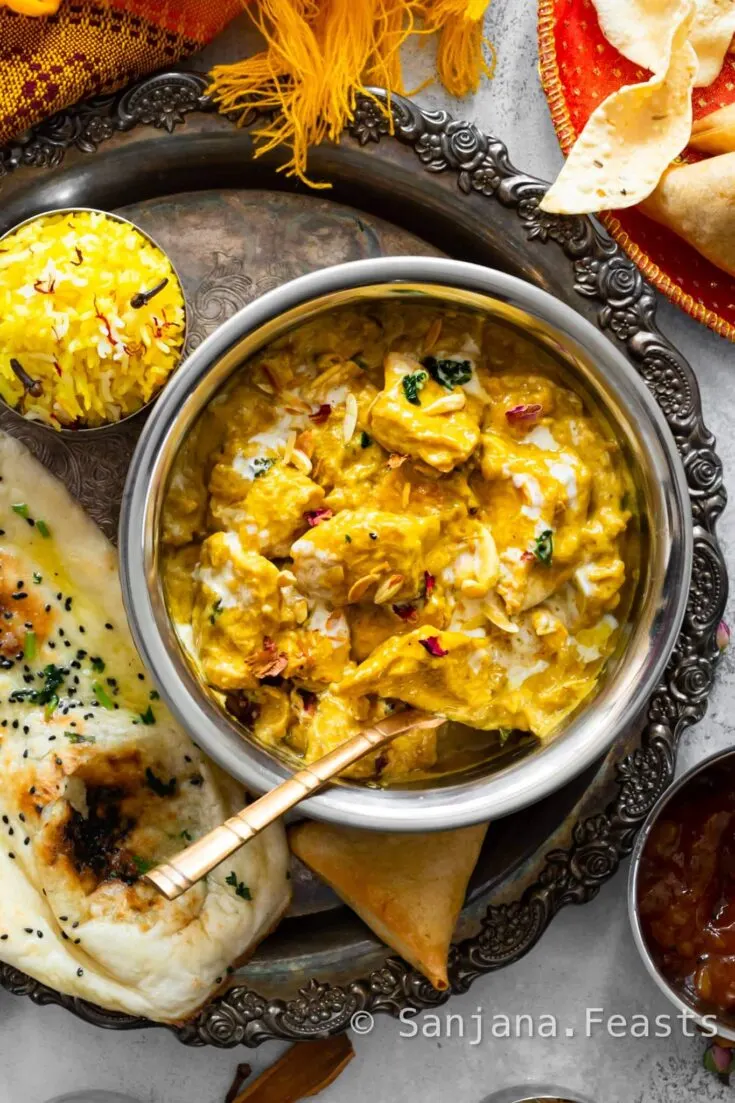 A rich and creamy vegan Indian curry with tofu, aromatic spices and nuts. With a royal history, Korma is an emblem of imperial Mughal cooking traditions. Here's a plant-based Korma recipe everybody will love alongside rice and naan. It's mild and perfect for those who enjoy warm spices over chilli heat.
Ingredients
For the tofu
450g firm tofu, rinsed and drained
4 tbsp cornflour
Oil for shallow frying
For the korma gravy
2 tbsp oil
25g almonds, skins removed
150g dairy-free natural yoghurt
2 large onions , finely chopped (approx. 400g)
15g dried mango or apricots
1 dried Indian bay leaf
2 cloves
2-inch cinnamon stick
1 tsp whole coriander seeds
3 green cardamom pods
2 tsp fresh ginger
3 cloves garlic, minced
2 tsp ground black pepper
1/4 tsp ground nutmeg
1/4 tsp ground turmeric
1/2 tsp kewra water (optional)
Small pinch of saffron
3/4 tsp salt, or to taste
650ml water
To garnish
1 tbsp toasted almonds
2 tbsp plant-based cream
A few fresh coriander leaves
A few dried edible rose petals (optional)
Instructions
Press the tofu between a thick layer of kitchen towel. Place a chopping board and some tins on top to weigh it down a little to squeeze excess moisture out.
Break the tofu into chunks, the more uneven the better. The rugged surface area will encourage the sauce to cling to the tofu better. Dust the tofu chunks in cornflour and shallow fry in about 1cm oil until slightly golden all over. Remove the fried tofu to a colander and set aside.
Soak the almonds in hot water for 30 minutes to soften. If they still have the skins on, they will slip off easily after soaking.
Heat 2 tbsp oil in a large, heavy-based pot. Add the bay leaf, cloves, cinnamon, coriander seeds, cardamom and onions. Saute for 15 minutes until the onions are golden brown. Add the ginger, garlic, yoghurt, dried mango or apricots, almonds, black pepper, nutmeg, turmeric and 200ml water. Cook, stirring all the time, for a further 10 minutes until the masala is thick and the oil begins to separate at the sides of the pan. Allow the curry to cool. Remove the bay leaf and cinnamon stick. Leave the remaining whole spices in.
Transfer the mixture to a blender and blend until totally smooth and creamy. You might need to add a splash of water if your blender is struggling to whizz through the mixture. It should turn a pale and creamy colour.
Return the korma gravy to the pan and rinse the blender with the remaining water, adding this in too. Add the fried tofu, kewra water, saffron and salt. Bring to a gentle simmer and cook over a low heat with a lid on for 10 minutes.
Garnish with toasted almonds, a swirl of plant-based cream, fresh coriander and dried edible rose petals.
Notes
Kewra water is screwpine leaf (pandan) extract, a traditional essence used in North Indian cookery. The flavour is lightly floral and somewhat grassy. Use sparingly in curries, rice dishes, desserts and bread dough. If you can't find it, replace with a very small drop of rosewater or omit completely.
Korma is typically a mild and sweet curry made without chillies. Chillies didn't arrive in India until the 16th century so the main source of heat was from black pepper and ginger. If you prefer a spicier curry, add chilli powder or fresh chillies. This will change the colour of the curry slightly.
You can replace tofu with any type of plant-based protein. Try using rehydrated soya chunks, seitan, pea protein pieces or even Quorn. If you prefer vegetables, try this recipe with fried cauliflower.
Nutrition Information:
Yield:

4
Serving Size:

1
Amount Per Serving:
Calories:

376
Total Fat:

25g
Saturated Fat:

4g
Trans Fat:

0g
Unsaturated Fat:

19g
Cholesterol:

11mg
Sodium:

532mg
Carbohydrates:

21g
Fiber:

4g
Sugar:

12g
Protein:

17g
What to serve with Tofu Korma
Try of these delicious accompaniments alongside your curry.
Shahi Daal
My Shahi Daal is a creamy blend of simmered lentils, golden onions, ginger and black pepper. Finish with a crackly tempering of ghee-sizzled garlic and chillies for a crescendo of flavour.
Restaurant-Style Peshwari Naan
Soft and pillowy Peshwari Naan, also called Peshawari Naan is a coconut and spice filled flatbread. Pair with Korma or Shahi Paneer for an Mughalai-inspired meal.
Golden Air Fryer Samosas
Here's a delicious recipe for the crispiest air fryer samosas. You won't believe these lightly-spiced, vegetable parcels aren't deep fried! They're vegan-friendly too.
Love Sanjana