Gujarati Ravaiya (Stuffed Aubergine Curry) is a true vegan comfort meal from western India. Stuff baby aubergines with a spicy peanut masala for Gujarati grandma vibes.
Serve with hot phulka rotli and a simple onion and tomato salad. A glass of salted Chaas (buttermilk drink) if you're feeling fancy.
Why is it that vegetables are always better when you stuff them? This stuffed eggplant recipe is no exception.
My mother's recipe for Ravaiya
Ask any Gujarati and they'll rave about their mum or gran's version. It's in our nature. And believe us, we're telling the truth. There is no love greater than the love you feel when you eat these baby aubergines.
You must stuff each one by hand. It's messy, fun and a labour of love. Their flavour is amplified by the effort and time it takes to prepare them. It's the taste of a mother's devotion to her family.
This is my mother's recipe for Gujarati Ravaiya. I make the same one for my son now. He calls them "oh-ber-jean".
Childhood memories of this Gujarati curry
To tell you the truth, I used to hate aubergines. I thought they were slimy and seedy. As a child, I wanted nothing more than to hide them under my brother's mattress for the time he put Cherry Tunes in my hair whilst I was asleep.
When I woke up, my mum had to cut a chunk of my waist-length hair out and I cried.
How to make Gujarati Ravaiya (Stuffed Aubergine Curry)
Traditionally, the aubergines are served as they are, sometimes with a tomato sauce, sometimes without.
My mother has always made these "bharela ravaiya" or "bharela ringan" with a luscious tomato sauce. However, my mother-in-law comes from the Patel community and prefers to serve them without a tomato sauce.
Both ways are delicious in my opinion. Just pass me the rotli.
Gujarati Ravaiya: Tips & FAQ
What kind of aubergines (ringan) should I use for Ravaiya?
Choose firm, small aubergines (ringan/eggplants). They can be any colour and either short and fat or long and thin. My preference are the small, fat purple ones. However, I advise you to choose the best quality you can find.
What stuffing do you put in Gujarati Ravaiya?
Ingredients for the stuffing will differ from recipe to recipe. Indeed, all families have their own unique style and preferences. My recipe for Ravaiya stuffing includes:
Peanuts
Toasted chickpea flour (gram flour/besan)
Ground coriander seeds
Ground cumin seeds
Garlic
Ginger
Red chilli powder
Asafoetida
Fresh coriander
Tomato ketchup (yes, really! Don't skip it.)
Salt
Sugar
Oil
Bicarbonate of soda (baking soda)
Should I add potatoes or not?
Lots of people like to add a few stuffed spuds to their curry. I'm not going to tell you which way is better, or more traditional. If you like potatoes, go ahead and add them. Don't be shy, get your carb on.
What else can I stuff with this Ravaiya masala?
Aubergines not your thing? Use the stuffing masala from this recipe to fill onions, okra, sweet potatoes, chillies, capsicums, Brussel's sprouts or skin-on bananas (I'm serious).
So in short, you can customise this recipe to suit you. I like to do a version with all of them for special occasions.
Some of my favourite stuffed Gujarati curries include:
Bharela Marcha (Stuffed Bullet Chillies)
Karela na Raviya (Stuffed Bitter Melon)
Bharelu Turiya nu Shaak (Stuffed Ridge Gourd)
Bharela Kanda nu Shaak (Stuffed Onion)
I hope to share recipes for all of these delicious Gujarati shaaks in time. Keep your eyes (and your onions) peeled!
Recipe for Gujarati Ravaiya (Stuffed Aubergine Curry)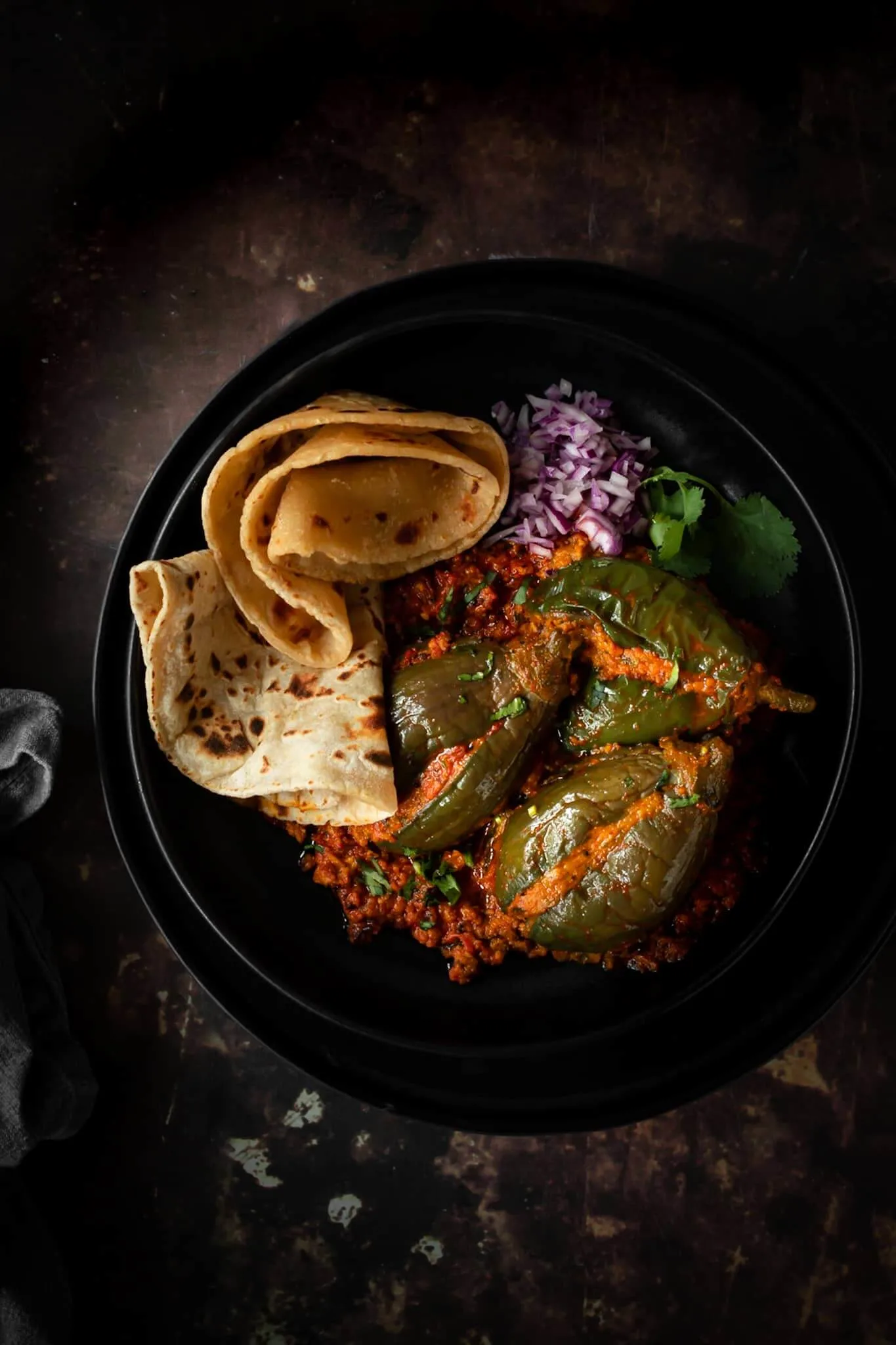 Ingredients
For the peanut stuffing:
85

g

skinned peanuts

coarsely ground

2

tbsp

gram flour

toasted in a dry pan until aromatic and lightly golden

1

tbsp

ground coriander seeds

1

tbsp

ground cumin seeds

1/4

tsp

asafoetida

(check the packaging if preparing for anyone with a gluten allergy/intolerance)

4

large cloves garlic

crushed

2

tsp

ginger

grated

½

tsp

red chilli powder

50

g

fresh coriander

finely chopped

2

tbsp

tomato ketchup

1

tsp

salt

2

tsp

sugar

3

tbsp

any cooking oil

1/8

tsp

bicarbonate of soda
For the tomato sauce:
1

tbsp

any cooking oil

½

tsp

mustard seeds

½

tsp

cumin seeds

¼

tsp

asafoetida

200

g

chopped tomatoes

200

ml

water

5-6

curry leaves

optional

¼

tsp

turmeric

¼

tsp

red chilli powder

1

tsp

salt

1

tsp

sugar

Chopped red onion

to serve

Fresh coriander leaves

to serve
Instructions
Combine all of the ingredients for the stuffing except for the oil in a bowl.

Heat three tablespoons of oil in a small saucepan until hot and shimmering. Slowly and carefully pour the oil onto the peanut mix and stir to combine well. Set aside to cool.

Trim the tops of the aubergines. I like to leave a little stalk for pretty presentation. Slit the aubergines crosswise from the bottom, almost all the way through, leaving the stalk area uncut. Place the aubergines in a bowl filled with cold water to stop them oxidising inside and to keep them perky.

Stuff each aubergine with the peanut masala – don't be afraid to use clean hands to do this; just get right in there. You should have a little bit of the stuffing left over – keep it aside. If you don't want to use your hands, you can use a butter knife to stuff them.

Fit a large pan with a steaming basket. Place the aubergines in the basket and fill the pan with plenty of hot water. Ensure the bottom of the steamer doesn't touch the water. Cover with a lid and cook over a moderate heat for 12-14 minutes, until the aubergines are tender. A fork should poke through without any resistance.

Meanwhile, to make the sauce, heat one tablespoon of oil in a non-stick pan. Add the mustard seeds and wait for them to pop. Add the cumin seeds, asafoetida, optional curry leaves and leftover stuffing paste. Cook the mixture out for 2 minutes and then add the tomatoes, water, turmeric, chilli powder, salt and sugar. Allow to simmer for 2-3 minutes, stirring all the time. The mixture should begin to thicken slightly.

Add the steamed aubergines and cover with the paste. Be careful not to break them. Cook for a further 2 minutes to heat through. Garnish with fresh coriander if you like. Serve with phulka/roti and chopped red onions.
Sanjana's Notes
Store any leftovers in an airtight container and eat within 3 days.
How to freeze Ravaiya
These Ravaiya (stuffed aubergines) freeze beautifully. My preference is to freeze the steamed aubergines in a freezer-safe container and then make the sauce when I want to serve the curry. Just place the defrosted Ravaiya in the sauce and heat through until piping hot.
You can also make the stuffing ahead of time and keep it in the freezer for when you fancy this dish. It's also great for stuffing other vegetables like potatoes, okra, chillies and onions.
Pin this recipe for later!
Other everyday curry recipes you might like
30-Minute Tindora Curry with Corn
Tindora Curry with Corn is a simple, dry-style curry of tindora (ivy gourd) and sweetcorn. It's light, fresh and quick to prepare. Serve this weeknight vegetable dish with roti, phulka, paratha or rice. If you can't find tindora, try it with courgette cut to the same size.
Check out this recipe
Gujarati-Style Okra & Potatoes
Gujarati-Style Okra & Potatoes (Bhinda Bateta nu Shaak) is an everyday comfort food in many Gujarati homes, including mine. It's usually scooped up with soft, hot rotlis (chapattis), which is our daily bread. This curry is delicately flavoured with cumin seeds, turmeric, garlic and lemon juice for a fresh vegan dish that eats more like a stir fry than the heavy restaurant curries one might be used to.

Check out this recipe
Gujarati Koru Bateta nu Shaak
A tried and true recipe for Koru Bateta nu Shaak (Gujarati-style dry potato curry). This is my mother's exact recipe and the only way we make it at home. She has a few fabulous tips for achieving intense flavours and the perfect dry bhaji-style texture every time. This shaak pairs perfectly with Masala Poori and dahi (plain yoghurt).
Check out this recipe
Love Sanjana