Served in paper cones with fried green chillies for that 'bhajia on the beach' feel
I've always been a sucker for ordering too many starters in restaurants, especially when it involves Crispy Potato Bhajia (paper-thin potato slices coated in a bespoke spice blend), Hara Bara Kebabs (pea and cauliflower cakes) and Daal Kachori (spiced daal in semolina pastry). I'm told my eyes are bigger than my belly and I've never been one to argue with legitimate allegations.
Although I love eating out as much as I love home cooking, there's always one question lingering on my lips as I attempt to make a choice of which restaurant to spend my Friday evening in – do they serve decent starters?
In all honesty, I think I can judge an Indian restaurant menu by the starters they have to offer. If the vegetarian appetisers are limited to samosas and onion bhajis (to this day, I still don't understand onion bhajis – what are they and where did they come from?) I know I'm not going to be dazzled by their selection of mains. This is something I've learnt from eating out far more than I can afford to.
With other cuisines, I'm rubbish at menu guessing but I'm often just delighted if the vegetarian options stray from tired goat's cheese salads or baked aubergine mush. In any case, I'm often at my happiest when there are three gorgeous starters I can get stuck into whilst everyone else enjoys their mains.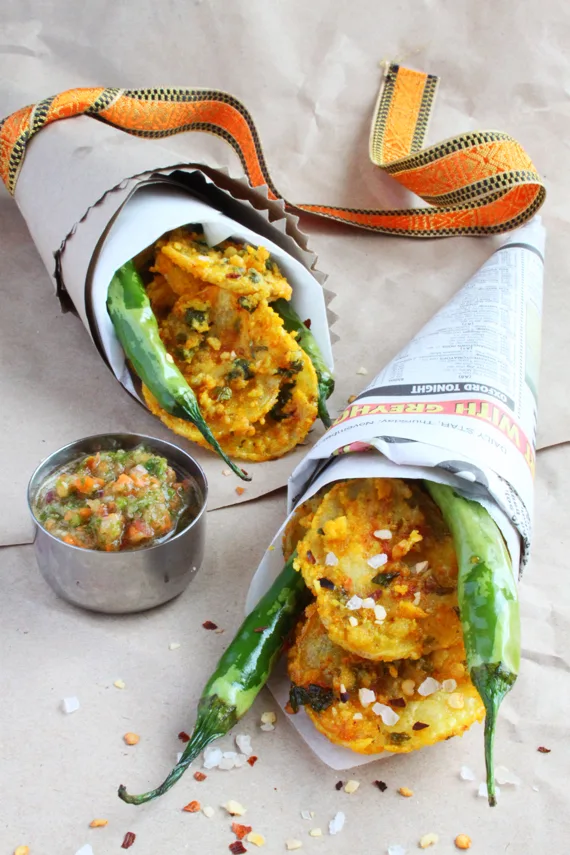 An Ode to Bhajia
One of my favourite restaurants to do this at is the revered Maru's Bhajia House in Wembley, London. With its humble green sign and modest dining area, the café is nothing elaborate but with a shining reputation going back decades, I guarantee you'll never get a better bhajiyu (vegetables, often potatoes, deep fried in a spicy batter). Their signature bhajia have a closely-guarded recipe, brought to the UK from Nairobi by a family who must have loved seeing people's smiling faces when they dug into a plate of these beauties. For East African Indians, Crispy Bhajia were the cupcake of their time. To some extent, they probably still are.
Many have tried to create the original version in their own homes – whether they were successful or not is probably kept as much a secret as the Maru's Bhajia House recipe itself.
Here's my version of the classic. Share this dish with family and friends; I've known many a chap risk stinking out entire London buses to get home and share Crispy Potato Bhajiya with their loved ones. Now that's what I call dedication.
Crispy Potato Bhajia with Hot and Sour Cucumber Chutney
For the bhajia:
400g unpeeled potatoes, sliced thinly (I used a mandolin)
150g chickpea flour
60g rice flour
1/2 tsp cornflour
3 tbsp lemon juice
1 tsp salt
6-8 green chillies (or to taste), pounded into a paste
4 large cloves garlic, crushed
6 heaped tbsp fresh coriander, chopped very finely
½ tsp carom seeds
2 ½ tsp turmeric
1 ½ tsp sugar
Oil to deep fry
For the cucumber chutney:
200g cucumber
200g fresh tomatoes
140g carrot
1 clove garlic
8-10 tbsp fresh coriander
6 green chillies (or to taste)
Juice of two lemons
200ml water
1 ½ tbsp sugar
2 tsp salt
Method
1. Place the sliced potatoes in a bowl of iced water.
2. Mix all of the other ingredients for the bhajia. A blend of different flours will give the bhajia a beautifully crisp finish.
3. Drain the potatoes but do not dry them. Immediately toss the potatoes in the flour mixture. The mixture should stick to the potatoes. If it seems dry, add just enough cold water to make the flour coat the potato slices. Allow to stand whilst you make the chutney.
4. Blend together all of the ingredients for the chutney until coarsely puréed. Place into serving bowls.
5. In a large wok, heat the oil to around 190°C and slowly place 1/3 of the potato slices into the pan. Allow to become golden all over. Remove with a slotted spoon and drain on paper towels.
Serve alongside the chutney immediately for optimal crunch. I like to serve my bhajia in paper cones for that 'bhajia on the beach' feel but maybe I'm just being finicky. Sprinkle with rock salt and chilli flakes if your guests are that way inclined.
Love Sanjana