Strawberry cheesecake lovers will adore this fresh and fruity Strawberry Cheesecake Falooda. This is a refreshing Indian rose milkshake with basil seeds, rice vermicelli, milk jelly and ice cream. My version calls for crushed biscuits and Italian mascarpone.
What is Falooda?
Falooda is a cooling milkshake, prepared with sweet basil seeds, vermicelli (noodles), milk jelly and ice cream It is usually flavoured with rose, although other flavours like pistachio, mango, custard apple and even butterscotch are common.
What are some other types of Falooda?
Other super popular variations of falooda incude: Falooda with ice cream, falooda with kulfi, falooda with rooh afza (a type of syrup used for rose drinks), falooda with jelly, falooda with custard and falooda with condensed milk.
Kulfi Falooda
A famous style of Indian falooda is Kulfi Falooda, which consists of kulfi with all the classic falooda toppings. However, this version is usually on a plate or in a bowl, without milk.
Today, I'll teach you how to make my signature Strawberry Cheesecake Falooda. The rosy milkshake is rich with mascarpone and juicy strawberries, while the topping is a moreish combination of ice cream and biscuit crumbs, a la diner-style cheesecake. Did I mention the vanilla milk jelly yet?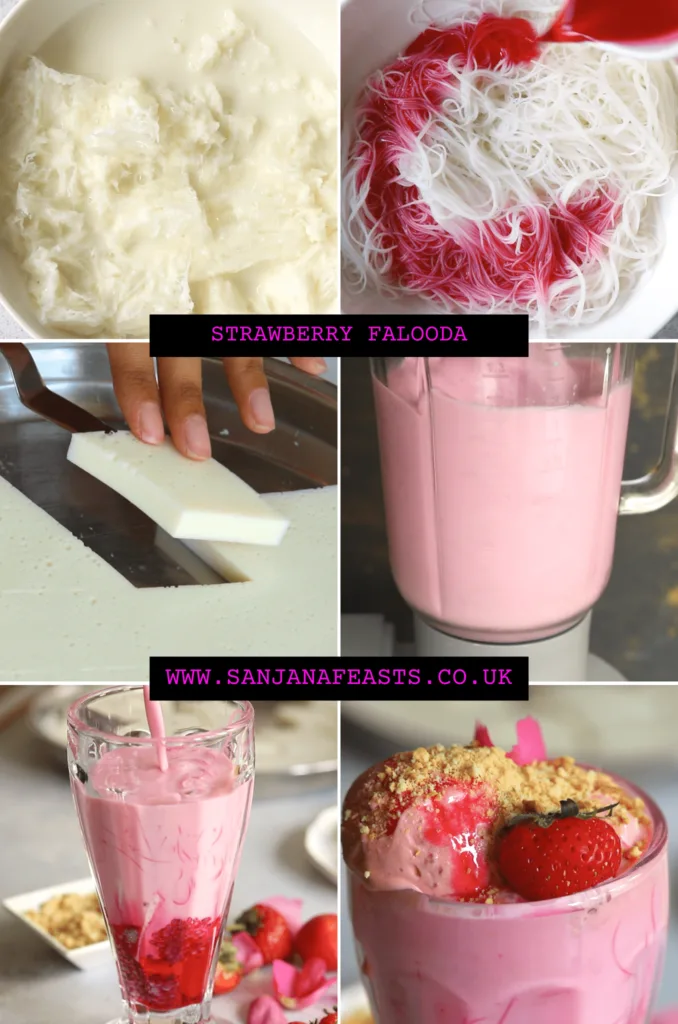 Where does Falooda come from?
This refreshing dessert/drink has Persian roots and most likely came to India during the reign of the Mughal dynasty. 'Faloodeh' (فالوده) is the Persian name for it. It is said to originate from Shiraz, Iran. The popularity of this preparation spans from Western Asia, to Southern Asia and even into parts of Africa. 'Alouda' is the name for it in Mauritius.
What seeds are in Falooda?
Falooda contains sweet basil seeds, also known as 'takmaria' or 'sabja'. They are often mistaken for chia seeds, since both of them swell upon contact with water. Unsoaked sweet basil seeds are black in colour. Once soaked, they look like frogspawn; White with a small black dot inside.
Sweet basil seeds are a fairly common addition to drinks, since they have long been used in Ayurvedic and Chinese medicine for their supposed cooling effect on the body. For this reason, they widely consumed in warm climates. Basil seeds are particularly high in fiber.
How to prepare takmaria/sabja (sweet basil seeds)
To prepare 15 grams (one tablespoon takmaria)
Place the dry, black takmaria in a bowl. Cover with 100 millilitres of cold water, mix briefly and allow to stand for 5 minutes. They will turn from black to white and take on a jelly-like texture on the outside. After this, the takmaria/sweet basil seeds are ready to use.
Can I make Falooda with chia seeds?
Since chia seeds behave in the same way as takmaria, it's perfectly acceptable to substitute one for the other. Takmaria may not always be available and chia seeds can be found in most supermarkets now. I buy takmaria from my local Indian shop.
What kind of rose syrup should I use for Strawberry Cheesecake Falooda?
I use T.G Kiat Rose Syrup from Singapore in my falooda, but you can use any good-quality rose syrup.
What is Falooda sev?
Falooda sev is typically a corn or sago starch noodle, similar in texture to rice noodles. Since falooda sev is the most difficult of the two to find, you can use thin rice vermicelli (noodles) in falooda instead. Feel free to hunt down falooda sev if you would like to make a more traditional version. Classic falooda sev is typically coloured with pink, yellow, or green for cute presentation.
Agar-agar for Strawberry Cheesecake Falooda
Milk jelly is a core component of falooda. As is the case in many Asian jelly desserts, agar-agar is the gelling agent of choice. This is an ingredient derived from seaweed so unlike gelatin, is suitable for vegetarians and vegans.
Buy agar agar in either a solid form or powder. My recipe uses the sponge-style agar agar, but powder is much easier to work with since it dissolves fairly quickly.
How to make vegan Falooda
Despite falooda being a dairy-rich dish, it's actually a very simple one to veganise. In the case of this Strawberry Cheesecake Falooda, make these simple swaps:
Use any plant-based milk in place of the milk in the jelly and milkshake
Replace the mascarpone in the shake with a scoop of vegan strawberry or vanilla ice cream
Use vegan strawberry ice cream in place of dairy ice cream for the topping
Ensure the biscuits you use are suitable for vegans. Oreos work really well!
My life-long love of Falooda
We're all big kids just waiting to be fed at heart, aren't we? When I think of Falooda I think of my dad and the big smile that emerges on his face whenever he rumbles the fact there's something sweet on the menu. We're two peas in a pod.
When I was little, he used to take the whole family to a favourite restaurant in either Leicester or Bradford on a Sunday afternoon and we'd have the most memorable family meals. Mum would order something classy and simple, Dad would get the thali and my brother and I would squabble over whether they put coriander in the daal or not.
Regardless of what we were arguing about, Dad would always diffuse the situation by asking me the golden question: "Falooda?".
And that was all it took. I'd be content without coriander in the daal and no samosa starter because I knew I was getting to drink what is practically a dessert with my main meal. Happy days.
Meet the Stawberry Cheesecake Falooda – a hybrid between two separate ends of the world. A bit like me, I suppose.
Imagine this; all the gorgeousness of classic Falooda with the fruitiness of strawberries to compliment the delicate rose flavour, a hint of malt from the biscuits, the creaminess of Italian mascarpone and some strawberry ice cream to top it all off.
This one's all for you, Papa.Feasts. Don't tell Mum.
Strawberry Cheesecake Falooda recipe
Ingredients
For the milk jelly:
440

ml

whole milk

cold

5

g

agar agar

powder, strands or sponge style are all fine to use

40

g

sugar

1

tsp

vanilla extract
For the Strawberry Cheesecake Falooda milk:
600

ml

whole milk

cold

75

ml

rose syrup

60

g

mascarpone cheese

or any cream cheese

10

large strawberries

hulled
To build the Strawberry Cheesecake Falooda:
4

ginger nut biscuits

crushed (or biscuits of your choice)

15

g

takmaria (sweet basil seeds)

100

ml

water

40

g

rice vermicelli

50

ml

rose syrup

8

scoops strawberry ice cream

or strawberry cheesecake ice cream

4

strawberries to garnish

Extra rose syrup to decorate the glass
Instructions
To make the milk jelly:
Soak the agar agar in half of the cold milk (220ml) for 20 minutes. Heat the remaining 220ml milk in a saucepan and bring to the boil. Add the soaked agar agar and stir continuously until the agar agar dissolves.

440 ml whole milk,

5 g agar agar

Add the vanilla extract and sugar. Simmer over a low heat, stirring all the time for 10 minutes. If using the sponge variety of agar agar, you may need to give it a quick blitz with an immersion blender to ensure the milk jelly mixture is completely smooth.

1 tsp vanilla extract,

40 g sugar

Working quickly, pour the hot milk jelly mixture into a 15cm (6-inch) steel thali or metal tin (do not grease it). Allow to come to room temperature and then refrigerate for 30 minutes, or until set. Cut the set milk jelly into diamonds or squares.
To prepare the basil seeds (takmaria):
Place the basil seeds in a small bowl and pour over 100ml cold water. Set aside.

15 g takmaria (sweet basil seeds),

100 ml water
To prepare the rice vermicelli:
Place the rice vermicelli in a large bowl and add enough boiling water to cover. Allow to stand for 20 minutes and then drain. Add 50ml rose syrup and stir with a fork to combine. Set aside.

40 g rice vermicelli,

50 ml rose syrup
To make the Strawberry Cheesecake Falooda milk:
Pour the milk into a blender jug. Add the mascarpone, rose syrup and strawberries. Blend until completely smooth. Chill for at least 30 minutes.

600 ml whole milk,

75 ml rose syrup,

60 g mascarpone cheese,

10 large strawberries
To build the falooda:
Take four large sundae or milkshake glasses. Carefully pour some of the rose syrup down the sides of the glasses (inside). Divide the following between the four glasses: Takmaria (soaked basil seeds), rice vermicelli, milk jelly pieces, and strawberry and rose milk. Leave a small gap at the top.

Add two scoops of strawberry ice cream to each glass. Decorate with more rose syrup, crushed biscuits, a strawberry and edible rose petal (optional). Serve immediately.
Sanjana's Notes
Build the Strawberry Cheesecake Falooda right before you'd like to serve them.
You can keep all the main components ready in the fridge ahead of time.
How to make vegan Falooda
Use any plant-based milk in place of the milk in the jelly and milkshake
Replace the mascarpone in the shake with a scoop of vegan strawberry or vanilla ice cream
Use vegan strawberry ice cream in place of dairy ice cream for the topping
Ensure the biscuits you use are suitable for vegans. Oreos work really well!
Pin this recipe for later! Strawberry Cheesecake Falooda
If you like this, you'll love my recipe for Indian-Inspired Rocky Road
Love Sanjana