I first fell in love with the spongy, cloud-like morsels that are Taiwanese folded buns when I sampled them from popular London street vendors, Yum Bun (introduced to me by my friend Cheaper by the Oven). After hearing all the Momofuku hype, these little burger-like buns had finally reached the streets of Britain. My first folded bun was filled with juicy Portabello mushrooms and crunchy, miso-glazed walnuts and they stirred one question in me. Gua Bao, where have you been all my life?!
Re-creating the buns at home has been my mission for the last few months and putting an Indo-vegetarian twist on them was essential. Can you guess what's coming? I couldn't imagine anything but replacing the traditional pork belly filling with meaty slices of spicy paneer.
My paneer slices are first marinated in a sticky-sweet soy and 5 spice sauce, then grilled until golden. Stuff the slices into homemade Taiwanese buns, along with wafer-thin cucumber, shredded spring onions, roasted peanuts and a squirt of Sriracha, a fiery Asian chilli sauce.
If paneer doesn't float your boat, you could also follow in the inspiring footsteps of food blogger and cookbook author, Andrea Nguyen and stuff them with fried tofu.
Funnily enough, many recipes for Gua Bao call for readymade folded buns (fresh or thawed from frozen), but I had trouble finding them in my local Chinese supermarket. Luckily, I don't give up that easily and hunted down a great family recipe from a friend. If you're vegetarian and do manage to find readymade buns, double check the ingredients because some may contain lard.
These buns are not to be compared to any old sandwich or burger – they take fast food to the next level. McDonald's, you're missing a trick.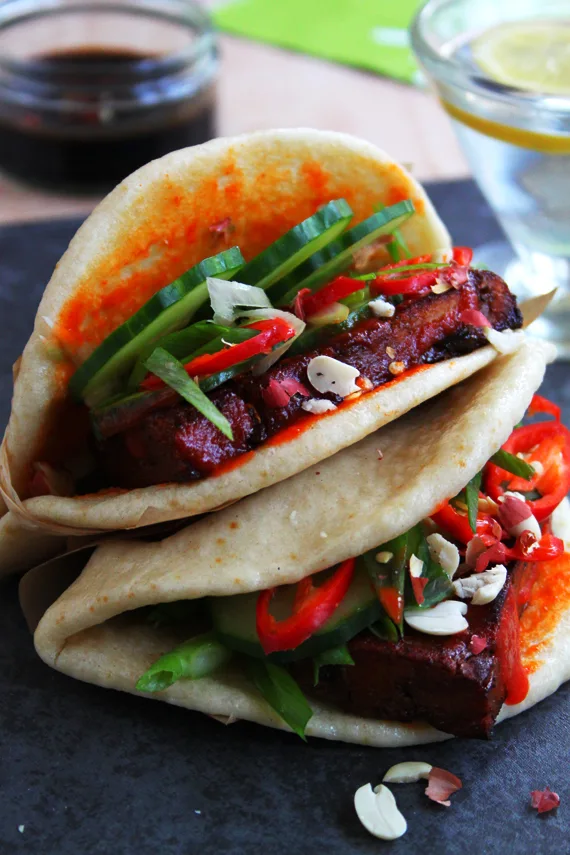 Paneer Gua Bao – Taiwanese Folded Buns
Makes 8 buns, serves 4
Ingredients
For the buns:
180ml water
285g plain flour, plus more for rolling
7g dried fast-action yeast
2 tbsp sugar
½ tsp salt
1 tsp baking powder
Sunflower oil, for brushing
For the filling:
320g paneer, sliced into 'steaks', about 5cm x 3cm
60ml dark soy sauce
130ml water
65g dark brown sugar
1 tsp ground Chinese 5 spice
To serve:
Cucumber, sliced thinly
Spring onions, sliced thinly
Red chillies, sliced (optional)
Handful roasted peanuts, crushed roughly
Sriracha chilli sauce
Method
1. First make the bun dough. Mix the flour, sugar, yeast and salt in a large bowl. Bring the water to hand hot temperature (not too hot as this will kill the yeast) and add to the flour. Bring together with a spoon, then your hands. Knead on a floured surface for around 5 minutes until smooth, soft and elastic. Place the dough in a large oiled bowl and cover loosely with cling film. Allow to rise in a warm place for about two hours.
2. Next, make the marinade for the paneer. In a small saucepan, bring the soy sauce, water, brown sugar and 5 spice to the boil and allow to reduce by half – between 5-8 minutes.
3. Place the paneer steaks in a shallow dish and cover with the hot marinade. Allow to sit until you've finished making the buns.
4. Once the dough for the buns has risen, knock all the air out and knead in the baking powder. Divide the dough into 8 equal portions and cover 7 with cling film whilst you roll out the first bun.
5. Dust a floured surface with flour and roll the first ball of dough into an oval, about 10cm x 6cm. Using a pastry brush, brush half with oil and fold half the dough over the other half from the shortest side to get a half-moon bun shape like in my pictures. Place on a piece of greased parchment paper and cover loosely with cling film. Repeat this for the remaining 7 pieces of dough. Allow the formed buns to rise again in a warm place for another 30 minutes.
6. Set up your steamer. I used a bamboo steamer inside a wok but if you have an electric steamer or a couple of pans with a steaming basket inside one another, use them. Place each bun dough (still on its parchment paper) inside the steamer (do not stack them). Allow to steam for 10-12 minutes. Once cooked, remove from the steamer and set aside.
7. Lift the paneer steaks from the marinade and grill until slightly crusty on the outside.
8. Brush the inside of the buns with some remaining marinade or Sriracha, stuff with a slice of paneer, cucumber, spring onions, chillies, roasted peanuts and a squirt of Sriracha.
I promise you this – once you sink your teeth into one of these buns, you'll forever think about them every time you crave a burger or sandwich. Enjoy.