Let's make Indian Cauliflower Tacos. I love sitting at the table and enjoying a meal that was created for sharing.
Whether it's a one-pot Indian curry or daal, a hearty salad with warm bread, or these cauliflower tacos.
How to serve Indian Cauliflower Tacos
With all of the fillings served at the table, this vegan dinner is perfect for assembling as you eat. That way, you can add more or less of whatever you like.
The only problem you might have is fitting it all into the one tortilla. I've made that mistake way more than I care to remember – especially when there's avocado and coriander sauce involved.
Can I use cauliflower and broccoli?
The batter for the cauliflower is puffy, light and packed with spices reminiscent of bhajia – a super popular Indian starter.
If you like, you can use all cauliflower, or add in broccoli florets for an extra flourish of green. The choice is yours.
How to make Indian Cauliflower Tacos
Like fish tacos, the bite-sized vegetables are coated and fried until golden and crispy. It's best to do this right before serving so they're hot and delicious for your vegan tacos.
The creamy avocado sauce
Packed with lime, garlic and yoghurt, the creamy sauce is perfectly balanced to douse any heat from the fried green chillies.
It's not guacamole, but rather a smooth avocado sauce, much like a dip.
It's so tempting to eat this avocado sauce right from the blender with a spoon or maybe some tortilla chips.
The salad
A crunchy salad of radish, red onion, lime and a few spices tops these tacos off beautifully.
The contrast of the hearty fried veggies and fresh salad, lettuce, fruity pineapple chutney and crunchy toasted cashews is so dreamy. Indeed, everybody will feel like they've eaten a filling meal.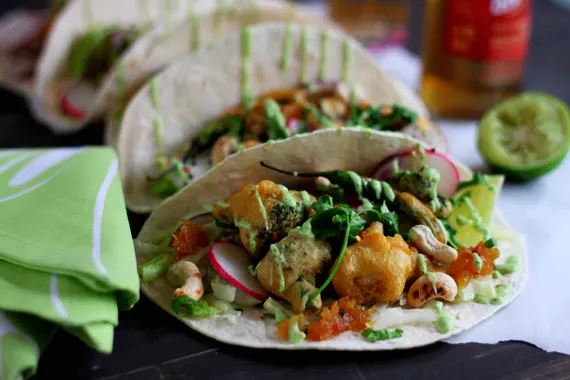 Pineapple chutney for Indian Cauliflower Tacos
The pineapple chutney is a lovely way to round off the sharp flavours in the dish. It's quick, easy and perfect not only with these tacos, but also with Paratha.
Some final notes before we get to the recipe
Don't be alarmed by the long list of ingredients here.
Most of the prep is super simple and just assembling or blending.
The only actual cooking is of the cauliflower and broccoli. The chutney can even be made up to a week in advance. Just store it in the fridge.
So this year, take some time to sit around the table with your family and friends and enjoy a meal that was made for sharing. This one certainly was.
Indian Cauliflower Tacos recipe
Yield: 4 servings
Indian Cauliflower Tacos
Additional Time:
25 minutes
Total Time:
1 hour
25 minutes
Ingredients
Ingredients:
500g mixed cauliflower and broccoli, broken into small florets
10 small green chillies, pierced (these will be fried too)
12 mini corn or wheat flour tortillas
Shredded lettuce, to serve
Toasted cashew nuts, to serve
Oil for deep frying
For the batter
100g chickpea flour
100g plain flour
2 tsp coarse semolina
½ tsp baking powder
½ tsp baking soda
1 tsp garam masala
1 tsp salt
240ml ice-cold ginger beer
For the Avocado and Coriander Sauce
2 large ripe avocados
2 tbsp non-dairy plain yoghurt or regular plain yoghurt if you're not vegan
2 tbsp chopped coriander
1 medium clove garlic
¼ tsp salt
Juice of 1 lime
For the Radish and Red Onion Salad
1 medium red onion, sliced finely
200g radishes, sliced finely
Handful chopped coriander
1 tbsp olive oil
½ tsp salt
½ tsp toasted nigella (kalonji seeds)
For the Pineapple Chutney
500g pineapple (fresh, canned or frozen)
1 large onion, chopped finely
100g sugar
Juice of 2 limes
½ tsp salt
½ tsp freshly-ground mace
1 star anise
1 tsp nigella (kalonji seeds)
Instructions
1. To make the avocado and coriander sauce, blend all the ingredients together until super-smooth and creamy. Set aside.

2. To make the pineapple chutney, coarsely-blend the pineapple. Place into a large, non-stick pan with the sugar, lime juice, salt and onion. Cook on a medium heat, stirring frequently until thick and all the water has evaporated. This can take up to 40 minutes. Finally, add the mace, kalonji and star anise. Fill into a sterilized jar and set aside.

3. To make the radish and red onion salad, toss all the ingredients together and set aside.

4. To make the fried cauliflower and broccoli, place the vegetables in a microwave-safe plate with a splash of water and cook on high power for 3 minutes. Drain and allow to cool.

5. To make the batter, mix together all the ingredients and whisk until you get a not-too-thick batter. If it's too thick, add a little more sparkling water.

6. Heat around 4 inches of oil in a tall pan or wok. Let it reach 180 degrees C. Place all of the vegetables and the chillies in the batter and mix until coated. One by one, tap off any excess batter and carefully drop into the hot oil. Fry the vegetables in small batches until they're golden. Drain on a paper towel-lined plate and set aside.

7. Warm up your tortillas, pile all of the fillings into bowls and plates and serve everything separate at the table for everyone to build their own tacos.
7. Warm up your tortillas, pile all of the fillings into bowls and plates and serve everything separate at the table for everyone to build their own tacos.
Love Sanjana