My name is Sanjana and I'm a caramelholic.
Rich, luxurious caramel with a pinch of sea salt reminds me of the gooey-centered masterpieces I overindulged on in my favourite Parisian chocolateries some years ago. These days, whenever I hear the words 'salted caramel', my ears prick up like a meerkat on predator watch. And because it's become so popular, this happens often.
In this recipe, I've paired salted caramel with toasted sesame seeds, dark chocolate and a touch of coconut oil. Trust me when I say this flavour combo will take you straight to heaven.
Nutty sesame seeds are ground and added into the biscuit base before being topped with a ridiculously-generous amount of salted caramel blended with coconut oil. The caramel is then set and crowned with sesame oil-spiked dark chocolate.
Be sure to line your tin with plenty of greaseproof paper and groundnut oil to make sure they don't stick. Try to chill overnight and cut with a super-sharp and hot knife.
The deep, nutty flavours make these bars the perfect after-dinner treat with a shot of espresso. Just be sure to cut them into small cubes. I love them as an afternoon pick-me-up with a glass of cold milk.
If you love the combination of peanut butter and chocolate, you need to try the marriage that is sesame and chocolate. Forget Reese's Cups and plain old Millionaire's Shortbread. These will blow your mind.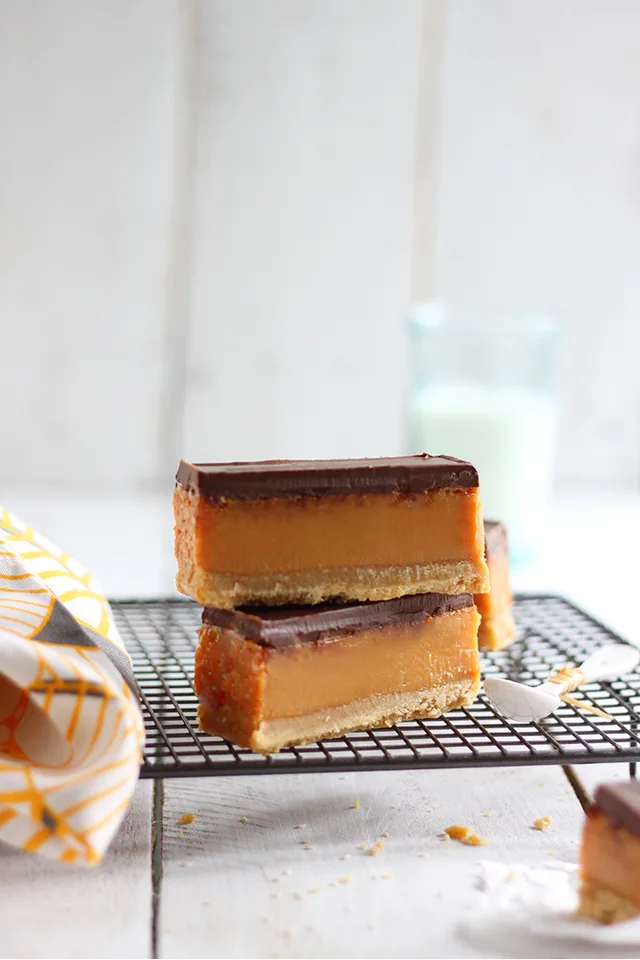 Salted Sesame Caramel Bars
Serves 16
Adapted from Donna Hay
Ingredients
For the biscuit base:
200g plain flour
30g toasted sesame seeds, ground
150g unsalted butter
100g light brown sugar
For the caramel filling:
2x 397g tins sweetened condensed milk
130g golden syrup
125g coconut oil
1 tsp sea salt
For the chocolate layer:
200g dark chocolate
1 tbsp toasted sesame oil
Toasted sesame seeds, to sprinkle (optional)
Method
1. Combine the flour, ground sesame seeds, brown sugar and melted butter. Press into a greased and lined 6-inch by 9inch tin. Bake in a preheated oven at 180C for 20 minutes.
2. While the biscuit base cooks, make the caramel. Combine the condensed milk, golden syrup and coconut oil. Cook until very lightly-golden and slightly thickened. Add the sea salt and set aside.
3. Remove the biscuit base from the oven and pour over the caramel. Allow to set at room temperature until cool. Place in the fridge for 2 hours or until the caramel has set.
4. Melt the chocolate over a double boiler and stir in the toasted sesame oil. Allow to cool slightly and pour over the set caramel. You can sprinkle over some toasted sesame seeds if you like but I love a smooth, shiny top. Return to the fridge to set for 4 hours or overnight.
5. Slice into bars or pieces as large as you can handle. The recipe makes approx. 16 squares.
Store in an airtight container in the fridge for up to 7 days… if they last that long.
Love Sanjana