One of the many great pleasures in the kitchen comes from not only the dishes that can be prepared in a flash, but from those that have steps, processes and a beautiful end result. From lasagne to Kashmini Dum Aloo, and layer cakes to biryani, the meals that beg for a little more love and attention than your 10-minute post-work salad are sometimes what you need to appreciate truly great food.
This pilaf is one of those recipes.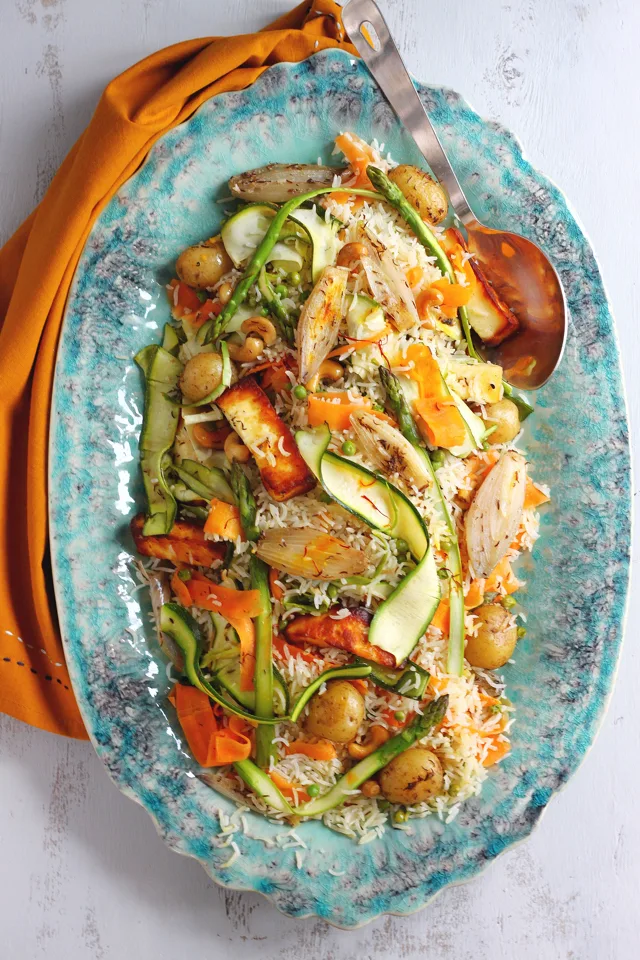 It takes 90 minutes to prepare, 35 minutes to bake and probably just 10 minutes to devour. Like any Indian rice dish, it requires a dash of spice and a whole load of TLC. The end result is a buttery platter of golden rice and crisp-tender vegetables that pair perfectly with any curry or simply with a bowl of lime and coriander yoghurt.
The idea is to partially cook each component of the dish before arranging it in a buttered roasting tin, covering with damp greaseproof paper (cartouche) and foil, and then baking until the rice is steamed to fluffy perfection. It's a foolproof way to ensure your rice is spot on every time. The best bits the golden brown edges but don't tell anyone I told you that.
I love to ribbon vegetables; whether they're for a salad, pasta or rice, they look so beautiful and are quick to cook. The ones I find work best are all used in this recipe – carrots, courgettes and asparagus. However, you can use any veggies you like. I also added baby pearl potatoes, paneer (of course, don't you know me at all?), petit pois, cashews and echalions (banana shallots). Be experimental and add whatever you fancy.
I've intentionally kept the spicing mellow in this pilaf. There's nothing worse than killing the flavour of fresh vegetables and golden rice with OTT spicing. It happens all the time in restaurants and makes me sad. When cooking rice, you've got to remember that it will take on every flavour you add and this is particularly important in things like baked rice and biryanis because of the slow cooking. It has lots of time to infuse with the spices so it's very easy to go overboard. Don't fall into this trap.
I've added black cumin and black cardamom for a smoky flavour, saffron and green cardamom. They are perfectly balanced against all the sweet, buttery vegetables.
This recipe makes enough for eight hungry people because it was simply made for sharing. The leftovers are delicious the next day and even the day after that.
Baked Buttered Vegetable Pilaf
Serves 8
Ingredients
550g golden Sela rice
500g baby pearl potatoes, parboiled
400g carrots, peeled and ribboned
150g asparagus, ribboned
450g courgette, ribboned
225g paneer, cut into rectangles and grilled
5 banana shallots, peeled and sliced in half – root trimmed but left on
100g cashew nuts
150g petits pois
Hot water to boil the rice
Salt, to taste
100g butter
2 tbsp oil
4 green cardamom pods, lightly crushed
1 black cardamom pod, whole
2 inch cinnamon stick
2 whole cloves
1 tsp black cumin
1 tbsp grated ginger
2 whole green chillies
150ml water
Large pinch saffron
Fresh coriander, to garnish
Method
1. Wash the rice and soak the rice in cold water for an hour.
2. In a large pan, melt the butter and add the oil. Add in the cardamom pods, black cardamom, cinnamon, cloves, black cumin, ginger, cashews and chillies. Saute for a few moments before adding the potatoes. Allow the sizzle on a low heat for 5 minutes.
3. Add the shallots and paneer and keep on a low heat, trying not to break the shallots. Once everything s lightly golden, season with salt, add the saffron and 150ml water, then switch off the heat and set aside.
4. Drain the soaking liquid from the rice. Bring a large pan of salted water to the boil and add the rice. Boil it until it's 50% cooked, just as you would boil pasta. Drain and set aside.
5. Grease a large roasting tray with butter and add the drained rice. Pile on the potato mixture, plus all of the ribboned vegetables and give it a very gentle mix. Try not to break up the vegetables.
6. Take a piece of greaseproof paper and scrunch it up under the tap, squeezing out any excess water. Place this directly on top of the rice and vegetables. Cover the tray with foil, leaving room for it to rise up as the rice steams.
7. Bake in a pre-heated oven t 180C for 35 minutes.
8. Remove from the oven and allow to sit, covered for 10 minutes. Remove the foil and paper and fluff up the rice with a fork. Arrange on a platter or into bowls. Garnish with fresh coriander.
Serve with your favourite curries or like I have it… with plain Greek yoghurt and nothing more.
Love Sanjana