Ever since I was a little girl I've been fascinated by meringues. There's something so magical about those white, fluffy clouds of sweet vanilla. The chewy goodness of pavlovas, with their marshmallow-like middles and cratered tops that are begging to be dolloped with whipped cream and crowned with berries.
So beautiful, yet nigh on impossible without egg whites which somehow, when whipped up, have more volume than Claudia Schiffer's barnet in a L'Oréal Elnett ad.
Well that's what I always thought… until now.
The protein in egg whites allows the air bubbles created by lots of whipping to be held. Sugar dissolves into these proteins and bonds with them. The water in sugar helps increases their strength and elasticity, allowing even more air to be trapped and held sturdy. There's nothing quite like a stiff peak.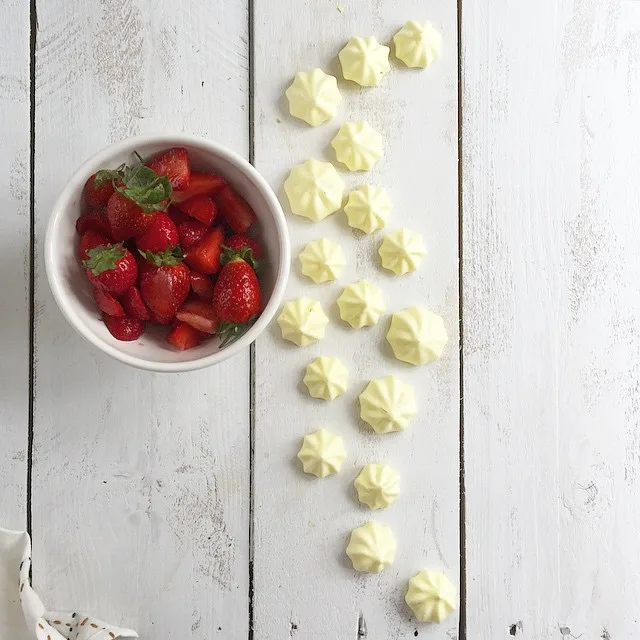 Without the strong proteins present in egg whites to kick the meringue process off, all you're left with is sugar. What can vegans and those who abstain from eating eggs use instead? Fear not, we no longer need to be oblivious to the sheer joy desserts like Eton Mess, French Macarons and Pavlova can bring.
Want to know the most frustrating thing about all of this? The answer has been staring us in the face the whole time.
The secret to replacing egg whites is chickpea water. Nope, I haven't lost the plot. It really is the water we throw down the drain when we're making our Channa Masala and Falafel. I almost slapped myself across the face when I found out. Mind. Blown.
I stumbled upon the chickpea water trick through my awesome, creative mum and later, the aquafaba website which was created off the back of a development group of very clever vegans on Facebook. It's taken the vegan world by storm. From Lemon Meringue Pie to Baked Alaska, this makes almost every meringue-based dessert possible and I can't wait to try more recipes with it. And share them with you, of course.
BTW, you can't taste chickpeas in the finished dessert AT ALL. Not one bit.
My first flavour experiments led me to create these very simple Vegan Saffron, Strawberry and Lime Meringue Nests. They're beautifully-crisp on the outside, slightly spongy and marshmallowy in the middle and they totally melt in your mouth.
The chickpea water is whipped with cream of tartar, saffron and sugar until stiff and glossy. This takes about 8 minutes in a stand mixer. So quick.
Many meringue recipes call for vinegar, lemon juice, or cream of tartar to increase the foam's acidity, which promotes the growth and stability of a meringue. You can use any of them.
These are then piped onto a baking sheet and baked in a very low oven for a few hours until they're totally dry and peel away from the paper easily. The key here is patience. Give these beauties time.
While they were baking, I macerated strawberries in lime juice, zest and a touch of icing sugar. To assemble, I filled them with whipped coconut cream and topped with the strawberries. I love strawberry mojitos and these are like a gorgeously-tall glass of iced strawberry mojito in dessert form.
You can use this recipe to make a large pavlova too – just add a teaspoon of cornflour to the meringue mixture and bake for 90 minutes longer.
Watch my YouTube tutorial for how to make these right here. Don't forget to subscribe!
Vegan Saffron, Strawberry and Lime Meringue Nests
(Makes 18 nests or one super large pavlova)
Ingredients
For the Vegan Meringue:
1 x 400g tin chickpeas in water –not brine or salted water (you can also use other white beans – butter beans also worked for me)
140g icing sugar
1 tsp cream of tartar
1 large pinch of saffron
½ tsp vanilla extract (make sure it's not oil based!)
Yellow gel food colour (optional)
For the Strawberries:
600g strawberries
1 lime, juice and zest
1 tbsp icing sugar
For the Whipped Coconut Cream:
2 x 400ml full-fat coconut milk, refrigerated overnight
2 tbsp icing sugar
Method
1. Preheat the oven to 100C. Line three large baking trays with greaseproof paper.
2. Drain the chickpeas and reserve the water. Put the chickpeas in a container and use it to make Channa Masala or Hummus later.
3. Pour the chickpea water into the bowl of an electric stand mixer fitted with the balloon whisk attachment. Make sure your bowl is really clean and grease free. Any oil could cause your meringue to deflate.
4. Whisk on a high speed for 4 minutes. Gradually add the sugar and continue to beat. During this time, add the cream of tartar, vanilla and saffron. Once your meringues have reached a really stiff glossy peak stage, add a little bit of yellow food colour if you like. Whip until evenly incorporated.
5. Fit a piping bag with a large star-tipped nozzle and spoon in your meringue. You might have to do it in batches if it doesn't fit. Shake to remove any large air pockets.
6. Pipe into nests by piping a 3-inch round spiral base, then pipe two to three circles on top of the outer edge of the base, spiraling upwards to create a 'nest effect' on the edge of the meringue.
7. Bake at 100C for 2 ½ hours, then switch the oven off and leave for a further hour. Remove from the oven and gently peel the meringues away from the greaseproof paper. They should be totally dry underneath. Remember, the larger the meringues, the longer they will take to bake.
8. Meanwhile, chop the strawberries any which way you like. Add the lime juice, zest and sugar. Mix and cover with cling film. Chill until later.
9. Open the tins of coconut milk (don't shake them first) and remove the thick cream from the top. Place it in the bowl of your stand mixer and whip along with the sugar until smooth. Reserve the water for a smoothie tomorrow morning.
10. Assemble the nests with a spoonful of coconut cream, top with strawberries and lime zest. Serve immediately.
The plain meringue nests will keep in an airtight container for 3-4 days.
Dig in.
Love Sanjana x