If you're a fan of vegetarian Indian main courses that pack enough punch to trounce any meaty curry, look no further. These gorgeous aubergines might be small but the smooth-as-velvet sauce and filling make it an unforgettable veggie curry you'll want to make over and over again.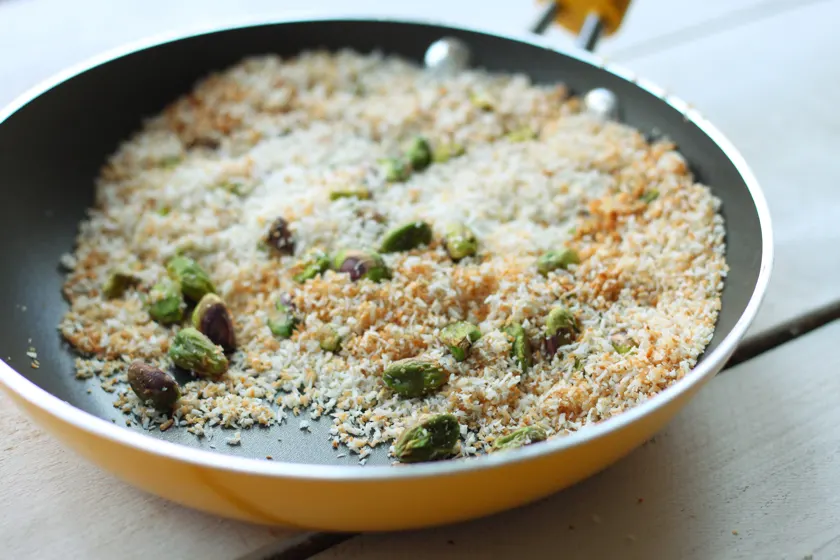 Stuffed with rich coconut, pistachios and paneer before being baked in a tomato masala containing no fewer than eleven incredible spices (important: in small amounts) to create a beautifully balanced, aromatic aubergine experience.
You've probably worked out by now that I'm a total aubergine fiend, always thinking about where my next fix is coming from. Whether it's Slow Cooker Aubergine Makhani or the love of my life, Burnt Aubergine and Spinach Curry, I'm obsessed.
Kolhapuri Vegetables and Kolhapuri Chicken are popular dishes from, you guessed it, Kolhapur, Maharashtra in India. These curries are notoriously spicy and almost always contain a killer combo of crimson Kashmiri chillies, black pepper and poppy seeds.
I've played about with the masala recipe to come up with my own blend, which I think lends the ultimate kick to vegetarian dishes. Meat eaters won't even complain. The masala recipe makes double the amount you'll need for this recipe but I like to keep some in an airtight container in the fridge for later. It's amazing sprinkled into pasta sauce, over crispy fries and in spicy soups.
If you don't have baby aubergines, you can omit the stuffing part and roast regular, cubed aubergines before adding to the sauce and simmering for 20 minutes. The sauce base is also delicious with regular white chickpeas (serve with Masala Poori), potatoes or mixed mushrooms and sweetcorn.
Be creative and play around with it until you find your favourite combinations. This one is mine.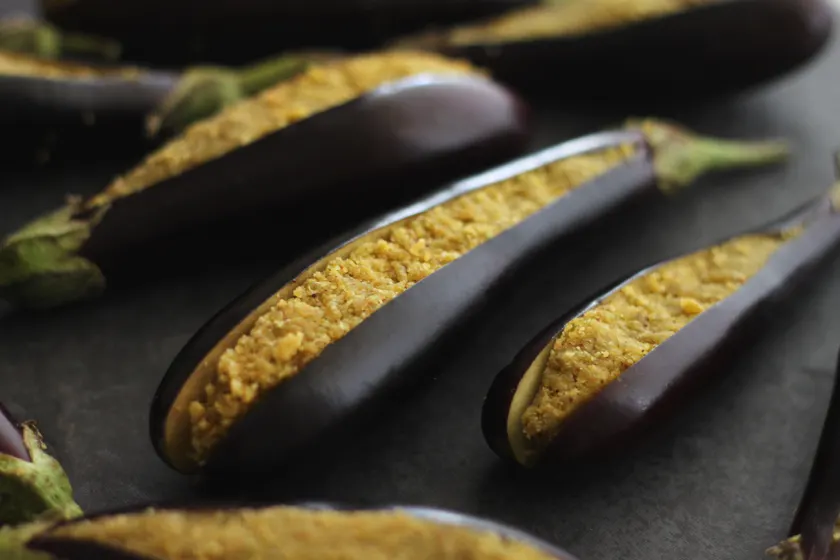 Stuffed and Baked Baby Kolhapuri Aubergines
(Serves 4-6)
Ingredients
16 long baby aubergines, washed and dried
For the Kolhapuri masala:
3 cloves garlic
2 tbsp unsweetened desiccated coconut
2 tsp red Kashmiri chilli powder
2 tbsp white poppy seeds or sesame seeds
4 curry leaves
1 tbsp fennel seeds
½ tsp nigella seeds
1 tsp black pepper
1 tbsp ground coriander seeds
2 tsp garam masala
1 tsp ground turmeric
½ tsp salt
For the Pistachio and Coconut filling:
100g unsweetened desiccated coconut
30g unsalted pistachios
100g paneer, grated (replace with an additional 70g unsweetened desiccated coconut and 30g unsalted pistachios if vegan)
1 tsp amchur (dried mango powder)
1 tsp white pepper
¼ tsp salt
For the Sauce:
2 tbsp sunflower oil
2 large onions, finely sliced
2 x 400g tins chopped tomatoes
4 tbsp Kolhapuri masala
1 tsp salt
1 tbsp brown sugar
400ml water
Fresh coriander and sliced red chillies, to garnish
Paratha and optional plain yoghurt to serve
Method
1. Begin by making the filling. Toast the pistachios and desiccated coconut in a dry non-stick pan until golden and aromatic. Transfer to a food processor and pulse to a crumb-like texture. Transfer to a bowl and add the grated paneer, amchur, white pepper and salt. Stir to combine well. Set aside.
2. To make the Kolhapuri masala, blend all of the ingredients together in a coffee grinder or food processor until fine. Set aside. This will make twice as much masala as you'll need for this recipe but I love to stash it away in the fridge in a sealed container to sprinkle over fries (guilty pleasure alert!)
3. Next, make the sauce. Heat the oil in a large non-stick pan and add the sliced onions. Allow to soften, about 8 minutes. Don't let them get too brown. Add the tomatoes, 4 tablespoons of Kolhapuri masala, water, salt and sugar. Stir and bring to a simmer. Cover and cook on a low heat for 20-30 minutes.
4. Meanwhile, slit the aubergines lengthways not slicing all the way through. Stuff each aubergine with the pistachio and coconut masala.
5. Make yourself a cup of tea and pre-heat the oven to 190C.
6. Take four cast iron skillets or any deep, large baking dish and pour in the sauce. Arrange the aubergines on top of the sauce and bake for 60 minutes until the aubgerines are tender all the way through.
7. Serve with flaky paratha, a bowl of cold natural yoghurt and nothing more.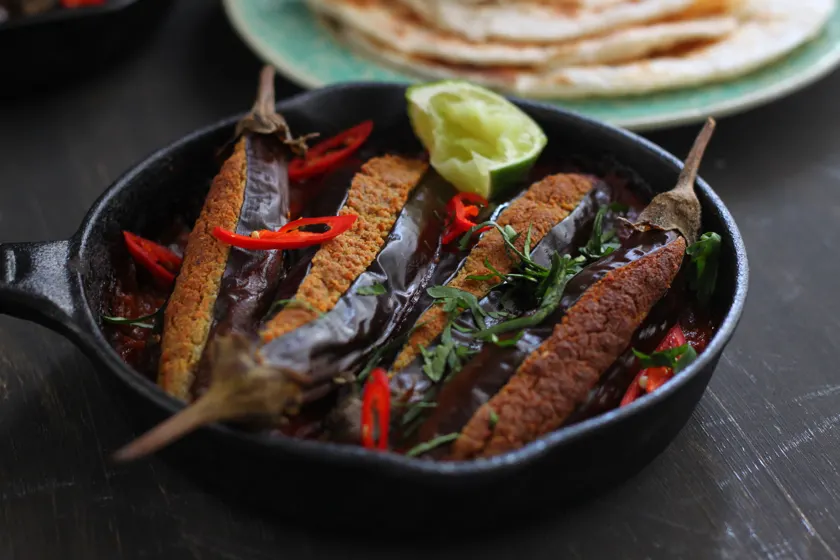 Love Sanjana