This Pull-Apart Samosa Bread has a little secret. It doesn't harbour cheese and garlic like you'd expect.
Instead, it's packed with a spicy vegetable samosa stuffing. If you're craving those ever-popular Indian snacks, but want something a little out of the box for your next party, this is the recipe for you.
Pull-Apart Samosa Bread: Made to share!
Rustle up two trays, put them into the middle of the table and watch them disappear in the blink of an eye.
You can serve them hot, as they are or with individual pots of garlic butter for each guest. Either way, I promise everyone will be smiling with a belly full of samosa goodness by the end of the evening.
Easy samosa filling recipe
I've kept the filling really simple because hey, you're making your own bread here.
The filling is packed with flavour, yet doesn't take away from the fact that the real big deal here is the soft, fluffy bread that's more of a dinner roll than it is any other kind of bread.
The addition of milk and butter ensure it's cotton-soft and the perfect, pillowy pocket for the spicy vegetable filling.
What kind of vegetables can I add to this Pull-Apart Samosa Bread?
You can add any vegetables you like here – just make sure you chop them up really finely and cook them until they're just right beforehand. This is because the filling literally takes seven minutes to cook so they won't be in the pan too long.
How to make Pull-Apart Samosa Bread
I've written a step-by-step method below but it's much easier to understand the way the bread is formed from the video.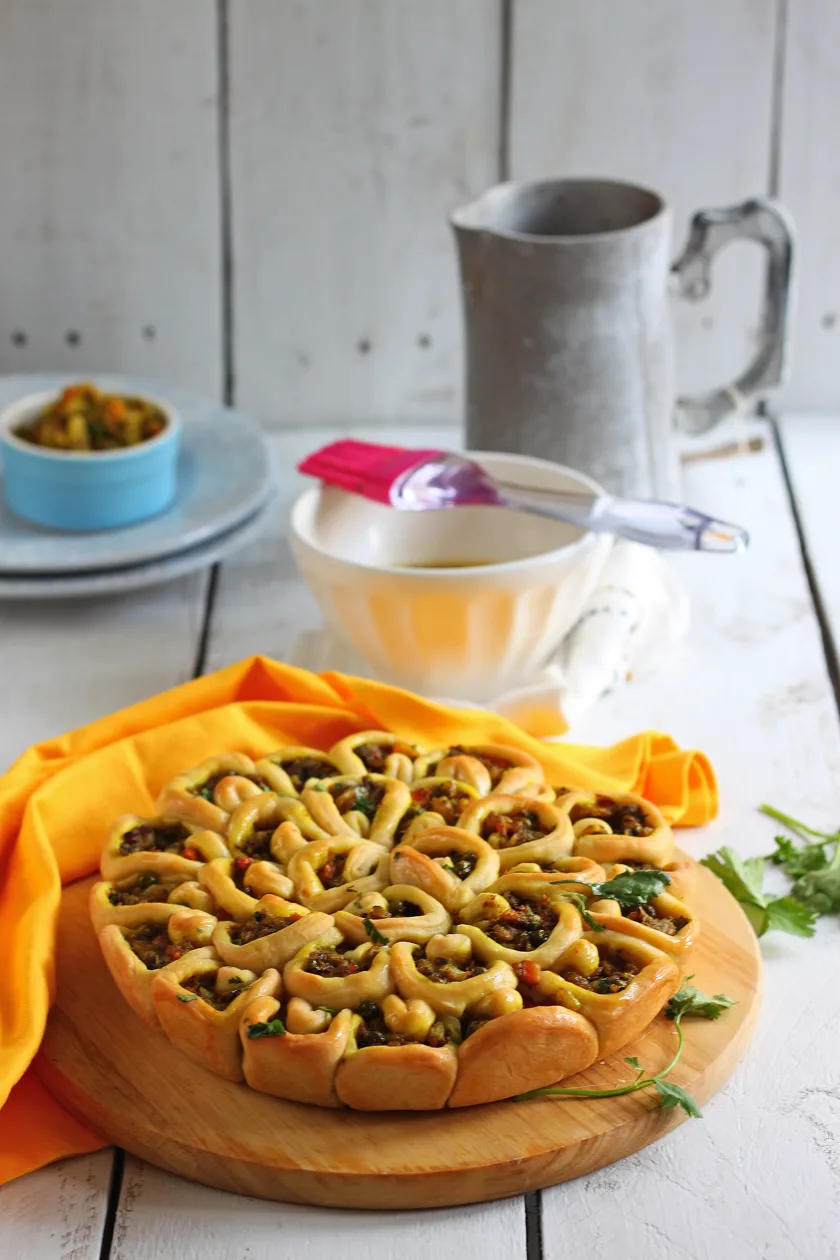 Ingredients
For the filling:
600

g

floury potatoes

peeled, diced and boiled

350

g

finely-chopped mixed vegetables

I used peas, carrots, cauliflower and broccoli

2

tbsp

sunflower oil

1

tbsp

cumin seeds

1

medium onion

chopped finely

2

large green chillies

chopped finely

1

tsp

turmeric

1 ½

tsp

salt

1

tbsp

ginger

minced (optional)

1

tbsp

garam masala

2

tbsp

lemon juice

2

tbsp

fresh coriander

chopped finely
For the dough:
600

g

strong white bread flour

14

g

fast-action dried yeast

2 sachets

3

tbsp

sugar

1 1/2

tsp

salt

100

g

butter

melted

180

ml

warm milk

130

ml

warm water

Extra butter

to brush the rolls
Instructions
To make the filling, heat the oil in a non-stick saucepan and add the cumin seeds. Allow to sizzle a little before adding in the onions. Cook for 2 minutes.

Add the chillies, turmeric, ginger (if using) and salt. Stir briefly before adding the potatoes and vegetables. Mix thoroughly.

Next, add in the lemon juice, garam masala and coriander. Stir and cook for a few moments before turning off the heat.

To make the dough, take a large bowl and mix together the butter, milk, water, salt and sugar. Stir to combine. Little by little, add the flour until you've used up half of it. At this stage the mixture will be cool enough to add the yeast. Adding the yeast any earlier might kill the yeast. You want it to be warm and cosy for the yeast to do its thing.

Finish adding all the flour and when it begins to come together, turn the dough out onto a clean surface.

Knead the dough for 10 minutes to work that gluten. It might be a bit sticky at first but keep going. If you have a stand mixer with a dough hook, you can do it in there – it'll take half the time.

Take a large, greased bowl and place the dough inside. Cover with a damp towel or cling film and allow to rise in a warm place until it has doubled in size. Luckily for me it was a really hot day so I didn't need to take a trip to the airing cupboard where my dough usually hangs out – I just left it on the counter top.

When the bread has doubled in size, knock it back and give it a knead. You'll feel all the little air bubbles popping and that's good and will ensure your bread rises evenly in the oven.

Butter two 25cm baking dishes and set it aside.

Take half the dough and roll it out on a floured work surface until it's around 2mm in thickness. Using a round cookie cutter approx. 6cm in diameter, cut rounds of the dough.

Take the cooled filling and place around a teaspoon of it into the middle of one of the dough rounds. Using your thumb, fold the middle up and bring the sides to meet in the middle, almost like you're making an open wonton or tortellini.

Place into the buttered baking dish – start with the outside edge and repeat for the rest of the discs. The amount you will need depends on the size of your dish. My recipe made two 25cm pull-apart loaves. Repeat for the remaining dough and filling.

Brush the bread with melted butter and bake in a pre-heated oven at 160C for 45 minutes.

Remove from the oven and brush with more butter before serving.
Pin it for later!
If you like this, you'll love my recipe for The Best Vegetable Samosas!
Love Sanjana