"Ping!" My ears pricked up like those of a famished fox on bin day. That was the sound of the oven telling us our quick eggless sponge cake was ready.
I was seven years old and obsessed with baking with my mum in the little kitchen above our corner shop. It was our home for the first ten years of my life and the place where I first fell in love with food and the idea of cooking.
Cakes eluded me as I never indulged in them at friends' birthday parties. Like many Gujarati Hindus, we are a family of lacto-vegetarians so don't eat eggs.
My mum never wanted us to miss out so she would test recipes for the perfect fluffy eggless sponge cakes for us at home.
A hundred iterations of cakes made with everything from condensed milk and sour cream, to custard powder and buttermilk. I'd watch intently the whole time, soaking up the baking smells and tips.
We baked them in the oven and cooked them in the microwave, in silicone liners and traditional tins. No stone was left unturned in the eggless cake department.
Of course, each experiment came with its own set of unique results; Sometimes they were good, sometimes they were a total flop. The fun part was always in the time we spent with one another rather than in getting the recipe totally right.
For a kid my age, any cake was good cake. Weighing out the ingredients, mixing the batter and sitting in front of the oven waiting for it to "ping" was just one part of the mother-daughter bonding experience.
We'd talk about all things food and she'd tell me about her childhood, learnings and lessons for life. We still do this now, almost 25 years and hundreds of cakes later.
You'll be pleased to know that after years of testing and more cake fails than I can count, we did finally nail the perfect eggless vanilla cake recipe. Here it is, in cupcake form, ready to see in my 30th birthday this month. Yep, I'm T-H-I-R-T-Y now. And a mum to the most lovely little boy. How times have changed since starting this blog as a carefree, party-loving twenty year-old student.
My eggless vanilla birthday cupcakes are light, white, fluffy and super moist with lots of vanilla flavour. I've baked sprinkles into the sponge because there's nothing more exciting than funfetti. It just screams, "Happy Birthday!" and I'd have freaked for these cakes when I was a kid.
The best thing is that the recipe uses simple, easy-to-obtain ingredients rather than commercial egg-replacers (I have tried every egg replacer under the sun and none of them produce a better cake than this recipe, regardless of how expensive they are).
You don't need a fancy mixer either. Use a bowl, a regular whisk and a spatula for the recipe for the best results.
The frosting is a simple, American-style crusting buttercream which is easy to pipe/spread and sets up beautifully. I kept it a plain ivory colour but you can colour it to your favourite shade if you like.
I recommend using gel or paste food colours such as Wilton, Sugarflair or Americolor. These will ensure the frosting doesn't become too slack which can be a problem with liquid food colours.
Watch the recipe video to see exactly how I make these at home. The recipe has been tried and tested dozens of times and I always get perfect results. You're going to love them!
Here are some of my best learnings from baking a million eggless cakes over the years for both weddings and just for the family at home. I've tried to answer as many as I can here but if you can't see the answer to a question you have, drop a comment below and I'll get back to you.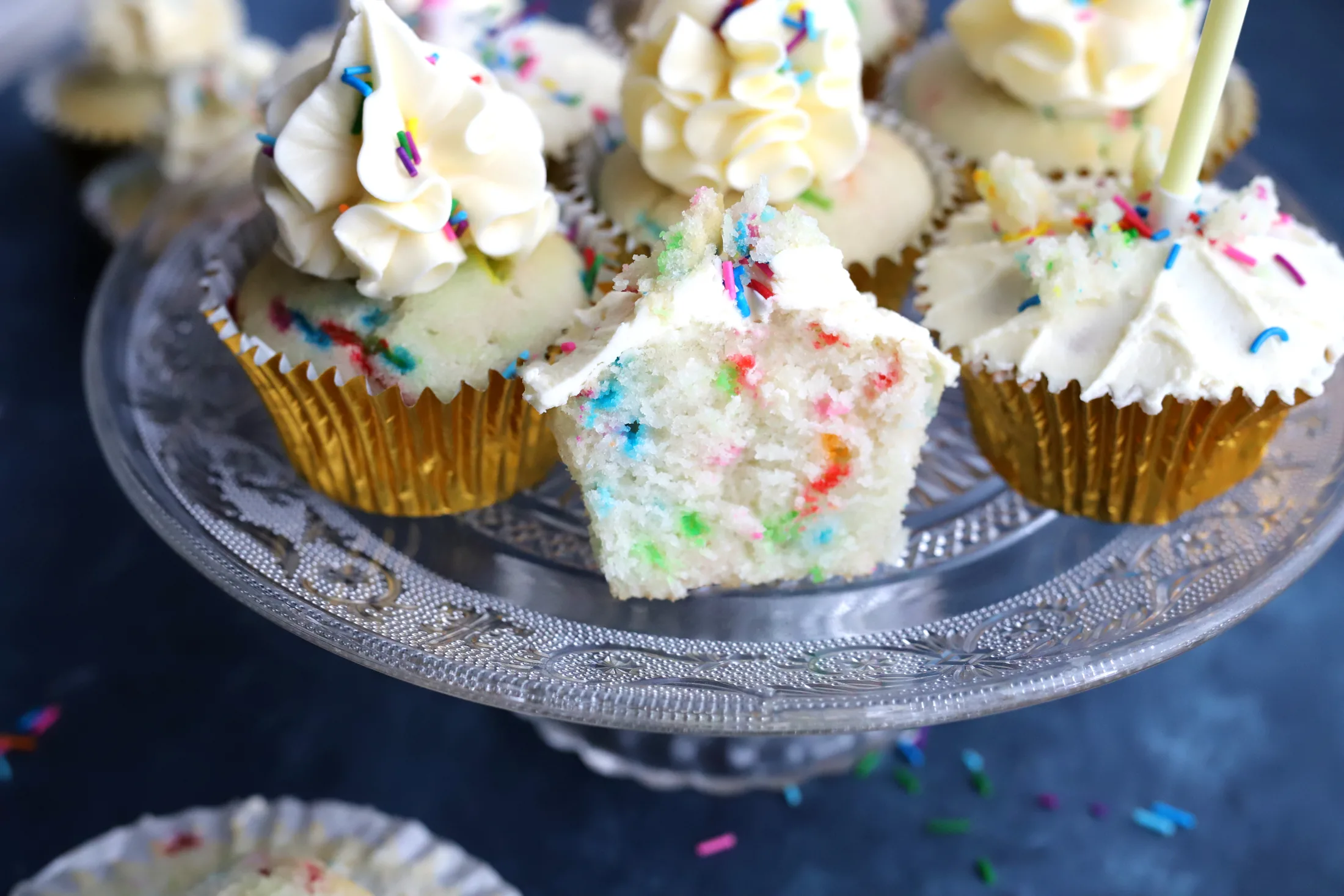 Q. Is there a single egg replacer that works for all baking recipes?
A. There's not a one-size-fits-all answer as the techniques and make-up of different bakes all require different approaches and ingredients. E.g. Mashed banana, flax eggs and applesauce are fine for eggless bakes like banana cake, dense muffins and crumb cake but they don't work so well in vanilla cakes. The eggless cake would end up tasting of those ingredients rather than having the light, white, fluffy texture we all want in a good vanilla cake. I also tend to stay away from using these in vanilla cake baking because the results can be a bit too unpredictable.
Q. Can I swap the sugar in the recipe for honey/coconut sugar/agave/sweetener? Can I reduce the amount of sugar in the recipe?
A. No. Sugar helps proteins bind and form a good structure in cakes. In the absence of eggs, sugar plays a vital role in binding proteins, forming a good crumb and holding the cake together. Using liquid-based ingredients like honey will change the texture of final cake. Coconut sugar and sweetener have a different make-up to regular sugar too and swapping them in place of sugar will also change the final result of the eggless cake.
Q. My eggless cake is tough. Where did I go wrong?
A. Overworked batter can produce a dense, tough cake. This is the case with all cakes, not just the eggless kind. If you overbeat a cake, the in the flour gluten develops to unwanted levels and this will result in tough, stodgy eggless cakes.
Q. Can I swap the white cake flour for wholemeal flour?
A. Technically yes, you could. Having said this, your eggless cake will be darker in colour and heavier than if you were to use a refined white flour. I've found that extra-fine self-raising sponge flour produces the best results by a country mile if you're looking for a fluffy, white eggless cake.
Q. Why do you use full-fat milk powder?
A. Sugar bonds with proteins to give the cake batter a strong structure. Milk powder contains protein which will bind with the sugar to give the eggless cake a strong, fine crumb, helping it rise in the oven and most importantly, hold its shape. The cornflour and raising agents also help these along.
Q. Can I veganise your eggless cake recipe?
A. Yes, you can but again, the texture and flavour of the finished cake may vary slightly. Increase the flour by 1 tbsp, switch the milk for unsweetened almond milk (at room temperature), and use 2 tbsp aquafaba (reduced from 4 tbsp and chilled) in place of milk powder. If you're making this funfetti vanilla cake recipe, please ensure your sprinkles are suitable for vegans. The butter in the frosting can be swapped with your favourite vegan spread (the soft kind in a tub, not a block). Swap the milk in the frosting for unsweetened almond milk at room temperature.
Q. My cakes are dry. Where did I go wrong?
A. They are overbaked. Ensure you're baking them for the stated time at the correct temperature. Most domestic ovens tend to be a few degrees out but an internal oven thermometer can help ensure your oven is set at the right temperature. If you don't have an internal oven thermometer you could also increase or reduce the cooking time depending on whether your cakes are overbaking or underbaking.
Q. Can I use condensed milk in place of sugar and milk in this recipe?
A. I wouldn't. I've baked so many cakes with condensed milk before and whilst they smell amazing in the oven, they are caramelising in the oven and produce dark brown crusts and sponges that are pretty unpleasant to eat. They're often dense and heavy too (fine for some cakes but not if you want fluffy white eggless cakes).
Q. Can I add cocoa powder to make this a chocolate cake?
A. The make-up of eggless vanilla cakes and eggless chocolate cakes are super different and although some ingredients may be the same, the proportions are not. I'd recommend using a chocolate cake recipe, such as this Eggless Malted Chocolate Whipped Ganache Cake if you want to make a chocolate cake. Adding cocoa powder (as it is a dry ingredient) to this recipe will change the texture and you would then have to adjust the liquid ingredients to make up for the increased quantity of dry ingredients.
Q. Why do you add oil instead of butter?
A. In eggless cakes, an oil-based batter will result in a moist, fluffy cake. I've found that using butter results in a much firmer cake with a larger crumb.
Q. Why does the milk need to be at room temperature?
A. Room temperature milk will ensure the milk and vinegar mixture curdles quickly and adequately. If you're short of time, microwave cold milk from the fridge on high power in 15 second intervals for a total of 30 seconds, stirring in between.
Q. Why add the additional baking powder if you're using self-raising flour?
A. After a lot of testing, I've found the extra leavening from the baking powder gives the eggless cakes an extra lift for a super fluffy result.
This recipe makes 12 standard-sized cupcakes or 9 if you're using muffin cases).
Ingredients
For the cupcakes:
170

g

extra-fine self-raising cake flour

150

g

caster sugar

240

ml

full-fat milk at room temperature

1

tsp

apple cider vinegar

1

tbsp

pure vanilla extract

not vanilla essence

2

tbsp

full-fat milk powder

1/4

tsp

baking powder

1

tbsp

cornflour

90

ml

sunflower oil

1/8

tsp

salt

2 1/2

tbsp

colourful sprinkles

not nonpareils
For the buttercream:
150

g

unsalted butter

at room temperature

200

g

icing sugar

1

tbsp

whole milk

at room temperature

2

tsp

vanilla extract

Pinch

of salt
Instructions
Pre-heat the oven to 170°C/340°F. Line a 12-hole cupcake tin with 12 paper cupcake cases or 9 muffin cases.

In a large bowl, whisk together the flour, baking powder, milk powder, cornflour, sugar and salt.

In a separate jug or glass, mix together the milk, vanilla extract and apple cider vinegar. Set aside for 5 minutes, undisturbed. After 5 minutes, give it a brief whisk.

Add the oil and milk mixture to the dry ingredients and gently whisk for 40-60 seconds until smooth. Don't overbeat the cake batter or you could end up with tough cakes.

At the last minute, fold in the sprinkles with a spatula. Be gentle and swift. Too much mixing will cause the colour from the sprinkles to bleed into the batter.

Pour the batter into the paper cases, about 3/4 of the way full. Bake the cupcakes for 18-20 minutes or until a skewer inserted into the middle of a cake comes out clean. They should be springy to the touch and not too brown on top.

Remove from the oven and allow to cool in the tin.

To make the frosting, beat together the butter and icing sugar until fluffy and pale, about 8 minutes. Add the vanilla extract, salt and milk. Beat for a further 5 minutes until thick, light and creamy.

Frost the cooled cupcakes however you like. I love using the Wilton 1M tip fitted in a piping bag for cute, simple ruffles and rosettes. You could also just spread the frosting on using a spatula if you like. Top with extra sprinkles (as many as you like). Candles are optional, but make any cake infinitely more fun.

If you're eating the cakes on the same day, know that frosting is the best way to preserve your cakes and keep them from going stale. If you're keeping them for the another day, store in an airtight container in the fridge for up to 3 days. Remove from the fridge an hour before serving to soften the cakes and frosting.

Alternatively, you can bake this cake in a greased and lined 15cm (6-inch) round x 7cm (3-inch) deep at 160°C/320°F for 45-50 minutes, or until a skewer inserted in to the middle of the cake comes out clean. Cool in the tin for 10 minutes and then flip it out onto a wire rack to cool before decorating.
Love Sanjana