This Tandoori Stuffed Mushroom Tikka is filled with cheesy garlic and corn stuffing. Make a delicious tandoori marinade, skewer the mushrooms and grill for a smoky finish. A stunning vegetarian appetiser.
They taste superb with salad, naan and your favourite dips and chutneys. You can also serve them as a starter, alongside Mint and Coriander Chutney. They make for a refreshing change from Paneer Tikka, Onion Bhajis and Samosas.
The ultimate vegetarian barbecue recipe
Make these bbq mushroom kebabs in summer for a unique vegetarian barbecue dish, or bake them in the oven for a meat-free meal you can enjoy all year round.
What's in the mushroom tikka stuffing?
The wholesome texture comes from juicy mushrooms, cheesy filling and flavoursome tandoori marinade. Thick yoghurt, sweetcorn, mozzarella and a few simple spices give the filling a melty centre.
This delicious Tandoori Stuffed Mushroom Tikka recipe uses no meat substitutes, tofu or other soy-based products.
The best mushrooms for mushroom tikka
Mushroom tikka is such a forgiving recipe. You can really use any stuffable mushrooms of your liking (is stuffable a word? It should be!). I find the more robust the mushroom, the better it will hold on the skewer. Button mushrooms or chestnut mushrooms are perfect for this very reason.
This being said, you can also try this recipe with Portobello mushrooms. This will mitigate the need to use any skewers; you can grill the mushrooms directly on a barbecue or in the oven.
5 Tips for Perfect Tandoori Marinade
1. For the biggest flavours, use whole spices where possible. Grind them yourself and smell the difference between this and the pre-ground spices in your cupboard.
2. The marinade should be strong because what you're putting it on is probably pretty bland. Taste it and remember to be bold with the flavours.
3. Add a little yoghurt to give the marinade body and tang. You can add a squeeze of lemon as well as yoghurt.
4. Roasted gram flour is the one. Toast up a tablespoon or so in a dry frying pan until it turns nutty and aromatic. The colour will change from pale yellow to slightly pink in under 2 minutes. Stir it all the time. Along with the yoghurt, this will really help the spices cling to your paneer/veg/other ingredients.
5. Temper! Heat 2-3 tablespoons of oil in a pan until it's smoking hot. Add it to the marinade paste and stir in for a beautifully tempered marinade that's ready to use for all kinds of protein and veg. This last step is great for if you're not adding melting ingredients like cheese to the marinade. Since the recipe below uses cheese, it's best to skip this step here.
How long should I marinate tikka for?
Marinate the protein/veg for a minimum of 30 minutes to give the ingredients time to get acquainted. If you have time, you can make and assemble the mushrooms in tandoori marinade the night before. Be sure to keep it covered in the fridge.
Special equipment for this vegetarian stuffed mushroom recipe
I have these flat metal seekhs. They ensure the mixture doesn't slide off. If using round bamboo skewers, please make sure they're quite thick. You can always make them smaller if you're having a hard time.
Always soak bamboo/wooden skewers in cold water at least 2 hours prior to using. If you don't, they will almost certainly burn in the oven or on the barbecue.
How to get a tandoori flavour without a tandoor or barbecue
Bake the marinated skewers in a very hot oven for 10-12 minutes. Turn the oven up as high as it will go. Most domestic ovens go up to around 200°C/400°F. Allow the handles of the skewers to cool slightly and then one at a time, flame-cook the tikka kebabs over the gas cooker to infuse deep, smoky flavours into the food.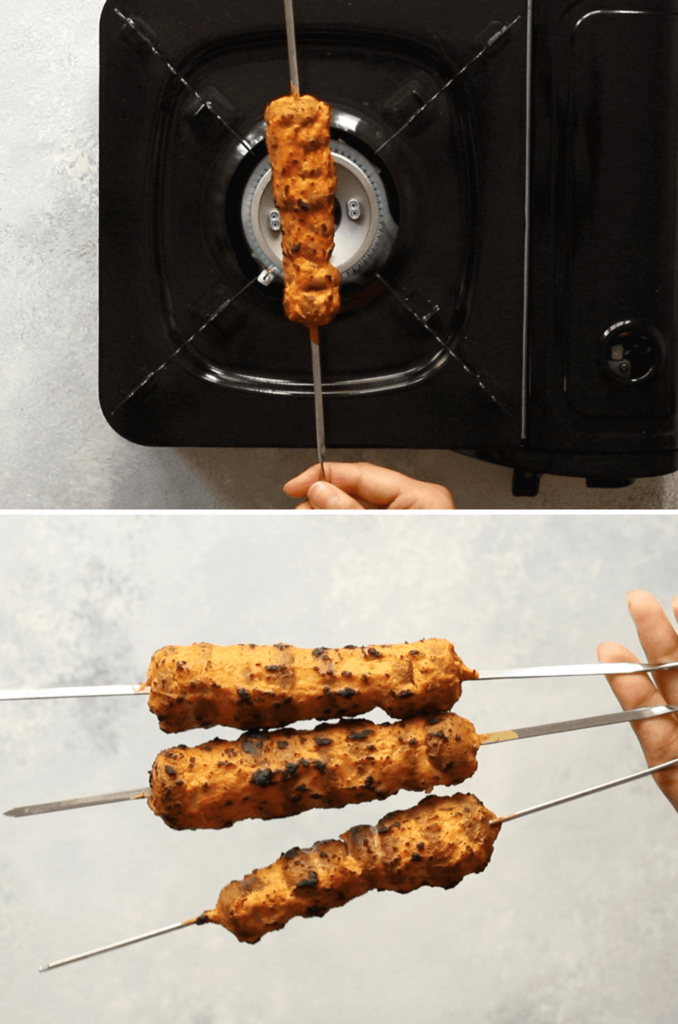 This method works for everything from traditional tikka, to seekh kebabs, naan, kulcha and more!
In this recipe, the cheese and yoghurt combo in the marinade ensures the outside becomes freckled with the familiar scorch marks you'd expect from a restaurant or street-style tandoori dish.
How to give tandoori food a red colour
Kashmiri Chilli Powder is your friend. It has a mild heat and beautiful red colour. Most restaurants and street vendors add red food colour to their marinade for the iconic and eye-popping crimson colour. I'm not opposed to food colours in cooking but I just don't find it necessary in this dish.
If you can't get hold of it, use equal parts paprika and regular chilli powder in its place. I often use tomato paste for colour and tang which isn't traditional but works a treat.
Can I make this Tandoori Stuffed Mushroom Tikka ahead of time?
Yes! Assemble all the components ahead of time to make things easier. You can keep the uncooked, marinated skewers covered in the fridge for up to 2 days.
Is this Tandoori Stuffed Mushroom Tikka vegan?
The recipe below is not vegan. It includes both yoghurt and cheese, both of which you can easily substitute with vegan alternatives. Try to find a thick vegan yoghurt and a dairy-free mozzarella-style cheese blend that melts well.
Is this mushroom tikka recipe gluten free?
Yes, this recipe is free from wheat/gluten if you serve it with gluten-free bread or wraps. The skewers themselves are also a great vegetarian keto recipe.
How to serve mushroom tikka
Serve it up with a pool of coriander and mint chutney (recipe linked below), fresh salad and lemon wedges. You can also toss in raw red onion slices and serve with butter naan or garlic naan for a North Indian-style feast.
Subscribe to my YouTube channel!
Tandoori Stuffed Mushroom Tikka Recipe | Video
Equipment
8 metal skewers or bamboo skewers soaked in cold water for 1 hour prior to using
Ingredients
1.5

kg

large button mushrooms

wiped clean

2

L

water

1/2

tsp

salt

1/2

tsp

turmeric
For the cheesy garlic and corn stuffing:
50

g

thick plain yoghurt

(hung yoghurt, Greek yoghurt or labneh work well)

100

g

cooked sweetcorn

very finely chopped

100

g

low-moisture mozzarella

grated

1

small

green chilli

very finely chopped

1/4

tsp

kasoori methi

rubbed between palms until fine

1/4

tsp

black salt
For the tandoori marinade:
100

g

thick plain yoghurt

(hung yoghurt, Greek yoghurt or labneh work well)

2

tbsp

chickpea flour

(gram/flour besan) dry toasted in a pan until it takes on a nutty aroma and colour

2

tsp

Kashmiri chilli powder

1

tsp

ground cumin seeds

1/2

tsp

ground turmeric

1

tsp

garam masala

1/2

tsp

kasoori methi

rubbed between palms until fine

2

tsp

grated ginger

1/4

tsp

salt

1

tbsp

chopped coriander leaves

2

tbsp

lemon juice

50

g

low-moisture mozzarella

grated
For the garlic butter:
50

g

butter

3

large

cloves garlic

crushed
To serve:
Naan or pita

1

tbsp

chopped mint leaves

1

red onion

finely sliced into rings

Green chillies

optional

Your favourite chutney

I've included a link to mine below
Instructions
To prepare the mushrooms:
Carefully remove the stems from the button mushrooms, taking care not to break the mushroom caps. Set the stems aside for use in another recipe.

Bring a large pan of water to the boil, then add salt and turmeric. Place the mushrooms in the pan and bring the the boil. Cover and simmer for 5 minutes.

Drain the mushrooms and put them in a tray lined with kitchen towel. Take another sheet of kitchen towel and gently press the mushrooms to remove excess moisture. Take care not to press them too hard or they will break. Set aside while you make the stuffing and marinade.
To make the cheesy garlic and corn stuffing:
Place the thick yoghurt in to a bowl. Add the mozzarella, finely chopped sweetcorn, chopped chilli, kasoori methi and black salt. Mix well to form a thick paste.
To make the tandoori marinade:
Place the thick plain yoghurt in to a bowl. Add the roasted chickpea flour, chilli powder, ground cumin seeds, turmeric, garam masala, kasoori methi, ginger, salt, coriander leaves, lemon juice and grated mozzarella. Stir well.
To assemble to stuffed mushroom tikka:
Pair up the mushrooms, matching them by size as much as you can. If you've ever made macarons or sandwich cookies, this is a similar process to matching shells or biscuits by size.

Use your fingers or a teaspoon to stuff all the mushrooms with the cheese and sweetcorn mixture.

Sandwich the mushrooms together, pressing very gently so the cheese filling doesn't squeeze out.

Skewer the mushrooms onto the kebab sticks (soaked if using wooden skewers). I do around 4 mushroom 'sandwiches' per kebab but you can add as many as you like.

Rub or brush the tandoori marinade all over the skewered mushroom tikka.

Rest the skewers over a baking tray, using the exposed part at the top of the skewer to sit on the edge of the baking tray. This will allow air to circulate around the kebabs so they cook evenly and don't get stuck to the tray. Allow to marinate (covered) for a minimum of 30 minutes or up to 48 hours.

Bake the skewers in a preheated oven at 200°C/400°F for 15 minutes. Baste with more marinade at the 7 minute mark so the mushrooms don't dry out.

Optional: Rotate the kebabs over an open flame to char the outside for a delicious smokey flavour and colour. This makes ALL the difference. You can also grill these mushrooms on the barbecue. This gives them a lovely flavour. Turn them often and baste with marinade as required.
To make the garlic butter:
In a small pan, mix together the melted butter and garlic. Cook for 2 minutes and them remove from the heat.
To serve:
Serve the mushroom tikka kebabs with chopped mint, onion rings, naan or pita and your favourite chutneys. They're also delicious with salads.
Sanjana's Notes
BBQ
You can grill the mushroom tikka on a barbecue. This gives them a lovely flavour. Turn them often and baste with marinade as required. They will take around 10-12 minutes to cook through.
Make ahead
Assemble all the components ahead of time to make things easier. You can keep the uncooked, marinated skewers covered in the fridge for up to 2 days.
Pin this recipe for later!
If you like this, you'll love my recipe for Tandoori Paneer Tikka
More of my favourite Indian vegetarian barbecue recipes
Spicy Bean Tawa Burgers
Achingly good double bean masala and cheese inside a squishy sesame bun. Toast the burger in melted butter and paprika atop an iron tawa for street food vibes. Use any beans you like!
Check out this recipe
The Meatless Seekh Kebab
The ultimate vegan seekh kebab recipe using green bananas and chickpeas. Make them in the oven or cook over a barbecue for smoky, tandoori flavours. Serve with salad, naan and your favourite chutneys and dips.
Check out this recipe
Tandoori Hasselback Potatoes
These beautiful Tandoori Hasselback Potatoes are super simple to prepare and taste amazing too. With hedgehog-like slits all across the surface, the skin becomes ultra-crispy and the inside remains soft and fluffy.
Check out this recipe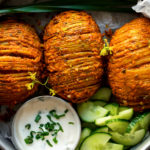 Achaari Mushroom Kebabs
Juicy king oyster mushrooms make for a robust vegan meal when paired with salad and naan. These slices of king oyster are first marinated in spicy achaar masala and then grilled until almost meaty in texture. Serve in grilled naan with a pickled chilli salad and vegan mint mayo for desi kebab shop vibes.
Check out this recipe
Easy Mint & Coriander Chutney
Smooth and creamy Indian street-style chutney for drizzling over chaats, spreading in sandwiches and dipping bhajiyas. My recipe is super aromatic and medium hot in flavour. You can add as many chillies as you like. If you prefer a milder chutney, feel free to stir in some natural yoghurt or dairy-free yoghurt.
Check out this recipe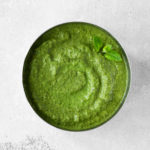 Love Sanjana