Vegan Achaari Mushroom Kebabs are loaded with grilled mushrooms, a pickled chilli salad and vegan mint mayo for desi kebab shop vibes.
Juicy king oyster mushrooms make for a robust vegan meal with salad and naan. Marinate king oyster mushroom slices in spicy achaar masala marinade and then grill until almost meaty in texture.
How to serve Achaari Mushroom Kebabs
Serve in these delicious mushroom "steaks" in soft and fluffy grilled naan, along with salad and my trusty vegan mint mayo. It's such a fresh, flavoursome and satisfying meal.
How to make a vegan kebab
I thought long and hard about what a dream vegan kebab might look like. I'm a huge fan of vegan "meat" replacements. I have dabbled in a few vegan kebab experiments with some lovely results. Seitan, tofu, tempeh and pea protein all work wonderfully if you want to give them a try.
Having said this, I also appreciate that many people don't want to try and replicate the texture and flavour of meat in their cooking. Cue the Achaari Mushroom Kebab!
What is Achaar masala?
Achaar masala or Achar masala is a blend of spices used for pickling and preserving in Indian cusine. Lots of people make it at home in line with their family's taste. It usually contains a blend of the following spices, ground to a powder:
Chilli powder
Fenugreek seeds
Split mustard seeds
Fennel seeds
Black peppercorns
Salt
Oil
In this recipe, I opt for shop-bought Achaar masala for a speedy kebab recipe you can throw together at the end of a busy day.
Can I use any other mushrooms for these Achaari Mushroom Kebabs?
Certainly! Any large, meaty mushrooms will work well in this recipe. Portobello, large chestnut and oyster mushrooms are all perfect. If you can only get your hands on small button mushrooms, you can marinate them whole and cook as directed.
Can I cook the mushrooms any other way?
Sure, feel free to grill, barbecue or oven-cook the mushrooms according to the equipment you have at home. This is a very forgiving recipe!
Products I used for this recipe
This post contains Amazon Affiliate links. These are all products I have purchased of my own accord and ones that I use myself. None of the products mentioned have been gifted to me. By using an affiliate link, I receive a small commission at no expense to you. This commission helps to support this blog. Thanks in advance if you choose to make a purchase through these links!
Achaari Mushroom Kebabs recipe
Ingredients
For the mushrooms:
200

g

king oyster mushrooms

or any large mushrooms of your choice

100

g

plain vegan yoghurt

1

tbsp

achaar masala

(I use the Jalpur branded one)

1

tbsp

chickpea flour

(toasted in a dry pan until nutty and aromatic, about 1 minute)

2

cloves

garlic

1/2

tsp

turmeric

1/2

tsp

ground coriander seeds

1/4

tsp

garam masala

1

tsp

salt

3

tbsp

oil
For the vegan mint mayo:
3

tbsp

your favourite vegan mayo

1

clove garlic, crushed

2

tbsp

water

2

tsp

lemon juice

1/2

tsp

dried mint

1

tsp

sugar

1/8

tsp

salt
To serve:
Flat-leaf parsley and mint

Mixed salad of your choice

(I used shredded cabbage, onions, carrots, cucumbers and pickled chillies)

Naan, roti, pitta or other flatbread of your choice

(homemade or shop bought)

Chilli sauce
Instructions
To prepare the mushrooms:
Give your king oyster mushrooms a good wipe with a dry kitchen towel.

Slice the mushrooms lengthways, about 1-1.5cm thick. I got 4 slices out of each mushroom but this will depend on the size of your mushrooms.
To make the marinade:
Whisk together the yoghurt, achaar masala, toasted chickpea flour, garlic, ground turmeric, ground coriander seeds, garam masala and salt.

In a small saucepan, heat up the oil so that it's smoking hot.

Carefully pour the hot oil into the whisked yoghurt and spice mixture. This will temper the spices and bring out all their beautiful colours.
To marinate the mushrooms:
Spread the yoghurt marinade out on to a roasting tin or a large plate. Place the mushroom slices on top to coat one side. Turn them over to coat the other side, making sure they're well covered. Use a pastry brush if you need to. Cover and allow to marinate for 30 minutes or up to 24 hours in the fridge.
To cook the mushrooms:
Heat a griddle pan or frying pan over a medium heat. Place the marinated mushroom slices in the pan and cook for 2-3 minutes per side, until chargrilled and cooked through.
To build the kebab:
Take your favourite naan or flatbread of choice (I used soft, homemade naan). Brush some chilli sauce over the naan and then top with cabbage, onions, carrots and cucumbers.

Place the grilled king oyster mushrooms on top and garnish with fresh parsley and mint, pickled chillies and the chilled vegan mint mayo. Serve immediately.
To make the vegan mint mayo:
Mix together all the ingredients, cover and refrigerate until needed.
Sanjana's Notes
You can make the marinade up to 24 hours in advance. Ensure they're tightly covered and kept in the fridge until needed.
For a smoky flavour, try cooking the king oyster mushrooms on the barbecue.
You can make this with any large, "meaty" mushrooms, such as Portobello, large chestnut or oyster mushrooms. Try a mix of mushrooms for an extra-special touch.
Pin this recipe for later!
If you like this, you'll love my recipe for Meatless Seekh Kebabs
Other feasts I think you'll like
Crispy Popcorn Bhindi Bites
Crispy, spiced nuggets of okra served with a hot and spicy vegan mayo. Put the natural stickiness of okra to work by creating a "glue" for crunchy panko breadcrumbs and coconut. Fry or bake for a delicious, golden snack. Once you start, you won't be able to stop eating. Dip them in my Atomic Red Chilli Mayo for addictive heat!
Chilli-Garlic & Lime Mogo
What I love about mogo is its earthy flavour, which truly comes to life when it's gently steamed or boiled. It's so distinct, you'd know within a split second that someone is making 'bafelo mogo' (steamed cassava). It reminds me of the beautiful Mombasa sunshine. This chilli, garlic and lime version is a favourite in our British-Indian-East African home. Follow my tips for perfectly-crispy mogo chips without having to deep fry anything.
Check out this recipe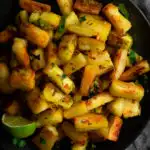 Mango, Lime & Coconut Chutney
A sweet and mild chutney packed with fruity flavours. This quick and easy mango-based chutney is made creamy with coconut milk and packs a zing with fresh lime zest.
Check out this recipe
Love Sanjana