In this collection of 10 Beautiful Indian Desserts for Celebrations, you'll discover milk sweets, gulab jamun, kheer, rasmalai and more. Incredible Indian recipes that were made for sharing. Make them for festivals, special occasions and more.
Each one is hand-picked to please a crowd. Try one for Diwali, Ramadan, Rakshabandhan or for parties. Some of these Indian desserts are even perfect for gifting to friends and family.
Pack them up in beautiful mithai boxes, add a ribbon and offer during celebrations. I promise everyone will love them.
India's most famous desserts
Ranging from Mishti Doi in the East, Payasam in the South, Shrikhand in the West and Phirni in the North, Indian desserts are as eclectic as the culture itself. Every community has preferences when it comes to the sweet stuff.
Depending on regional and seasonal availability, different fruits can be incorporated into Indian desserts.
Now there's an incredible wave of fusion desserts making their way into the Indian dessert world. Innovation and open-mindedness pave a new way for sweet treats we never expected to grace our palates. It's a beautiful thing to see and something I like to dabble in myself now and again.
While the world of Indian desserts is as rich and varied as the dishes themselves, there are some ingredients that play major roles: Milk, ghee, nuts, sugar, spices, rice, wheat and lentils are all common ingredients in Indian sweet recipes.
My love for Indian desserts
Diwali was always a special time in our home. It would warrant us going to Indian sweet shops to stock up on boxes of brightly-coloured treasures to share with family and friends.
My dad's heart is as big as my appetite so he always made sure we bought one of everything. There'd be rows and rows of burfi, penda, mohanthal, halwa, laddoo, gulab jambu, kaju katli, pista rolls, kulfi, soan papdi and jalebi, in every colour under the sun. It was an Aladdin's cave of milk-based sweets, topped with gold and silver leaf.
What can I say, I'm the granddaughter of a mithaiwala!
1. Gulab Jamun Cake
Eggless Gulab Jamun Cake
This simple, yet beautiful cake sees the queen of Indian sweets transformed into an easy-to-make dessert. Rose, cardamom and saffron give the syrup-glazed sponge its iconic "gulab jamun" flavour. Serve it with ice cream for a truly royal pudding, or enjoy a piece with masala chai.
Check out this recipe
2. Vanilla Rasmalai
Vanilla Rasmalai
Soft, spongy cheese dumplings soaked in sweet vanilla, cardamom and saffron milk. Inspired by the classic Bengali dessert, this version is served chilled and the flavours are reminiscent of the Indian ice cream, kulfi.
Check out this recipe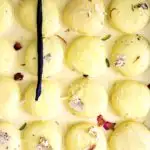 3. Sweet Boondi
How to Make Boondi
This traditional Indian sweet is always popular around festival time. The juicy bubbles of chickpea flour are flavoured with delicate saffron and ground green cardamom. Serve it warm as it is or form into Laddoos.
Check out this recipe
4. Indian-Inspired Rocky Road
Indian-Inspired Rocky Road
Truffle-like chocolate studded with pistachios, almonds, dried mango, crystallised ginger, Turkish delight, mini marshmallows and spiced shortbread biscuits. Dried rose petals top the Rocky Road off beautifully.
Check out this recipe
5. Mohanthal and Dhilo Mohanthal
Mohanthal and Dhilo Mohanthal
Buttery, melt-in-the-mouth fudge made with chickpea flour, cardamom, saffron and mace. Mohanthal is such a delicious Indian sweet (mithai). Enjoy it as a square or as a hot-fudge like pudding with vanilla ice cream.
Check out this recipe
6. Pistachio Burfi
Pistachio Burfi
An easy recipe for melt-in-the-mouth Indian milk fudge (burfi) made with REAL PISTACHIO. Perfect for gifting. Your family and friends will love it!
Check out this recipe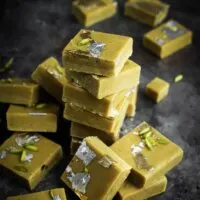 7. Eggless Double Coconut, Lime & Cardamom Cheesecake
Double Coconut, Lime & Cardamom Cheesecake
This is an eggless baked cheesecake and the filling is made with a combination of ricotta, cream cheese and lime. It's gloriously decadent with a hint of sharpness to cut through the richness of the coconutty cream. The edges of the cheesecake caramelise beautifully and the centre rises and falls just a little for a melt-in-the-mouth dessert.
Check out this recipe
8. Creamy Kesar Shrikhand
Creamy Kesar Shrikhand
Creamy Kesar Shrikhand is one of the most simple Indian desserts. Hung yoghurt whipped with sugar, cardamom and saffron. Serve it chilled as it is, or as part of a celebratory thali.
9. White Chocolate & Raspberry Kheer
White Chocolate & Raspberry Kheer
White Chocolate & Raspberry Kheer is an Indian-style rice pudding supercharged with spices, juicy berries and luxurious chocolate shavings.
Pin this recipe collection for later! 10 Beautiful Indian Desserts for Celebrations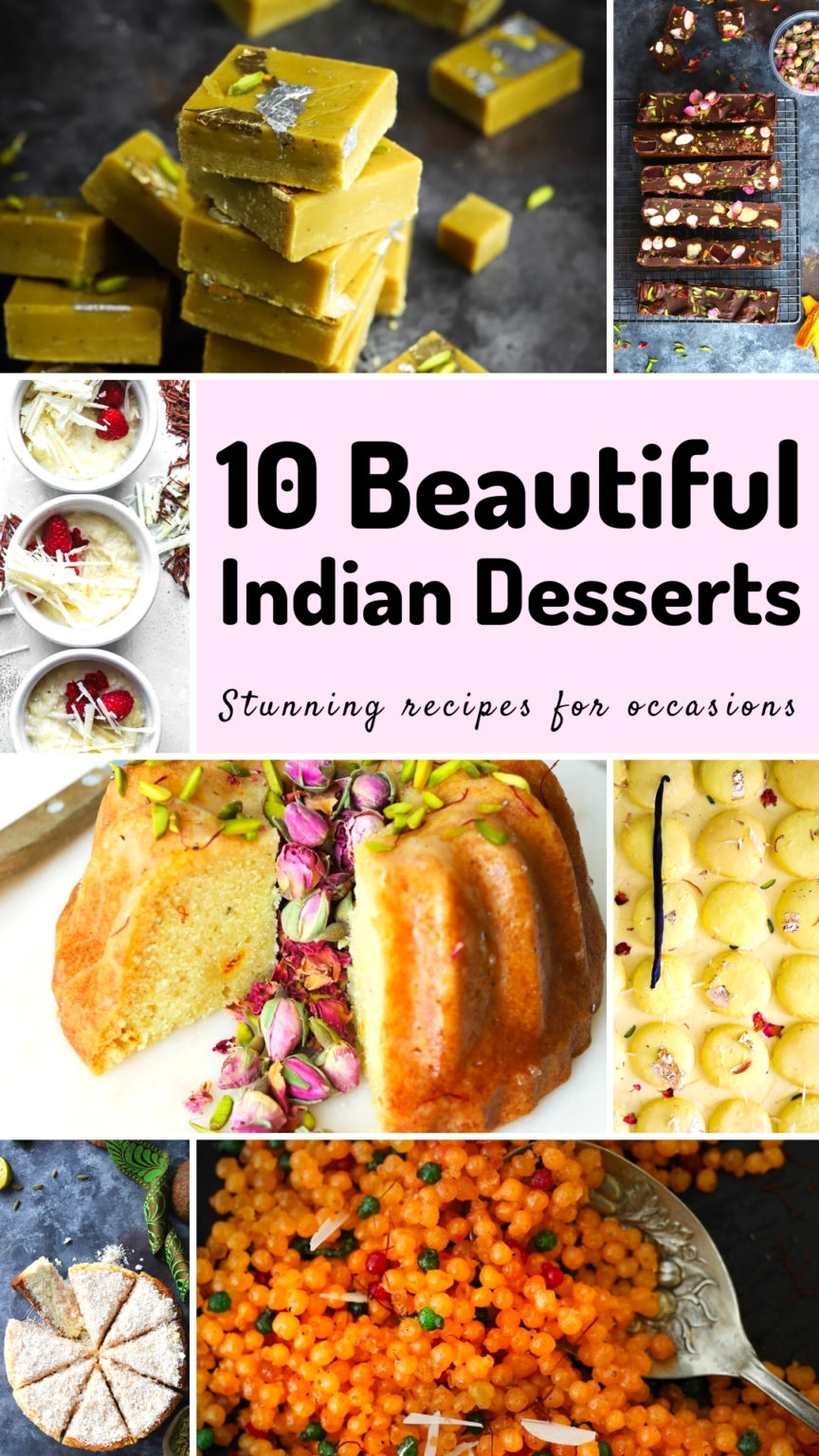 If you like these recipes, you'll love this Cookie Dough Chocolate Burfi
Or maybe these cheeky Rum-Soaked Kala Jamuns
Love Sanjana