July 16, 2020
Chilli-Garlic & Lime Mogo
This Chilli-Garlic & Lime Mogo is a delicious starter prepared with fresh cassava and lots of aromatic flavours. It's vegetarian, gluten free, nut free and soy free. Only 10 ingredients, too!
Mogo (or muhogo as it's called in Swahili) is a staple carb in Africa, as well as in parts of South America where it is known as yuca. Countless Indian restaurants all over the UK serve it up in various delicious ways.
Popular Mogo Dishes
Chilli Mogo (Indo-Chinese style)
Tandoori mogo
Grilled mogo with chilli powder, lemon juice and salt (Mombasa Lighthouse style)
Mogo Bhajiya
Mogo Crisps (salted or with chilli and lemon)
Pili-Pili Mogo
This Chilli-Garlic & Lime Mogo is my simple favourite
What I love about mogo is its earthy flavour, which truly comes to life when you steam or boil it. The aroma is so distinct, you'd know within a split second that someone is making bafelo mogo (steamed cassava in the Gujarati language). It reminds me both of the beautiful Mombasa sunshine and of eating as a family.
This chilli, garlic and lime version of mogo is a favourite in our British-Indian-East African home. Follow my tips for perfectly-crispy mogo chips without having to deep fry anything.
How to make crispy mogo: full video
One of the most common questions around cooking mogo is how to achieve a crispy surface on the outside and perfect, fluffy middles. I have a few tricks up my sleeve for crispy mogo and they're incredibly simple to do.
How to prepare mogo (cassava)
First, look for mogo with a firm surface and shiny skin. They shouldn't be soft to the touch. Peel the skin off using a vegetable peeler and chop them as the recipe directs.
Remove any tough fibres you come across. These are easier to spot once the mogo has been cooked so look though the pieces both before and after you cook them.
How to cook mogo (cassava)
Steam the mogo to cook them in gentle moisture. Many people like to boil or pressure cook their mogo, which is fine if you have lots of experience and know exactly how long to cook them for.
However, I find steaming is the best way to cook the mogo as it allows you to retain full control over the texture. To test it, you simply need to lift the lid on the pan and insert a knife into the chips. If it pierces through without resistance, the mogo is ready.
Indeed, when you pressure cook or boil the mogo, it's much easier to accidentally overcook it. Nobody likes mushy mogo.
How to make mogo from frozen
Follow the steps in my recipe exactly. The process is almost exactly the same as how you prepare fresh mogo, except the time it takes to cook is likely to be longer, since the frozen mogo is very cold. Typically, add 10 minutes onto the cook time but check it at the 25 minute mark to be sure.
Do I have to steam the mogo first?
Yes. You can steam, boil or pressure cook the mogo. My preferred method is to steam it. When you steam, the cassava lets less water in and is less likely to overcook or turn mushy. Having said this, many people do prefer to boil or pressure cook. Use whichever method you're comfortable with.
How long to cook mogo?
The mogo will take around 20 minutes to cook with a boil method.
Mogo chips will cook in the pressure cooker in around 10 minutes.
If you choose to steam the mogo, it will take approximately 20 minutes to cook through.
How to test if mogo is cooked
Does a sharp knife slide in to the thickest part of the chip without resistance? If it does, you're good to go. If it doesn't, cook the mogo chips a little longer. Of course, you could always just taste one to check!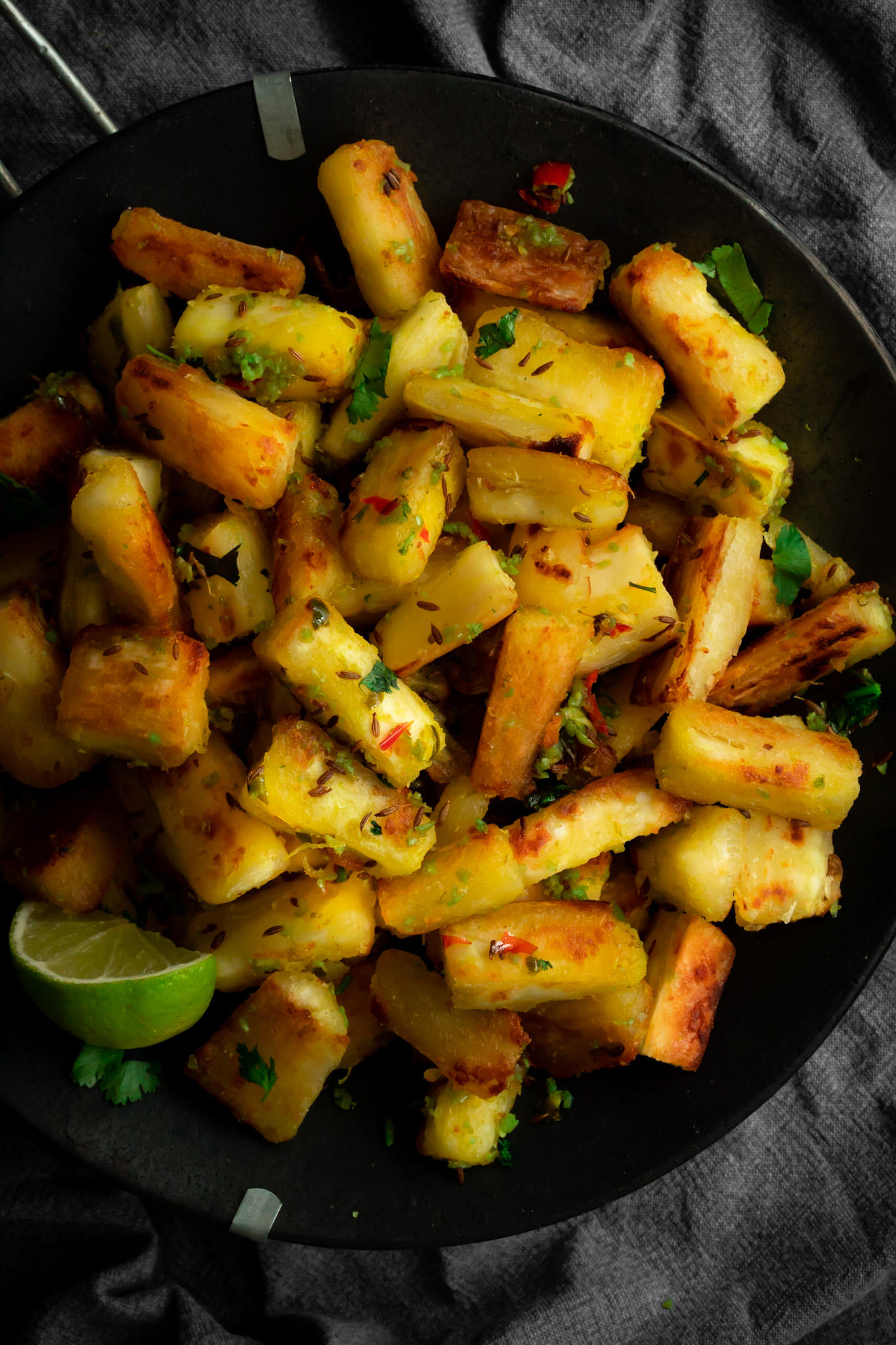 Steaming basket or collapsible steamer

Large pan with tight-fitting lid

Sauté pan or frying pan
Peel the cassava using a vegetable peeler. Chop it into bite-sized chips, about 4cm long and 2cm wide. Remove any tough fibres from inside as and when when you come across them.

Fill a large pan with around 4cm water and bring to a boil. Place a steaming basket inside the pan and add the chopped mogo chips. Cover with a tight-fitting lid and cook over a medium-high heat for around 18-20 minutes, or until the mogo chips are tender. A knife should go through the chips with no resistance.

Remove the mogo chips from the steaming basket. Allow them to cool for 10 minutes or so. At this point, you'll notice more thick, string fibres and stalks that are attached to the mogo chips. Remove these as they are very unpleasant to eat.

Once all the tough fibres have been removed and while the mogo chips are still very warm, toss them vigorously in a colander, bowl or steaming basket. This will knock the mogo chips about and rough up the surface – it's what will make the mogo chips crispy without having to deep fry them.

Heat the oil and half of the butter in a large pan. Add the roughed up mogo chips and allow to sit, undisturbed for 2-3 minutes. This will help crispy up the bottom. With the help of a spatula, toss to coat every piece in the hot fat. Cook over a high heat until the mogo chips are golden and crispy all over.

Push the mogo chips to the side of the pan so that there's a well in the centre. Add the remaining melted butter, along with the cumin seeds, garlic, chilli, turmeric, salt, lime zest, and lime juice. Turn the heat down and mix the aromatics together, keeping them in the centre of the pan, about 1-2 minutes until the garlic cooks out a little.

Toss the mogo with the aromatics and allow to cook over a medium-low heat for 1-2 minutes.

Garnish with fresh coriander leaves and serve hot, with extra lime wedges.
Pin it for later!
If you like this, you'll love my recipe for Chilli Paneer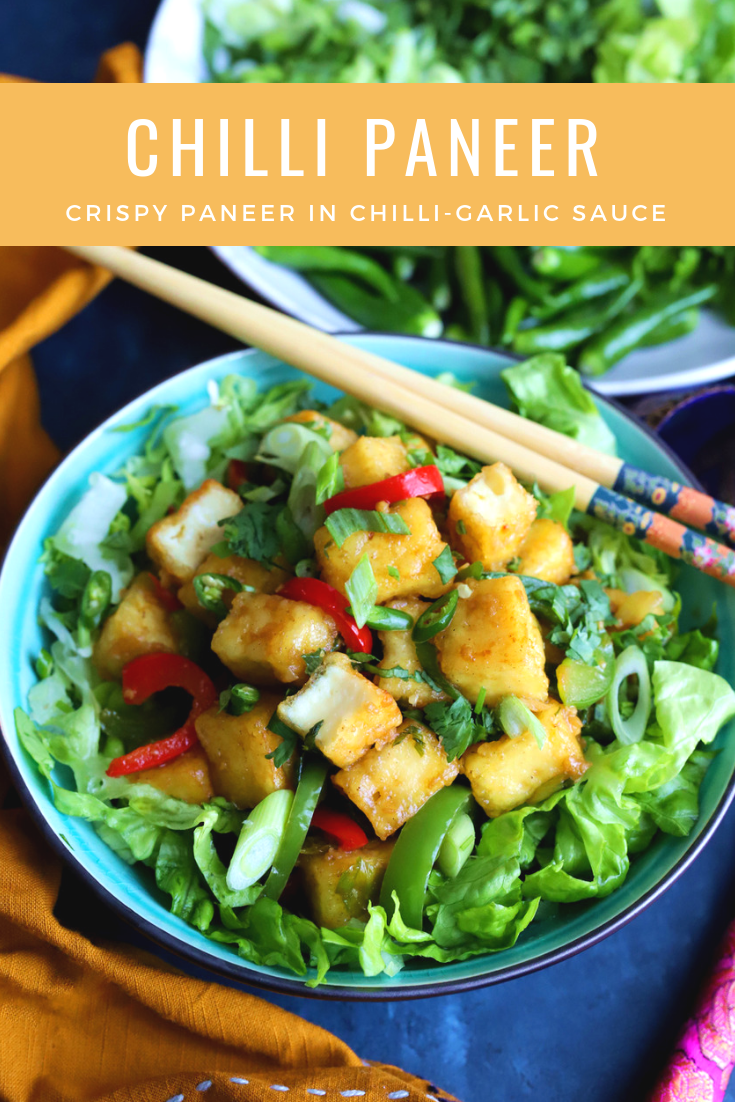 Did you make this?
Follow me on social media to tell me how you liked this recipe + get extra recipes!
#SanjanaFeasts