Make a vegan version of the great British Bake, Angel Cakes.
These light, layered sponge bars are flavoured with almond and taste just like the original. Nostalgia in three bites!
It's my birthday this week and I've been thinking back to all the fabulous British bakes I grew up with.
Jam tarts, fondant fancies, cherry bakewells, battenberg, Victoria sponge, fairy cakes, rock cakes, scones, Chelsea buns and of course, Angel Cakes.
What are Angel Cakes?
Not to be mistaken for the similar sounding American bake called Angel Food Cake, Angel Cakes are a British style of cake that's perfect for an afternoon tea spread.
Having said this, Angel Cake Slices like these were a lunchbox favourite throughout my childhood.
Angel Cakes can be in loaf or bar shapes and consist of two or three colours (usually pink, yellow and white).
The pastel shades are a beautiful contrast and remind me of old sweet shops.
Each layer usually has a scant amount of icing between in order to sandwich the cakes together without them coming away from one another.
The top can be left plain but a thin smear of water icing is always welcome.
It's just the right amount of sweetness and perfect for people who don't like their cakes to have a lot of icing. Once the water icing dries and sets, the cakes are ready to eat.
How to serve Vegan Angel Cakes
A cup of tea or coffee are essential for grown ups and for kids, a glass of cold milk. Almond milk and oat milk are both delicious vegan options.
My son loves Angel Cakes with a glass of almond milk blended with a few fresh strawberries.
This style of Angel Cake is actually a Desi favourite, available in so many bakeries and food shops. They're sometimes eggless but almost never never vegan.
Historically, the concept of afternoon tea is probably one of Britain's greatest exports to the Indian subcontinent.
It can take on many forms, from the classic decked-out cake stand and fabulously gaudy tea sets, to a steel thali of bhajiya and chutney and a glass of masala chai.
In my home, it's always been a combination of the two, and then some.
Mr Kipling Jam Tarts, custard creams and angel cakes juxtaposed with crispy Punjabi samosas, crispy potato bhajia, Gujarati muthiya and Kenya chevdo. Masala chai or masala coffee to drink. And that's the beauty of cultural (and culinary) fluidity.
We are forging new paths from the complex webs our ancestors spun for us.
How to make Vegan Angel Cakes
You'll never be able to tell these Angel Cakes are vegan. The sponge is so tender, moist and perfectly airy.
In the absence of eggs and dairy, I use a combination of oil, cornflour (cornstarch), almond milk, apple cider vinegar and just the right amount of sugar to ensure the cake has adequate structure.
As is customary, the almond flavour comes from a good quality almond extract. I like this brand.
The thin layer of icing in between the layers is a blend of vegan butter, icing sugar and vanilla.
The result is spectacular and tastes just like the bakery-style Angel Cakes of my childhood!
My top 5 nostalgic British bakes
The world of British cakes and bakes is a treasure trove of goodies. From biscuits and pastries, to sponges and proper puddings, the choices are seemingly endless.
I adore them all, especially these Angel Cakes and the similar marzipan-wrapped cake, Battenberg, but these are a handful of my favourites.
1. Jam Roly Poly
The classic British steamed pudding I loved so much at school. Serve with custard for a warm, nostalgic dessert you'll crave often. The pastry for Jam Roly Poly calls for suet as the main fat. The texture is wax pellet-like and soft when pressed between the fingers. Buy it from the supermarket and store in a cool, dry place. I like this brand of vegetable suet.
Try my recipe for Vegan Jam Roly Poly.
2. Viennese Whirls
A firm favourite of mine. Despite the name, Viennese Whirls are very much a British invention, said to be inspired by the famous pastries of Vienna, Austria. Two extremely soft and beautifully piped, buttery biscuits sandwiched together with butter icing and jam. They remind me of eating scones with cream and jam.
Try my recipes for Ginger and Marmalade Viennese Whirls and Lime and Dark Chocolate Viennese Whirls.
3. Bakewell Tarts
Another bake that celebrates the sweet aroma of the almond, often their ultimate partner in crime, the cherry, but not always. A shortcrust tart shell filled with jam (cherry, raspberry, etc), frangipane and flaked almonds. They're similar to Cherry Bakewells, which consist of the same, but also include a soft fondant icing topping and one glacé cherry.
4. Mince Pies
An essential Christmas item, even if you're not too keen on them. Expect them to pop up in shops as early as September. I buy and eat them during Christmas week only, any other time just feels wrong! Shortcrust pastry filled with a mixture of dried fruits and spices called "mincemeat". Traditionally, mincemeat was made with actual minced meat, but not anymore.
5. Jaffa Cakes
Are they cakes or are they biscuits? It's a popular tea break topic for discussion which nobody can ever come to an agreement on! A layer of cakey biscuit topped with a round of orange jelly and chocolate.
Step-by-step video: Making Vegan Angel Cakes
Recipe FAQ: Common questions about baking vegan cakes
Is there a single egg replacer that works for all vegan baking recipes?
There's not a one-size-fits-all answer as the techniques and make-up of different bakes all require different approaches and ingredients. E.g. Mashed banana, flax eggs, chia eggs, psyllium husk and applesauce are fine for vegan bakes like banana cake, dense muffins and crumb cake but they don't work so well in light vanilla cakes. The vegan cake would end up tasting of those ingredients rather than having the light, white, fluffy texture we all want in a good vanilla cake. I also tend to stay away from using these in vanilla cake baking because the results can be a bit too unpredictable.
Can I swap the sugar in the recipe for honey/coconut sugar/agave/sweetener? Can I reduce the amount of sugar in the recipe?
No. Sugar helps proteins bind and form a good structure in cakes. In the absence of eggs, sugar plays a vital role in binding proteins, forming a good crumb and holding the cake together. Using liquid-based ingredients like honey will change the texture of final cake. Coconut sugar and sweetener have a different make-up to regular sugar too and swapping them in place of sugar will also change the final result of the vegan cake.
My eggless cake is tough. Where did I go wrong?
Overworked batter can produce a dense, tough cake. This is the case with all cakes, not just the vegan kind. If you overbeat cake batter, the in the flour gluten develops to unwanted levels and this will result in tough, stodgy vegan cakes.
Can I swap the white cake flour for wholemeal flour?
Technically yes, you could. Having said this, your vegan cake will be darker in colour and heavier than if you were to use a refined white flour. I've found that extra-fine self-raising sponge flour produces the best results by a country mile if you're looking for a fluffy vegan cake.
My cakes are dry. Where did I go wrong?
They are overbaked. Ensure you're baking it for the stated time at the correct temperature. Most domestic ovens tend to be a few degrees out but an internal oven thermometer can help ensure your oven is set at the right temperature. If you don't have an internal oven thermometer you could also increase or reduce the cooking time depending on whether your cake is over baking or under baking
Will this recipe work with dairy milk and real butter for the buttercream?
Yes, simply replace the vegan ingredients with dairy counterparts. I still recommend using oil instead of butter in the sponge instead of butter.
Vegan Angel Cakes recipe
Yield: 20 slices
Vegan Angel Cakes
Make a vegan version of the great British Bake, Angel Cakes. These light, layered sponge bars are flavoured with almond and taste just like the original. Nostalgia in three bites!
Total Time:
1 hour
10 minutes
Ingredients
For the sponge layers:
280 g self-raising flour
30 g cornflour (cornstarch)
3/4 tsp baking powder
180 g caster sugar
1/4 tsp salt
330 ml almond milk, room temperature
2 tsp apple cider vinegar or any white vinegar
1 tsp pure almond extract
70 ml vegetable or sunflower oil, (or any liquid flavourless oil - do not use coconut oil)
Pink gel food colour
Yellow gel food colour
For the buttercream icing:
30 g vegan butter, very soft
2 tbsp icing sugar
1/4 tsp vanilla extract
For the water icing:
75 g icing sugar
A few drops of water as necessary, (about 1 1/2 tsp)
Pink food colour, optional
Instructions
To make the sponge layers:
Pre-heat the oven to 175°C/350°F. Line two 20 x 3.5 x 31.5cm cake tins or traybake tins with baking parchment, leaving a 3cm overhang at the longest sides for easy removal later.
In a large bowl, sift together the flour, caster sugar, cornflour and salt.
In a jug, whisk together the milk and apple cider vinegar. Set aside for 10 minutes. Once the mixture has curdled a little, add the almond extract and oil. Whisk well.
Pour the wet ingredients into the sifted dry ingredients and whisk until smooth, about 90 seconds. It should be of a flowing, ribbon consistency. Divide the mixture between two bowls.
To each batter, add food colour, a little at a time until you achieve pale pastel colours. Try not to stir the batters too vigorously.
Pour the coloured batters into the two separate tins. Spread them out using a spatula. Rasp the tins on the counter top a dozen times to encourage any air bubbles to rise to the surface. This will give you a more even bake. Bake in the preheated oven for 15 minutes. They should be springy to the touch and slightly golden on top.
Remove the sponges from the oven and allow them to cool completely in the tins.
To make the buttercream:
In a small bowl, whip the softened butter until pale and creamy. Add the icing sugar and continue to whip until light. Set aside.
To make the water icing:
In a small bowl, mix together the icing sugar and then add water, a drop at a time until a smooth, thick but slightly flowy consistency is achieved. Refer to the video for what to look for.
OPTIONAL: At this stage, you can transfer a small amount of the icing to a little bowl and colour it with pink food colour. This can be put in a piping bag with a very narrow tip to stripe on top for decoration.
To assemble the cake:
Run a sharp knife around the edge of the tins to loosen and then invert onto two boards. Carefully peel the baking parchment off the pink sponge.
Spread a thin layer of the buttercream onto the pink sponge, baking parchment side up. Place the yellow sponge on top, using the baking parchment to help you lift it. Peel the baking parchment off of the yellow sponge.
Trim the edges of the sandwiched cakes if you'd like a neater finish.
Spread the water icing on top of the yellow sponge and allow to air dry for 20-30 minutes. Drizzle or stripe the pink coloured water icing on top of the white icing (optional). I use a paper piping bag with the tip snipped off for this. Allow the cake to air dry completely, about 1 hour.
Cut the Angel Cake into 20 bars and serve.
Notes
Store the Angel Cakes in an airtight container lined with baking parchment. It will keep at room temperature for 48 hours. If you'd like to keep them beyond this time (up to 4 days), refrigerate them in the container. They may harden slightly if kept in the fridge.
Nutrition Information:
Yield:

20
Serving Size:

1 grams
Amount Per Serving:
Calories:

126
Total Fat:

2g
Saturated Fat:

0g
Trans Fat:

0g
Unsaturated Fat:

2g
Cholesterol:

0mg
Sodium:

217mg
Carbohydrates:

25g
Fiber:

1g
Sugar:

14g
Protein:

2g
Pin this recipe for later!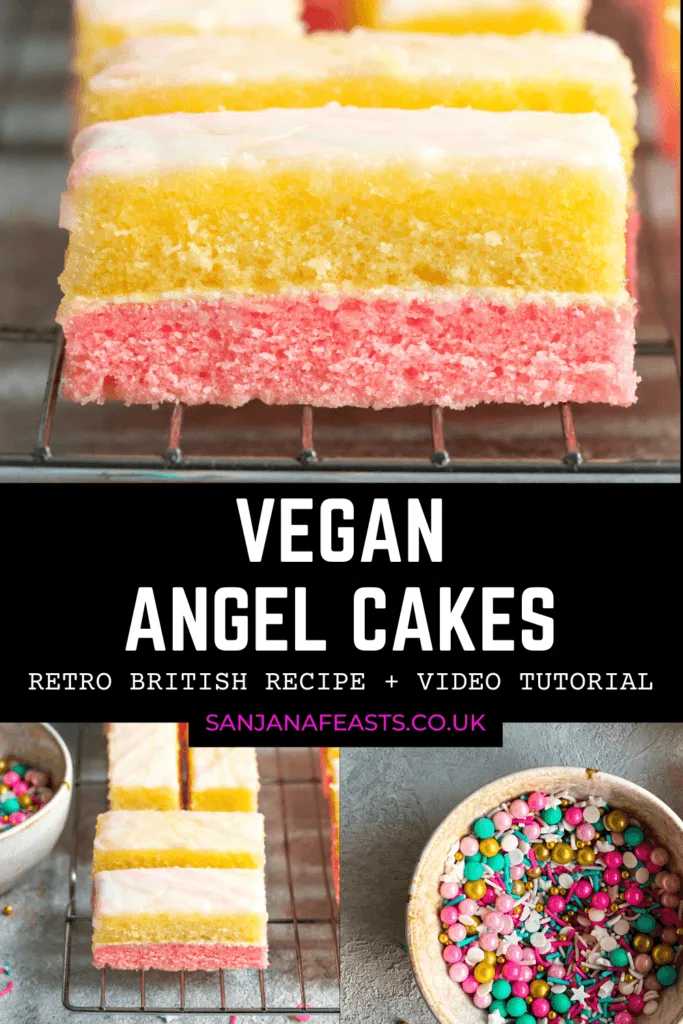 If you like this, you'll love my recipe for Vegan Fairy Cakes
Love Sanjana