Try this recipe for Indo-Chinese Crispy Chilli Pumpkin tonight! Make the most of sweet, seasonal squash with this celebration of Indo-Chinese flavours.
The crispy pumpkin wedges are tossed in a fiery chilli and garlic sauce.
Be warned; This gets more and more addictive with each bite.
It's no secret that I'm a Chilli Paneer fiend. It's probably one of the most iconic Indo-Chinese dishes, alongside the likes of Hakka Noodles and Vegetable Manchurian.
This recipe for Indo-Chinese Crispy Chilli Pumpkin is a vegan spin on the Indian restaurant favourite, putting seasonal pumpkin to work in place of paneer (Indian cottage cheese).
This recipe for Indo-Chinese Crispy Chilli Pumpkin is suitable for…
Vegetarian diets
Vegan diets
Gluten free options included
A great way to use leftover pumpkin
If you've got a glut of pumpkin this Autumn, or have lots to use up after a heavy pumpkin carving session, make this.
It's bold, fresh and a fabulous new way to showcase pumpkin. After all, there's only so much pumpkin soup, pumpkin pie and pumpkin risotto we can eat!
Indo Chinese food origin
Indo-Chinese, or Indian Chinese cuisine is a style of cooking that originates from the Hakka settlers of India's eastern states.
The Chinese immigrant community in India began centuries ago, and many settlers lay down new roots around the ports of Kolkata and Madras.
The vibrant and flavoursome cooking of India's Chinese communities has carved a place in all our appetites.
Indo-Chinese dishes are famous in every part of India, from street stalls selling momos, bao buns, schezwan (sic) fried rice and hakka noodles, restaurant menus famed for their honey chilli potatoes, gobi manchurian, and chilli idli.
Indo-Chinese cuisine is a melting pot of aromatics and spices, all brought together in stir fried, saucy and utterly moreish meals.
It's packed with flavour and usually coated in rich and glossy sauces. Peppers, onions, garlic and ginger feature heavily, as do chillies. I don't know anyone who tried it and didn't enjoy it!
3 Indo-Chinese dishes you might like
How to make a slurry for a thick and shiny Chinese-style sauce
It's quicker and easier than you might think. Simply mix together cornflour (cornstarch) and cold water. It's important your water is cold.
Hot water will cause the starch in the cornflour to seize up and become lumpy on contact. Once you add it, stir quickly for a smooth, glossy sauce.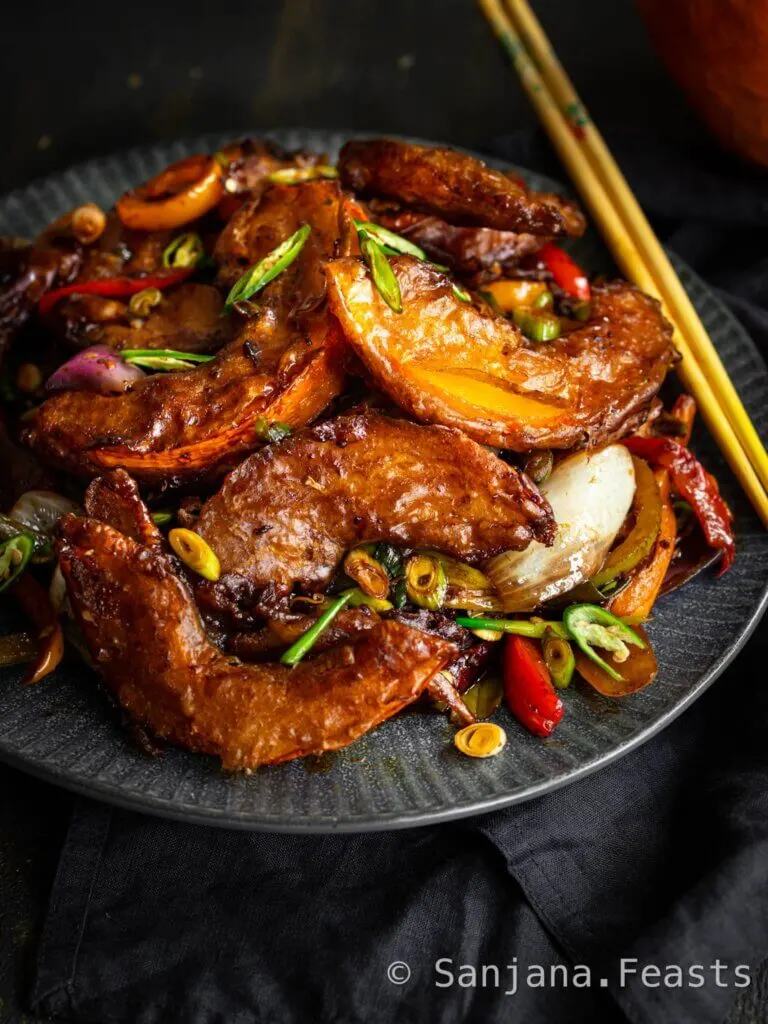 Is this Indo-Chinese Chilli Pumpkin recipe vegan?
Yes! This recipe is vegan and can be made gluten free if you swap your soy sauce for tamari or use a commercial gluten-free soy sauce brand.
How to make crispy tempura pumpkin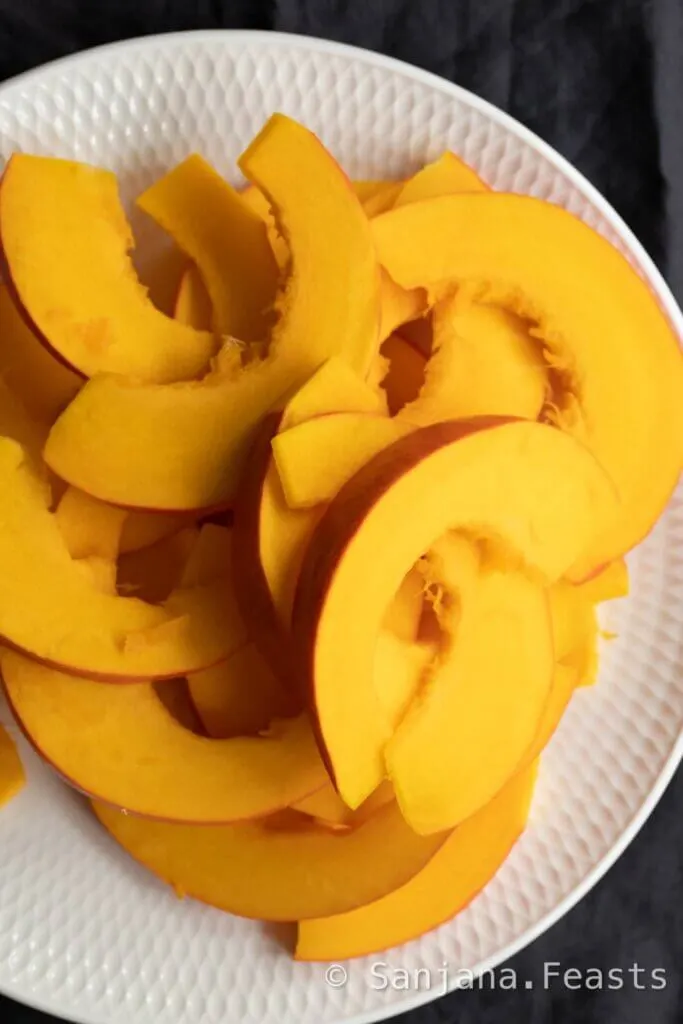 For the crispiest tempura batter, I use a combination of wheat flour, cornflour (cornstarch), bicarbonate of soda (baking soda), a few spices and ice cold sparkling water.
In order to make this Japanese-style crunchy coating, there are a few important things to remember…
Use ice cold sparkling water. Cold water inhibits gluten development and the bubbles keep the batter light and airy.
Do not overwork the batter. Lumps are fine, in fact, they're perfect.
I keep the skin on my pumpkin but feel free to peel it if you like.
Keep the slices thin for quick and thorough cooking. If you'd like to cube your pumpkin, keep them small, about 1cm x 1cm.
Subscribe to my YouTube Channel!
Can I make this pumpkin dish without deep frying?
Yes, it's possible to prepare this recipe without frying, but not using the batter recipe in the recipe card below.
I recommend you prepare the batter from my Halloumi 65 recipe and then either bake or air fry the pumpkin until it's golden on the outside and fully cooked all the way through.
Note: The batter will be thicker and not quite as light as the deep frying method.
Tips for cutting vegetables for Indo-Chinese dishes
Try to keep everything around the same size or length. This will ensure everything cooks evenly. See video above for a visual reference.
Onions: Peel, cut and separate into petals.
Spring onions: Slice on the bias. I keep the green parts a little longer so they retain some crunch.
Chillies: Slice on the bias or split lengthways. This creates more surface area for maximum flavour.
Peppers: Cut in half, remove the core and seeds. Cut into juliennes (matchsticks), to the size of your main ingredient (in this case, we will use pumpkin).
A quick tutorial with suggestions for how to prepare and chop vegetables for all your favourite Indo Chinese recipes.
Try it for Chilli Paneer, Manchurian, Hakka Noodles, Fried Rice and more! Ensure your knife is sharp before you begin.
How to make the sauce for Indo-Chinese Crispy Chilli Pumpkin
Prepare all the vegetables and aromatics in advance. The cooking element of this dish, like many Eastern stir fry dishes, happens rapidly. Keep all of your ingredients measured out beside you so you can add everything in quick succession.
Ensure your wok is smoking hot before you begin. A great deal of flavour comes from the heat of the wok (this is called "wok hei" and refers to the smoky aroma you get with all great East Asian dishes).
Keep the ingredients moving at all times. Once you add the cornflour slurry, mix it quickly to create the perfect sauce.
Don't overcook anything. As soon as the sauce is shiny, you can add the pumpkin.
Serve your Indo-Chinese Crispy Chilli Pumpkin immediately!
Indo-Chinese Crispy Chilli Pumpkin recipe
Yield: 4 servings
Crispy Chilli Pumpkin
Make the most of sweet, seasonal squash with this celebration of Indo-Chinese flavours. The crispy pumpkin wedges are tossed in a fiery chilli and garlic sauce.
Total Time:
1 hour
10 minutes
Ingredients
550 g pumpkin (or squash)
75 g plain flour, (you can also use a gluten-free plain flour blend)
40g cornflour
1/4 tsp ground white pepper
1/2 tsp ground cinnamon
1/2 tsp bicarbonate of soda (baking soda)
1/3 tsp salt
115 ml sparkling water, cold
Oil for deep frying
For the sauce:
3 peppers sliced into 3cm strips, I use red, green & orange
10 spring onions sliced on the bias, some reserved for garnishing
2 medium onions, sliced into petals
3 tbsp sunflower or rapeseed oil
8 large cloves garlic, crushed
3 dried red chillies
4-6 green chillies, sliced on the bias
3 tbsp dark soy sauce, (or tamari if gluten free)
1 tbsp sweet chilli sauce
1 tbsp any white vinegar
1 tsp MSG, (optional)
1 tbsp cornflour (cornstarch)
100 ml cold water
Instructions
To prepare the crispy pumpkin:
Wash the pumpkin and cut it in half. Scoop out the seeds. Slice the pumpkin into large wedges. I cut each half in two and then sliced it 2-3mm thick. It doesn't need to be too thin. You can also use a mandoline to slice the pumpkin if you find this easier.
Place the flour in a large bowl and add the cornflour, bicarbonate of soda, salt, white pepper and cinnamon. Whisk briefly. Don't add water until you're ready to fry.
Heat enough oil in a pan for deep frying. The oil temperature shouldn't be too hot, since the pumpkin needs to cook through. Once the oil temperature reaches 160°C/320°F, you can proceed to the next step.
Add the sparkling water to the dry flour mixture and whisk briefly. This batter does not need to be smooth so do not whisk it too much. The more you whisk, the less crispy the coating will be. Lumps are fine.
Dip the pumpkin slices in the batter and fry them in the heated oil, working in small batches. Turn often. Each batch will take around 4 minutes to cook through and crisp up. Remove the fried pumpkin from the oil using frying tongs or a slotted spoon, draining off any excess oil. Place on absorbent kitchen paper and repeat until all the pumpkin wedges have been fried.
To keep the pumpkin extra crispy, place it on a wire rack over a baking tray. Transfer to a very low oven (100°C/210°F) until ready to use (max. 60 mins).
To make the sauce:
For the cornflour slurry, mix together 1 tablespoon cornflour and 100ml cold water. Set aside.
Place a wok over a high heat and allow it to pre-heat for a 90 seconds. It should be smoking hot. Add the oil and then the dried chillies, garlic and chillies. Stir fry for 10 seconds and then add the onion petals, peppers and half of the spring onions. Stir fry for another 20-30 seconds.
Add the soy sauce, sweet chilli sauce, vinegar and MSG. Stir fry for 20-30 seconds and then add the cornflour slurry and water. Stir quickly to incorporate. Once the sauce thickens and becomes glossy, it's time to add the crispy pumpkin. Add this along with the spring onions and toss to coat all the pumpkin pieces in the sauce. Serve immediately.
Notes
Use butternut squash or any other firm variety of squash in place of pumpkin. You can also cut it into cubes but bear in mind that these may take longer to cook.
MSG (monosodium glutamate is a flavour enhancer, also known as ajinomoto). You can buy it in all Asian food shops. If you do not want to use MSG, you may need to add additional salt to the sauce to compensate.
Combine the pumpkin and sauce just before serving so the dish remains crispy. The longer you leave it, the less crispy it becomes.
To reheat, place on a wide, flat baking tray and flash under a hot grill.
If you'd prefer a milder version, reduce the number of chillies in the recipe.
Nutrition Information:
Yield:

4
Serving Size:

1 grams
Amount Per Serving:
Calories:

417
Total Fat:

15g
Saturated Fat:

1g
Trans Fat:

0g
Unsaturated Fat:

13g
Cholesterol:

0mg
Sodium:

1025mg
Carbohydrates:

43g
Fiber:

6g
Sugar:

12g
Protein:

7g
Pin this recipe for later!
If you like this, you'll love my recipe for Chilli Paneer
Love Sanjana